8 Ways to experience Mt Fuji without hiking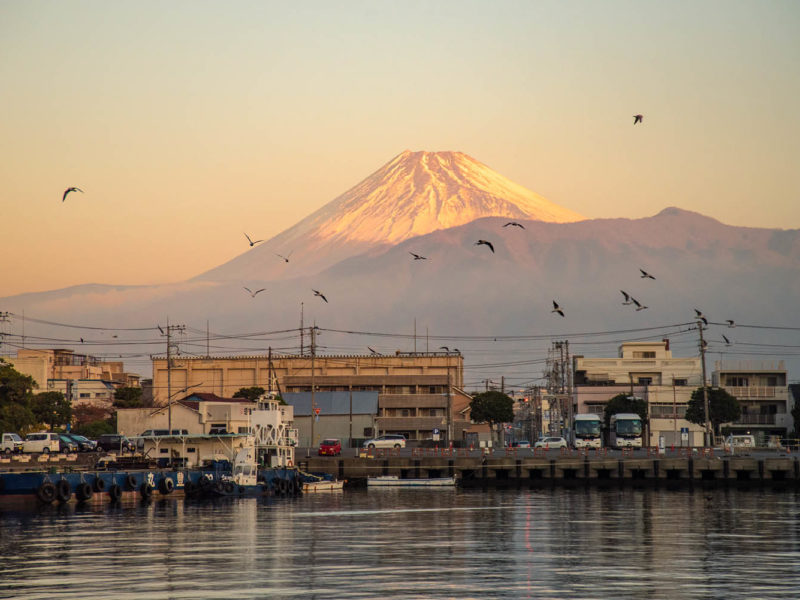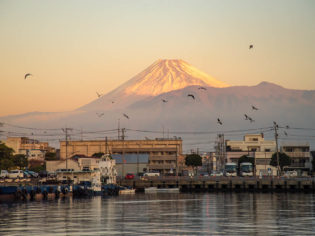 Hide Map
From a ferry trip with uninterrupted views to a brand-new architect-designed observatory, here are eight alternative ways to experience Japan's iconic Mt Fuji.
Mt Fuji is big. Really, exceptionally big. Big enough to see from Tokyo, over 100 kilometres away; even its foothills span two prefectures. But its influence over Japan stretches way past its mere size.
That perfect volcanic cone features everywhere in Japanese folklore and has over the millennia, been recreated in everything from cakes and seasonal sweets to soap, towels, toys, even cartoon-character mountains that enter the national subconscious from an early age.
So we really think turning up on a bus, taking a quick pic from a lookout on a day trip from Tokyo and heading home again does not do the mighty Fuji-san nearly enough justice – nor the mind-blowingly beautiful and fascinating surrounds that count Fuji as an ever-present part of the scenery. So here we have eight amazing ways to give Fuji-san the love it deserves, and make your trip to central Japan something special too.
1. Cross Mishima Skywalk suspension bridge
How else to give Japan's tallest mountain the proper gravitas than to gaze upon it from Japan's longest pedestrian suspension bridge, the fabulously engineered, 400-metre-long Skywalk.
This thing sways in the wind over a forest gorge in the most picturesque of locations, so the views should stop you looking down. You can also catch sight of Japan's deepest bay, Suruga Bay, forming a suitably spectacular spot with photo stops galore.
2. Hang upside down on top of a mountain – or simply soak your feet
The Japanese really know how to live, with thoughtful ways to make visitors happy every step along their sightseeing route.
Atop the mountain at Izunokuni Panorama Park (you can guess the main star of the panorama here), you can not only gaze across an incredible vista that stretches from bay to hills to forests to the star of the show, Fuji, but your mini ninjas can choose to do it from the cute obstacle play course set right here on the mountaintop, while you can get your shoes and socks off and blithely sit with your tootsies in a steaming bath, right here out in the open, while you enjoy and photograph the view.
3. Drink craft beer made from Fuji's 100-year-old snowmelt
The respect the Japanese hold for Fuji-san does not end with the mountain itself.
That snowy peak basks in the sun, slowly melting into the purest of water, which then soaks into the volcanic earth itself and is filtered over and over again before finally emerging, a century later, into the streams and waterways around the region. This water is rather reverently used for such purposes as nourishing the finest (and therefore most delicious) of eel, helping to produce breathtakingly expensive tofu, and also highly prized sake.
Over at Baird Brewing Company near Numazu, however, they've come up with a more novel way of tasting the snow that melted at the end of the First World War, give or take. The range of specialty craft beers do indeed taste rather crystalline in their clarity, and visiting the forest-bound brewery to sample them is worth the trip.
4. Take a golf-buggy ride to a fairway with a view
The luxe Izu Marriott Shuzenji not only boasts views of Japan's favourite volcano from its Fuji-facing rooms, but its deer-speckled golf course is also perfectly positioned for maximum vistas.
Guests can even jump in the driverless electric golf buggies for a spin around the course at sunset to watch Fuji-san's western face turn golden, forming a heart-melting backdrop as dusk brings the resort's antlered wildlife out to reclaim the golf course for another evening.
5. Take a holographic tour at brand-new Yume Terrace
With the Tokyo Olympics rapidly approaching, its stadium architect Kengo Kuma is flavour of the month (or even year) – but the stadium is far from his only triumph. In Shizuoka Prefecture, his dreamy, octagonal observatory and deck is making a name for itself in its own right.
Nihondaira Yume Terrace, fashioned from local cedar and swathes of glass, is a quiet, mindful space seemingly a world away from the busier lookouts and decks closer to Mt Fuji, and inside are ultramodern displays using everything from stained glass to holographs to detail the story of Mt Fuji's formation.
6. Rise early for seafood breakfast with the clearest view
A whole lot more hectic is Japan's second-busiest seafood markets, the Numazu Fish Market on deep Suruga Bay.
As the 5am markets heat up inside, the sunlight strengthens outside to reveal Fuji-san reflected in the waters and dominating the view, though the workers around you may continue to bustle from boat to bobcat, auction room to loading dock. Charm your way as close as you dare to espy the three-metre Suruga Bay spider crabs, giant deep-water fish and tuna, down to the tiny baby mackerel and whitebait that typify traditional breakfasts around here.
Head to any of the restaurants in the surrounding streets for a bowl overflowing with fresh seafood – as raw as you dare – for a breakfast you won't forget.
7. Ride the rainbow ferry across incredible Suruga Bay
The high-speed ferry across Suruga Bay from Toi to Shimizu may well be one of the most underrated experiences in the area. The deep waters beneath make the surface mirror-still, there are fresh seafood sticks and sweet buns being grilled out on the back deck, and even the ferry itself is daubed with a rainbow to make the experience as lovely as possible.
And of course, watching over you for the 65-minute journey is Mt Fuji, in an uninterrupted view across the water to rival any lookout you can name.
8. Stay at the hotel with Fuji in every window
For such an incredible spot, gazing remarkably close-up upon perhaps Asia's most famous mount, it seems astounding that there isn't another foreign face to be seen at Nippondaira Hotel – but that was this reviewer's experience.
The hotel doesn't even pretend to want anything else for its guests, with Fuji-facing rooms enjoying uninterrupted views across a flat landscaped garden, and multi-storey floor-to-ceiling windows spanning almost every public space in the hotel so you can breakfast, lunch and (yummy fine French) dinner with Fuji-san himself.
For more information about travelling around Japan, visit our Japan guide.
LEAVE YOUR COMMENT