Best places to Eat, Drink & Stay in Harajuku, Tokyo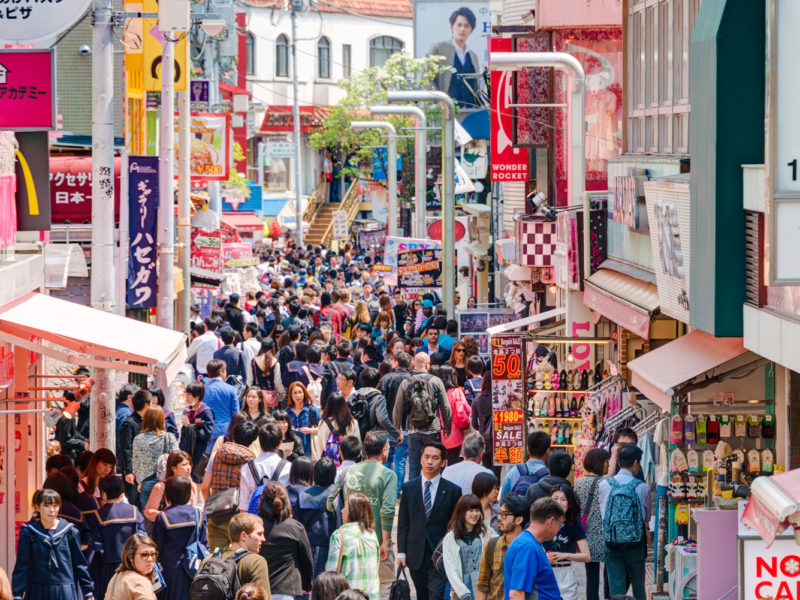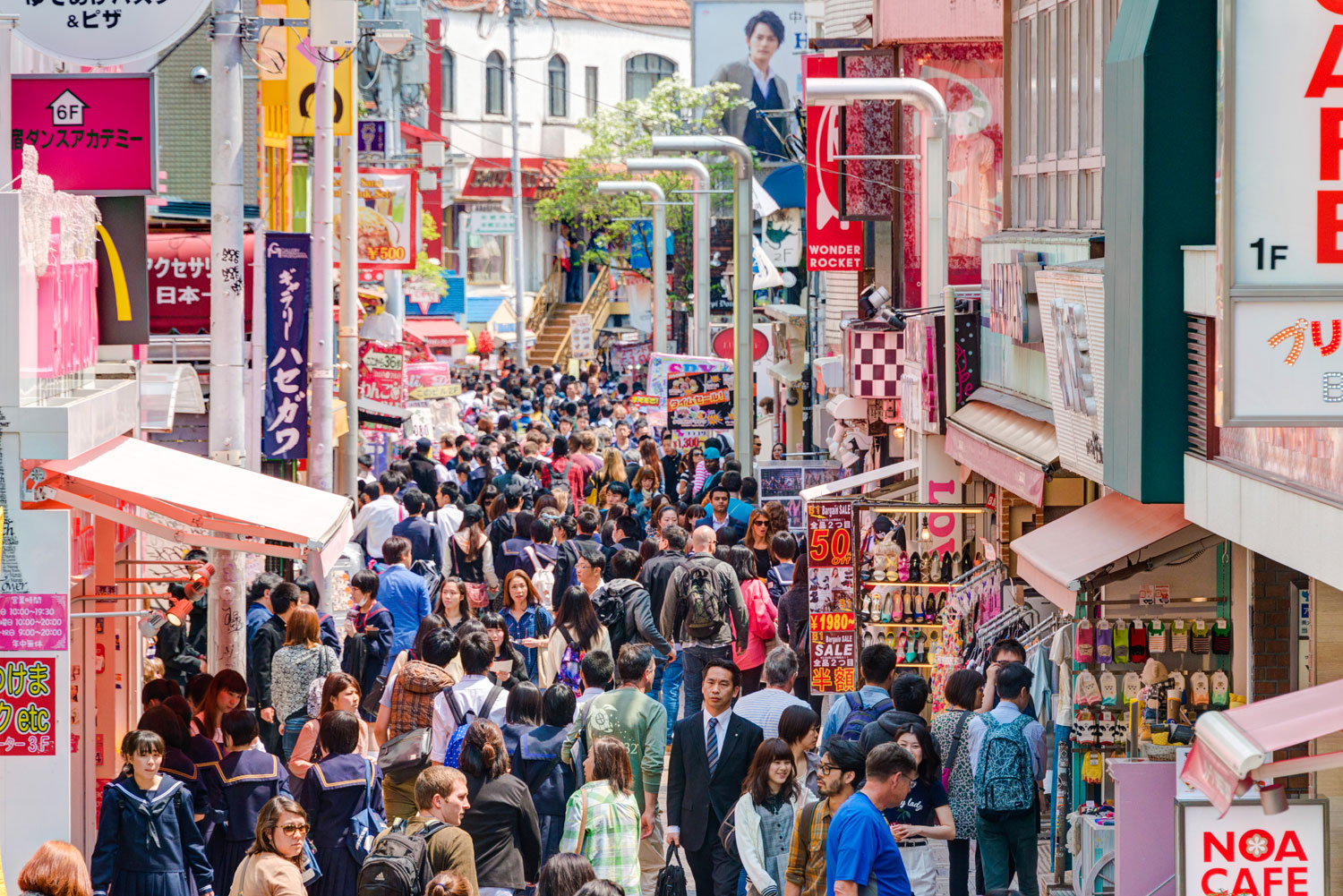 From quirky cafes to cutting-edge fashion, here's how to explore Tokyo's hippest little 'hood.
Harajuku is the heart of all things fashion and kawaii – meaning cute – in Tokyo, a magnet for Japan's youth subcultures, cosplayers and all-round cool kids. Located in the city's Shibuya neighbourhood (which itself has been ground zero for fashion and vintage stores for years), Harajuku is concentrated around Harajuku Station and extends to the upscale shopping hub of next-door district Omotesando. A trip to Harajuku is a sensory overload that needs to be experienced when in Tokyo.
Spend your time here exploring vintage shops, museums and street art-strewn alleys while snacking on crepes and checking out some crazy cafes. Or simply go in for people-watching: pedestrian jungle Takeshita Dori is the focal point of the area's teenage culture and where you'll see some of the craziest fashions amid a sea of neon and fairy floss. And when you need a break from the colourful chaos, Harajuku also offers up plenty of hip, laid-back hideaways. From where to eat and drink to shop and sleep, here's your essential guide to Harajuku.
Eat
1. Harajuku Gyōza Rō
Gyoza, gyoza and more gyoza; a tucked-away gem and a great place to experience these delicious little parcels of joy. They're the only thing on the menu, and you can order your dumplings sui (boiled) or yaki (pan-fried) with a choice of accompaniments including garlic or chives. Expect queues out the door during peak meal times, however they move quickly at this no-nonsense joint.
Address: 6-4-2 Jingūmae, Shibuya-ku
2. Golden Brown
Located in the Omotesando Hills shopping centre, the burgers here at Golden Brown are big and juicy and well-priced. This neon-free outlet is one of two in Tokyo (the original is in Nakameguro) and prides itself on its quality service and ingredients (employing lean Australian beef in its patties). Therefore a signature Golden Brown Burger makes for a perfect pit stop if you're indulging in some serious retail therapy.
Address: 3F, 4-12-10 Jingūmae, Shibuya-ku
3. Kawaii Monster Cafe
Kawaii Monster Cafe is Harajuku in a nutshell: a colourful kaleidoscope of a cafe serving rainbow pasta, 'chocolate chicken' and makizushi rolls that transforms into a psychedelic spot for dinner at night, complete with live entertainment.
Address: YM square building 4F, 4–31–10, Jingūmae, Shibuya-ku
4. The Zoo Ice Cream Shop
Lovers of animals, ice-cream and kawaii apply here: this novel ice-cream stand is disguised as a vending machine and purveys creature-shaped creations in your choice of elephant, koala, panda, tiger or pig in different flavours. Pop in a 500 yen coin and away you go!
Address: 3-20-7 Jingumae, Shibuya-ku
5. Marion Crepes
Street food in Harajuku is all about crepes and Marion, which has been operating in this Takeshita Dori spot since 1976 and has since grown to include 80 outlets across the country, is one of the originators of the trend. There are over 70 different fillings to be stuffed into its Japanese-style crepes. Choose from sweet combinations like custard chocolate sundae; and blueberry cheesecake cream or savoury varieties like chicken, cheese and homemade basil sauce; and chilli, cheese and sausage.
Address: Shibuya Ward Jingumae 1-6-15 Junes Building 1F
Drink
1. R/O 426
Grab a coffee or a beer from this fantastic old Airstream trailer and settle in at the outdoor tables to people-watch. It's one of the greatest things you can do in Harajuku.
Address: 4-26-18 Jingūmae, Shibuya-ku, down a small street beside Ralph Lauren
2. Bar Radio
Tucked down a side street off Aoyama-dori, Radio has been a much-loved institution in these parts since 1972. Step into this elegant, no-smoking bar to have legendary bartender-owner Koji Ozaki – always dapper in a white shirt and bow tie – serve you a finely crafted cocktail in vintage glassware.
Address: 3-10-34 Minami-Aoyama, Minato-ku
3. Deus Ex Machina Cafe

An Aussie export, this laid-back bar, cafe and motorcycle/apparel concept store rolled into one attracts a mixture of hipsters and expats and – with its industrial finishes and neutral tones – makes for an ideal break from the sensory overload of the Harajuku crowds. Deus Ex Machina serves great coffee, satisfying grilled sandwiches and drinks until 11pm every Friday night.
Address: 3 Chome-29-5 Jingumae, Shibuya-ku
Shop
1. Dog
Dog, a Lady Gaga-endorsed Tokyo institution, is the place to go if you're into Japanese fashion. It's been a mecca for vintage and reworked clothing since 2000. Locate the basement store's discreet entrance – signposted by a mannequin styled in a new outfit each month – and then descend its narrow staircase to enter a fantasy land of wild clothing, footwear and accessories including unique customised pieces by young artists and designers.
Address: B1F, 3-23-3 Jingumae, Shibuya-ku
2. GR8
Laforet Harajuku is one of Tokyo's most famous department stores and the beating heart of Harajuku youth fashion. Over 13 levels you'll find everything from high-end wares like Vivienne Westwood to emerging cutting-edge designers. One of the best spots to explore the latter is at GR8, an incubator for Tokyo trends run by Japanese fashion icon Mitsuhiro Kubo. Make sure to keep an eye out for designer collaborations including the Adidas Yeezy collection and Rihanna's Fenty x Puma line too.
Address: 2/5F, 1-11-6 Jingumae, Shibuya-ku
3. Solakzade
If you're in the market for some vintage sunglasses or spectacles – perhaps an antique pair that dates back to the 1800s? – look no further than Solakzade. Brothers Tatsuya and Rio Okamoto source their unique eyewear from all around the world. They also work on custom jobs, repairs and bespoke creations and offer eye tests and prescription lenses, making them the hippest opticians you're likely to find.
Address: B1F, 4-29-4 Jingumae, Shibuya-ku
Do
1. Animal cafes
Is there no end to Tokyo's offering of animal-themed cafes? In Harajuku you can have coffee with dogs, cats or hedgehogs depending on your predilection. Mame-Shiba Cafe on Takeshita Dori is home to cute and cuddly Mame Shiba Inu, smaller versions of Japan's popular Shiba Inu dogs; fashionable MoCHA where you'll find the (cool) cats; and ChikuChiku Cafe is the hedgehog's domain.
2. Gallery hopping
Harajuku and its surrounds are home to some excellent galleries including Ota Memorial Museum of Art, which boasts a 12,000-strong collection of traditional Japanese prints including those by masters like Hiroshige and Hokusai. There's also Rocket in Omotesando Hills, which was established by influential art director Yasushi Fujimoto and blends fashion and art, as well as the Watari Museum of Contemporary Art, one of the major players on the Asian art scene and also home to one of Tokyo's best art book shops, On Sundays. You can also simply wander the streets and back alleys of Harajuku to seek out the many street art and murals created by local and international artists.
Stay
1. Trunk Hotel
A member of the Design Hotels family, this four-star boutique accommodation has just 15 rooms and suites, all rendered in a texturally rich palette that blends traditional Japanese craftsmanship with modern trends. An oasis in the middle of all the action – it's located right by Harajuku's funky Cat Street and only a 10-minute walk from the famous Shibuya Crossing (rumoured to be the busiest intersection in the world and a landmark in its own right) – you'll soon find yourself happily ensconced. Dine on Japanese-Western fusion food at the Trunk Kitchen or skewered 'Shibuya soul food' at the Trunk Kushi stand and then browse its onsite lifestyle store for tasteful Tokyo-made souvenirs. And when you are ready to set foot outside, Trunk can organise excursions for you ranging from photography hikes up Mt Fuji to Sumo wrestler encounters and everything in between.
Address: 5-31 Jingumae, Shibuya-ku
2. Hotel Koé
A medley of minimalist grey and earthy tones, elegant three-star Hotel Koé is more cultural hub than crash pad. Alongside its 10 rooms it also hosts a live music space, art hub, bar, cafe, restaurant and retail store as well as the odd surprise. For example, on some nights the reception desk turns into a DJ booth with music curated by Masaya Kuroki of trend-setting fashion and music label Maison Kitsuné.
Address: 3-7 Udagawacho, Shibuya-ku
3. The Millennials Shibuya
For a wallet-friendly accommodation option and an artistic take on the capsule hotel, check into The Millennials. It's just a few minutes' walk from Shibuya Crossing. Some sleeping pods feature murals by top Japanese artists and others come complete with an 80-inch projector to mirror your device to. In addition, the hotel's communal area includes a co-working space for the digital nomads among us.
Address: 1 Chome-20-13 Jinnan, Shibuya City
LEAVE YOUR COMMENT