The best winter wonderland adventures in Kansai, Japan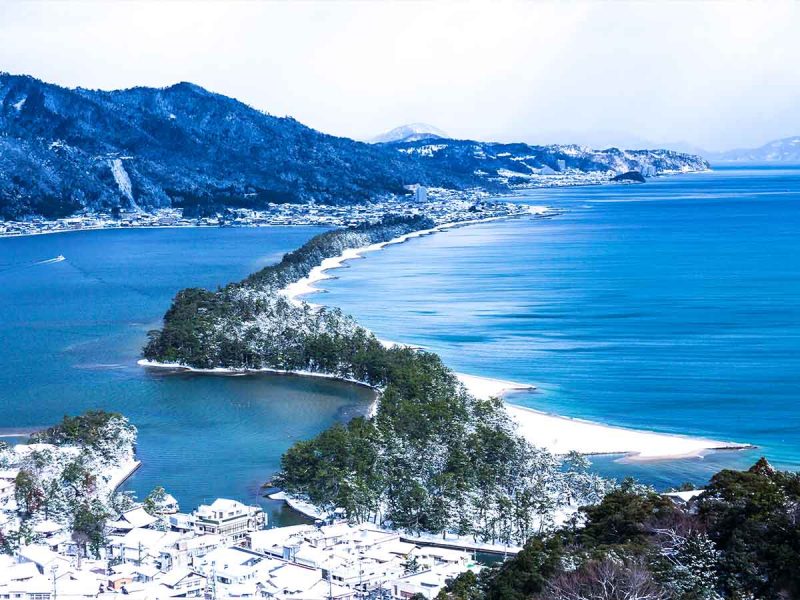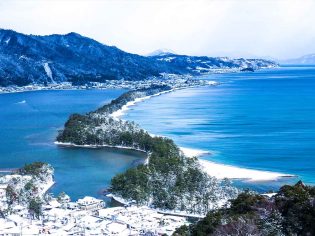 When you think of Kansai you most likely conjure pictures of Kyoto and Osaka in your mind's eye, but there is so much more to explore in this unique region, especially in the winter months between November and March.
During this time if you head to the west coast, overlooking the Sea of Japan, to visit places such as Amanohashidate and Ine fishing village, or spend time in Himeji, one of the region's star attractions, you'll be treated to a winter wonderland adventure that will leave you feeling like you are inside a real life snow globe.
Scenic highlights in Amanohashidate
Amanohashidate, coined 'Kyoto by the sea', is home to one of Japan's top three scenic spots, a sandbar located in Miyazu Bay in the north of Kyoto Prefecture. This beautiful, naturally formed pine-tree covered sandbar is just over three kilometres long and can be accessed from the mainland by the historic Kaisen Bridge, or you can get a lovely view of it from the Amanohashidate ropeway.
Once on dry sand, rent a bike at the foot of the sandbar and enjoy a picturesque ride in its abundant nature (if it's not snowing that is), or alternatively a slow walk is equally delightful. Take time to stop at Chinoji Temple, near the sandbar entrance, which features unique omikuji (fortune telling wishes) in the shape of traditional Japanese fans.
Cafe du Pin is a perfect place to warm up after your exploration, directly overlooking Kaisen Bridge. Originally built in 1923, this quirky landmark was a hand-operated rotating bridge until 1960 when it was converted to electricity to allow tall boats to pass through it. It is incredible to sit with a coffee in hand and watch the precision of this rotating bridge in action.
A taste of traditional life in Ine Fishing Village
Less than 40 minutes' drive from Amanohashidate, the impossibly quaint Ine Fishing Village is proud of its traditional way of life. Its residents live a slow and purposeful existence that creates a peaceful energy, even for visitors. If you are lucky during your time here, you'll see the 'supermarket truck' which arrives twice a week to service the residents of the area (the nearest supermarket is an hour's drive away), offering up vegetables and meat, along with stocks and non-perishable goods. When I visit, there's a long queue of locals who are happy to wait their turn.
While here, you can purchase a ticket from the local tourist information centre that will allow you to visit a funaya, one of the distinctive local wooden boat houses, and see the toil of fishermen working their nets and crab pots. Some are now guesthouses (minshuku), a stay at which provides a privileged glimpse into everyday life in the village.
Kansai's onsens are best paired with snow days
During the winter months, snow is an enormous part of life in the Kansai region, blanketing the landscape in pearly white hues. In my case it resulted in train delays, but as I sat in warmth and comfort listening to the train announcer constantly giving updates and sincerely apologising for the snow (which is obviously well out of his control), the delay became another quintessential Japanese experience.
Being inside in Japan offers up equal adventures for the imagination (as well as the body and soul). For me that means soaking in an onsen (hot spring) at my accommodating ryokan (traditional Japanese inn). Many ryokans offer both indoor and outdoor hot springs, with a natural order to follow to experience them: once you have lathered up and rinsed off in the nearby shower area, immerse yourself in the hot waters of the inside onsen, before popping outside to slip into the outdoor onsen. With the snow falling heavily around me, the difference between the air temperature and the natural hot spring is invigorating. If you ask me, nothing beats the divine experience of bathing in an outdoor onsen as perfectly formed snowflakes float from the heavens.

Explore the nine gardens of Kokoen Garden
You can take the Nozomi express Shinkansen (bullet train) from Kyoto to the city of Himeji in Hyogo Prefecture (yet still in the Kansai region) to experience a different kind of bathing – this time in nature – at Kokoen Garden. Made up of nine gardens, each featuring a different theme, the first and largest is The Garden of the Lord's Residence which boasts a koi fish pond, a waterfall, stone bridges and an arrangement of trees that showcase colour and texture.
The experience here is one of contemplation and mindful meditation, concentrating on the seemingly minuscule moments in both life and nature. Kokoen is located beside Himeji's UNESCO World Heritage-listed castle, which is a perfect distraction for those craving history (or one of the country's ultimate Instagram shots).
Leaving Himeji, and the Kansai region, by Shinkansen bound for Tokyo allows for a last glimpse of the Kansai landscape in its winter wonderland perfection as I leave my own personal snow globe bound once again for my daily life.
Ebony was a guest of Japan National Tourism Organization and Toyooka City.
LEAVE YOUR COMMENT