Memories of a wild mountain town hidden in Japan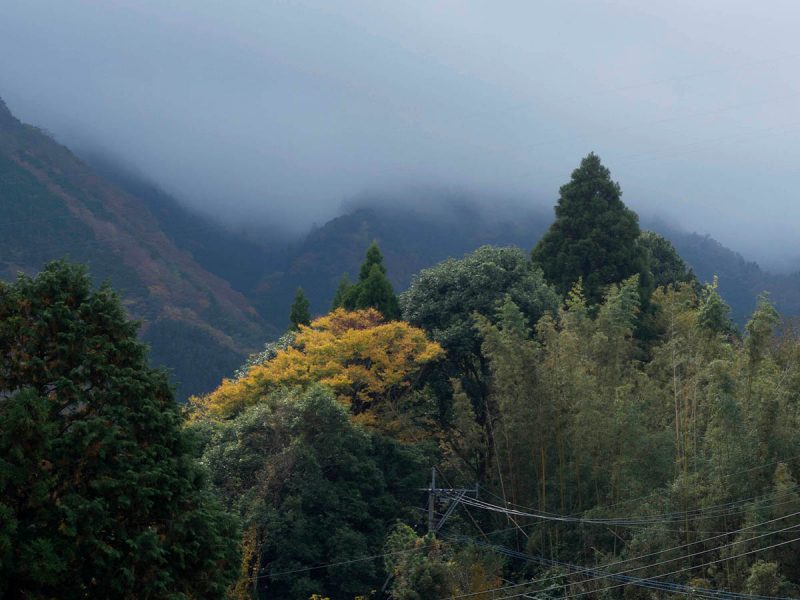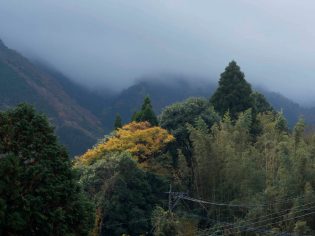 For Imogen Eveson, memories of wild mountain cuisine in a Kyushu town steeped in Japanese mythology linger vividly – but also elusively.
I could never have guessed that one of the best meals of all my travels would be at a tiny restaurant on a mountainside in Kyushu, given how tricky it is to be vegetarian in some parts of rural Japan for those who can't live on green tea ice-cream alone. (Although here in this particular spot, where it is creamy and velvety and so subtly grainy in texture as to feel almost nourishing, I suspect you could.) Add to those odds the restaurant's unlikely setting in an outbuilding of an abandoned primary school: its assembly hall and gym left time-capsuled after the home bell rang for the last of its dwindled cohort of 15 some eight years earlier.
A vegetarian meal in an unlikely location
But here I was, at the mid-point of a walking trail that curls up and around the town of Takachiho, seated at one of Saizen Mountain School Restaurant's modest three tables savouring a freshly prepared veggie curry whose taste I can still remember. Crafted with sansai – mountain vegetables and edible wild plants – foraged from the surrounding countryside and served with locally grown rice, its silky sweetness was contrasted by a satisfying note of nuttiness. This was an example of sansei ryouri, or wild mountain vegetable cuisine, the art of which my generous hosts were in the business of conserving.
Stepping back on the blissfully isolated trail after lunch was like tumbling into all of Japan's autumns at once. Winding back down the valley towards town, past rice paddies and green tea plantations, the trees blazed red, gold and auburn. Maple, ginko, cherry and rowan leaves set like jewels against a bed of deep green cedars. A scene of hyper-real beauty, this felt to me like the heart and soul of Japan.
The stories of the mountain town of Takachiho
According to Shintoism, it is. The misty mountain town of Takachiho is the mythological birthplace of Japan; the stories and supernatural spirits of its folklore sprang from here, intimately bound to the glorious nature I found myself steeped in. By all geographic counts, Takachiho is located in northern Miyazaki – a mountainous, mango-growing prefecture on Japan's southern island of Kyushu. Geologically speaking, its landscape is characterised by deep ravines, lava-carved gorges and waterfalls that plunge into emerald green rivers. A popular pastime here is a rowboat excursion at Takachiho Gorge, which takes in a spectacular landscape that was formed by a lava flow from nearby Mt Aso many moons ago.
The many legends of Shintoism
But in Shinto legend, this is where deity Ninigi No Mikoto descended to in order to establish the divine origin of the Imperial Family, and where many legends of Shintoism played out. While I was here I visited Amano Iwato Shrine on the outskirts of town, with its trickling river and wishing-stone stacks, to see the cave where the sun goddess Amaterasu took refuge from her brother's mischief, and where all the gods and goddesses met to try to lure her out. It's not surprising that this – the site of one of Japan's most famous myths, where the sun once hid from the Earth – is one of the country's (and indeed the area's) multitudinous power spots, where spiritual energy is believed to be imparted to visitors.
Culture and traditions revealed in dance
Back in town at Takachiho Shrine, built over 12 centuries ago and where the sun goddess first descended to Earth, I watched a traditional Kagura performance. People gather here nightly to see the stories of classical mythology play out before them; Kagura is one of Japan's earliest forms of religious dance, with deep ties to Shintoism, and to watch it here – one of only a few places in Japan where it is performed regularly – is special.
Finding this off-the-beaten track destination
It feels fitting that there are no high-speed train connections or highways leading here to Takachiho. It takes a winding drive instead: one that helps acclimatise you to the scenery in store and makes this off-the-beaten track destination feel gloriously, ethereally removed from the world.
And speaking of remove, it also feels fitting that now – three years on and a global pandemic between us – I can't find a trace of the mountain school restaurant online. Certainly no Google listing telling me it's open or even a phone number to call. Maybe it's still there, maybe it's not. It almost feels plausible that the tiny outbuilding could have sprouted legs like Howl's Moving Castle and moved itself to another mountain somewhere else in Japan. The idea befits a mystical place like this and I'm grateful for the memory – it's the stuff of travels that live long in your imagination – even if I can't guarantee you'll find the same meal if you go looking.
LEAVE YOUR COMMENT