Kyushu: The Japanese island you have never heard of but will absolutely love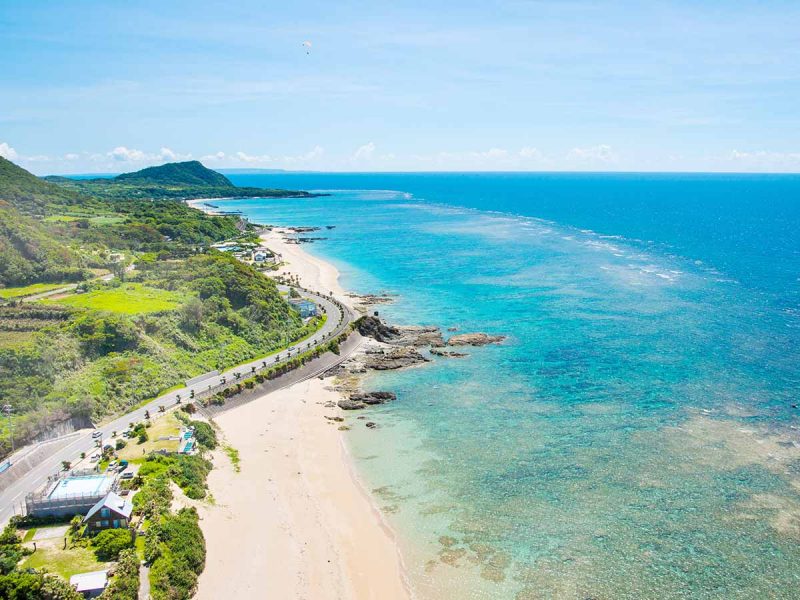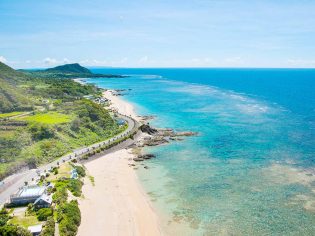 Kyushu has a lot to discover, from its heritage and history to its active volcanoes and hot springs, scenic coastline and incredible cuisine.
Carved by volcanic activity over millennia, the Japanese island of Kyushu, located at the southern tip of Honshu, is a compelling destination of bubbling geothermal pools, bucolic countryside and beautiful coastline. While it flies under the radar with many first-time visitors to Japan, its hidden-gem status is confirmed by the wealth of its cultural offering, the depth of its natural beauty and the hospitality of its people. And its saké is pretty good, too.
Why you will love Kyushu
By way of a crash course in all things Kyushu, the island is made up of seven prefectures (similar to local government areas) – Fukuoka, Kagoshima, Kumamoto, Miyazaki, Nagasaki, Ōita and Saga – all of which have their own unique character, texture and allure. With quick and easy access by air from Tokyo (the flight time is less than two hours), it boasts a delightful subtropical climate that makes it a dream to explore.
Self-driving the island's relatively quiet roads is an easy option, and it is also well serviced by quick and efficient trains, including sleek shinkansen (bullet trains). The ultimate scenic journey on Kyushu can be undertaken by booking a berth on the celebrated Seven Stars in Kyushu sleep train, which criss-crosses the island, offering up luxurious appointments, fine dining and stunning scenery in equal measure.
As for experiences worthy of wrestling your attention away from Tokyo and Kyoto, they can be found in abundance: catch a ferry to watch the rumblings of Mt Sakurajima from Yunohira Observatory and wander the otherworldly lunar landscape of its lava fields; bask in a silence so thick you can almost touch it in the ancient UNESCO World Heritage-listed Japanese cedar forests of Yakushima Island, also in the Kagoshima Prefecture; take your pick of blissfully uncrowded beaches around Hyuga in Miyazaki Prefecture; and wonder at nature's brutal beauty at Beppu's evocatively-named Blood Pond Jigoku (hell or hot springs), a boiling blood-red cauldron.
Your next amazing Japanese journeys starts right here.
Fukuoka
Fukuoka has long been a geographical and historical gateway to Asia, thanks largely to the positioning of the ancient port city of Fukuoka on Hakata Bay. The prefecture is rich in both natural and historical wonders. During spring, seemingly infinite blossoms paint the landscape in a haze of colour, with spectacular shows of wisteria fashioned into a fragrant tunnel at Kawachi Wisteria Garden, and delicate cherry blossoms at the Kokura Castle in Katsuyama Park, both located in Kitakyushu.
Colour, this time in the form of plum blossoms, also proliferates at Dazaifu Tenmangu, an imposing Shinto shrine settled within expansive grounds (planted with some 6000 plum trees) in the ancient city of Dazaifu; a visit to the shrine should be bookended with a visit to the Kyushu National Museum. And old and new collide in the buzzing prefectural capital of Fukuoka, one of Japan's fastest growing cities, with visitors spending time visiting the ruins of Fukuoka Castle, enjoying the relaxing atmosphere of Ohori Park, originally part of the castle moat, and indulging in the vibrant modern food scene.
Eat
While in Fukuoka, sitting down to a steaming bowl of tonkotsu ramen is a must; the moreish local specialty, made from pork bones, is plentiful, flavoursome and inexpensive. And try umegae mochi when visiting Dazaifu Tenmangu; the road leading to the temple is lined with shops selling the sweet treat beloved by locals: the rice cakes are filled with a sweet red-bean paste and stamped with a plum blossom.
Stay
Akizuki Onsen Seiryuan's six rooms are located within a 7,900 square-metre plot of exquisitely manicured Japanese gardens. Each comes with its own private hot spring bath, unique view and distinctive character.
Ōita
There are few places in Japan more illustrative of the seething seismic activity that bubbles beneath the surface than Ōita Prefecture. Visually, it makes for fascinating viewing, especially in the hot spring town of Beppu, where a collection of seven steaming natural pools have been given the evocative moniker of the Hells of Beppu (including the aforementioned Blood Pond, with its cloudy red waters and haze of steam constantly floating above it). While these pools are for viewing only, Ōita lays claim to having the most hot springs in the country, offering up the chance to soak travel-weary muscles in mineral-rich waters everywhere you go here – head to places like the Edo period Myoban Onsen and Yufuin Onsen, where you'll find cafes, boutiques and art galleries worth ducking in and out of along Yunotsubo Kaido Street. Ōita also boasts a number of charming castle towns, including Kitsuki with its historic samurai districts filled with samurai houses (and no modern overhead power lines) and Taketa in the mountains. And not to be outdone by Fukuoka's blooms, Kuju Flower Park at the base of the Kuju Mountains has shows of colour in spring, summer and autumn.
Eat
Ōita is one of the best places in Japan to sample fugu or puffer fish. And while the fish is highly poisonous if incorrectly prepared, it is also considered a delicacy. Fugu chefs train for decades to gain the skill to remove the toxic organs without tainting the flesh, which is best sampled as whisper-thin fugusashi (sashimi) dipped in a sauce of tangy ponzu or soy and vinegar.
Stay
A former sanatorium for Zen priests, Tamanoyu's 16 traditional guesthouses are shrouded in emerald-green forest. There is a restaurant serving up dishes produced from local produce and a delightful tea room.
Miyazaki
It is all about being outdoors in Miyazaki Prefecture, which boasts a compelling combination of landscapes, from jaw-on-the-floor coastal roads necklaced with blissfully uncrowded beaches and seriously good surf breaks – try Kisakihama, Okuragahama, Uchiumi and Aoshima if you are that way inclined – to thick green forests, and spectacular gorges and waterfalls. When in the area, exploration of Takachiho Gorge is a must. Cut through by the Gokase River, where you can either row past the 17-metre Minainotaki waterfall in the process, or walk the paved path along its edge, eventually ending up at Takachiho Shrine. There are a number of other shrines also worth a visit, including Miyazaki Shrine and Amanoiwato Shrine; time your visit to coincide with one of the colourful annual festivals held throughout the year.
Eat
When it comes to Miyazaki soul food, chicken nanban is it. The local take on karaage (fried chicken), the dish gets it distinctive character from the sweet and sour sauce it is coated in, and comes topped with homemade Japanese tartare sauce.
Stay
Nestled in thick forest close to Takachiho Gorge, Ryokan Shinsen is a traditional inn resplendent with stunning gardens and luxurious rooms in the Japanese style (complete with cedar soaking tubs).
Kagoshima
Possessing the ultimate 'best-of-all-world's' proposition, Kagoshima Prefecture boasts rugged landscapes carved by volcanic eruptions, idyllic tropical islands to escape to and a picturesque capital city that is almost Mediterranean in character. And, like its sister city of Naples in Italy, it has a pleasantly mild climate, palm-tree-lined thoroughfares and is dominated by a hulking volcano in the distance, in this case Mt Sakurajima. Exploration of Kagoshima should include a tick list of wonders, from the mystical UNESCO World Heritage-listed ancient cedar forests of Yakushima, one of the Ōsumi Islands, to the coral reefs, white-sand beaches and virgin mangrove forests (best experienced by kayaking Kuroshionomori Mangrove Park) of Amami Ōshima, also recently designated by UNESCO, to Yurigahama Beach on Yoran Island, a curious sand formation that appears from spring to autumn, according to the tides. And then there is Kirishima Kinkowan National Park, the heart of the prefecture, where you can hike active volcanoes (Mt Sakurajima is here), gaze across glassy caldera lakes and experience the health benefits of sunamushi (sand bathing) in Ibusuki Onsen; the only place in the world where this can be done, the process involves being buried up to your neck in sand that is heated and thickened by the hot spring waters bubbling beneath the surface.
Eat
Kagoshima is understandably proud of its Kurobuta pork (black pork), which comes from distinctive black Kurobutu pigs. Prized for its taste and purity, eat it grilled over charcoal and sprinkled with kettle-boiled salt.
Stay
With just five villas spread across 60 hectares of pristine, mist-shrouded mountains, Tenku no Mori is next-level luxury designed to allow guests to indulge in a blissful escape from the ordinary.
Saga
The cultural delights of Saga Prefecture make for a compelling drawcard, especially for lovers of porcelain and ceramics. Saga is one of the main historic regions in the country for producing ceramic and pottery, with the first examples of Japanese porcelain pieces being produced here after the discovery of a plentiful source of porcelain clay near Arita. Refined Japanese ceramics are still produced in the towns of Imari and Arita; visit the deliciously elaborate Arita Porcelain Park to view pieces housed in a full-size reproduction of Germany's Zwinger Palace and try your hand at producing your own porcelain piece.
The purposely secluded historic village of Okawachiyama is also a fascinating visit. Known as the Village of the Secret Kilns, the settlement was not always accessible to the public, but instead was populated by specialist potters, who held equal status to samurai, producing unique Nabeshima-yaki porcelain (named for the Nabeshima clan who ruled Saga from the 15th to 19th century). Saga's unique history can also be tracked with a visit to the fascinating archaeological site of Yoshinogari Historical Park, which houses a sprawling settlement dating back to the Yayoi Period (300BC to 300AD).
Drink
While Kyushu is well known for the local liquor of shochu, Saga is home to quality Japanese sake, with the distinctive light, fruity Nabeshima sake representing the ultimate drop.
Stay
Located in Takeo Onsen, which dates its history back some 1300 years, Onyado Chikurintei is a charming traditional inn of just 11 rooms surrounded by gardens and stunning mountain scenery painted in vivid hues from season to season.
Kumamoto and Nagasaki
The prefectures of Kumamoto and Nagasaki are also worth time on your Kyushu itinerary. Visit Kumamoto Castle, one of the most famous in the country, and the lovely hot springs resort town of Kurokawa Onsen. Nagasaki has a long history of trade and interaction with the west, reflected in the historic European-style homes found here and the large Christian population; Glover Gardens in Nagasaki city is dotted with grand mansions that once belonged to the city's expats.