The cutest things every tourist must do in Japan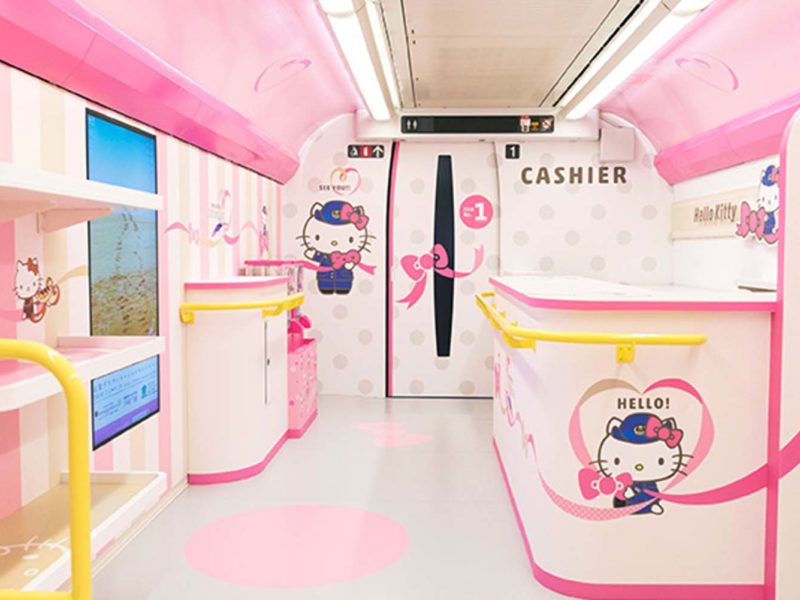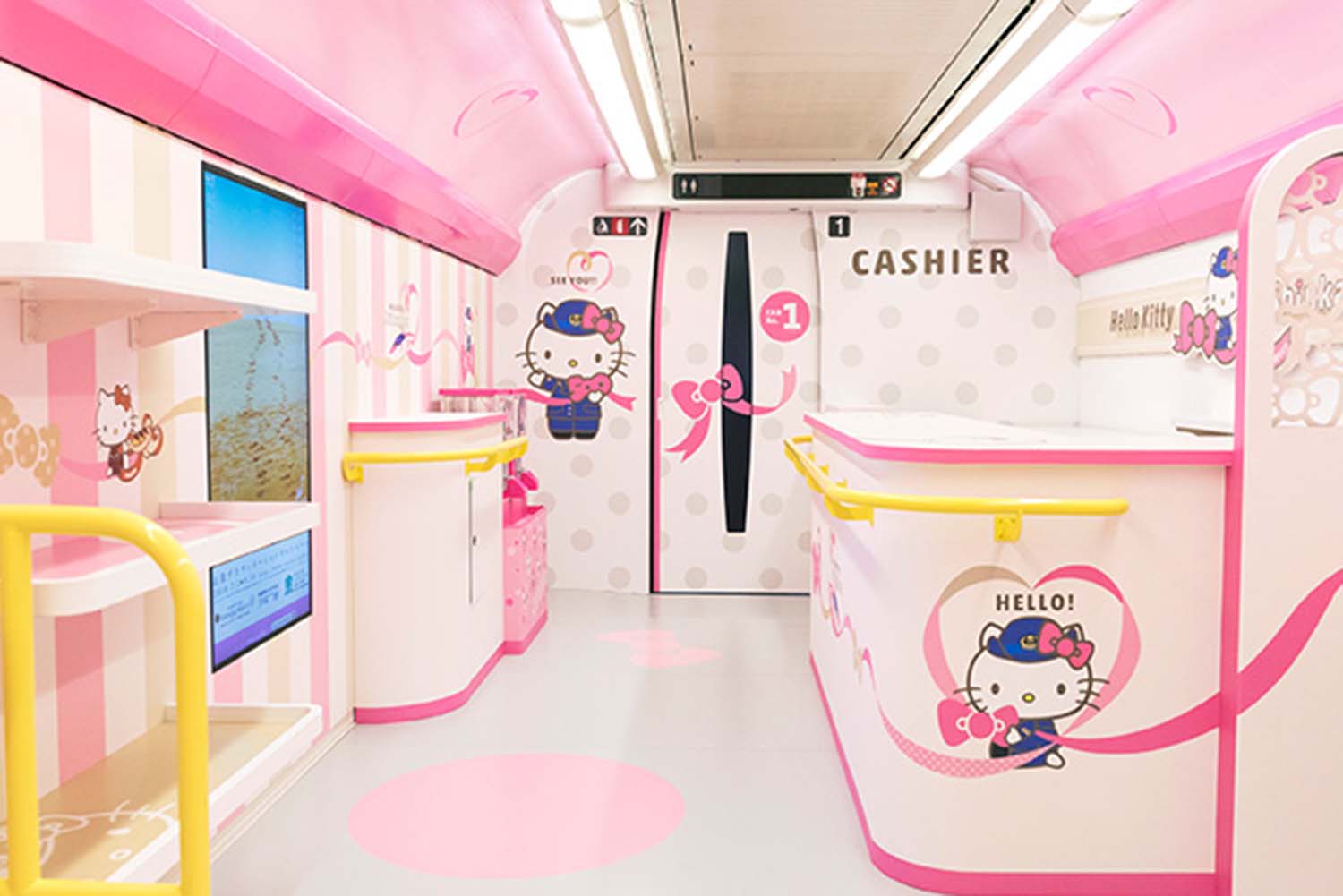 From hanging out in Harajuku to riding a Hello Kitty bullet train, here's how to immerse yourself in kawaii: Japan's quintessential culture of cute, writes Leigh Ann Pow.
Anyone who has spent any time in Japan knows that it is the undisputed capital of cute.
This is a country where Hello Kitty rules supreme (road works here are marked out with Hello Kitty-shaped construction barriers, complete with rainbows, instead of orange witches hats), where businessmen read comics on their daily commute, and where grown women have their nails manicured to resemble doughnuts.
They even have a word for it: kawaii. There are endless ways to get a heaping helping of kitsch on your next visit; here, our top suggestions.
Stay in a Hello Kitty-themed hotel
For total kawaii immersion consider booking a Hello Kitty room at the Keio Plaza Hotel in Tokyo's buzzy Shinjuku neighbourhood.
There are two room types: Princess Kitty is a confection of pink on pink while Kitty Town has a funkier vibe. But both come with everything from complimentary water bottles to kettles to bathroom amenities emblazoned with the popular pussy.
Address: 2-2-1 Nishi-Shinjuku, Shinjuku-Ku, Tokyo. 160-8330 Japan
Eat food with faces
The Japanese have made an art form out of fashioning food into cute characters.
Mothers spend hours in the morning constructing bento boxes (Japanese lunchboxes divided up into handy compartments) filled with Hello Kitty-shaped carrot slices (you can buy the clever little tool responsible for this at Daiso discount stores) and onigiri with panda faces.
You can even take classes to ensure your sticky rice creations are a cut above the rest: Tokyo Kitchen in Asakusa offers Teddy and Bunny Sushi Rolls and Teddy Bento Box classes, with the added bonus that you get to eat your creations once you're done.
Take a seat at a character cafe
Forget Starbucks: why settle for a boring old coffee and cookie when you can take a seat in a character cafe and sip a matcha latte with a cartoon face floating in the foam or eat an omelette presented as a fluffy blanket, complete with a rice bunny sleeping underneath?
There are cafes dotted across the country that pay homage to everything from Pompompurin to Cinnamoroll to Rilakkuma to, you guessed it, Hello Kitty, where everything from noodles to cream puffs comes with an extra helping of adorable. Below are our picks:
Shirohige's Cream Puff Factory
Lovers of Totoro and Ghibli films will be across the phenomenon that is Shirohige's Cream Puff factory.
The specialty café makes (you guessed it), cream puffs in the shape of a Totoro: the famed Japanese anime species.
Eat upstairs or enjoy take away downstairs, but be sure to arrive first thing in the morning as these tables fill up quick!
Address: 5 Chome-3-1 Daita, Setagaya City, Tokyo 155-0033
Hello Kitty Café Konhariyaki
The sheer scale of the Hello Kitty café is enough to tell you just how popular this little character has become.
Tourists from around the world flock to Tokyo Plaza to dine among the décor of Hello Kitty. So it's only right that you do too…
Address: 2F Diver City Tokyo Plaza, Koto 135-0064
Peanuts Café
If you're childhood consisted of reading the popular comic strip Peanuts (featuring the adventures of Snoopy and friends) you'll need to add the Peanuts Café to your itinerary.
The sleek, modern café is nestled among the quiet neighbourhood of Meguro and serves a menu stamped with Peanuts motifs.
Address: Chome-16-7 Aobadai, Meguro City, Tokyo
Visit kawaii ground zero
To get a real understanding of Japan's cult of cute, there is no better place to spend time than the Tokyo neighbourhood of Harajuku (between Shinjuku and Shibuya on the Yamanote line).
On the weekend the narrow streets here throng with young Tokyoites dressed in their technicolour best ducking in and out of funky fashion boutiques and cosplay shops on Takeshita Dori (Street), and buying all manner of weird and wonderful food, from ice-cream cones topped with scoops resembling pigs and pandas to doughnuts with bear faces to whipped cream-topped waffles that defy the laws of gravity.
For a dose of crazy head to the Kawaii Monster Cafe for rainbow spaghetti; make sure you visit the five-storey Kiddy Land toy store on Omotesando Street; and top it all off by heading over to nearby Yoyogi Park to watch Tokyo's urban tribes – from rockabillies to hip hoppers to kawaii girls drowning in tulle – compete for attention.
Have some five-star fun
Not even five-star hotels are immune from the animated action: the venerable Peninsula Tokyo worked with The Pokémon Company to come up with the world-first Pokémon Hotel Adventure: The Power of Ten program.
At check-in, pint-sized guests register to take part in an interactive treasure hunt, at which point they are given a Poké Ball (and a rather fetching Pikachu hat) and sent off to undertake a hotel-wide quest to find their favourite Pokémon characters.
Riding lifts and climbing stairs, the players have to solve puzzles, play games and follow instructions, checking into interactive docks throughout the hotel before moving on to the next clue. The whole thing ends with a lift ride into a dimly-lit secret chamber, complete with a magic mirror, which really ramps up the mystery and fun.
All aboard the Kitty train
Riding Japan's bullet trains is a quintessential experience in these parts, even more so since West Japan Railway Co. Ltd decided to introduce a Hello Kitty version.
Car 2 (named Kawaii! Room) on the pink-liveried train has been decked out in her signature ribbons and bows on everything from the carpets to the windows to the head rests, and comes complete with a photo booth with Hello Kitty toys in Shinkansen uniforms for perfect Instagram props. Car 1, or Hello! Plaza, has regional displays from the area's train stops, as well as a shop to buy all things Hello Kitty.
The Hello Kitty Shinkansen will run between Shin-Osaka and Hakata in Fukuoka city in western Japan's Fukuoka prefecture.
Start stamp collecting
Stamps are a big thing in Japan, where day-to-day documents and official papers are still stamped with personal seals (hanko) to leave a mark (inkan) of verification.
They are also a traditional method of commemorating a visit to a temple or shrine; goshuinchou, meaning 'honourable red-stamp notebook', is the process of collecting the unique stamps of each establishment along with gorgeous calligraphy details of the date etc. usually written by monks and costing the equivalent of a few dollars each.
But there's a fun and free alternative: most places in Japan have their own stamps, from department stores to parks to specialty shops to train stations to amusement parks to airports! All you need to start collecting is a small notebook (stop in at a Tokyu Hand or Daiso store for cheap options) and an eagle eye for spotting the wooden-handled stamps and ink pads that are usually located near the entrance or exit.
Scenes can depict the venue itself, but many regions, attractions and monuments in Japan have their own adorable mascots (known as yuru-kyara), from smiling mushrooms to red-cheeked bears to a puppy with a ramen bowl on his head, which are invariably included on stamps.
LEAVE YOUR COMMENT