Pole to Pole with Hurtigruten: a once-in-a-lifetime cruise experience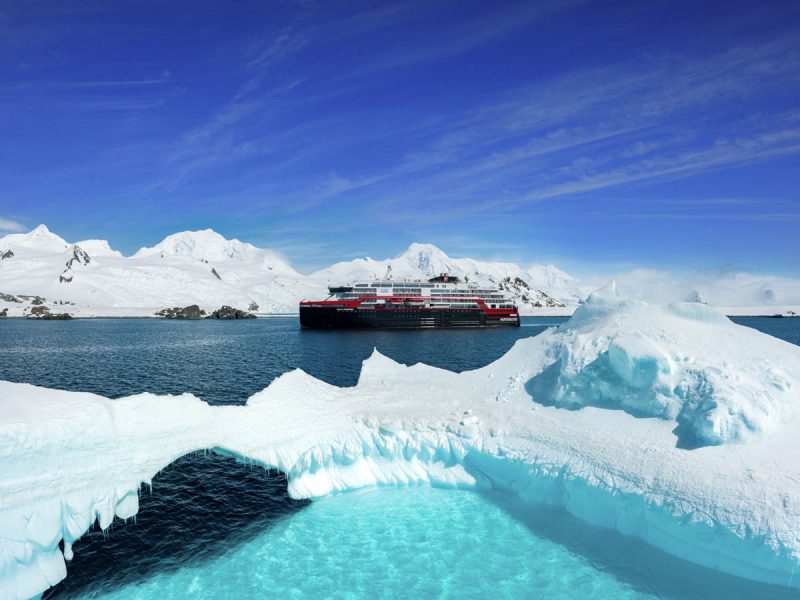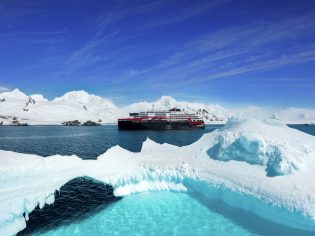 |

This Article was created in partnership with Hurtigruten Expeditions

|
A three-month cruise that makes the most of both the North Pole and the South Pole (as well as everything in between)? With Hurtigruten, that's only the beginning.
When it comes to cruises, the term 'Once in a lifetime' gets bandied about quite a bit: 'Once in a lifetime cruise to so-and-so party island in the Pacific' and 'Once in a lifetime cruise to a day club'. Yet every so often something comes across your desk that is, well, exactly that.
Hurtigruten Expeditions, an expedition cruise company rooted in sustainable practices, has just launched not one, but three epic 2023 Pole to Pole expedition cruises taking in the best of our beautiful planet, adventures that take passengers all the way from the gargantuan ice sheets of the extreme north to the penguin-heavy (and oh-so-breezy) White Continent. Think 94 days, north and south poles, four continents and 100+ landing sites, all on one ultimate bucket-list adventure.
As you can imagine, Planet Earth's extraordinary 'top and tail' duo feature predominantly across the cruises, but Hurtigruten isn't one to let the dramatic landscape of these snow-and-glacier covered wonderlands do all the work, Nope, they've combined them with as many iconic destinations as they could shoehorn into one itinerary, from Alaska, Iceland and Greenland to South America, the Caribbean and even Harvard (hey, if you can't get in, you might as well visit). Of course, crossings across the Arctic Circle, the Panama Canal and the Drake Passage are all included.
Got 94 annual leave days up your sleeve? The aptly titled aboard the magnificent MS Roald Amundsen (the world's first hybrid expedition cruise ship) sets sail from Vancouver and takes in 11 countries on its journey down to Antarctica. Expect to cruise along the Alaskan coast, cross the Arctic Circle and enjoy the delights of Greenland and Baffin Island before heading south along the US and taking in the best of the tropical islands of the Caribbean. Once you pass through the Panama Canal, ancient sites in Ecuador, Peru and Chile will be explored and Patagonia conquered – the perfect training for what you're about to discover in Antarctica.
Departing Reykjavik August 13 on a 93-day Pole to Pole Adventure Unique Expedition Cruise, the battery-hybrid powered MS Fridtjof Nansen (awarded the world's safest and most sustainable cruise ship) takes in Iceland and Greenland before traversing the awe-inspiring Northwest Passage before journeying to the Canadian Arctic and Alaska. From there, it's south along the United Coast's Pacific Coast, the ship then visiting the warm seas of vibrant Mexico and Central America before popping in at ancient sites in Ecuador, Peru and Chile and arriving for an in-depth exploration of Antarctica.
For those who aren't sure if they can stretch themselves to three months at sea, the 66-day Between the Poles cruise with the small expedition ship, the MS Fram is a fantastic option. Kicking off in Montreal, the ship will tour coastal Greenland, Newfoundland and Labrador before cruising through the Atlantic, passing through the Panama Canal into the Pacific and then enjoying the best of South America's Pacific Coast. Expect explorations of Colombia, Ecuador and Peru, as well as Chile and Patagonia before entering the pristine wilderness of Antarctica.
Of course, passengers on all three cruises have the option to extend their cruises (yes, even those on the 94-day voyages); Hurtigruten offers a range of pre- and post-offerings to its Grand Expedition Cruises, such as visits to Easter Island or Machu Picchu.
Sustainable (yet luxurious) cruising
When you're sailing around some of the world's most fragile environments, you're going to need (to paraphrase Roy Schneider in Jaws) 'a better boat'. With a 125+ year history of expedition sailing behind them, no one knows better than Hurtigruten that with climate change, plastic waste and unsustainable mass tourism combined, our planet is facing some of the greatest challenges we've ever known.
To that end, the Hurtigruten Group has been working hard to set new standards for the entire travel industry, becoming the world's first shipping company to ban all single-use plastics and introducing the world's first hybrid-powered ships which can cruise on battery packs alone – an impressive green technology that has reduced Hurtigruten's C02 emissions by up to 20 per cent. The good news doesn't end there; not only is Hurtigruten committed to reducing food waste by some 30 per cent and producing its own fresh water on board the ships, the expedition line – a member of International Association of Antarctic Tour Operators – and a founding member of the Association of Arctic Expedition Cruise Operators – is pushing for tightened regulations on size limitations on cruise ships and visitor numbers allowed on shore in Antarctica, as well as a push to stop mass tourism in vulnerable regions of the continent.
A focus on sustainability doesn't mean passengers will be sailing without life's little luxuries; although two of the Pole to Pole itineraries are offered by the small-sized battery-hybrids, MS Roald Amundsen and MS Fridtjof Nansen and the third on the custom-built expedition original (and now fully upgraded) MS Fram, comfort and style are key. Aboard the MS Roald Amundsen, for example, rich, Scandinavian granite, oak, birch and wool are used to create an ambiance that mirrors the mood outside. All cabins are outdoor cabins (50 per cent of which have private balconies, and aft suites have private outdoor hot tubs) and the ship features three restaurants, a lounge, spa, hot tub on deck, fitness room, library, and our personal favourite, the state-of-the-art Science Centre – the core of the onboard experience and a signature space that is available on all Hurtigruten ships. This isn't just for show, but a base for Hurtigruten's world-leading Science Program that not only includes scientists on every cruise, but a wide range of Citizen Science research projects guests are encouraged to participate in.
Sure, this once-in-a-lifetime trip means endless off-shore experiences and excursions, from kayaking, snowshoeing and ice camping, to exploring Mayan ruins and vibrant South American cities, but why be passive when you can be bold? Spot whales and leopard seals, analyse phytoplankton and observe clouds – all activities that feed into research at key institutes around the world.
It's the trip of a lifetime. Why waste the opportunity to make a difference?
For further information about Hurtigruten's Pole to Pole cruises, visit Hurtigruten.