Cruising Review: Celebrity Apex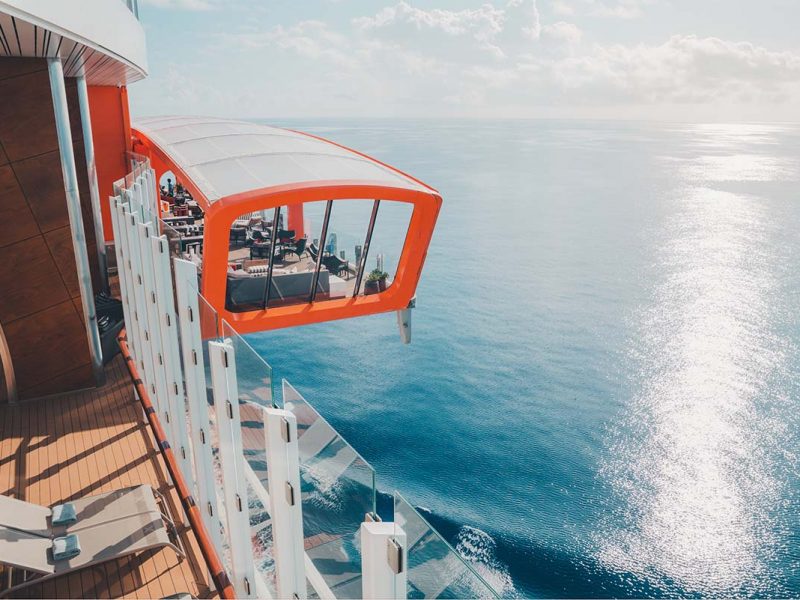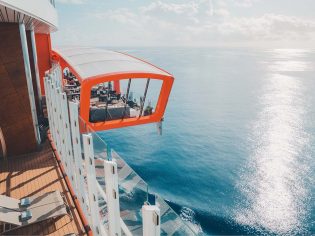 The spotlight is on Celebrity Apex
The second in Celebrity Cruises' industry-leading Edge-class ships, Celebrity Apex, takes guests on a magic carpet ride with innovative new features.
Overview
If you thought Celebrity Edge was spectacular, you're going to love new sister ship Celebrity Apex. The cruise line has improved on what was already great and gone one better, reimagining the public spaces, introducing even more impressive bars and improving the Magic Carpet concept.
Magic Carpet is probably not the right name for a bright-orange steel platform as large as a tennis court, especially one that guests can't ride when in motion. Though to be fair, it does feel magical to be drinking an Aperol Spritz on a 90-tonne open-air deck, tethered high above the sea.
The moveable platform transforms for multiple purposes as it is relocated up and down. On Deck 2, it connects the ship with the tender boats. On Deck 5, it's a popular bar and open-air music venue. It can also be booked for dinner on some days. Catch it up on Deck 14 when it's an open-air lounge adjacent to the pool deck.
After a very delayed inauguration due to the pandemic, the 2,910-passenger Apex is finally ready to roll out the red carpet on Caribbean voyages. With enhanced safety protocols and highly focused marketing efforts, Celebrity is betting on the 2022 European summer season being one giant party.
Cabins & Rooms
Interior designer Kelly Hoppen aimed to create cabins that feel more like fancy city apartments than traditional staterooms. She succeeded. They feel inviting and luxurious, yet still relaxed. There are king-size beds in 99 per cent of the rooms (an industry first) and premium bedding that would rival any luxury hotel.
The ship is tech-savvy, with many room functions operable from a smartphone app. We love the Infinite Verandas concept: At the touch of a button, passengers gain open-air access to the sea by lowering the water's-edge cabin window.
The mind boggles at the range of stateroom options and configurations — 178 to be exact — including Single Staterooms for independent travellers to connecting configurations for families and groups. I thought the Iconic Suite would be prohibitively priced at upwards of US$100,000 (AU$136,008) for a seven-night European voyage. What do I know? It's booked out months in advance.
Dining & Drinking
With 29 restaurants, bars and lounges to choose from, I had FOMO trying to fit everything in on a short voyage.
Let's start with what's new. Recognising the popularity of craft beers and microbreweries, Apex has introduced Craft Social, a relaxed pub with hard-to-find beers from around the world alongside classic burgers and pub food. During our sailing, it was a popular spot for watching international soccer matches on the big screen.
There's plenty of complimentary dining and no need to spend extra for food. That includes Oceanview Cafe, a 'global marketplace' that takes the place of a traditional buffet. For health and safety reasons, self-service is no longer possible. The poolside Mast Grill is the place to pick up beers, burgers and sides. Instead of one vast main dining room, the complimentary fine-dining venue has been divided into four smaller restaurants serving American, Greek, French and Italian fare.
Of course, there are options to pay more for dinner if you choose, including Fine Cut Steakhouse, Raw on 5 (sushi, sashimi and popular Japanese dishes) and Eden Restaurant in the reimagined Eden zone. The new Le Petit Chef animated dining experience seemed a bit gimmicky to me, though others were entertained by it.
Guests staying in suites have access to The Retreat, which includes the exclusive right to dine at Luminae. With a menu featuring dishes by acclaimed chef Daniel Boulud, Luminae is consistently rated the best restaurant on the ship and a good reason to book a suite.
Entertainment & Activities
Claiming to be the most technologically advanced theatre at sea, Apex's main performance space features a six-metre high 4K LED curved screen made of 17 million pixels. Laser effects are projected on a 360-degree circular structure, right next to a two-ton, 5.5-metre-tall Tree of Life. It's immersive fun with a wow factor that will forever put sequins and jazz hands to shame.
I preferred sitting back with a cocktail in The Club, which reminded me of New York City jazz clubs. The big-band live performance was like something from Shy Baldwin's band on The Marvelous Mrs Maisel.
In the new Eden space, entertainment programming changes daily and might include a romantic crooner, interactive magic show or a DJ set that brings the groove. The space itself is serene and inviting, whether for an afternoon siesta in the hanging chairs, casual lunch on the deck or evening meal.
Fitness options include F45 classes (first ever at sea) to HIIT classes and Peloton bikes in the gym.
If shopping is your cardio, walk the 650 square metres of retail stores to pick out something lovely and expensive from Bvlgari, Cartier or Montblanc.
Family Friendly
While Celebrity's ships and programming do tend to appeal more to adults, there's plenty for kids to do onboard. Camp at Sea offers supervision and age-appropriate themed activities for children ages three to 12. Campouts, movie nights and scavenger hunts are on the agenda.
Celebrity Apex's godmother is Reshma Saujani, the founder of Girls Who Code, so expect to see the option of STEM and coding activities, too. Kids with special needs are catered for with sensory-friendly films, toys and mealtime accommodations. Parents must be present in the Toddler Time space. The Teen Club sounds like fun with late-night pizza, dance parties, Xbox tournaments and more.
Itineraries
During the northern winter, Celebrity Apex will cruise around the Caribbean and southern Florida. It's a good time to score a reduced fare deal, while the ship is sailing at less than full capacity and many travellers are not ready to get back onboard with cruising. She will head to Europe by May 2022, for a summer season that includes voyages around the British Isles and Scandinavia. See celebritycruises.com/au/ to plan your trip. Europe itineraries start at US$1771 (AU$1302) per person for a seven-night cruise.
What we love
Forget the 'nickel-and-dime' approach of some cruise lines. With Celebrity's Always Included promise, guests enjoy all drinks (cocktails, wines by the glass etc), wi-fi and Service Charges included in the cruise fare. That applies to every sailing, every cabin category, every time. For anybody who has ever paid US$100 (AU$135) per day for multi-device wi-fi on a cruise, this will come as a great relief. It's a lot simpler to pay one fare and be done with it.
Could be better
Wait times for pre- and post-cruise assistance are unacceptably long, presumably due to high enquiry volumes and reduced staff numbers. Celebrity is aware of the problem, and a spokesperson for the company says they are currently training and onboarding hundreds of new customer service representatives.
(Ed: Kristie is one of our New York based writers and her call centre experience relates only to the US office. Celebrity's Australian office reports that the local call centre is not experiencing these same challenges.)
I was erroneously charged for binoculars, "an item not located in the cabin at checkout". At the time of writing, I'm still seeking a refund. A trivial matter in the scheme of things perhaps, yet not befitting what I expect of the Celebrity standard.
LEAVE YOUR COMMENT