9 of the world's weirdest national dishes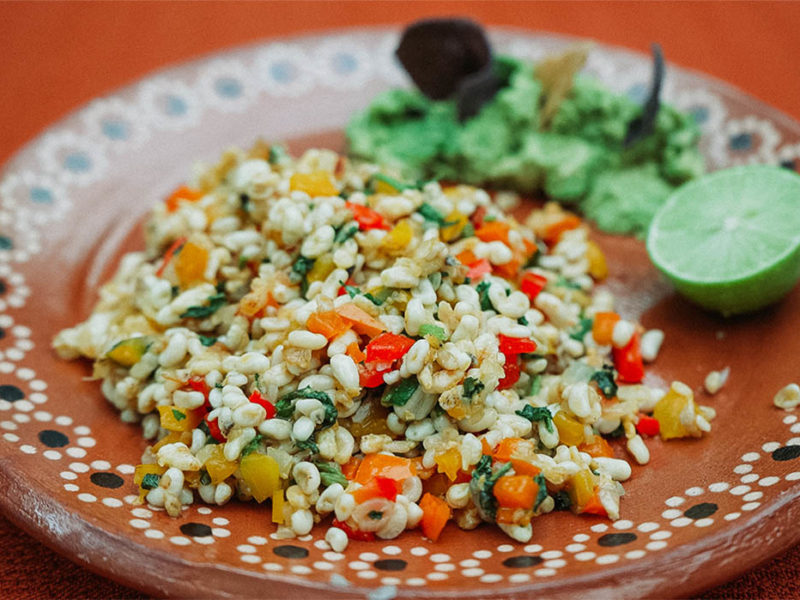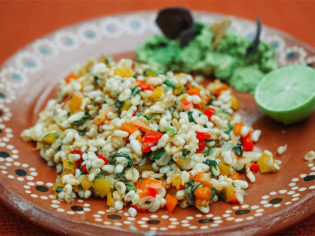 Take a trip around the world via nine weird national dishes.
One way to get a taste of a culture is by eating its food. From sautéed reindeer to pine cone jam and a pufferfish dish that requires a license to prepare – here are some of the most unusual dishes from around the world.
Mexico: escamol
Escamol is a fairly swanky dish you won't find on just any Mexican menu. In fact, these pinenut resemblances have earned a reputation as the caviar of desserts.
Ant pupae and larvae – called escamol – is considered an opulent treat in Mexico. They're collected from the rural high plains, where the tree ants surround themselves with the roots of mezcal and tequila plants. With a nutty, buttery taste on their own, they are often simply prepared; fried in butter with onion and chilli, then wrapped in corn tortillas to be served as tacos.
Before it gained a reputation as a delicacy among the Spanish, Indigenous people ate escamoles as a source of protein. Now, you'll find it on the menu in numerous upscale restaurants throughout Mexico City.
Hawaii: manapua
Chinese immigrants to Hawaii have brought their own flavours and unique influences to Hawaiian cuisine over the centuries. One of which has resulted in the creation of the manapua: a sweet Chinese-style dumpling stuffed with Hawaiian-style flavours.
Manapua began in China as char siu bao ("bao" means "steamed bun"), but it was the Hawaiians who added tropical island fruits to make this their own. They also used yeast and baking soda to increase the size of the bun. The inside is stuffed with pork, chicken and sweet potato mixed with pineapple to create a doughy/sweet hybrid.
China: snake wine
Hong Kong has several unusual culinary offerings and snake wine is just one of them. Made from a concoction of venomous snakes and alcoholic rice wine, Chinese snake wine has been consumed since the Western Zhou dynasty (1046-771 BC) and is traditionally thought of as a medicinal liquor.
The wine is prepared by placing an entire snake – often while still alive – into a vat of rice wine. It is then left to ferment for several months, then garnished with herbs and spices. The ethanol in the rice wine denatures the venom, making it a safe, earthy drink when prepared properly.
Snake wine is usually found around markets and traditional snake restaurants in Hong Kong. It is typically served on its own, rather than as a meal accompaniment.
Italy: maggot cheese
You rarely think of cheese as being dangerous, and yet the Italian delicacy of casu marzu has been given illegal status due to the obvious health risk it poses. This one has made the list as a gross curiosity – we definitely do not recommend you seek it out.
Casu marzu (Westernized as 'maggot cheese') comes from the Italian island of Sardinia. Like all good quality sheep milk cheeses, it takes some time to make, in part due to the thousands of maggots that infest the finished product.
First, the milk is heated, then left for about three weeks so it can curdle. After the crust is cut off, in comes the flies who lay their eggs. Afterwards, the cheese is left in a dark hut for two to three months. During that time, the eggs hatch into larvae and begin to eat the now-rotting cheese. Their bodily excretions are essential, giving the cheese its distinct soft texture and rich flavour.
The European Food Safety Authority has banned the cheese, so even if you manage to find this elusive Fromage you should definitely give it a miss.
Finland: sautéed reindeer
Venture past Santa's workshop and order the national dish of Finland, a plate of poronkäristys (sautéed reindeer meat). The dish originates from the Arctic Lapland where the semi-nomadic, indigenous Sámi people have been herding the animal for centuries.
The slices of meat are usually prepared with butter, onions and simmered in beer or stock until tender. A plate of poronkäristys is traditionally served with mashed potatoes and lingonberry jam, but it can also be accompanied by pasta or rice.
You can order poronkäristys in most Finnish restaurants, but you can also find reindeer meat in most supermarkets to cook yourself. Its health benefits could be compared to a kangaroo, another national animal found in the supermarket meat section.
India: ant chutney
To diners in India's eastern states of Chhattisgarh, Odisha, and Jharkhand, red ants and their eggs are a coveted delicacy. The paste is a sought-after chutney called chaprah, which means leaf basket and is a reference to the nests that ants make using the leaves of the sal tree.
Villagers collect the ants from local forests, crushing them and their eggs with a mortar and pestle. To make the chutney, they'll add tomatoes, coriander, garlic, ginger, chilli, salt, and a bit of sugar to create a smooth, orange paste. Vendors sell the chutney at markets in small packets of sal leaves. Diners should be warned however, the ants' high levels of formic acid make chaprah extremely spicy.
Russia: pinecone jam
Varenye (a kind of jam) is an Old Russian word that means "a boiled treat". Pinecone varenye is considered a powerful ailment, used to treat asthma, bronchitis, and other health issues.
To create the jam, young green pinecones (a far cry from your typical Christmas pinecones) are collected from May to June. They should be soft, easily punctured and one to three centimetres in length. The process from there is relatively simple and can easily be done at home. All you need is the specific type of pinecone, sugar and water.
To season, you can add lemon, vanilla, cinnamon, and other spices, as well as black currant and cranberry.
Japan: fugu
This dish was made famous by a well-known yellow family on a show called The Simpsons. Fugu, aka Japanese pufferfish, is notorious for the highly toxic poison contained in its organs.
Despite its potentially deadly side effects, fugu has been consumed in Japan for hundreds of years. Due to the huge number of fatalities, eating the fish was banned from around 1570 to 1870.
These days you can find it in restaurants throughout Japan. It must however be prepared by a licensed chef and is prohibited from being prepared in the home – even the Japanese royal family are forbidden from eating it to this day.
Australia: witchetty grub
If you thought traditional Aussie cuisine meant Vegemite on toast followed by a lamington for dessert, it's time you expanded your horizons. Probably the most iconic bush food, witchetty grubs can be found underground, nestled like silkworms in the red dirt.
Up to 12 centimetres long and three centimetres wide, it lives in the roots of the witchetty bush. They taste like an egg when cooked, like almonds when raw, and are a huge source of protein. They are a staple food source for those living off the land in Indigenous communities and are even popping up in Aussie restaurants that specialise in using native ingredients.
LEAVE YOUR COMMENT