We found the perfect Alaskan cruise for people who thought they never would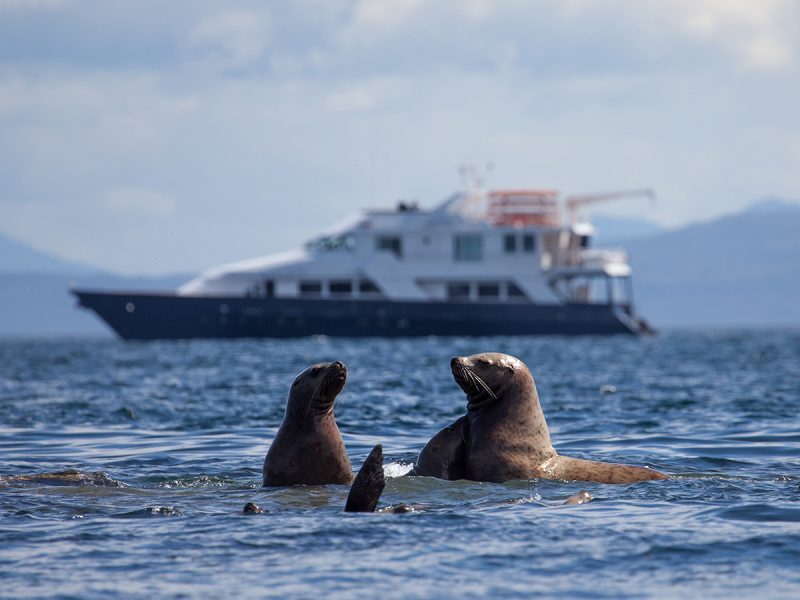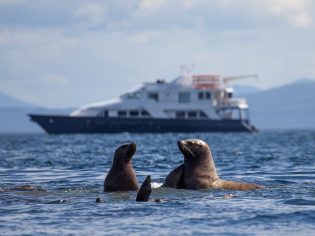 |

This Article was created in partnership with UnCruise Adventures

|
In Alaska, snowy mountains fang the horizon, mighty glaciers edge the sea and pine-topped islands are scattered to create scenery of staggering extravagance. Even the wildlife is outsized: whales, grizzly bears, bald eagles.
It's a place every traveller should see but, with difficult access, you'd need the skills of a polar explorer to visit Alaska yourself unless you cruise. The thought of visiting a wonderful wilderness on a large cruise ship might put you off, but there is another option.
Sail with UnCruise Adventures and you won't be the typical cruiser. Instead, you'll steer away from busy ports and into the crannies of Alaska's spectacularly indented coastline, where you'll find no houses, no telegraph wires and not a sound but the plop of melting ice and huffing of surfacing whales.
Here are four reasons to take UnCruise Adventures through Alaska.
1. Uncruise Alaska use smaller ships
UnCruise Adventures was established in Alaska nearly a quarter-century ago and knows its every contour. Forget everything you imagine about cruising: the only resemblance to regular cruising is that you travel by ship.
UnCruise ships – you might even call them boats – carry between 22 and 86 passengers compared to 6000 on Alaska's biggest cruise ships. The experience is completely different. No hidden or add-on costs, no long queues to disembark, no big tour-group shore excursions.
No pointless distractions either. While big-ship customers are huddled in casinos and theatres, UnCruise guests are marvelling at glaciers. You have an outside cabin either with a window onto Alaska's wonders or step-out access to the deck.
You get an intimate cruise offering a true exploration of the wilderness, and astonishing wildlife encounters. The itinerary is flexible: if whales are spotted in Frederick Sound, the ship will pause for a while amid the spectacle.
An UnCruise Alaska journey is an adventure in rugged wilderness, but you don't have to abandon holiday pleasures. Enjoy multi-course meals of locally sourced food such as Dungeness crab. Have signature cocktails every night. Enjoy a gushing shower and plump mattress. That's the enchantment of small-ship exploration.
2. It's not a typical cruise
This is an encounter with Alaska that most people never get. It's an enriching travel experience that protects the environment, promotes responsible travel and delves into local culture with expert guides. It's like having a backstage pass to the biggest show on Earth.
With UnCruise you don't just call at large ports but sail into remote bays where you can hike, kayak and paddle board.
Soak up the genuine atmosphere of small towns such as Haines, an old trading and US Army post beneath snow-capped peaks, or tiny fishing village Pelican Town, where you can hike a six-mile trail through old-growth forest.
Shallow drafts mean you can get into seldom-explored places such as the remote inlets of Chichagof Island where it's just you, the seals, and passing sea otters twitching their whiskers.
You'll get to places such as Behm Canal, whose waterways are patrolled by black bears and bald eagles, and where orcas might pop up for a look as you paddle by in a canoe.
You'll see some of Alaska's classic destinations too such as Icy Strait, Glacier Bay National Park and Misty Fjords, but from a different angle to big ships, in which you share the serenity only with puffins and mountain goats.
3. There's a cruise style to suit you
At heart, UnCruise is all about discovery, with journeys that focus on water activities, excursions, cultural encounters and a range of exciting activities. There's adventure for everyone – take the polar plunge if you dare – but time to relax and watch Alaska float by.
If you want a great family experience then look for Family Discoveries cruises, which have a great range of activities for children (aged eight and up) and adults to share together, whether snorkelling with sea creatures, going on treasure hunts in tidal pools, storytelling around bonfires onshore, or meeting the captain on the bridge.
On the other hand, UnCruise also has adults-only journeys for those looking for undisturbed peace, and who want to relax in the knowledge everything is organised.
Single supplements are waived on select departures. For solo travellers, this is a safe and easy way to travel and you'll soon make new friends. It's hard not to when there's only a handful of people who share common interests on board, and you'll soon be swapping bear-spotting stories over a meal.
4. They explore more places than Alaska
UnCruise Adventures sails much further afield to other places where the spirit of adventure calls. In the Pacific Northwest, you might want to consider the beautiful San Juan Islands, which feature temperate rainforest and abundant bird life, or explore the stunning Snake and Columbia rivers, where you'll sail gorges, densely forested landscapes and arid desert scenery.
Mexico's Sea of Cortez is one of the world's most wildlife-rich destinations for its sea lions, whales, whale sharks and amazing marine and bird life. On land, you can trek by mule through canyons, enjoy deserted beaches and explore the culture of local towns.
UnCruise also sails the Hawaiian and Galapagos islands and many destinations in Central America, including eco-destination Costa Rica and its national parks, Belize and its world-class coral reefs, and Panama, Colombia and Guatemala. Enough to prove that cruising really is for the adventurous, as long as you do it the right way.
LEAVE YOUR COMMENT