Everything you need to know about cruising Alaska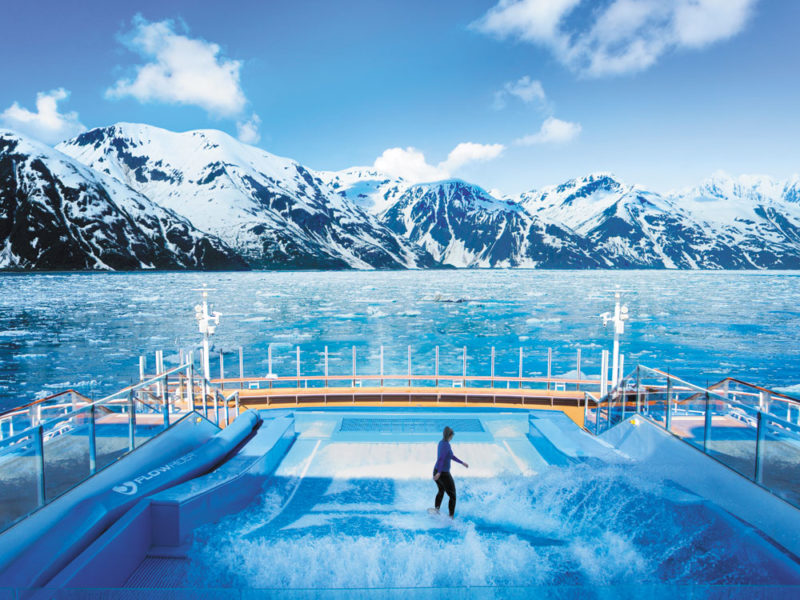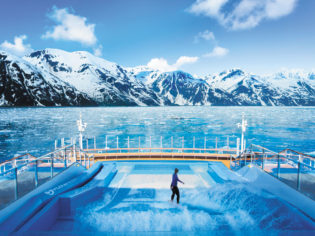 |

This Article was created in partnership with Cruiseco

|
This article was created in partnership with Cruiseco.
There's a reason why Alaska is frequently described as one of Earth's final frontiers. Covering vast amounts of land and remote wilderness largely untouched by humans, the USA's largest state is best seen from the deck of a cruise ship. Here are all your questions about cruising Alaska answered.
Why cruise Alaska?
Alaska is Mother Nature in her rawest form: immense glaciers, deep fjords, soaring mountains, impenetrable forests, and a long, craggy coast interspersed by tranquil sounds and bays. While its territory is dominated by extreme environs, its famous Inside Passage is a glorious network of waterways that all travellers can experience. Most cruises run through the Inside Passage – which stretches from Washington State's Puget Sound in the south, along the Pacific coast of British Colombia and up through southeast Alaska – and some take in the Gulf of Alaska.
When cruising Alaska through the Inside Passage, history buffs and culture vultures will regale in visiting remote towns, while wildlife lovers can delight in breathtaking glaciers, fjords and an abundance of wildlife including humpback whales, sea otters, porpoises, harbour seals, black bears, mountain goats and birdlife.
Depending on your cruise itinerary or post-cruise arrangements, you may also be lucky enough to visit Denali National Park (four hours' drive north of Anchorage), a staggering 2.4 million hectares of protected wilderness that is prime habitat for grizzly bears, moose, caribou, Dall sheep and wolves.
When is the best time to cruise?
Alaska's cruise season runs from May to September, which marks the end of its spring season to the beginning of its autumn (fall). In May, it starts to warm up (by warm, we mean tops of around 13°C) and it's usually a lot less busy than the following months. Wildflowers begin to bloom and the region's wildlife becomes more active.
June and July are the warmest months (topping out at 17 to 18°C) and offer the most sunlight – around 20 hours per day! There is also plenty of activity and festivals in Alaska's towns over this period, including summer solstice on 21 June. July is peak time to spot whales migrating from Hawaii.
August can sometimes experience more rain, but with that comes the chance to witness calving glaciers and moving icebergs; temperatures average 17°C. In September, things are usually slowing down (and cooling down) as the state prepares for another white winter (maximum temperatures of around 13°C). During this time the nights grow darker and longer, but mountainsides turn shades of gold and their peaks are peppered with the first snowfall.
How do I choose a ship?
Between the ship style and size, amenities on board, shore excursions offered, and destinations visited, choosing a cruise can seem tricky. That's where a cruising specialist can help. Booking through a specialist cruise distributor gives you access to cruise experts who can answer all your questions about the ship's amenities, cabin layouts, shore excursions, itinerary options – even small details such as the ship's staff-to-passenger ratio indicating the level of service that you can expect.
Some distributors even offer a selection of handpicked cruise experiences for a particular destination. For example, Cruiseco's Alaska Collection is a round-up of the best cruise lines and itineraries in Alaska. The collection features 11 cruise lines with an array of amenities and itineraries to suit every traveller. Celebrity Cruise's contemporary design, chic bars serving molecular cocktails and iPad-led art tours may appeal to sophisticated couples; Cunard's library (the biggest at sea), impressive art collection and fascinating lectures make this line suited to more cultured and curious travellers; Royal Caribbean's ice skating rink, 3D movies and busy kids' clubs make it a no-brainer for families; while Windstar Cruises' Zodiacs can take travellers to more remote locations that the larger cruise ships don't venture to.
Where will my cruise take me?
Alaska's coastline is dotted with historic cities, remote villages, vast forests, and rugged islands, making it a wonderland of exploration. As we mentioned earlier, most cruises travel through the Inside Passage (that immense waterway of fjords, islands and bays), while others venture further up the coast to the Gulf of Alaska, too.
The main ports you'll visit include the state capital Juneau, which is accessible only by sea or air, the historic Gold Rush town of Skagway, and culturally rich Ketchikan; highlights include Tracy Arm fjord, Glacier Bay and Icy Strait Point.
Most itineraries are a round trip from Vancouver, with a duration of 12 to 14 nights. There are also several one-way options that start or end in other cities such as Seattle, Anchorage, Los Angeles, Calgary and even Honolulu or Tokyo.
For more extensive explorations of Alaska, there are several longer cruises that visit lesser-known ports. For example, Oceania Cruises' 18-night Frontiers and Glaciers itinerary stops at Wrangell, known as the heart of the Inside Passage; the harbour city of Kodiak; adventure hub Haines; and Homer, the halibut fishing capital. Similarly, Holland America Line's 17-night Great Alaskan Explorer takes in unique ports such as the scenic Inian Islands and the tiny but impressive town of Valdez, while Silversea Expeditions' 15-night Fjord and Glacier Exploration visits the quaint port of Elfin Cove; Metlakatla, the state's only Indian reserve; the spectacular Misty Fjords; as well as ports along Canada's coast.
Some itineraries even span countries, such as Cunard's epic 23-night Geisha to Glacier cruise that starts in Tokyo and ends in Vancouver, or Norwegian Cruise Line's 19-night The Best of Hawaii and Alaska, which combines two incredible cruises around the Hawaiian islands and Alaska's Inside Passage.
What shore excursions should I book?
Whether you're an avid explorer, a historian at heart or a wildlife warrior, there's a land-based trip to suit you at each port.
A literal playground for adventure lovers, Alaskan cruises abound with active shore excursions. Head out on a kayak through fjords of colossal icebergs and carving glaciers; take a scenic cruise to spot whales, sea lions, orca and more; board a seaplane flight over the Misty Fjords; go bike riding through Tongass National Forest in Ketchikan; take a thrilling heli, bike and hike tour in Icy Strait Point or explore the Volcano Coast of Sitka by ocean raft.
For history and culture buffs, Holland America Line offers a Russian music performance and tea tasting; Norwegian Cruise Line passengers can see a lumberjack show in Ketchikan; Silverseas offers a horseback ride through Klondike Gold Rush National Historic Park; and Oceania Cruises runs an art tour in Sitka.
If you're travelling with kids in tow, sign up for a dog-sledding tour in Juneau, pan for gold in Skagway, zipline through forests in Icy Strait Point, visit the Alaska Zoo in Anchorage or jump into a go-kart in Ketchikan.
The options are endless, so it's wise to do some research before choosing your ship and consider booking limited-availability excursions in advance.
Tips for cruising Alaska
-Pack carefully when cruising Alaska! You'll need warm clothing (including thermals, gloves and a beanie), all-weather windproof and waterproof jacket, walking shoes and hiking boots, sun protection, a swimsuit (for the ship's pool or spa), binoculars for wildlife spotting, and dinner dress (check with your cruise line if there are any formal events).
– Book a mid-ship room if you experience seasickness (particularly if your cruise sails through the Gulf of Alaska).
– Book a cabin with a window or balcony for a better view of Alaska's awe-inspiring scenery and wildlife.
– To avoid crowds, consider sailing in the shoulder seasons – May and August.
How to book
The best way to book your cruising Alaska adventure is with a dedicated cruise specialist who will be a fount of knowledge when it comes to the different cruise lines and ships, itineraries and shore excursions, and the destination itself. Cruiseco Collections Alaska brochure is an easy-to-navigate introduction to cruising in Alaska; it can be found online here.