Cruise review: Norwegian Prima's luxury ship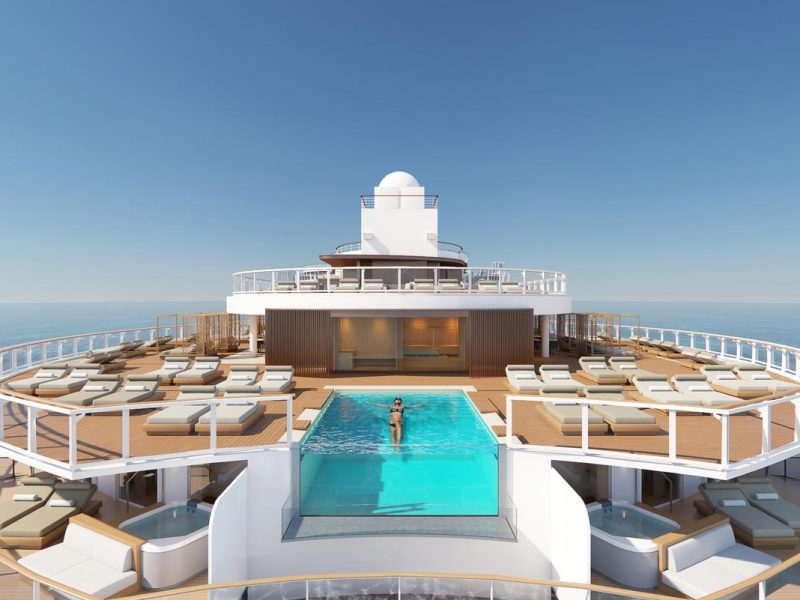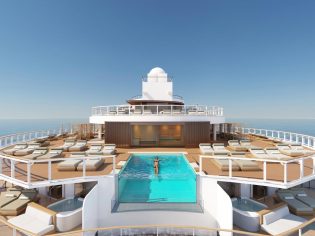 Norwegian Cruise Line (NCL) CEO and Chairman Harry Sommer admitted "the Prima class of ship is our future". We jumped on Norwegian Prima for its inaugural cruise from Galveston, Houston for a first look.
It's not just a new ship, but a new 'class' of ship. The company claims that Norwegian Prima is designed entirely with the passenger in mind. Not derivative of previous ships or deferring to assumed wisdom or expectations of what a cruise ship should be.
In our judgement, Norwegian Prima is designed to be the resort holiday you have always wanted.
We spent four nights trying to unravel just how different Norwegian Prima really is. We went hard, would have loved more time (which says something in and of itself), but here is what we found.
1. Norwegian Prima – Our Verdict
2. What makes Norwegian Prima Different
But if you want more, then there is a full detailed review of almost every inch of the 299m long ship that follows – links below. (We did say we went hard…)
3. Norwegian Prima Complimentary Dining
4. Norwegian Prima Specialty Dining
5. Norwegian Prima Bars
6. Norwegian Activities
7. The spa, salon and thermal suites
8. The Norwegian Prima Suites and Staterooms
9. The Haven
10. Norwegian Prima's Broadway show
11. Norwegian Prima and Sustainability
12. Norwegian Prima itineraries and pricing
Norwegian Prima – Our verdict
Yes, Norwegian Prima is a very different cruise ship whose innovations may appear on many more post Covid ships – even though it was largely conceptualised well before the pandemic.
Who will love Norwegian Prima
Norwegian Prima will generally suit couples who love an upmarket resort-style experience with a great variety of food and drink options, don't mind paying more for some exclusive amenities like the Vibe Beach Club and like a mix of relaxation, nightlife and solitude to rest and recover.
The décor and aesthetic are modern, bright and sleek. No sharp edges but organic curved lines. Each zone obviously has its own colour palette however the overall effect is a boutique and intimate feel where restaurants evoke either a sense of comfortable neighbourhood favourites or upmarket sophisticated spaces.
For luxury lovers, the Haven is a game changer and has ruined cruising for us, much like business class vs economy flying.
Will families and kids like Norwegian Prima?
Families would be advised to choose cruises that have equal shore and on-board time as the kids may exhaust the on-board activities relatively quickly.
What makes Norwegian Prima different
There is one major design change plus a few dining and entertainment innovations that validate the prima moniker – as in 'first'.
Norwegian Prima is more spacious for guests
The big change is around space, as in there is a lot of it.
The space-to-guest (and staffing) ratio is the highest in the large-scale cruise ship class. NCL claims there is 36% more space per guest and the most outdoor space of any new cruise ship.
We see this first hand on the inaugural. On board were 2500 other passengers, 81% capacity (the max dual occupancy is 3100) and it never felt uncomfortably busy or overcrowded.
The feeling of space is created by departure from typical cruise ship design. Cruise aficionados may experience a sense of disorientation as some things are not quite where you expect them to be.
The biggest example is that the major pool deck has been effectively increased in size but split across two decks. On deck 17 a single pool, two hot tubs and a bar. While on the port and starboard sides of deck eight there is a secondary pool and lounge area called Infinity Beach. The infinity edge pools blur the line between sea and pool, surrounded by day beds that float on shallow pools and more loungers.
This effectively disperses the sun worshippers across deck 17 and deck 8, as opposed to the cheek-by-jowl sun lounger battles that can occur on other ships. Having said that the pool on deck 17 is not exactly expansive however there is ample room for sun loungers and day beds.
Deck eight is much more than just Infinity Beach and is the foundation of creating a ship that is as much outdoors as it is in. Deck eight is known as The Ocean Boulevard, comprising Infinity Beach and other zones like La Terazza, a series of curved lounges with sea views or the Sculpture walk where more than US$2m worth of art is installed.
This dispersal continues across all decks of Norwegian Prima. From the cosy observation deck in the stern to the Soleil bar at the aft, there are bars and spaces dotted across the entire 20 decks that create ample space for everyone.
Norwegian Prima has some new ideas about dining
Every cruise ship will list endless dining and drinking options, and Norwegian Prima is in many ways no different, but two really stand out.
Norwegian Prima Indulge Food Hall
The Indulge Food Hall is unusual. Think food court, a plethora of cuisines to choose from, but cast the vision of a Westfield food court far from your mind.
The mini-restaurants and food trucks serve up a multitude of dishes; Indian tikka from the tandoor at Tamara, pad thai or pasta from Nudls, pulled pork burgers from the Q Texas BBQ, nachos from the Latin Quarter (housed in a mini airstream food truck) and charcuterie from the Tapas food truck.
Ordering is simple. Select your items from any of the 11 mini-restaurants on an iPad at a table, and in about two minutes it will be delivered to your table. You don't need to move or order through an attendant.
Norwegian's Hudson and Commodore Rooms' main dining halls are changing
Classic dining rooms have a seven-day ever-changing menu. On-board Norwegian Prima, the menu is the same every day – however, there are enough choices to give you plenty of reasons to come back.
The Hudson décor and 360-degree views are fresh. Bright white with aqua furnishing, the complimentary restaurant is a great place for breakfast, lunch and dinner.
Norwegian Prima has rethought its theatre
The theatre is a flexible space. For the on-board Broadway show – Summer: The Donna Summer show (a must-see, more on that later) there is a full three-deck theatre. The seating can be retracted to half seating or even fully retracted to create a dance floor for a dance party.
The three-deck go-kart track
Yes, the go-kart track is across three decks, 22% larger than any other go-kart track they have at sea (they are the only ones with tracks) and the cars can reach max speeds of 48km/h. We did take great joy in setting the fastest lap in our race.
The Studio's lounge
Not only was Norwegian Cruise Line a pioneer in the single occupancy Studio but Norwegian Prima now has a "studio lounge" for the exclusive use of studio guests. It offers studio passengers a much larger space in which to relax.
Summary
We loved the experience and wanted more time and access to the rest of the dining experiences. Don't miss the Summer: The Donna Summer show, enjoy the Indulge Food Hall and Infinity Beach but most of all, if you can, book The Haven,
Want more, cause there is plenty more, read on for a very detailed overview of every restaurant, bar, staterooms, entertainment and activities on offer on-board Norwegian Prima.
Norwegian Prima Complimentary Dining
The Local Bar and Grill
They nailed the brief – it is a typical unfussy neighbourhood-style bar and eatery. The Local and the Indulge Food Hall were our favourites of the complimentary eateries.
The classic American menu is perfect for lunch or an easy dinner (think burgers, dogs, cobb salad). The Reubens was so good we had to come back for more.
Hudson's
An incredible space with banquettes for intimate tete-a-tetes or round tables for larger travelling parties. The menu doesn't change but has such an extensive offering which you would be hard-pressed to get through the entire menu on a seven-day voyage.
Think classic starters like Coconut shrimp and mini crab cakes (our recommendation), a design your own pasta or "entrees" (remember these are mains in the US) of steaks, beef wellington, shrimp creole or rotisserie chicken.
Indulge Food Hall
As we stated above, this is actually a great innovation where 11 different eateries have a small selection of dishes, but in totality, it is something like 77 different options. The Q Texas Smokehouse pulled pork sandwich was our favourite, the chicken tikka a close second – but with 77 different dishes to try, we left a lot to come back for.
Surfside Café & Grill
The buffet, by any other name – there are no surprises here. Located where all buffets are found, on the top deck near the main pool, we couldn't justify eating here when there was the Indulge Food Hall.
The Commodore Room
We did not have the opportunity to sample the Commodore room on our visit. It is a less upmarket main dining room option to Hudson.
Norwegian Prima Specialty Dining
The opportunities to experience the specialty dining during the inaugural were limited, we only experienced Onda and Le Bistro. By purchasing a speciality dining package you will be able to access one or all of these restaurants.
Onda by Scarpetta
The speciality fine dining restaurant's menu is mostly Italian classics – think burrata, carpaccio, crudo, pizza and every kind of pasta. But the protein-heavy secondi are not particularly Italian, except perhaps the veal Milanese.
We could have had several helpings of the tagliatelle with lobster, tomato, spring onions and spicy bread crumbs and would probably request that twice next time.
Ed's Note: Onda by Scarpetti has been launched on Norwegian Spirit that will be homeporting in Australia during the summer season.
Le Bistro
Snail, tartare, crab roulette, goat's cheese croquettes, coq au vin and de boeuf… there is nothing that is not classic French on the menu. The steak tartare is executed brilliantly, as was the fruits de mer.
Los Lobos
We made an error in judgement and changed last minute from Los Lobos to Le Bistro even though the menu had us drooling. The tortillas, fajitas and in particular Cochinita Pibil (slow braised pork in bitter orange served on shredded banana leaf) will have to wait until next time.
Cagney's Steakhouse
The Norwegian signature steakhouse does exactly what it says on the tin. A la carte, starters $USD$15-$19 steaks USD$35-$75
Food Republic
An eclectic dining option from sushi, to schnitzel, nachos, dumplings, pad thai and Peruvian beef skewers this is relaxed global street food in one spot. A la Carte, but as a guide, pad thai is USD$19
Hasuki
Japanese teppanyaki in a beautiful setting. $USD 49 pp
Nama Sushi and Sashimi
Yes, the sushi and sashimi are as you would expect. But Nama also offers hot and cold fusion Japanese dishes like tuna pizza (tuna on a tortilla), tempura and karaage. Sushi rolls USD$7-$16, sashimi US0044$11-$12
Palomar
A seafood focussed Mediterranean restaurant, Palomar was creating a buzz with other cruises – claiming to be the best dining option on board. Starters from USD$8-$19 and mains from USD$32-$45
Norwegian Prima Bars
There are 12 separate bars and three lounges, not counting Starbucks. Here are our picks:
The Local
As stated earlier, our pick for relaxed dining. This is where everyone comes together to watch sporting events. So, it is lively.
The Metropolitan
Unique to our experience of cruising, this is a sustainable bar where Norwegian has made an effort to reuse and repurpose organic waste into the basis of cocktails.
Take for example the Primadonna which takes banana skins and combines them with sugar and cinnamon to create a banana syrup which is then combined with walnut bitters and Fleur de Cana Eco Rum to create the cocktail.
Other such innovations include the Watermelon twist which turns watermelon skin into a syrup, and the Croissant Mai Tai transforms stale almond croissants into an orgeat.
Belvedere Bar
Probably the most intimate and moody bar, this is the place for a pre or post-dinner drink without the crowds or noise.
Other bars include the Luna Bar, Penrose Bar in the Atrium, Prima Speedway Bar, Soleil Bar, Syd Normans Pour House (think pub), the Improv club and the Whiskey Bay (also in the Atrium).
Finally, there is the Vibe Beach Club bar which forms part of the exclusive Vibe Beach Club and commands a US$249 for a week's access.
Norwegian Prima Activities
Excluding the evening entertainment lounges, live music and theatre there are seven major areas for daytime activities. It must be noted that they come with additional charges – which can feel a little like you are being nickeled and dimed – but they are not that expensive.
Prima Speedway
Yes, jump in an electronic go-kart and hit the triple deck 420m track to take on all comers. It is fun and there is room for overtaking. It is an improvement on all previous tracks at sea. USD$15
Tee Time
The nine-hole mini golf (or putt putt to the rest of us) is designed with all sorts of elaborate holes and obstacles. USD$10
The Bull's Eye
There are three separate dart boards and chesterfield-like sofas evoking a bar. Most helpfully, the computerised dartboard automatically calculates the scores. USD$40 for up to six people for 50 minutes
The Galaxy Pavilion
Norwegian Prima has done away with the typical arcade-style games for kids and installed a variety of VR games. Many of them are lame; the haunted house experience is nausea-inducing without any real scares. However, the zombie hunting "Descent" and Formula 1 racing simulators, complete with convulsing chair, are excellent. There is also an escape room challenge. US$8 per VR game or US $29 for one hour of unlimited access to VR. Escape Room $15 per person.
The Drop and The Fall
These two dry slides drop 10 decks. The Drop is a vertical fall for about three decks. Then you'll have a moment of slowing down before another rapid decline.
True adrenaline junkies will want more but it is a sufficient thrill for a number of repeat turns. The Rush is more like a dry corkscrew waterslide, ala the old mat slides of Coney Island at Sydney's Luna Park.
The Wave
This waterslide sees riders on a donut launched up and around the tidal wave. Another fun ride for all ages.
The Stadium
The Stadium houses the three shuffleboards, a couple of ping pong tables, a third housed in a cylinder, an unusual seated soccer game and a pickleball court. Perhaps most unaccepted are the two beer pong tables.
Splash Academy
The kids club with the prerequisite gaming consoles and craft activities.
Vibe Beach Club and Bar
This is an exclusive, pay-for-access, adults-only area of the ship with two hot tubs, its own lounge area and a bar, US$249 for a week's access.
The Spa, Salon and Thermal Suites
There is an abundance of massage treatments at the Mandana Spa; deep tissue, Swedish and hot stone varieties for singles or couples in 50, 75 and 100-minute blocks.
If you are hoping to return looking like new, this can also be arranged through simple facials and pedicures or more intrusive cellulite treatments or even teeth whitening.
On board is a Nepalese western-trained doctor who also specialises in acupuncture and offers a free consultation with a dizzying array of recommended treatments.
But even if you are not a spa junkie, the Thermal Suite pass may be just your ticket. There are day passes (USD$99) or cruise long passes which give you access to the array of thermal treatment rooms and pools.
We enjoyed a lazy hour moving from the aroma steam rooms to the charcoal sauna, the salt treatments room, and the thermal showers – sweating it all out in the Finnish sauna before jolting our senses back into reality in the ice room.
The heated beds at the stern have the best view (after the observation deck) and are truly blissful.
The Norwegian Prima Suites and Staterooms
At last count there are 31 different suite, stateroom and studio types in the following breakdowns (total metres squared range for that room type, largest to smallest):
Eight Haven Suite types, 107 in total, ranging from 34.2 – 195 sq.m
10 Suite types, 84 in total, ranging from 22.4 – 59 sq.m
Five Balcony stateroom types, 946 in total, ranging from 21.5 – 33.3 sq.m
Four Oceanview room types, 124 in total, ranging from 17.3 – 34.4 sq.m
Three insider rooms types, 252 in total, ranging from 14.9 – 23.6 sq.m
Studios, 73 in total, all 8.7sq. m and are all internal
Suffice it to say that there is a room type for everyone, and the max occupancy in a single suite is eight (The Haven Premier Owner's Suite Large Balcony) with several six and four-berth types, plus one-bed and single-room types. Hence it is a good idea to get travel advice on which room type suits you, your travel party and your budget.
Most rooms can be split into single or double beds and there are a number of accessible rooms with and without balconies.
All rooms come with a TV, sofa, fridge, hair dryer, ottoman closet and a plethora of USB charging ports as well as power points.
There are a number of rooms that will have side views, or The Drop or The Rush 'tubes' obstruct the view from the balcony. And there are reports that the stern staterooms on level 9 above the Prima Theatre encounter noise issues when the disco party gets underway.
The Studio Lounge is a relaxing quiet space that offers solo travellers a much larger space to call their own (with their fellow solo travellers).
The Haven
Common to most Norwegian Cruise ships (12 of the NCL fleet) now is The Haven, the boutique luxury cruise ship with the cruise ship.
On-board the Norwegian Prima it's the largest of any ship. It ruined cruising for us, as it is a lot like the difference between flying business or economy – it is very difficult to go back.
Haven guest suites are enormous one-bedroom staterooms with double balconies, walk-in robes, and a huge shower with bathtub. We had three different shower choices; the rain shower, the wall-mounted jets or the traditional nozzle.
But even better, The Haven guests have their own private lounge, bar and plunge pool at the aft of the ship.
But the real cherry on top is the private restaurant which serves up breakfast lunch and dinner. We cannot rave enough about the keto omelette for breakfast or the prawn angel hair pasta for lunch.
Norwegian Prima's Broadway show Summer: The Donna Summer Story
The highlight of the entertainment must be the Summer; The Donna Summer Show. The Broadway musical has brought in three performers at varying stages of successful careers, each playing Summer in a different stage of her life.
Kimberley Locke leads the ensemble as "Diva Summer". Locke is well known in the US for being third runner-up in the second season of American Idol and has had a few to 40 hits plus numerous TV credits and performances to her name. Whilst she leads this ensemble, she readily admits this is her entry into the world of theatre.
Joining her in the lead roles is Dutch emerging theatrical star Valerie Carlingford who plays "Disco Donna" (mid-career where she becomes famous) and the diminutive D'naysa Jordan who takes on the role of "Duckling Donna" (the child Donna). It is a powerful story made even more striking by a sound track that is so familiar to us all.
It is not to be missed.
Norwegian Prima and sustainability
There is no doubt that the cruising industry is very serious about sustainability. All CLIA members have made a commitment to net zero emissions by 2050 and Norwegian Cruise Line is firmly in that camp.
It should be noted that sustainability on-board a cruise ship is an enormous undertaking, and the cruise industry faces the single largest challenge of all travel and tourism sectors to make a difference.
Norwegian takes pride in being the first cruise line to ban plastic straws four years ago, but are not fooling themselves to think that it is at all enough.
Take for example the "recycled and reused" cocktails developed at the sustainable cocktail bar on deck 6 Metropolitan (see above). Again, these are not game changers, but they address the things that can be done today while investigating the bigger challenges.
Harry Sommer, CEO and Chairman, was quick to tell all on board they are experimenting with eco diesel fuels where the carbon captured by the organic fuel is released in its manufacture and burning – hence a net zero fuel.
When asked about hybrid possibilities, he hints that the technology at the time of design of the Norwegian Prima (approx. 2017 and 2018) was most definitely not a viable choice. But the company is certainly investigating the possibilities for future ships (not the second Prima Class ship, The Viva, to be launched next year, however).
Norwegian Prima itineraries and pricing
Norwegian Prima will be the first cruise ship to be homeported out of Galveston, an hour from Houston) and will do seven four-port Caribbean sailings through the northern hemisphere winter.
Initial pricing is:
Inside from AUD$1820 per person.
Balcony from AUD$2410 per person
Suite from AUD$5745 per person
Haven from AUD$7140 per person
The pricing includes taxes and gratuities and the NCL "Free at Sea" bonus offers, which include a choice of things like complimentary wifi, drinks packages and speciality dining package or credits for shore excursions.
Norwegian Prima will then move to Europe to do Southampton to Iceland itineraries in the northern hemisphere summer.
NOTE: On inaugural cruises, availability to all dining and activities can be limited due to the short length of the cruise. We share our experiences on the things we experienced and overviews (opinions) of what we see.
Want to experience what it feels like to be on a Norwegian Prima cruise? Visit NCL to learn more.
LEAVE YOUR COMMENT