How to spend 48 hours in Hydra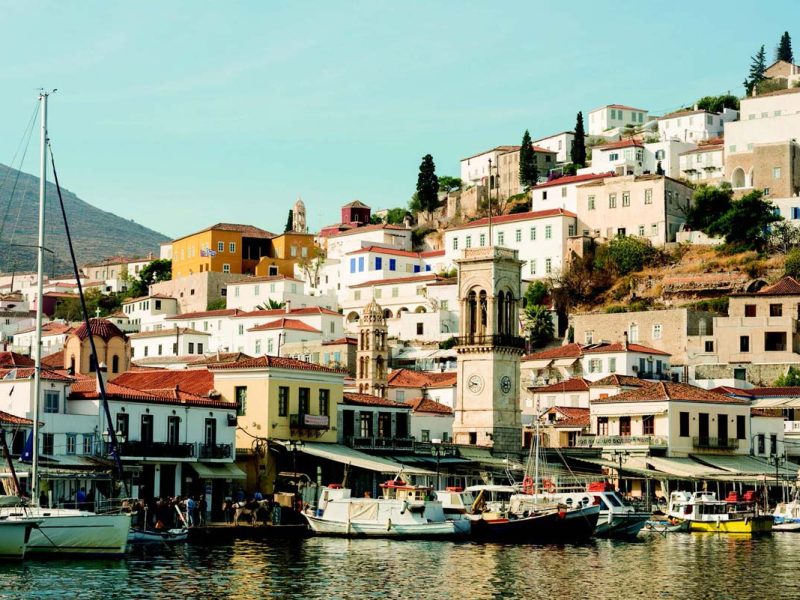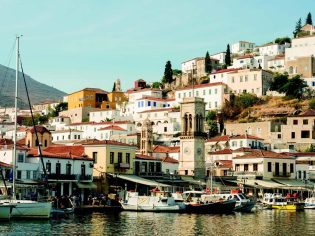 This Greek Island under two hours' ferry ride from Athens is steeped in the legacy of the artists and writers who were drawn here last century. Trace their footsteps and find a fascinating maritime history besides, plus enchanting, whitewashed streets to wander, swimming spots to seek out and sunsets to savour.
DAY ONE
9am: Beginning the day watching the theatre of the harbour sets the tone for what Greece's magical Hydra is all about. Pull up a water-facing pew at The Pirate Bar, a local institution and former haunt of Leonard Cohen. The singer-songwriter lived here in the 1960s as part of a bohemian expat community of artists and writers who left this car-free Saronic island (under two hours' ferry ride from Athens) with a creative legacy that travellers come in search of today. Linger over strong coffee and homemade muesli with Greek honey and yoghurt as the resident black cats loll at your feet. Then take a promenade along the crescent-shaped quay, lined with more cafes, restaurants, bars and boutiques housed in elegant old mansions.
Mules for hire wait patiently for their next gig – transporting everything from ferry passengers' luggage to hefty air-conditioning units through a labyrinth of hilly streets to their destinations – while a Jeff Koons-designed superyacht bobs behind them. Hydra is a place of many layers and you'll find most of them playing out right here.
10am: Behind the harbour, Hydra Town lies in wait for discovery: its whitewashed tangle of cobblestoned streets seems carved from the mountainside they climb. You can't take a wrong turn, because you'll find a photo-worthy vignette around every corner – gracious buildings draped with bougainvillea, a pretty courtyard, a quirky corner, a coterie of cats. Hydra is notable for its grand architecture, which speaks to its history as a great naval power in the 19th century.
You can explore this history at the Lazaros Kountouriotis Mansion, built in 1780 by wealthy ship owner Lazaros Kountouriotis (who would go on to be a major actor in the Greek War of Independence of 1821) and today a national historical museum instantly recognisable for its ochre facade. Explore antiques, furniture and family heirlooms belonging to the Kountouriotis family, a folk museum of traditional island costumes and crafts, and paintings by Periklis and Konstantinos Byzantios. Your ticket also gains you entry to the nearby home and art studio – humble and bohemian by comparison – of late artist Panayiotis Tetsis, an important proponent of Greek post-impressionism.
1pm: With its 56 kilometres of rocky coastline, the island of Hydra is dotted with small beaches – from the pine-shrouded Bisti to low-key and lovely Vlychos – that feel like gems to discover. Hop in a water taxi or take a scheduled boat service from the port to get to your locale of choice; claiming Hydra's only sandy beach and set in a bay used historically for shipbuilding, complete with fortifications, upmarket Mandraki Beach Resort (newly reimagined with a suite of dreamy, stonewalled guestrooms) is an excellent option. Opt for a refined waterside lunch at the restaurant or light meal delivered straight to your sun bed and spend the rest of the afternoon on rotation between dips in the Aegean Sea and reading your book under the shade of a parasol. (Pack Polly Samson's A Theatre for Dreamers or Charmian Clift's Peel Me A Lotus in your suitcase for Hydra inspiration.)
6pm: Head back to Hydra port and, when the heat of the day has passed, meet Maria Voulgari under the clock tower. Maria is a passionate local studying for a PhD in History who loves to share the many stories of her island with visitors. Her historical walking tours draw on everything from piracy to prime ministers (an impressive total of five Greek PMs were born here) to the artists who fell in love with Hydra and made their home here.
Among other places, you'll visit the 'house by the well' that Australian writers Charmian Clift and George Johnston bought in 1956, as well as the laneway dubbed 'Leonard Cohen Street' in honour of the Canadian singer-songwriter – see if you can spot the electricity wire outside his house that inspired the song Bird on the Wire, penned here.
9pm: Just down the way from Clift and Johnston's house is the tavern they and friends including Cohen and his muse Marianne Ihlen would frequent often – the large olive tree in the middle of the atmospheric courtyard they were famously photographed under still stands. Today Xeri Elia Taverna (known informally as Douskos Taverna) is one of Hydra's most popular restaurants. A busy spot tucked away in the backstreets with tables sprawled out across every inch of the courtyard and tended to by surely the hardest-working waiters in the business, the traditional Greek fare is exceptional and the bill surprisingly reasonable. There is live music on the weekends throughout summer, and you might find yourself returning again and again.
DAY TWO
9am: Eat breakfast at your accommodation: under the lemon trees in the courtyard at Orloff Boutique Hotel, just steps from the port and housed in a restored 18th-century mansion (see also Cotommatae 1810 and Hotel Miranda for similarly storied offerings); or from the terrace of your holiday home tucked high on the mountainside – search the words 'spectacular and petite' on Airbnb for an architect-designed studio with spectacular views of Hydra town and harbour. With an aspect like this, a simple breakfast of Greek yoghurt, honey and fruit bought from the Kritikos Supermarket down the road is perfection.
10am: Hydra has so many boutiques that you could spend a whole day browsing its trove of sandals, accessories and floaty fashions. Cut to the chase at Eclectia, with its range of unusual Greek-designed linens and interesting jewellery. And Rafalias, one of Greece's oldest pharmacies, which looks just as it would have when it was first opened in 1890 by its current owner Vaggelis Rafalias' grandfather. Stock up on the creams and perfumes he sells today based on his mother's recipes.
11am: Those keen to learn more about the island's naval history, and how it helped win the War of Independence and lay the foundations of modern-day Greece, should visit the Historical Archive Museum of Hydra, based in a stone mansion at the eastern side of the harbour.
12pm: Continue on from the museum to the end of the harbour to walk the coastal path for five minutes until you reach the island's old slaughterhouse, which hangs precipitously over the high cliffs. Today this is the Hydra project space of the Athens-based DESTE Foundation for Contemporary Art (open seasonally) and until the end of October, visitors can see Jeff Koons: Apollo, a solo exhibition from the prominent American artist. You'll clock his 9.1-metre-wide Apollo Wind Spinner as you approach – a giant sun that shines golden under the real thing.
1pm: Swing back round to the port and join the coastal path that heads in the other direction for one of the island's loveliest walks. It takes just 15 minutes to reach the tiny harbour of Kamini, so savour the opportunity to soak in the raw beauty of the rugged island landscape and the spectacular panorama of blue sea and sky. Stop for a long lunch en route at Téchnē, a trendy all-day restaurant right on the coastal path that serves modern Greek cuisine, or continue on to the more traditional Kodylenia's tavern for something a little more rustic but with a similarly special aspect. Go for a dip at Kamini's small pebble beach or keep following the coastal path for another 20 minutes until you reach Vlychos Beach, where you can swim and laze on a sun bed for a restorative couple of hours.
5pm: When in Greece, there's no such thing as too many swims in the sea so stop at the rock platforms at Spilia on your way back into town to enjoy the simple pleasure of jumping into the salty Aegean then drying on a slab of sun-heated concrete. It's free, but you can also pop into its cliff-hugging beach bar for a cocktail afterwards if the mood takes you. Nearby Hydronetta under the shadow of the Sophia Loren Windmill (featured in the 1957 film Boy On A Dolphin, in which the Italian actress starred) has a similar swim-to-sundowner offering. It's also a renowned nightlife spot – earmark it for later if you're not ready to call it a night after dinner.
8pm: Sunset Restaurant, also on the west side of the harbour, is a special-occasion spot – even if that special occasion is simply being there for the aforementioned sunset. Highlights of a refined menu shaped by fresh-caught seafood include sea bass ceviche, octopus carpaccio and seafood arancini – to be savoured al fresco with local wine as the day ends over a Greek island vista to remember.