Cruising the Mediterranean onboard Azamara's Onward ship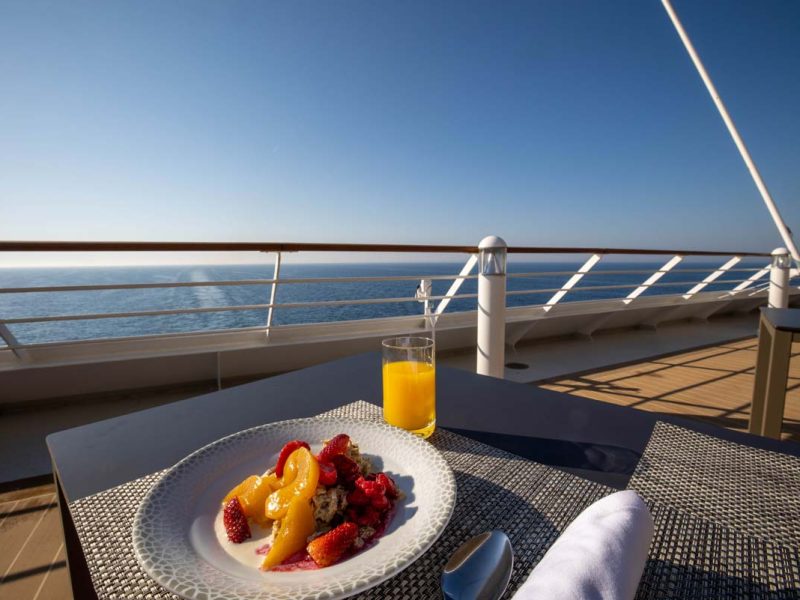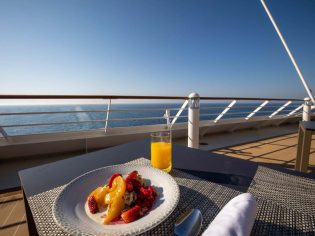 A Mediterranean cruise onboard Azamara's aptly named new ship is just the ticket for making a splash back into Europe.
The flat, salty Mediterranean. The simple pleasure of successfully ordering a coffee, and perhaps a morsel to eat, in another language. The mellowness of the sun in the late afternoon. The scent of hot timeworn stone tinged with tobacco. Knowing that when you order a glass of house wine al fresco at dinner it will arrive soft and drinkable with length just like the evening itself.
Sailing aboard Azamara's Onward ship
These are some of the moments I missed about Europe during that interminably long stretch where it had never seemed further away. And these are some of the moments I get to experience again over just five days' sailing aboard Azamara's new ship Onward.
The name is apposite, of course: a signal of intent. Departing Barcelona (but not before I've wound my way through the backstreets of El Born, not taking for granted a single minute of being back in one of my favourite cities), this pre-inaugural voyage plays like a European highlights reel welcoming its passengers back to travel.
Waking up each morning is one of my favourite rituals of cruising. I may not be one of life's natural-born early risers but there's nothing that gets me out of bed quicker than the promise of seeing a sunrise over the ocean from my stateroom's balcony before the brightening light sharpens itself on the contours of a new stretch of coastline.
What makes an Azamara cruise different?
Today, the limestone cliffs of the French Riviera look like honeycomb under this early morning light. By breakfast time we've sailed into the heart of Marseille.
Upmarket cruise line Azamara is all about destination immersion and, with its growing fleet of four small ships that accommodate approximately 700 guests each, is able to dock in less-visited gems that larger cruise ships can't quite reach and enjoys better access to the world's marquee ports.
Touring around Marseille's port city
I take a tour that buzzes me around the highlights of this exuberant port city, from the historic Palais Longchamp to the landmark Notre-Dame de la Garde basilica high on a hill. And from the breezy Corniche to the bustling Marché aux Poissons that supplies local restaurateurs with fresh fish for the day's bouillabaisse, the city's signature dish.
Then I savour the time I have to myself to explore at my own pace and slip into the backstreets of Le Panier. Sprawling up the hill away from the Vieux Port, the old town's rambling streets are a profusion of plants and graffiti studded with tiny artisan shops, quirky cafes and quintessentially French bars where patrons lounge street-side in the sun.
I order strong coffee and a delectable slice of tarte tatin at a concept cafe called Rita that does triple-duty as a flea market and tattoo parlour, too. From here, it is just a 10-minute stroll back to the ship and onward again to the next destination.
Docking at Italy's most sought-after destination
With its string of centuries-old fishing villages where colourful houses and steep vineyards cling improbably to the cliffs on the Italian Riviera, the Cinque Terre is one of Italy's most wish-listed destinations – and famously over-touristed as a result.
But the bells are ringing and the crowds nowhere to be seen as we sail into Portovenere the next morning: the harbour promenade lined with tall, sherbet-hued houses that look collaged onto the tiny, tranquil port.
The so-called sixth town of the Cinque Terre flies under the radar because, unlike its five headlining siblings, it doesn't have a train station to boost its accessibility from Milan, Genoa and Pisa. It served as inspiration for the works of English poets Byron and Shelley in the early 1800s, whose footsteps we follow as we explore its medieval corners and atmospheric carruggio.
Highlights of Azamara's shore excursions
Only today, we're served with an additional side of live Italian opera as part of Azamara's signature AzAmazing event. Possible extra shore excursions today include wine tasting at a local winery set above Monterosso; the classic Cinque Terre wine is a crisp, dry and aromatic white.
But I can't resist the temptation to hike one of the region's renowned trails. The network of 48 hiking trails that link the villages has evolved from ancient tracks once used by agricultural workers in the region.
A cultural landscape awarded UNESCO World Heritage
For hundreds of years, nature and human ingenuity have been symbiotic here in this unique patch of Ligurian coast, which remained under the radar until it gained UNESCO World Heritage recognition as a cultural landscape in 1997 and caught the world's attention.
We follow a trail lined by age-old drystone walls from Vernazza to Monterosso through a landscape of oaks, heather, broom, juniper, citrus orchards and vineyards, with vertiginous views of the brilliant blue sea at every turn.
I feel faintly conspicuous adding to the footfall and quiz our guide Claudio on how best to protect the delicate ecosystem here as the area continues to attract thousands of visitors a week; he assures me small groups like ours are preferable to independent walkers in that they allow locals like him to help manage our impact on the trail.
Sweeping sea views await Azamara passengers
We follow a trail lined by age-old drystone walls through a landscape of oaks, heather, broom, juniper, citrus orchards and vineyards, with vertiginous views of the brilliant blue sea at every turn.
We reach Monterosso and Claudio says goodbye, but not before he's pointed us in the direction of the best spot for a speciality snack of farinata: a flatbread made with chickpea flour and olive oil, which we pull apart hungrily to share on the beach before dipping our toes in the sea.
As part of Azamara's commitment to creating immersive experiences for guests, it boasts more time at port than any other cruise company including overnights and night touring designed to allow a deeper travel experience.
Enjoy mouthwatering Italian cuisines onboard Azamara
Back in Portovenere, we make the most of the day's late sail away, finding a prime spot at one of the clustered waterfront restaurants and ordering everything we can to construct a textbook Italian spread – pasta with local, bright green Ligurian pesto, gelato and Aperol spritz included.
Time spent onboard Azamara Onward can include dining on Italian-inspired cuisine at Aqualina, sunny breakfasts at Windows Cafe, steak and seafood at Prime C and artisanal cocktails at Atlas Bar.
Head to the Sanctum Spa, with its terrace and thalassotherapy pool, lounging by the main pool and Jacuzzi or burning off some calories on the jogging track.
Azamara's newest ship comes with luxury amenities
The ship is billed as a boutique hotel at sea and guests across its staterooms and suites enjoy 24-hour room service and five-star butler service, as well as entertainment ranging from Broadway-style shows to comedy nights.
Capping off the cruise at Monaco
Our final destination is Monaco, where we dock in its glittering harbour under the watch of the legendary Rocher, or rock. It's a suitably glamorous setting for Azamara's signature White Night Party, an onboard evening soirée where cruisers mingle over a poolside feast and dance into the night resplendent in white.
The next day we tour the unique principality, eating lunch next door to the Prince's Palace at Castelroc and visiting the impressive Oceanographic Museum, a temple to the sea built into the Rocher itself. But in the evening it's time for Azamara Onward's official naming ceremony.
The tradition of christening a ship has roots in ancient Greek and Phoenician civilisations and tonight, as we sit shipside at the Port of Monte Carlo, the significance is not lost on us. After the tumult of the last few years, it is a moving affair. Champagne bottle broken to bring the vessel good fortune in its future voyages, my journey is over, for now. Onwards indeed.
A Traveller's Checklist
Getting there
Emirates flies to Barcelona and other European cities via Dubai.
Playing there
For similar sailing to Azamara Onward's pre-inaugural Mediterranean voyage, try the 10-night Rivieras & Yacht Harbors Voyage from Civitavecchia (Rome) to Barcelona, which visits Portovenere, Monte Carlo and Marseille, departing 28 June 2023; or the 12-night Best of the Med Voyage from Barcelona to Venice, which departs 8 July 2023 and takes in Provence, Monte Carlo, Sorrento, Kotor and more.
LEAVE YOUR COMMENT