The reality behind those first-time cruising fears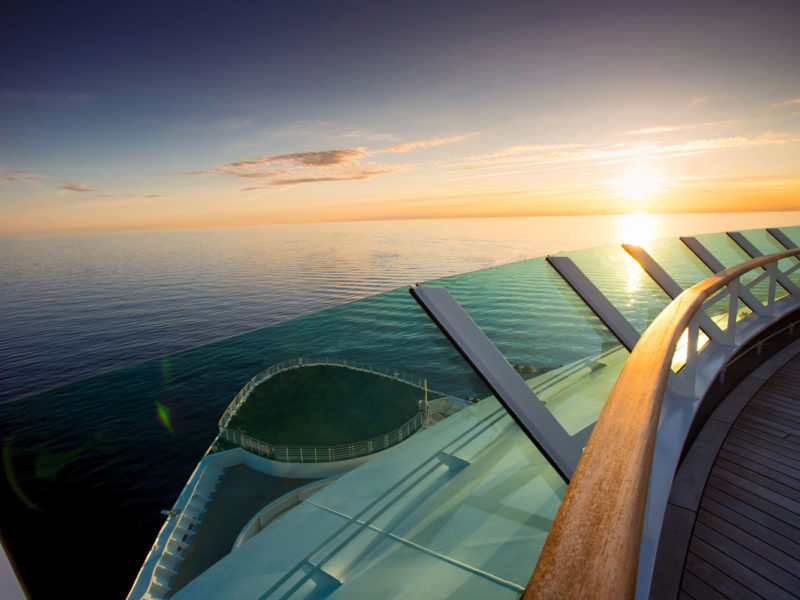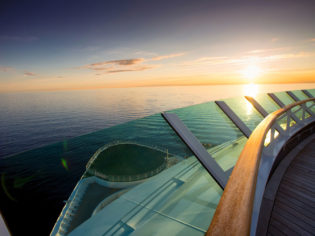 Many cruise virgins are nervous about their first time. A first-timer cruiser discovers if the common cruising fears are justified on her maiden voyage.
Cruising is a polarising holiday choice – one that many get addicted to (one American woman spent more than 5500 days of her life at sea!) and one that many are, quite frankly, fearful of. The thought of being 'stuck at sea' with bad food, tacky décor, and cabin fever turns many cruise virgins off.
I have a confession: I thought all these things. Boarding an extravagant mega ship with thousands of other guests has never been high on my to-do list, but recently we were invited by a cruise-loving family member to join them on an eight-night sail to celebrate a milestone birthday. Before we knew it, it was booked and… This. Was. Happening.
Here's what I feared and what I learnt from my first cruising experience.
Fear: the thousand-strong crowds
Reality: Carnival Spirit, the ship we were on, can hold 2124 guests – compared to some of the newer ships, this is a conservative number. Seriously! Currently the world's largest ship is Royal Caribbean's Symphony of the Seas, which can hold a staggering 5518 guests and spends its time sailing around the Caribbean. The largest ship to dock in Australia is the same cruise line's Ovation of the Seas, which holds 4180 passengers.
But, of course, with large passenger capacities comes larger ships, so the numbers are not so noticeable. On Carnival Spirit, the only time it felt busy was during embarkation and debarkation (at the start and end of the cruise and on port days). There were some lift queues and the buffet was busier.
When it came to personal service, though, it was second-to-none: our cabin steward and dining room staff learnt our names and greeted us warmly each time we saw them.
Tip: If you want to avoid crowds, try a more boutique cruise line such as Azamara Club Cruises, Seabourn or Silverseas.
Fear: tacky décor
Reality: Sometimes reality bites. Carnival Spirit was last refurbished in 2012, which doesn't seem like that long ago but when it comes to the ship's décor it was a lifetime ago. Styles range from Art Deco to Egyptian to Roman, with gold accents to bright mosaic tiles to sparkly Terrazzo flooring. The cabins were comfortable but very dated in a royal blue and mint green fiberglass, and there was a shower curtain, which is a personal aversion.
But not all ships are painted with the same bedazzled brush. While Norweigan Cruise Line and Royal Caribbean also focus on families with a host of uber fun facilities, the interior style of these ships is a little more understated. If you're after a family-friendly option with a more modern aesthetic, P&O is worth checking out.
Celebrity Cruises is an upmarket option that boasts an innovative contemporary-style ship. And for a more traditional style and experience, Princess Cruises, Oceania and Holland America Line are good choices.
At the other end of the scale, luxe lovers should turn to premium cruise lines such as Regent Seven Seas, Cunard, Silverseas or Seabourn.
Tip: Check the date of the ship's last refurbishment and view real guest photos online to get a better indication of the style and décor.
Fear: cabin fever
Reality: First rule for cruise virgins: don't book an interior cabin. Thankfully, we stayed in a cabin with a balcony, which meant we had natural light and fresh air. This made a huge difference and we never came down with the fever.
Cruise ships have come a long way and now offer a whole range of cabins to suit all needs and budgets: from interior quads and outside cabins with fixed windows, to huge suites that span over two decks (and are bigger than most inner-city apartments!).
Royal Caribbean came up with the novel idea of incorporating virtual balconies into their interior cabins (it's literally a screen that projects a view of the ocean onto the wall) on board Quantum of the Seas; they also offer interior-facing windows on Voyager of the Seas that overlook the promenade below.
Tip: If you get seasick, book a cabin that is mid-ship or aft. Be sure to check what's on the deck above your cabin, too, because some public areas are open through the night and it can be noisy with the foot traffic!
Fear: bad food
Reality: Actually, the food on board Carnival Spirit was surprisingly good. While there was a buffet (like on most ships), there is also a main dining room open for all meals, which offers a different a la carte menu each day with table service.
There was also a deli serving sandwiches, a Mexican cantina, a 24-hour pizza bar (with really good dough), a burger joint by American restaurateur Guy Fieri, and a barbecue grill serving pulled pork, slow-cooked lamb and the like. The only issue I had was the lack of healthy snacks throughout the day – best to grab a few extra pieces of fruit from the buffet at breakfast time.
Most ships now have an array of dining options, including some specialty restaurants that cost an extra fee. On Carnival Spirit, there was a sushi restaurant, a casual café and a fine dining restaurant that you can pay to dine at.
Celebrity chefs are upping the dining game at sea. Princess Cruises has recruited Curtis Stone to open his restaurant on board their Ruby, Emerald and Sun ships; Luke Mangan has partnered with P&O; Royal Caribbean Cruises has Jamie Oliver's Italian restaurant on five of its ships; while Thomas Keller helms the dining room on board Seabourn.
Tip: Pack snacks, especially if you're travelling with kids.
Fear: boredom and lame activities
Reality: Some longer cruise itineraries can include four to five consecutive sea days, so – unless you're a world-champion long-distance swimmer – choose your ship wisely. If you are the type of person who can't sit still or who doesn't like group activities, too many sea days can make or break your cruise experience.
When it comes to ship facilities, Carnival Spirit has two waterslides including the steepest waterslide at sea; a kids' splash zone and kids' club; gym and fitness classes; a day spa (it's not cheap, though!); a theatre with daily shows ranging from musicals to comedy; putt putt and more. I must admit, though, by our fourth day at sea we found ourselves simply killing time. First-world problems, indeed.
Cruise ships continue to push the boundaries when it comes to keeping passengers occupied: Carnival's newer ships have more features such as an IMAX Theatre and a cantilevered bike that you peddle above the top deck; Royal Caribbean's ships feature rock climbing, ice-skating, a surfing simulator and laser tag; and Norwegian Cruise Line has the world's first go-kart track at sea. Other cruise ships focus on enrichment programs, which include lectures, classes and workshops.
The daily activity schedules on modern cruise ships are jam-packed, so you can busy yourself doing an art class, playing trivia, watching a cooking demonstration, listening to a lecture about the destination you're travelling through, or taking a tour of the ship. Many cruise ships also incorporate theme nights into the itineraries (our eight-night cruise had three different themes) – but if this is your very idea of lame, you don't have to participate.
Tip: For your first cruise, book a cruise itinerary that has very few (or no) sea days and spend more time exploring ports. If travelling with small children, be sure to check out the family-friendly activities and facilities available on board as well as the kids' club and/or babysitting facilities.
Fear: an inauthentic port experience
Reality: Shipping 2000+ people in and out of a port may not sound like the most authentic travel experience. But cruising can take you to some of the world's most interesting places, and often you can experience more than one country and culture in one easy trip. Our cruise took us to some truly beautiful islands in the South Pacific and these were most definitely the highlight of my cruising experience.
The best tip to avoid the crowds while in port is to get off the ship early and stay back in port as late as possible. We did this when we visited Mare and Isle of Pines and had some pockets of the beaches (almost) to ourselves when the majority of passengers returned to the ship.
Tip: Do some research on each port to see if it's essential to book a shore excursion. Isle of Pines, for example, is very easy to navigate on your own or you can book a tour when on shore. Exploring on your own may make the experience feel more authentic and you may avoid the tour bus crowds.
Ready to take the leap?
As with every kind of holiday, cruising is what you make it. Doing your research is imperative: choose the right cruise line to suit your tastes, a destination/s that will excite you, and an itinerary that has less sea days.
Better yet, book a sample cruise to, ahem, test the waters. Many cruise lines offer short cruises of one to three nights so you can see what cruising life is all about and decide if it's your caper before doing a longer cruise. You never know, one night might not be enough.
Read our guide to cruising here for more information on how to pick the right cruise for you.
LEAVE YOUR COMMENT