Everything you need to know about cruising Halong Bay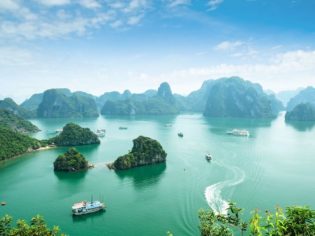 Steeped in fairytale myths and scattered with 1600 jagged islets that snag powder puffs of mist at dawn, Halong Bay is one of Vietnam's greatest natural treasures.
The sparkling waters of the Gulf of Tonkin lap at the foot of limestone cliffs coated in dense jungle that echoes with the call of endangered langur monkeys. Mysterious caves that provided sanctuary for ancient tribes are ripe for exploring, and you can kayak around floating fishing villages, where mothers tie their toddlers to the furniture to prevent them from rolling overboard.
By boat is the only way to experience this extraordinary seascape (located around 154 kilometres from Hanoi), which has been a UNESCO World Heritage site since 1994. Hosting more than six million tourists per year, it's one of the most visited places in the country – and for good reason.
To try and protect it from overtourism, the government has imposed strict regulations, so there are five routes to choose from; however, most boats leave from Tuan Chau port in Halong City, and then chug along after each other follow-the-leader style.
All itineraries have their perks, but here are a few highlights to look out for below.
Cat Ba Island
The largest island in Halong Bay, more than half of it is protected national park; its jungles are home to southern serows (a type of goat-antelope), giant black squirrels and civet cats. Its shoreline is scalloped with sandy beaches between which you can hike via winding mountain paths: Cat Co 1 and 2 are particularly striking at sunrise. Inland, sleepy Viet Hai village is like a time capsule where you can get a sense of rural life in Vietnam and have lunch with a local family, and some cruises include a night there.
Cua Van Village
Around 300 people live in this floating village, and exploring it by kayak is magical. Washing lines flap between the colourful huts and many have fish nurseries below deck, so there's never a shortage of fresh grouper. There's a small school, a few floating corner shops piled high with coconut oil, and a museum that provides insights into the community's fascinating way of life. Most Halong itineraries stop here.
Caves
Like most things in Vietnam, Halong Bay's caves are the subject of many local superstitions, and there is undoubtedly something magical about their curiously shaped stalactites and the ancient stone tools (some dating back 10,000 years) that have been found within them. Some of the most interesting include Tien Ong (fairy cave), Me Cung (maze cave) and Thien Cung (heaven cave).
Dau Be Island
Stunning both above and below the waterline, Dau Be is known for the many exotic species of orchid that add flecks of colour to its verdant shores. The coves around it offer excellent snorkelling, while Ba Ham Lake (a series of enclosed pools connected by tunnels) makes for an atmospheric day's kayaking.
Lan Ha Bay
Although it is geographically part of Halong Bay, this cluster of 300 islets is in a different province of Vietnam, and therefore many don't realise how accessible it is. As you sun yourself on a deserted bay and snorkel in crystalline waters, you'll realise that their loss is your gain.
Three of the best Halong Bay cruises, no matter your budget:
High end
Combine the bay's natural beauty with plenty of luxurious pampering aboard Jasmine, Heritage Line's classic junk which nods to local fishing traditions with its tawny sails. Spacious cabins are furnished in teak with snowy linen curtains and plenty of silk touches, while an enormous deck hosts tai chi lessons at sunrise. This round trip from Tuan Chau Pier includes Tien Ong cave, Cua Van village, Sung Sot cave and hiking on Ti Top island. From $746 for three days and two nights, all inclusive.
Mid-range
This short but insightful trip is ideal for families, with activities including a cooking class and a fruit-carving competition, as well as the chance to try squid fishing off the back of the boat. Bhaya Classic is a very comfortable ship, with some cabins boasting private terraces and bathtubs. The round trip from Tuan Chau Pier includes swimming near Trinh Nu cave, Sung Sot and kayaking in Cua Van village. From $485 for two days and one night, all inclusive (not including alcohol).
Budget
Day trip (Phoenix Cruiser):
If you're short on time or looking to save cash, a day cruise could be for you. Phoenix's Cruiser boat carries a maximum of 48 passengers and is styled like a traditional junk, complete with sails and wooden cladding. Tuck into a seafood lunch and watch the scenery slide by. The round trip from Hanoi includes four hours at sea, cruising around Ba Hang floating village on a bamboo boat and Thien Cung cave. From $99 for one day including lunch and transfers.
The best time to visit:
October to December is high season in Halong Bay, as blue skies and blazing sun are practically guaranteed. In January, the nights can be a little chilly but early-morning mist adds plenty of atmosphere, particularly when local fishermen glide past in their canoes.