10 ways to make the most of Hoi An's nightlife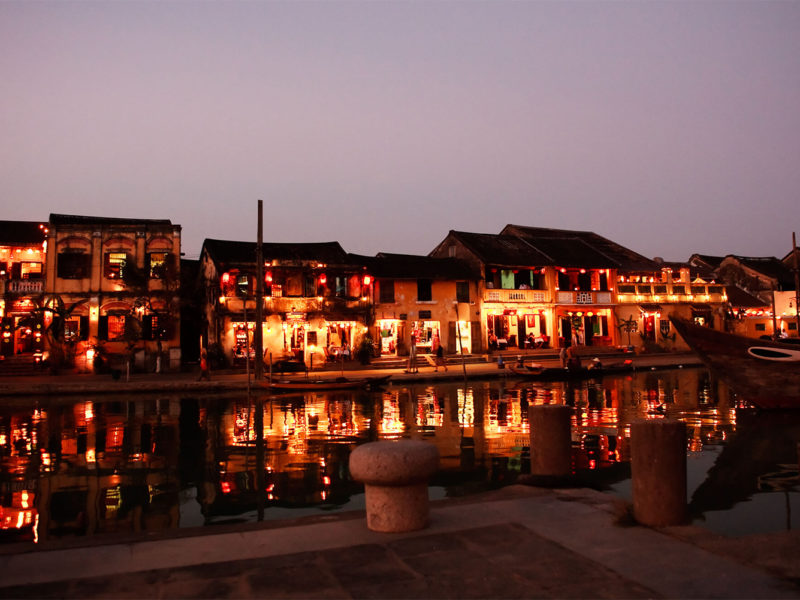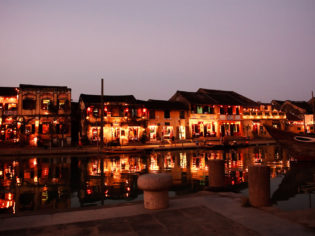 It may not have the neon-lit nightclubs and thumping basslines of cities such as Ho Chi Minh and Hanoi, but Hoi An's nightlife has a major advantage.
As it's mostly concentrated in the Old Town and a small backpacker strip over the river at An Hoi, you can wander easily between boutique cocktail bars and karaoke clubs as the mood takes you.
The exception is An Bang Beach, a four-kilometre-long stretch of powder that's about five kilometres from the city and has a chilled-out, hippie vibe. Spend the day relaxing beneath the shade of swaying palm fronds and nights listening to live music mingled with the sound of the waves in the handful of low-key cocktail bars that have washed up here in recent years.
Back at base camp, the pedestrian streets of the Old Town are even more atmospheric at night, lit by flocks of colourful lanterns and flickering candles floating on the Thu Bon River. If you're not drinking or prefer a more authentic experience, head to the late-night coffee shops along Nguyễn Duy Hiệu, which are always humming with locals crammed on to tiny plastic chairs.
Read on for our pick of Hoi An's late-night wonders…
1. Tadioto Hoi An
From the street it looks like a concept store, but go deeper and you'll discover a classy little cocktail bar with an excellent selection of craft spirits and an open-air Japanese restaurant. It's owned by Nguyen Qui Duc, a well-respected author and artist who describes his crowd as 'thinkers and drinkers'.
Address: 54 Đường Phan Bội Châu, Cẩm Châu
2. Havana Cafe
Ideal for a relaxed nightcap, Havana Cafe's main drawcard is its leafy terrace. Drop in to join a refined older crowd sipping mojitos and nibbling Cuban snacks.
Address: 476 Cửa Đại, Cẩm Châu, +84 90 560 60 00
This classy deli and wine bar is housed in a crumbling villa with blue-painted shutters and an elaborately carved facade. Ideal for a date, they serve a wide selection of French wines along with charcuterie and cheese platters.
Address: 321 Nguyễn Duy Hiệu, Cẩm Châu
With enormous cushions on the sand and a ceiling made of fishing nets, Kukun embodies everything you want from a beach bar. It stays open until 12am most nights and 4am on Fridays, when they often have fire breathers and live bands. If you're looking to dance until (almost) dawn in a stunning setting, this is the place.
Address: An Bang (1), Quảng Nam
Located over the river from the Old Town on An Hoi's Nguyen Hoang Street, it includes more than 50 stalls selling everything from street food to grains of rice with your name written on it in tiny letters. This is a great place to buy the silk lanterns for which Hoi An is famous, as there are several stalls selling them so they all drive each other's prices down. The market is open every evening from 5–11pm.
6. Central Market
A few dozen eager vendors stay open after the rest of the Central Market closes to lure in extra business. Their wares are very similar to what's on offer at the Night Market, although fewer vendors mean the prices tend to be a little higher. This is a good one for families, as it's generally be far less crowded than the Night Market. Located on Tran Quy Cap and Bach Dang streets and tends to stay open until around 10pm.
7. Ride a river boat
See the old town from a new perspective by catching one of the many fishing boats that have reimagined themselves as tourist vessels. After dark, the river is awash with candles floating on paper lanterns and it's a pretty romantic experience – as well as providing unbeatable people-watching opportunities. Around $6.50 for half an hour. Simply stroll along the river bank ad hail a free driver.
8. Play bai choi
Bai choi is essentially a form of folk culture that's prevalent in the central regions of Vietnam and was added to the UNESCO Representative List of the Intangible Cultural Heritage of Humanity in 2017. It takes the form of singing and 'bai choi games,' which are a little like bingo, with players sitting in thatched huts while folk musicians perform traditional ditties. The court is on the banks of the river on the same side as the Old Town and there are games held throughout the night.
9. Catch a live performance
Just three minutes' stroll from the ancient Japanese Bridge, the Lune Center for the Performing Arts looks a little like a UFO that has landed on a palm-fringed islet in the middle of the river. The iridescent dome shape is inspired by the Vietnamese lunar calendar and it hosts a variety of live shows including a danced interpretation of ancient Cham culture, which is one of the most vibrant in Southeast Asia.
Address: 1A Nguyễn Phúc Chu
10. Relax with a massage
Traditional Vietnamese massage is firm and focuses on tendons and pressure points to rejuvenate tired muscles and relieve stress, the ideal way to get into the holiday spirit. Ginger Spa is open until 9pm and uses natural materials in all its treatments. Try the Yin-Yang Therapy, a male and female four-hand massage, or a herbal Tum Hum Steam bath, which is an age-old ritual in rural Vietnam. A 60-minute head, neck and back massage costs around 490,000 VND ($31).