Earth's last great wilderness: a voyage to Antarctica is so much more than a holiday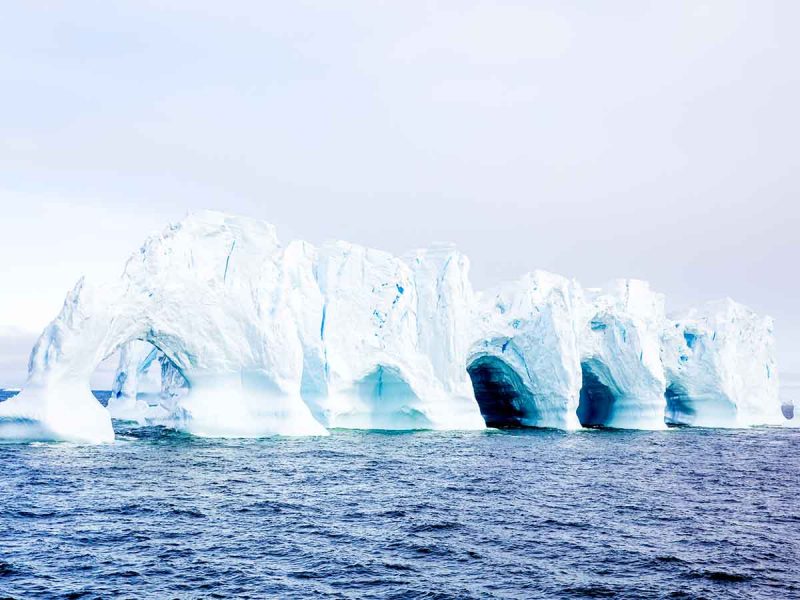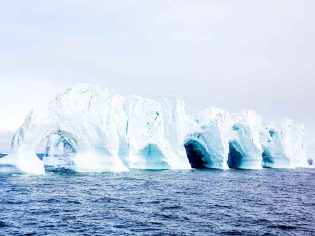 A surreal journey to the frozen frontier: exploring Antarctica's fairy-tale land of ancient glaciers, crystalline bays, volcanic isles and extraordinary wildlife is the ultimate adventure, writes Edwina Hart.
In all my travels I had never cried from joy. I've certainly cried from sadness. I've cried from frustration. I've cried from homesickness. But, until my first landing on the fabled seventh continent – setting foot on the frosty shores of Antarctica – I had never been so overcome with euphoria that I started weeping. Uncontrollably. Big, body-heaving sobs of pure elation.
Antarctica's string of South Shetland Islands
It was the evening that our expedition cruise ship had anchored in a glacial-edged harbour along Antarctica's string of South Shetland Islands. We'd zipped across to the icicle-strewn shoreline on a small tender boat, where we were greeted by a curious platoon of squawking gentoo penguins and their fluffy chicks waddling in tow.
Back onboard, I stole away to the top deck. The sun was setting over a backdrop of sheer, powdery-blue cliffs that gleamed from the glow of the half-moon that hung in the shimmering rose-quartz sky. It was the most profoundly beautiful sight I'd ever seen. The wind whipped against my tear-streaked cheeks, which stretched into an achingly wide grin. I'd never felt more alone, nor more alive. There I was, a tiny speck in the great, white wilderness.
Antarctica's myths and legends
Antarctica is a land of extremes – it's the coldest, windiest, driest and most remote place on the planet. During the Austral summer (November to February), the icy realm experiences endless sunlight. Throughout winter, the region plunges into complete darkness. There's a mythic weight to Antarctica. Thousands of years ago, ancient Greek scholars, knowing about the Arctic (Arktos), dreamed up a region so far south that it provided equilibrium for the Earth's sphere – Antarktos. Just over a century ago, it was a blank space on a map. Enchanting tales of the 'Heroic Age of Exploration' have been entrenched in our collective psyches.
The perilous race to the South Pole between the courageous polar explorers of the 20th century was won by Norwegian Roald Amundsen in 1911. We continue to marvel at the legendary stories of Anglo-Irish explorer Sir Ernest Shackleton. His ill-fated expedition is one of the greatest feats of survival in human history. And the act of following in the footsteps of these colossal figures is the ultimate adventure.
Onboard Hurtigruten's MS Roald Amundsen
My dream of travelling to the 'ends of the Earth' finally came true. As the Austral summer drew near its close, I embarked on an 18-day voyage onboard Hurtigruten's MS Roald Amundsen, the pioneering, hybrid-powered vessel that is the world's greenest expedition cruise ship. When we set sail from Punta Arenas at the tail-end of Chile, expedition leader Steffen Biersack announced over the loudspeaker: "We are going into the wild. We are going into the elements … This is not a holiday, it's an expedition." Suddenly, everyone onboard seemed less like a tourist and more like an explorer.
The 'Drake Shake'
Much to the dread of all passengers, to reach Antarctica you have to brave the Drake Passage, otherwise known as the 'Drake Shake'. The famously turbulent stretch of sea separates South America from the sparkling sliver of the Antarctic Peninsula. As swells can reach over 12 metres, some say it's the price you pay to reach Antarctica. We passed the infamous Cape Horn, a rugged headland where more than 10,000 men have met their watery graves in shipwrecks over the centuries. As we sailed through the inky evening, our ship quivered, creaked and rolled. The next 48 hours were spent locked in our cabins suffering bouts of seasickness.
First glimpse of Antarctica
The crossing took two days. I stumbled onto my balcony for some fresh air. There was no land in sight. An albatross circled overhead as we navigated the tempestuous seas. These storied seabirds are considered by sailors to be an omen of good luck. Miraculously, the waves calmed, the sun came out and a rainbow spread across the sky. Silvery outlines of stiff meringue peaks appeared, almost spectral, on the horizon.
Deception Island
Deception Island is the only place in the world where you can sail in a collapsed cone of an active volcano. The dramatically narrow entrance of the sunken, horse-shoe shaped caldera is known as Neptune's Bellows. It was a hold-your-breath moment as ice expedition master Captain Torry Sakkariassen steered between the rust-hued face of the volcano and the submerged Ravn Rock. An atmospheric mist clung to the charred remains of whaling stations destroyed by eruptions in the 1960s. The 'polar plunge' snapped me out of my dreamlike state. I stripped down to my swimmers on the black pebbly shoreline of Whaler's Cove to complete this rite of passage. After taking a heart-stopping leap into the frigid water, I emerged feeling exhilarated and gasping for the breath that had been sucked out of me.
Expect the unexpected
Each Antarctic voyage is like a snowflake; there are no two the same. Your itinerary is at the mercy of the elements. A few days into the voyage, our captain made an announcement that was met with cheers of delight. After assessing the ice conditions he'd decided that we would be changing course and crossing the Antarctic Circle (66°30′ S), which would give us a rare chance to witness the most pristine part of the planet that few ever venture to. The further south we cruised, the landscape started to shift into a fantastical setting of frosted ice-scapes that glinted like diamonds, fringed by jagged-toothed mountains dusted with snow. This was why Roald Amundsen described Antarctica as a "country that looks like a fairy tale". In a single day we spotted more than 100 whales. Even the waiters serving meals in the restaurant were proficient at pouring pinot noir while simultaneously pointing out pods of orcas or the spurt from the blowhole of a humpback whale.
The southernmost bar in the world
The Ukrainian scientists at Vernadsky Research Base led us through the rickety old building to the southernmost bar in the world. Faraday Bar is a cosy time-warp of a place, decorated with vintage knick-knacks, a pool table and an old record player to keep the researchers entertained over long, lonely winters. They shared accounts of their extreme life of isolation as we raised shots of vodka distilled from glacier ice melt.
Stonington Island
The MS Roald Amundsen quietly traversed the Antarctic Circle at 4am. We spent the next few days in blissful solitude as the only ship south of the Antarctic Circle. There was an eerie atmosphere as we pulled into the ghost town on Stonington Island. The British research base was abandoned in 1975 and it remains like a time capsule, undisturbed for decades. As we were exploring, a thunderous noise ricocheted across the adjacent bay. A chunk of ice had suddenly calved off a glacier and crashed into the water in a plume of white. A fur seal raised its head lazily, looking unfazed by the commotion.
Kayaking in Crystalline Bays
We explored a slice of paradise on our kayaks. Crabeater seals slumbered on floating slabs of ice and penguins porpoised through the steely-grey water like shiny bullets. We glided among towering, cathedral-like sculptures that soared out of the glass-like bay. The collection of iridescent icebergs ranged from a palette of blindingly bright whites to swirling streaks of sapphire. The low groan of icebergs whispered to each other, as if they were straining against their own weight.
Point Wild
We had one last stop before returning north to the Falkland Islands. Point Wild is a godforsaken outcrop that juts off Elephant Island. The scene was suitably bleak – a pearly grey sky blended with the pewter water. You could smell the colony of tuxedo-clad penguins before you saw them, as the pungent odour of guano carried on the air. No destination captures the imagination more than this wretched, windswept spot where 22 of Shackleton's crew awaited rescue after almost two years stranded in Antarctica. There's a hauntingly brutal beauty to this unforgiving landscape that stays with you long after you leave. My journey remains a phantasmagoria of ethereal ice-scapes and incredible wildlife encounters. Witnessing Earth's last great wilderness left me awestruck. Our expedition leader was right, a voyage to Antarctica is so much more than a holiday. It was a life-affirming adventure.
A traveller's checklist
Getting there
LATAM's flights from Sydney to Santiago, Chile, via Auckland resume from the end of March.
Journeying there
Hurtigruten's 18-day Antarctica, Chilean Fjords and Falklands: Great Explorers and Wildlife begins in Santiago and includes internal flights to and from the expedition departure point of Punta Arenas.
Penguin photography
Animals in Antarctica show no fear of humans. The penguins are especially plucky. Whilst you're not allowed to approach penguins at a distance closer than five metres, if you stay very quiet and still, curious penguins might waddle up to get a better look at you.
Whale-watching
Antarctica is one of the world's top whale-watching destinations. If you're keen to see the giants of the sea, think about booking your trip for February or March. You can spot blue, fin, humpback, minke, orcas and sperm whales from the ship. After some practice you will get very good at identifying a skyward spurt from a whale in the distance.
The Falkland Islands
Upon returning from an action-packed voyage to Antarctica, the wildlife-rich Falkland Islands (there are more penguins than people) is a welcome stop on the itinerary before sailing back to Chile. Stanley is the capital of this far-flung British overseas territory. It feels like a quaint little English town complete with red phone boxes and cosy, old pubs that serve classic British-style fish and chips.
Exploring more
It's worth adding a few extra nights in Santiago before or after your cruise. The Singular Santiago or Hotel Magnolia are well placed for those who want to get a feel for the colourful Chilean capital. Go to Las Condes (also known as Sanhattan) for its glamorous bars and upmarket restaurants and Barrio Italia for its bustling cafes and antiques. Flights offset through Greenfleet.
LEAVE YOUR COMMENT