Hawai'i's 7 best desserts (and where to find them)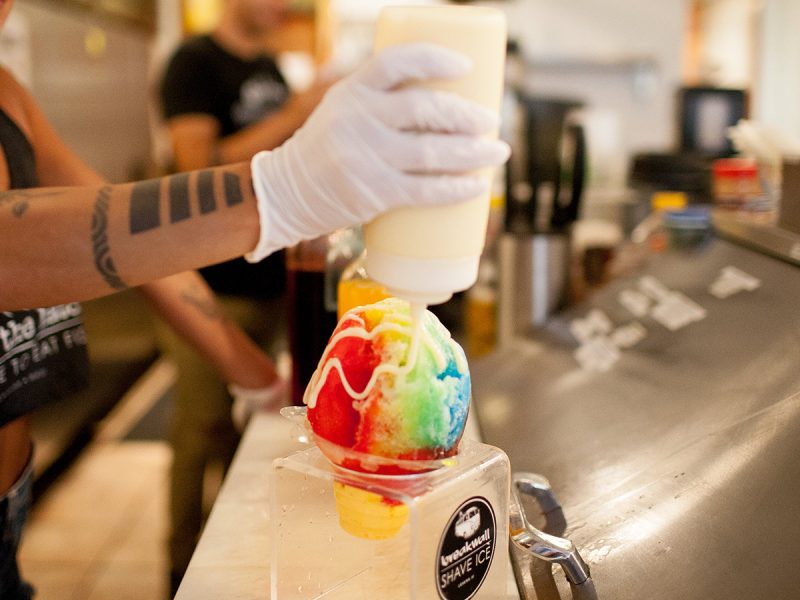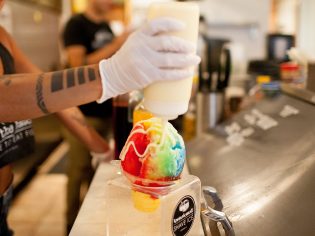 |

THIS ARTICLE WAS CREATED IN PARTNERSHIP WITH Hawai'i Tourism Oceania

|
From traditional Hawaiian treats made with local fruits and vegetables, through to immigrant-inspired Asian and European sweets, the desserts from Hawai'i are a true melting pot of cultures.
Everybody loves dessert, and Hawai'i happens to be one of the best places to indulge. Popular Hawaiian desserts are as unique and culturally mixed as they are delicious, taking inspiration from large waves of immigration from around the world.
In a nutshell, you haven't done Hawai'i right if you haven't tried these tasty sweet treats.
1. Shave ice
The most Hawaiian of sweet treats (and so refreshing on hot, sultry island days), shave ice was originally brought to the island by Japanese immigrants who came to work in the sugarcane plantations. Their kakigori, a cross between ice cream and granita, was an airy dessert made from finely shaved ice, covered in syrup.
Today's best shave ice features ultrafine, powdery frozen flakes that instantly dissolve on your tongue. While Hawai'i's shave ice has gone through many incarnations, including old-school artificially flavoured and technicolour syrups, the finest shave ice vendors now offer natural syrups made from Hawaiian fruits such as guava, liliko'i (passionfruit) and li hing mui (a salty tangy plum).
There's an art to ordering shave ice. On the bottom, start with a scoop of ice cream, such as macadamia nut or coconut, add the shave ice, and then finish with a natural syrup, such as guava. You can also add a snow cap of condensed milk and sprinkle some red azuki beans or mocha pieces for garnish.
It won't be hard to find a shave ice dessert on any of the islands, but a good place to start is Uncle Clay's House of Pure Aloha on O'ahu. Go for the Tropical Delight – a mix of guava, pineapple and liliko'i syrup over Tahitian vanilla ice cream with fresh pineapple slices. Also on O'ahu Matsumoto Shave Ice is a classic old-school shave ice shop on the North Shore.
Over on Maui, Ululani's Shave Ice specialises in the finest shave ice, with 100% natural syrups made from local fruits and cane sugar. One of their most popular offerings is the Coconut Lovers Combo, made with haupia (coconut) ice cream and a watermelon, strawberry and coconut syrup, all topped with toasted coconut. They also have 10 locations around the island.
Maui also boasts Breakwall Shave Ice, voted the best shave ice on Maui. It's affiliated with Down the Hatch Bar, so adults can also try shave ice flavoured with alcohol. Tempt your tastebuds with a mango margarita or a mojito float.
Original Big Island Shave Ice on Hawai'i Island opened as a mobile grocery store in 1957. Owner Lorraine Berdon Kaono evolved it into Lorraine's Snack Mobile, which specialised in shave ice. Her son Reginald Ignacio continued the tradition and opened Original Big Island Shave Ice Company in 2013.
It still serves Lorraine's shave ice recipes, like orange creamsicle, as well as homemade natural fruit flavours, such as guava and pineapple. There are also Filipino-inspired desserts, including halo-halo, made with ube (purple sweet potato), ice cream, boba tapioca pearls and azuki beans.
Hilo and O'ahu both have outlets of the newer Kula Shave Ice. Here they handcraft all its flavours with locally sourced, organically grown fruit and cane sugar, and ultra-filtered water.
2. Malasadas
Originally a Portuguese sweet treat, malasadas were brought to Hawai'i in the 19th century, when immigrants from Madeira and the Azores came to work on the plantations.
In Hawai'i today, it's a yeasted eggy donut with a crispy exterior but no hole. Malasadas are usually coated with sugar and may be filled with haupia (coconut), liliko'i (passionfruit), guava, pineapple, macadamia, vanilla or chocolate custard.
Honolulu is the place to be for sweet lovers. Leonard's Bakery on Kapahulu Street started the malasada craze back in 1952, and is still going strong. There are also red and white striped Malasadamobiles parked at Waikele Center, Pearlridge Center, Kāne'ohe Shopping Center (Windward Mall) and Koko Marina Center, where you can get your malasada fix alongside cookies, cakes and pies.
Kamehameha Bakery does an interesting twist on malasadas with poi (taro) glazed donuts, as well as taro haupia (coconut) rolls and haupia malasadas. They also make a mean banana fritter.
Rounding out the lineup is Pipeline Bakeshop & Creamery, a relative newcomer in Honolulu, which creates some world-class malasadas and homemade ice creams (including malasada-wrapped ice cream), as well as cookies, mini cakes and other pastries.
Other old-school style malasadas can be found at Kauai Bakery (Lihue, Kaua'i), Tex Drive In (Honoka'a) and T Komoda Store and Bakery (Makawao, Maui).
3. Donuts and coco puffs
For something completely different, Holey Grail Donuts use pounded taro to create their donuts. They're then fried in organic coconut oil and garnished with striking fillings, such as calamansi lime, cacao sugar, tamarind, tangelo and dark chocolate glaze. Pick them up at their original food trucks in Hanalei and Kapa'a (Kaua'i), or at their flagship store on Queen Street in Honolulu.
Hawai'i's love for coco puffs – light-as-air puff pastry filled with a creamy chocolate pudding, topped with Chantilly frosting – can be traced to Liliha Bakery, which started producing them in the 1950s in downtown Honolulu. You can still buy them there or at one of their four other O'ahu locations, alongside a wide variety of donuts, pastries and cakes.
4. Crack seed
The tradition of making crack seed (sweet, sour and savoury preserved fruit) was brought to Hawai'i by the Chinese immigrants who came to work on the plantations. Today, crack seed stores are Hawai'i's version of lolly shops, complete with shelves lined with glass jars that hold the multicoloured treats.
Kaimuki Crack Seed, in Honolulu, carries almost 200 varieties of the treat, including li hing mui (salty dried Chinese plum), honey ume (plums and honey), dried lychee, and a wide variety of gummy bears.
Baldwin Sweet Shop in Waimalu Shopping Center offers a wide array of preserved fruits, including jade rock salt plum, dried lemon, shredded mango, jumbo cherry, sliced peach, kumquats and more.
5. Ube
Ube (purple yam) is a major root crop in the Philippines and was brought to Hawai'i by Filipino plantation workers. Pick up Ubae Hawaiian-made halaya (jam), ice cream, tarts, crinkle cookies and cheesecakes at Hawaiian 7-Eleven stores and Aloha Island Marts, as well as other selected retailers.
6. Ice cream
It's not an island holiday without ice cream, and Hawai'i is taking this sweet treat to a whole new (and very Insta-worthy) level. While you'll find classic ice creameries all over the islands, there are two very unique experiences to be had.
Makani's Magic Pineapple Shack in Hilo turns ice cream into an amazing experience with beautiful creations, shimmering ice creams and edible mermaid tails.
Along the main tourist drag, you'll find Banan Waikiki Beach Shack which offers ice cream made from bananas, with no dairy and no added sugar, and the option of adding tasty, healthy toppings. Don't let the health rating fool you, it hits exactly the right spot on a hot and sweaty beach day. They also make a delicious macadamia butter.
7. Fruity sweet treats
Stop at roadside fruit stands – particularly in Maui – to feast on banana smoothies and popsicles, freshly cut pineapples, sugarcane, fresh coconut juice, and coconut candy.
Start planning your culinary escape at gohawaii.com/au.
LEAVE YOUR COMMENT