You haven't seen luxury like Hawai'i's only triple-five-star hotel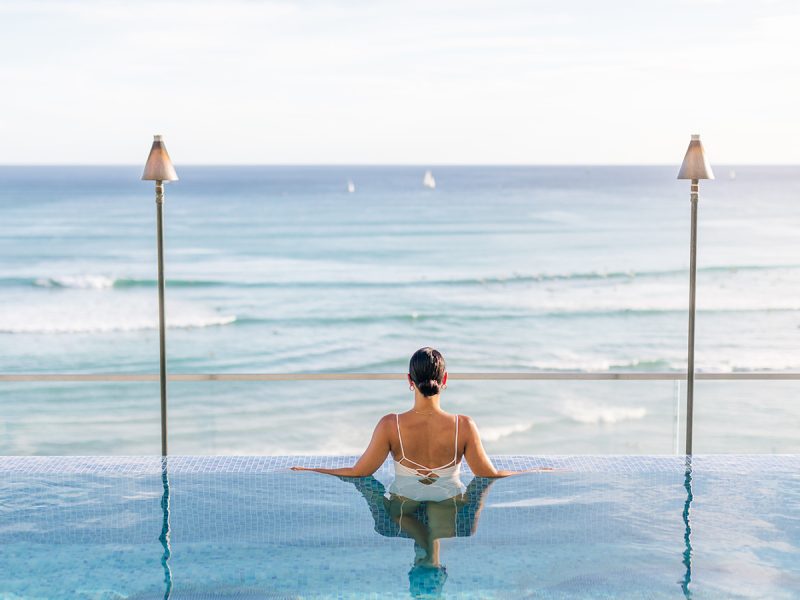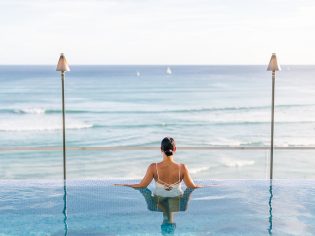 |

THIS ARTICLE WAS CREATED IN PARTNERSHIP WITH Aqua-Aston Hospitality

|
A hotel with just nine ultra-luxury suites across nine floors is ticking all the right luxury boxes in the heart of Waikiki.
There's a reason ESPACIO (pronounced ee-spa-see-oh) is referred to as 'The Jewel of Waikiki'; since opening in 2019 it has been lauded with five-star ratings left, right and centre.
A night here may cost you upwards of $5,250 (that's entry-level) but for that, you buy unparalleled service and attention to detail, plus the luxury trimmings you would expect (and a few you wouldn't).
Located in the centre of Waikiki
Right in the heart of buzzing Waikiki and directly across from the beach, this hotel has chosen a location that's as central as it gets. Not to mention the tariff includes private transport within Waikiki, making it very easy to get to the ocean, shops and restaurants.
Guests all get exclusive access to some of the best cultural experiences in the area too, like the Honolulu Museum of Art, Bernice Pauahi Bishop Museum and Iolani Palace, so take advantage of exhibit previews, tours behind-the-scenes and even after-dark events.
The best service in Hawai'i
From the concierge to cleaners, to restaurant staff – you'll begin to realise that level of service here truly is in a league of its own.
Each suite has access to ESPACIO's butler service – whatever you ask for the concierge team will put in a concerted effort to deliver (plus extras you may have not requested) all to make sure you have the best stay.
Don't feel like dining downstairs for your included continental breakfast? Grab what you'd like to eat and staff will follow you back to your room and set up a dining table. If they overhear you talking about other treats, don't be surprised to find it delivered to your room within moments.
Common requests could be organising sight-seeing tours, booking surf lessons, organising babysitting services, picnic recommendations or bringing extra drinks and food to your suite.
Spread out with a whole floor to yourself
This isn't cookie-cutter luxury – ESPACIO is about privacy and a relaxing, intimate experience for guests.
The nine suites (yes, every floor is a 232 square-metre 'residence') are two or three bedrooms and sleep a maximum of six.
The design of each suite is classic elegance – Italian marble and Moroccan metalwork. Cool whites and neutrals with pops of colour make sure that the focus is still on the ocean views. What's more, the hotel will actually decorate to your requests, so if you have any special occasions while you're there just let the concierge know.
Besides the decor, a high level of attention has also been given to a range of in-suite inclusions that add to the luxury.
For starters, it's not just views of the beach you'll find on every private balcony. Each one has a full-sized jacuzzi and an outdoor daybed. If you've had enough of outdoor soaking, head inside to the in-suite dry sauna and soaking tub.
If you are in the mood to release your inner chef, each suite comes with its own fully equipped kitchen, fitted out with Thermador and Miele appliances, including a five-burner stovetop, dishwasher and wine cooler.
If you want to update your wardrobe but love your suite the ESAPCIO team can organise an in-suite shopping experience complete with a personal stylist.
A top Waikiki restaurant on-site
Then there's the on-site French-Japanese restaurant, Mugen. Under the lead of chef Jason Yamaguchi, the restaurant spares no expense to import the very best ingredients.
On that list are regular seafood shipments from Japan, a nod to the chef's heritage, asparagus from Denmark (when the season permits), and rare wines from around the world. Not sure which wine to pick? There's a wine vending machine in the lobby that allows you to sample some from their list, so you can plan ahead.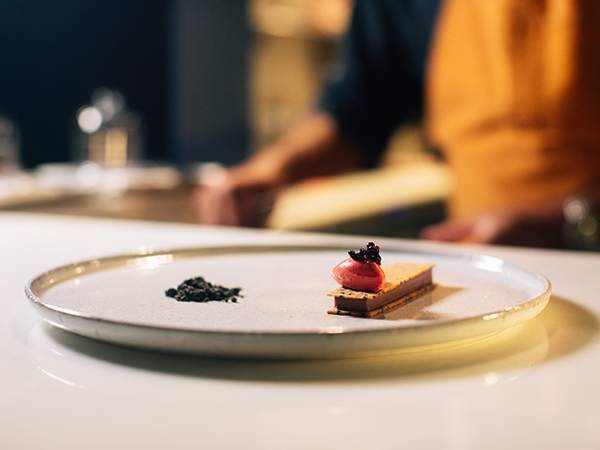 Don't feel like going down to the restaurant? Enjoy the only private in-suite traditional Japanese Kaiseki experience in Hawai'i. Award-winning chef Mamoru Tatemori will prepare a multi-course tasting menu using rare and seasonal ingredients all in the privacy of your suite.
For a truly special sunset book the exclusive champagne and caviar experience; the ESPACIO team reserves the entire rooftop for you and your chosen loved ones for one hour while the sun sets over Waikiki.
Find serenity at the pool or spa
If you get sick of your private jacuzzi, head to the rooftop to dive in the infinity pool or relax on the deck watching the bright colour palette of a Waikiki sunset.
There's also a spa on-site, serving up personalised Polynesian-inspired treatments.
Thanks to the hotel's exclusivity, you're likely to visit both these amenities and never come across another guest.
If you're wondering what else to do during your stay, ask hotel staff or plan ahead with our
guide to the island of Oahu
.
LEAVE YOUR COMMENT