How to find your Nordic Cool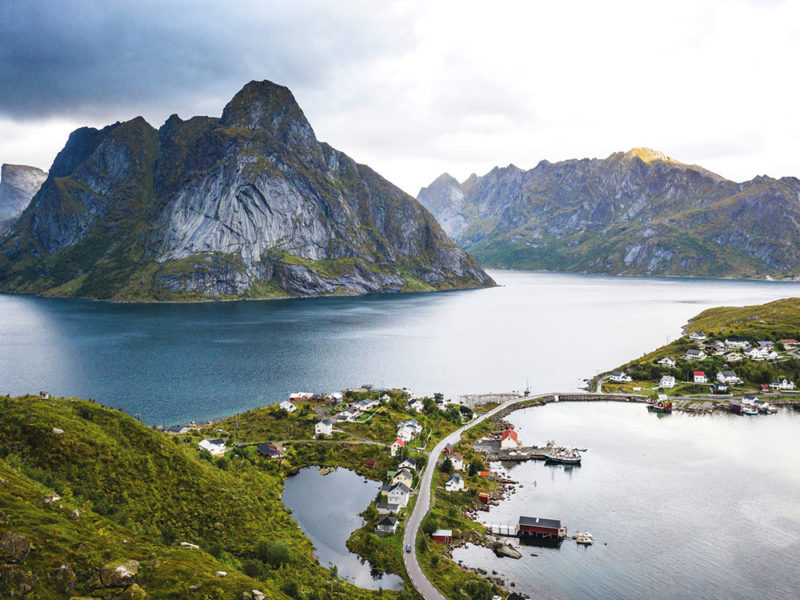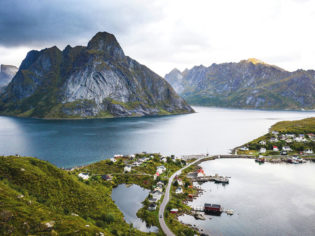 |

This Article was created in partnership with Hurtigruten

|
Norway provides the best scenery you'll ever see from a cruise ship. And, having pioneered its waters as the Original Coastal Voyage for more than 127 years, company Hurtigruten showcases the full range of its glory.
A Norway cruise doesn't start the way it continues.
Bergen is a snug, cosy city of cheerful gabled houses painted red and yellow. Comforting urban attractions include a bustling waterfront market, lively cafes and concert halls.
But there is nothing snug or cosy about the landscapes that unfold as your Hurtigruten ship sails away under a suspension bridge. Over the next few days you will find mountains appear as fangs against the mouth of the sky. Fjords rear.
Waterfalls and torrents tumble down cliffs. This is the wildest, grandest, most forbidding, most beautiful scenery you'll ever see from a cruise ship.
Fjording ahead
Norway's fjords cleave mountains in two as if a Viking god has struck them with a hatchet. Cliffs soar two kilometres high in places.
At times, fjords are narrow enough to feel waterfall spray on your wondering face as you stride the deck.
Among the most famous are Geirangerfjord and Hjørundfjord, one of which you'll see on the second day of your Hurtigruten cruise, depending on the season.
Red farmhouses and orchards add domestic notes to the dramatic landscapes. In late spring, fruit-blossom confetti drifts on the breeze, as if nature is celebrating.
Endless knotted strings of fjords unfold along Hurtigruten's voyages in vignettes of soaring cliffs, dark waters, cloud-shifting skies and distant snow peaks.
The fjords provide long, majestic sails into sheltered ports. It's hard to say which arrival is most scenic. Urke, perhaps, which you reach down the ever-narrowing Hjørundfjord as if sailing into a Viking idea of heaven.
Or Molde, on a wide fjord scattered with pine-topped islands backed by mountains. Apparently, you can see 222 snow-encrusted peaks, but who would reduce such a splendid sight to a mere number?
Ship to shore
Molde is nicknamed the City of Roses. Only in Norway could municipal parks and their perfumed blooms trump such glorious panoramas.
Maybe Norwegians overdose on magnificence. This whole cruise takes you along the crinkly, convoluted edge of Norway, and Hurtigruten is the way to go if you want to admire it all.
The company has operated supply ships here since 1893. Its comfortable cruise ships are still tasked with delivering goods to remote communities. On the Classic Roundtrip Voyage, you'll visit 34 ports, of which 22 are above the Arctic Circle – far more than any visited by traditional cruise lines.
Hurtigruten's guide team accompanies you onshore, and provides expertise during lectures.
You'll get good background on Norway's geography, wildlife, history and culture. Then you can immerse yourself in the landscapes on shore excursions.
A hike into Hjørundfjord's mountains provides a different perspective than you enjoy from the sea. So does a drive along the Atlantic Road and its eye-popping, island-hopping bridges.
In winter, dog-sledding in Tromsø and a snowmobile trip at Mehamn are exhilarating.
Immerse yourself in local life and culture, too, whether you're meeting a moose farmer or craft brewer, or soaking up the lively vibe of Trondheim, a university town with a liking for jazz music.
In Kirkenes, you can meet local fishermen, haul 10-kilogram crabs from the sea and eat them in the boathouse afterwards. You can't get any fresher than that.
One of the benefits of being on a supply ship is that Hurtigruten's chefs source local seasonal produce, from lamb and apples to klippfisk (cured cod) and beer from the world's northernmost brewery.
The Norway Coastal Kitchen ethos brings magnificent seafood to the ship's restaurants, too: Frøya scallops; Arctic char from Sigerfjord, king crab from the Barents Sea.
Arctic adventures
On day four of your cruise, you slip above the Arctic Circle. The scenery gets wilder, the breezes more bracing. Gannets and puffins screech from cliffs.
Prepare yourself for the Lofoten Islands, which rear from intense turquoise waters in a huddle of fishing villages, meadows and snow peaks. Between May and September, the Midnight Sun – or close to it – allows you endless daylight to admire the passing spectacle.
Winter brings the Northern Lights, created by electric particles from the sun colliding with the Earth's magnetosphere.
This scientific explanation falls far short of the glory of these undulations of blue, green and yellow light.
But have no fear about missing out: the likelihood of seeing the Northern Lights is so high that, on select voyages, Hurtigruten provides you with another six or seven-day Classic Voyage free of charge if they don't appear.
Eventually you sail towards North Cape, home to the Sámi people.
Time to learn about reindeer herding and traditional joiking, a style of singing that evokes nature's sounds. Your turning point is Kirkenes just short of the Russian border; as you start to head south again you'll see landscapes you missed while sleeping on the voyage up.
Coasting along
The symphony of scenery never abates in Norway. You'll see more of the Lofoten Islands, perhaps the most beautiful archipelago in Europe.
You'll see Trollfjord, a rather short fjord, but gobsmacking for being 100 metres wide, with a kilometre of vertical cliff looming on either side of the ship, and sea eagles drifting in the narrow sky above.
You'll sail by the Seven Sisters' mountain range, and the gorgeous Vega Islands, which are towering humps of vivid green against a blue sea.
There are more fjords, and you stop at Florø, a fishing village on a peninsula flanked by more islands. Then the coast opens up to farmland and orchards once more. Norway becomes snug again, Bergen lies ahead, and you finish dazed by the beauty of it all.
LEAVE YOUR COMMENT