Exploring Norway: from ship to shore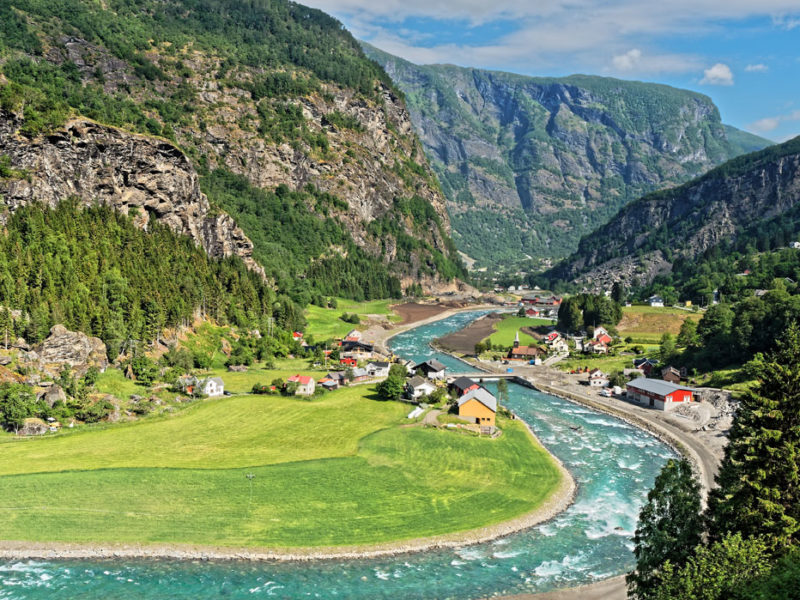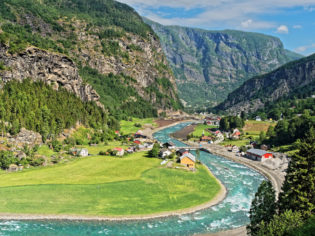 Explore Norway's famously beautiful Fjords, pretty mountain villages and vibrant cities the way one should: from ship to shore.
Tour de Oslo
Scandinavians have a reputation as being more liberal than most, but I never imagined I would be cycling past so many naked figures. Strange beings, too: a nude man lifting a nude woman over his shoulder while nearby another naked fellow wrestles a giant lizard. They are not real people, of course, but a couple of the 212 bronze and granite statues by Gustav Vigeland in Oslo's Frogner Park in Norway, the world's largest single-sculptor display.
I cycle around a 17-metre tower of human kitsch known as The Monolith, then tussle with a very important decision: is the naked man fighting off flying babies or the angry toddler sublimely frozen in tantrum my favourite?
Such are the conundrums when you come face-to-face with local cultures you don't yet understand. By hour two of Holland America Line's Tour de Oslo excursion, up car-free paths and down secluded laneways, it becomes clear that not all Norwegian people and architecture are this, well, ostentatious.
As I pedal up Oslo's main thoroughfare, Karl Johans Gate, the elegant and understated 19th-century Royal Palace – the Slottet, official residence of King of Norway, Harald V – reminds me of Buckingham Palace. My guide times our arrival with Olso's very own changing-of-the-guard ceremony. Unlike the British version, there are female soldiers aplenty involved. How very Scandinavian!
We dawdle along Oslo's waterfront to storybook Akershus Fortress, a medieval fortification and former prison once occupied by the Nazis, which insiders recognise as the best vantage point to see this city's low-rise skyline and a splendid snapshot of the 100-kilometre-long Oslofjord.
It's an enticing taste of what's to come on Holland America's 14-day Viking Sagas and Norse Legends cruise (exiting Amsterdam), which explores the cosmopolitan ports of Oslo and Bergen, but also injects you deep into the hidden treasures of Norway's fjords.
Fabled Flam
No day trip encapsulates the Scandinavian landscape quite like hopping aboard the fabled Flam Railway, one of the steepest standard-gauge lines on Earth and possibly the prettiest, too. The train threads tunnel after tunnel, past Lego-hued villages clinging to the steep valley.
We pause in front of 90-metre-high Kjosfossen waterfall before chugging into Myrdal Station – 863 metres above sea level, where the snow-dusted mountains distract me from counting how many Vatnahalsen Hotel waffles pass my lips. Post waffle-coma, I channel the sugar kick to tackle the hair-pinned hike part of the way down, meeting the train again at Blomheller.
Onwards to the fjords
Deeper and higher into the fjords we go, cruising through Sognefjord via Eidfjord and Hardangerfjord in search of the famed 'mountain farms'. High above majestic Geirangerfjord, we find 300-year-old Herdalsetra, part of a World Heritage landscape ribboned by gurgling mountain streams and sprinkled with grass-roofed cottages.
It's difficult to tell who is friendlier: the hundreds of goats and sheep that graze isolated Dale Farm's high meadows or the farmers who feed me fresh goat's cheese and exquisite local caramels. What I can say, unequivocally, is that Norwegian fjord ponies will gleefully lick your fingers clean.
'Neo-fjordic' cuisine experiences
Local food is the crucial final element to getting to the heart of off-the-trail Europe and one Holland America Line's Koningsdam serves up effortlessly thanks to its culinary-themed food and wine excursions developed in partnership with Food & Wine magazine. Bergen 'Localvore' Christopher Haatuft toiled in some of the world's best restaurants before returning home to establish trailblazing Lysverket.
His 'neo-Fjordic' cuisine combines exceptional freshwater fish and crustaceans with foraged epiphanies such as salted plums and sea snails. Paradoxically, this is fun fine dining. The slick restaurant, housed within a former power plant-cum art museum stocked with European modernists including Picasso, is an emblematic taste of Scandinavia's quirky contrasts.
Experiences that make you feel like a local
This level of off-ship excursion is typical not just on the 14-day Viking Sagas and Norse Legends adventure, but on all of Holland America Line's European itineraries. The 12-day Adriatic Dream cruise similarly guides you into the Mediterranean's essential core, from century-old vineyards to languid lunches in Dalmatian villages. Plunge deep into the culture, get to know it from the inside out, then head back to the ship to digest it all and drink in the splendour. Then do it all again tomorrow. If you insist…
Your ship awaits…
Holland America Line's third Pinnacle-class vessel, Ryndam, will be launched in May 2021 just in time for (European) summer sailings of the 14-day Viking Sagas and Norse Legends cruise.
The perfectly sized 2662-passenger ship not only comes with all the bells and whistles, but all the tunes you can handle, too. Ryndam's five-venue 'Music Walk' effortlessly sails through genres, from the Rolling Stone Rock Room to B.B. King's Blues Club.
For the pick of European flavours onboard, sample classic French dishes 'reimagined with contemporary flair' – such as Dover sole meunière with shaved pink Himalayan sea salt – at intimate Rudi's Sel De Mer brasserie.
LEAVE YOUR COMMENT