First look: Celebrity Beyond Edge Series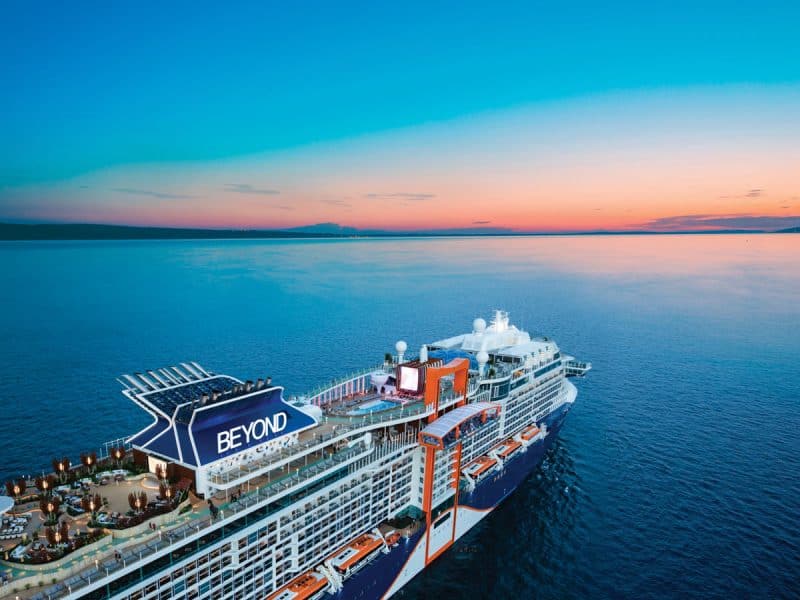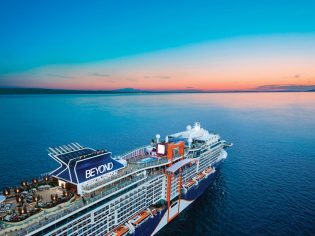 A white elephant and gourmet chocolates are among large and small surprises awaiting guests on Celebrity Beyond.
Shaped by an international team of award-winning architects and interior designers, Celebrity Beyond continues to push boundaries as it makes its debut as the third ship in Celebrity Cruises' Edge-class series. One deck higher and 20 metres longer than sister ships Edge and Apex, the 3,260-passenger Beyond boasts a host of new features that will delight seasoned cruisers and potentially change the mindset of travellers that say cruising isn't for them.
The cruise ship
To get a fresh eye on design Celebrity intentionally engaged a creative team – including Tom Wright who conceived Dubai's Burj Al Arab hotel – that had never worked on cruise ships before, and that's obvious from the moment you step aboard. Practical spaces such as corridors have been transformed into bold eye-catching areas like the walk-through immersive art installation filled with mirrors and sculptures and an arched walkway on the pool deck.
Elsewhere, you can track down the idiosyncratic work of 700 artists from 40 countries, although you certainly can't miss the elephant by the pool. Redesigned areas include an expansive two-level sun deck in The Retreat – which is an exclusive area for suite guests – and a bigger rooftop garden with all-new infinity splash pools extending over the side of the ship. The onboard vibe is luxurious, uplifting and thought-provoking without being stuffy or pretentious.
Accommodation
When it's time for bed the 1646 staterooms offer the widest range of cabins in the fleet. These super stylish rooms were conceived by award-winning British designer Kelly Hoppen and rival what you'd expect to find in some of the best contemporary hotel rooms. Colour schemes are muted and sophisticated, and all the fittings including the location of lights, storage space, USB ports and sockets are well thought out. The all-important bed is ultra-comfortable.
Solo travellers can book spacious single cabins with balconies and if you want to push the proverbial boat out the two forward-facing Iconic Suites, the largest on the ship, offer a panoramic captain's eye view. New to Beyond are the Aqua Sky Suites, with perks such as free access to the spa's thermal suite, wellness TV classes and the opportunity to dine in the Blu restaurant with its 'clean' menus, including imaginative plant-based dishes.
Food and drink
Debuting on Celebrity Beyond is Le Voyage, a first-at-sea restaurant for international two-star Michelin chef Daniel Boulud. Seating just 50 diners, white mesh 'cocoons' envelop some of the tables for an intimate dining experience. The ever-popular Martini Bar is now completely circular, giving more room for bartenders to show off their cocktail shaker juggling skills in nightly shows beneath a modern LED chandelier.
For more indulgence passengers can head to Maison du Chocolate, another first, for sweet treats made by hand. All in all, Beyond has 32 food and drink outlets. The hottest tickets are for Dinner on the Edge – usually one per cruise – held on the glass-sided Magic Carpet cantilevered platform that is moved between decks and is mainly used as a bar. The Sunset Bar, with an all-new statement pergola entrance, is a choice spot for a namesake sundowner.
Onboard experiences
If you're into fitness and wellness this ship won't disappoint. The gym includes a larger dedicated F45 studio for high-intensity workouts or you can slow down your mind and body with daily yoga. For shopping downtime, new outlets include British fashion brand Stella McCartney, known for its commitment to responsible fashion, and New York-based jewellery designer Effy with pieces exclusive to Celebrity. By night there are shows in the main theatre with set against the backdrop of an ever-changing LED screen and fantastic cabaret-style floor shows, with some gentle audience interaction, in the multi-purpose venue Eden and The Club.
Sustainability initiatives
Each new Celebrity ship features the latest eco-friendly technology and Celebrity Cruises' president and chief executive officer said Celebrity Beyond is 20 per cent more efficient than its predecessor. All crew members are trained in waste reduction and there has been a 90 per cent reduction in the use of plastics. Where possible the ship plugs into shore power in port and is emission-free. Cabin air conditioning units feature an energy-saving 'green' setting and passengers can opt to turn off the climate control when they are out and then turn it back on from anywhere in the ship using the nifty Celebrity app.
Itineraries
Launched in the UK in April 2022, Celebrity Beyond is spending its maiden season in the Mediterranean with nine and 10-night sailings taking in the French Riviera, Greek Islands, Malta and Italy. In October it will reposition in the Caribbean and offer five to nine-night cruises taking in the Bahamas, US Virgin Islands, Mexico and the Cayman Islands. Gwyneth Paltrow, the line's wellness advisor, will join a special 'goop at Sea' theme cruise departing on September 24.
Health and safety precautions
All passengers must be fully vaccinated and present a negative Covid-19 test result before boarding. Crew members are all vaccinated and wear masks. Muster drill is carried out via the app with no need to attend a mass briefing.
For more information visit Celebrity Cruises
LEAVE YOUR COMMENT