This cruise ship will reclaim your sense of travel & luxury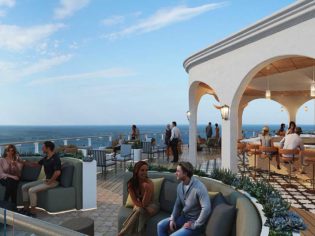 |

This Article was created in partnership with

|
Oh to be at sea again! The surge of the ship, the jumping of dolphins. The hooting of the horn and the tinkle of ice in a drink as another port tilts larger on the horizon. The ancient seawalls of Cadiz, the smouldering silhouette of Mount Vesuvius, the cubic beauty of Mykonos. The world to explore – and doing it in spectacular ease and style.
In normal times, the launch of Celebrity Beyond in April 2022 would have been great news.
These days, it's a terrific moment for the cruise industry, heralding a whole new era of cruising.
Pull up the anchor and burst into an old sea shanty song: travellers can start looking forward to the good times once more.
Celebrity Beyond is a well-named ship. It's a forward-looking name for these times, and a ship that goes beyond Celebrity Edge and Celebrity Apex to take cruising to another level of luxury and enjoyment. The 3,260-guest ship has a longer and sleeker profile, more suites and staterooms and expanded open-air spaces. It's bolder and bigger, and more open to the ocean.
World-leading talents have collaborated on its design – you'll feel as if you're in a chic boutique hotel. And while Celebrity Cruises has always had impressive service, Celebrity Beyond takes it up another notch.
The result? Once on board, you won't have to worry about a thing, and can appreciate luxury at another level.
After a homebound year, who isn't looking for a touch of luxe and sense of space? Celebrity Cruises has always had a sophisticated, upmarket decor; these are ships for those who appreciate style over bling.
Think getting back to a feeling of space and light, enjoying interesting artworks and the pleasure of hip furniture. You'll find approachable elegance; Celebrity ships are about spaces in which to relax, whether by the pool's edge, tucked into a comfortable corner with a book, or socialising over dinner.
Guests familiar with Celebrity Edge and Apex will find many happy similarities, but some signature spaces have been carefully reimagined. The resort-within-a-resort of The Retreat has a new lounge, two-storey sundeck and sunken seating areas.
The Rooftop Garden is also much larger, and features new spoilers to keep wind from interfering with your enjoyment of being on the top deck. Float in one of two spectacular cantilevered pools and you'll be sandwiched between sea and sky in a blur of blue.
Meanwhile, the hugely popular Sunset Bar at the stern of previous ships is now twice as large.
Celebrated American designer Nate Berkus has combined ceramics, terracotta, metal, bronze and carved wood to create a Moroccan-inspired space that will be the envy of Instagram – and just the spot you'll want to be as the sun fizzles into the ocean.
After sunset, the guest favourite Martini Bar calls in the redesigned, three-storey Grand Plaza. The uber-chic bar is now circular, and promises the same theatrical performances from bartenders, and friendly evening buzz.
We've all tried to be MasterChefs in our own kitchens this year, but who doesn't long for some fine dining? If so, the new ultra-exclusive 50-seat Le Voyage restaurant on Celebrity Beyond will provide the requisite romance.
It features intimate seating cocoons, lit by glass flutes that glow with layers of light and texture to create an enchanting experience, and cuisine from Michelin-starred, New York chef Daniel Boulud.
The flavours are grounded in the chef's French roots, but Boulud recognises how international guests' palates have become, so expect cuisines of the world, too – and an international wine list.
Celebrity Beyond has not one but four complimentary main dining restaurants, so go with your mood on the night.
Cyprus offers fresh, simple Mediterranean seafood and other dishes, Tuscan tempts with rustic Italian food, Cosmopolitan is all about mod-American fare, while Normandie features contemporary French cuisine. Tuck into delicious cassoulet or duck confit as the crystal-ware glitters and chandeliers wink back, and you'll have an evening to remember.
Foodies can enjoy Celebrity chef expertise off the ship, too. Take the Chef's Market Discoveries excursion in Palma de Mallorca and the chef accompanies you to Mercat de l'Olivar (Olivar Market) to meet shellfish and oyster vendors before lunch at Es Rebost bistro.
Just don't over-indulge on Mahón cheese, jamón Ibérico ham and camaiot sausages because, back on board, a chef-hosted dinner features the morning's fresh food.
Who hasn't missed exploring the world? There's nothing better than striding a ship's deck as spectacular islands or fortified harbours such as Valletta and Marseille come into view.
Or admiring the winking lights on a sail-away. Celebrity offers more time in port, sometimes from as early as 7am until as late as 10pm, when the sparkle of Nice or Naples is magical.
Celebrity Beyond's first season explores the Mediterranean, one of the world's most gorgeous destinations.
Follow In the Godfather's Footsteps in Sicily, visit Legendary Seville from the port of Cadiz, and discover Lisbon's Hidden Treasures in Portugal among many other enticing shore excursions.
Among the itineraries is a nine-night Italian Riviera & France cruise and 10-night cruises to the Greek Islands & Malta or Italy & the Greek Islands.
Places we dream off, to the sigh of an ocean breeze – and the pleasure of waking up next morning in a thrilling new place.
Holidays should be about nourishing the mind, body and spirit, and Celebrity Beyond will have you feeling tip-top from head to toe with its next-level wellness experiences.
Think being afloat in Zen peace, relaxing in the Turkish hammam, and recharging your spirit after a challenging year.
There's all that and more – 120 treatments, and eight distinctive types of relaxation room – at The Spa, not to mention yoga and meditation in Celebrity Beyond's Fitness Centre, which also hosts strength, stretch and cardio programs including the ever-popular F45 and Peloton.
Gwyneth Paltrow is Celebrity Cruises' new Wellbeing Advisor, and Celebrity Cruises' new Women in Wellness initiative taps into the wisdom and expertise of other wellness leaders.
If you want to take it to another level, stay in the new AquaClass SkySuites for wellness extras including fitness kits from Paltrow's modern lifestyle brand goop and access to super-healthy (but delicious) Blu restaurant.
Of course, feeling good is the sum of all things. The salty wind in your hair as you gaze at new horizons. The excitement of new destinations. A cool sunset cocktail and a hot Mediterranean sun. A meal to remember as you slide towards another Greek island. And most of all, not having to think about a thing.
When you sail with Celebrity Cruises, drinks, wi-fi, and service charges are always included – on every sailing, in every room, every time. That's cruising, Celebrity Beyond style.
Celebrity Beyond departs on her 10-night maiden voyage on 27 April 2022 from Southampton to Barcelona, then sails a variety of Mediterranean journeys including nine-night Italian Riviera and France itineraries and 10-night Greek Islands itineraries until early October. The new ship then heads to the Caribbean. See Celebrity Beyond to learn more about the new ship and its inaugural 2022–23 itineraries.
For more information on booking the holiday of a lifetime, visit Celebrity Cruises.
LEAVE YOUR COMMENT