Ready to cruise again? Be the first to cruise on Norwegian Prima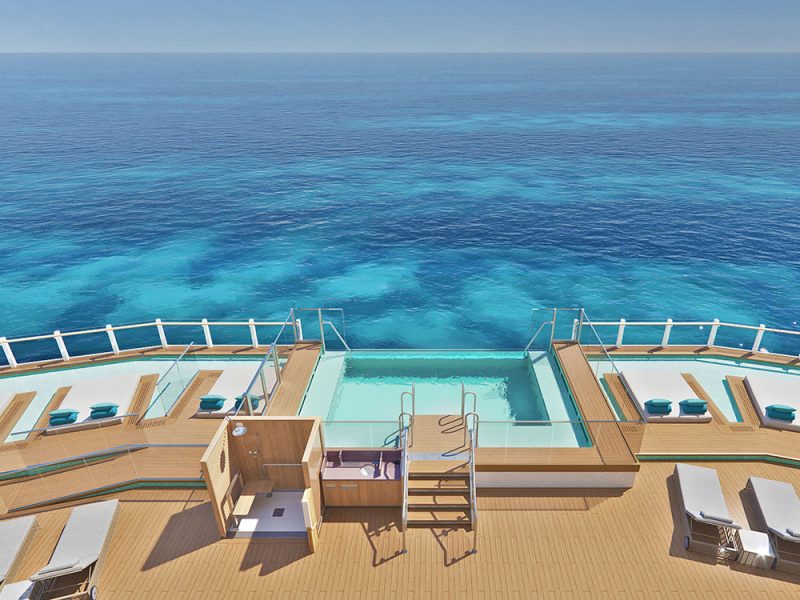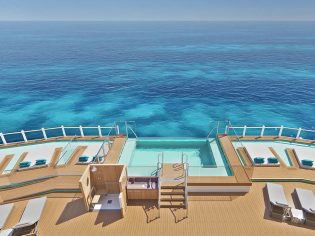 Boasting an impressive bounty of industry firsts, there's no better way to ease back into the world of travel than with the elegant Norwegian Prima, writes Dilvin Yasa.
"This article was created in partnership with Norwegian Cruise Line"
You don't need a Hallmark card to tell you that you never forget life's big 'firsts': that first all-consuming love, first joyous overseas holiday, or the first time you gaze into your little one's eyes. Concerned that most of the best first moments are already behind you? It's time to consider beating everyone else to the punch by booking a voyage with Norwegian Prima, one of the grandest vessels ever to grace our seas.
The first of six ships from the Prima Class – Norwegian Cruise Line's first new class of ships in nearly 10 years – Norwegian Prima is launching in August 2022, with her sister Norwegian Viva launching in June 2023, both vessels designed to elevate every at-sea experience you've ever dreamed of.
Norwegian Prima, be the First
Thinking you might be more than ready to cruise again? You're not the only one clocking up those milestones; Norwegian Prima is coming to the party with more firsts than an Olympic gold medallist and who better than you to benefit from all of the cruise line's hard work?
Some of the firsts you'll be signing up for include a chance to swim up to the horizon – cocktail in hand – on the ship's infinity pool or enjoy a scenic stroll across water along the glass bridge. Perhaps you'd prefer cosying up under a canopy of stars at the Indulge Firepit or eating your bodyweight in bold Latina flavours, which is easily done when you're feasting from the food trucks at Indulge Food Hall.
Between the two of us, Ocean Boulevard is on record as being a 'sophisticated multi-purpose open-living and dining space', but let's just call it for what it is: a luxurious playground where you can indulge in a lifestyle most often enjoyed by the likes of people who own global hotel chains.
Something for the kids on board Norwegian Prima
We're not going to lie: this 294-metre ship has been designed to bring a level of sophistication and elegance to every space and experience offered. But, much like a kid with a crayon and an all-white living room, that doesn't mean the little ones won't have a ball.
On the list of kids experiences they will be able to brag to their friends about? Tearing around The Prima Speedway (the first three-level race track at sea) and plummeting 10 storeys from The Drop, the first free-fall slide in the world. There's a flying theatre simulator and Topgolf Swing Suite partnerships (again, both at-sea firsts) as well as escape rooms and other games at Galaxy Pavilion, an entertainment complex that will occupy the most committed kidult for hours. Add to that a kids' aqua park, as well as that all-important kids' club and you're free to spend long days making full use of Vibe Beach Club, an adults-only outdoor sanctuary complete with dedicated bar and two infinity hot tubs. Kids? What kids?
Only kidding. For further quality time together, Norwegian Prima also offers entertainment galore, from the Broadway sensation Summer: The Donna Summer Musical, and fun family game shows to stand-up comedy and Vegas-style nightclubs.
Food, glorious food on board Norwegian Prima
Studies have long shown striving towards personal goals is the secret to happiness, so what better goal to set than to dine at all 11 of the diverse culinary venues on offer at upscale, open-air food marketplace, Indulge Food Hall?
Each of the eateries – positioned in a circular pattern to help you better achieve said goal – serves up a distinctly different vibe and cuisine, whether you're after fine dining at Onda by Scarpetta, fresh Mexican flavours at Los Lobos or something more casual such as Q Texas Smokehouse and Seaside Rotisserie. Of course, there will be times when a quick bite from a food truck will be just the thing and The Latin Quarter and the Tapas Truck have got you covered.
Norwegian Prima accommodation options
Touted as a game-changer for the cruising industry, much of the talk surrounding Norwegian Prima's striking good looks is its clever, design, which has been built from scratch with the guest experience in mind. This has seen the ship's engines placed in the middle of the ship. It was an unorthodox approach that meant the back of the ship could be opened up for a second waterfront area.
Perhaps what's most impressive for guests, however, is just how much thought has gone into the variety of accommodation available on the ship. Craving unparalleled luxury and serious space? The Haven is the all-new exclusive enclave featuring Norwegian Prima's most luxurious and spacious accommodation, where a personal concierge and 24-hour butler cater to every whim and desire (hint: if you're asking for a big bowl of blue M&Ms only, this is the place you'll get it). Additionally, as a guest of The Haven, you can enjoy cocktails at the Haven Lounge & Bar, relax in the infinity pool, outdoor sauna and/or cold room, or simply take in the views from your expansive sundeck pool.
Guests bunkering down elsewhere don't miss out either; Norwegian Prima boasts 18 suite categories ranging from NCL's first three-bedroom suites right down to Studios for solo travellers.
Sail Safe with Norwegian Cruise Line
Of course, guest safety is paramount: it's a thought process that began with the design of the ship, its wide open spaces and higher space-to-guest ratios informing every designer and engineer behind Norwegian Prima. Add to that Norwegian Cruise Line's Sail Safe, a set of stringent health and safety protocols that require 100 per cent vaccination of all guests and crew aged five and over, pre-boarding testing and enhanced and multi-layered cleaning measures.
Norwegian Prima: a ship for the new world

Discover your cool-climate adventure amongst the breathtaking fjords of Norway and their quaint colourful fishing villages or the dramatic and majestic landscapes of Iceland all in the lap of luxury aboard Norwegian Prima.
Positioned to showcase the highlights of Northern Europe, Norwegian Prima gifts passengers the 'best ofs' of Iceland, Norway, Russia, Sweden and more with eight- to -12-day itineraries allowing you (in some cases) to experience a new port every day of your itinerary.
Fancy a 10-day Northern Europe voyage? From Oslo and Bergen to London, the 10 ports of call include Copenhagen, Oslo, Kristiansand, Bergen, Geiranger, Alesund, Amsterdam, Brussels, Paris and London. For something a little longer, The 12-day Transatlantic: Scotland & Iceland, sails from London and takes in Kirkwall in the Orkney Isles, Reykjavik in Iceland and Halifax in Nova Scotia before arriving in New York.
Prefer to save your cruising holiday for 2023? Feast your eyes on Norwegian Viva. Not only does she share many design aspects with Prima, she's Identical in onboard experiences and sails to warmer, Mediterranean climates. Norwegian Viva's itineraries kick off from the homeports of Athens, Lisbon, Venice (Trieste) and Rome (Civitavecchia). What say you to a 10-day Greek Isles: Santorini, Mykonos & Florence cruise taking in the highlights of Athens, Istanbul, Santorini, Mykonos, Olympia, Messina, Naples, Florence/Pisa, Nice and Rome? All those destinations and you only have to unpack once.
Could Norwegian Prima by your (next) first? To explore the ship, visit NCL.