How Hurtigruten is making cruising sustainable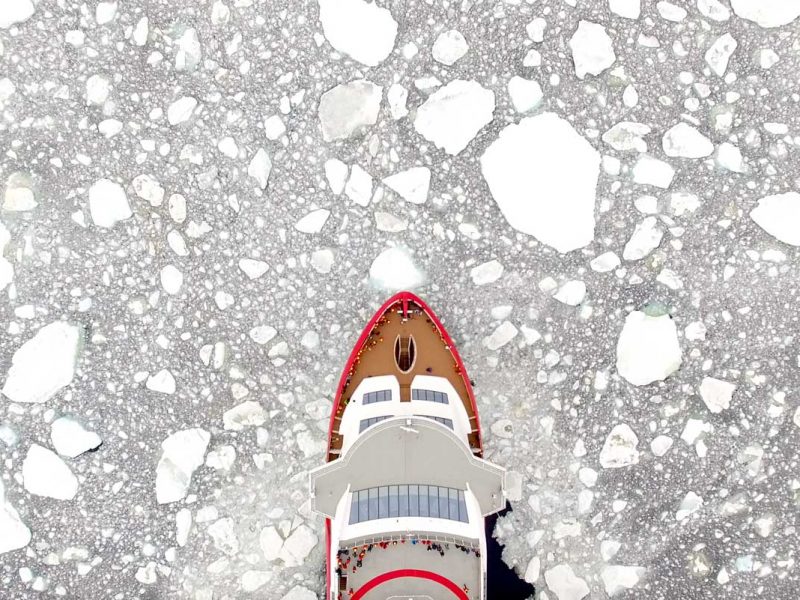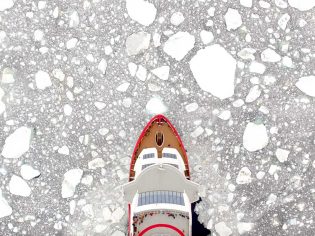 |

This Article was created in partnership with Hurtigruten

|
From hybrid ships to fleet upgrades, there's no cruise line working harder than Hurtigruten to make the world a better place.
In a world challenged by climate change, how do you choose a cruise line that aligns with your values of treading the Earth gently? You're far from alone if you've found yourself pondering this question, as research shows that travellers are increasingly seeking green holidays built on sustainable practices.
While we're unable to solve our planet's climate change and mass tourism issues ourselves, we can point to a cruise line whose eco-innovations have cemented its position as a world leader in sustainable cruising. The good news? They've not only got ideas on how to solve some of these issues, but they're also working towards fixing them.
A historic brand looking to the future
An expedition cruising line with explorer heritage dating back to 1893, we could discuss Hurtigruten's vast range of itineraries (the fleet explores over 200 destinations across 30 countries), or we could look into its three brands: Hurtigruten Norwegian Coastal Express, Hurtigruten Expeditions and Hurtigruten Svalbard.
Far more impressive, however, is the line's investment in changing both the future of cruising and reversing the damage that's already been done. Read on to discover some of the key environmental pillars.
Hurtigruten's hybrid expedition ships
Custom-built to navigate the pristine waters of Alaska, the Arctic, Antarctica and the Norwegian coast, MS Fridtjof Nansen (the most sustainable ship in the world, according to a report by Scope ESG Analysis) and MS Roald Amundsen are the world's first battery-hybrid powered cruise ships. Equipped with battery packs, shore power connection, improved hull and bow designs and a range of green technology, these ships have reduced Hurtigruten Expedition's CO2 emissions by up to 25 per cent and and NOx emissions by a huge 90 per cent. In 2021, Hurtigruten Expeditions introduced its third battery-hybrid ship, MS Otto Sverdrup.
Connecting to shore power, of course, reduces ship emissions to zero, and the Hurtigruten Norwegian Coastal Express is being retrofitted with this capability.
The new shore-based electricity facility in Bergen alone will reduce the cruise line's NOx emissions by 2.5 tons, and CO2 emissions by 150 tons per ship, every year.
Hurtigruten's entire fleet is getting an upgrade
Passionate in its determination to operate the healthiest ships for our oceans, Hurtigruten is now in the process of Europe's largest environmental ship upgrades, rebuilding all seven Norwegian Coastal Express ships. This will result in cutting CO2 emissions by 25 per cent, and reducing NOx emissions by as much as 80 per cent.
Three of the ships will be converted to hybrid ships, and three more will be upgraded to have SCR facilities installed on board to reduce NOx emissions. The newest ship in the fleet, MS Vesterålen, was upgraded with new engines and SCR facilities back in 2019.
The upgrades will be completed across the fleet in 2023, with Hedda Felin, CEO of Hurtigruten Norway, hinting that the changes are just the start of a major overhaul.
"Our goal is zero emissions! But the technology is not mature enough yet, and we must do what we can to cut emissions with the best technology available today, and extend the service life of the iconic ships we have in our fleet," she says.
Sustainable onboard practices.
Unlike many cruise lines, Hurtigruten swears by a footprint they're proud of, leading the charge with a wide range of green practices on their ships.
Leaning on the UN Sustainable Development Goals as a framework, the company banned all single-use plastics in 2018 (right down to refusing to stock microplastic-made fleeces), and is currently working towards reducing food waste by up to 30 per cent. At the same time, they've introduced menus of delicious plant-based dishes (meals that have low, or at times zero, CO2 footprints), while their Norway's Coastal Kitchen concept has transformed the way guests eat on Hurtigruten Norwegian Coastal Express ships.
The cruise line has abandoned all industrially processed food and only serves local produce approved by WWF's Seafood Guide. Hurtigruten ships also produce their own fresh water, reusing heat from engines and exhaust systems – a program that saves an amount of power equivalent to 6700 households per year.
Hurtigruten passengers can get involved, turning holidays into an opportunity to change the world for the better. Guests can help with a plethora of Citizen Science Programs, from joining beach clean-ups and bringing the refuse to the ship to be recycled, to performing small-scale surveys on wildlife to monitor for changes in plankton. You don't even have to get off the ship to assist: you can donate to the Hurtigruten Foundation, which funds projects around the world or simply hang a tag on your cabin door to say 'please don't change my towels or bed sheets' (a move that saves both energy and water).
A cruise line that aligns with your values of treading the Earth gently as you discover the wonders of Antarctica, the Arctic, Norway's coastline and many other pristine and unforgettable destinations? You might finally have your answer.
Hurtigruten's Northwest Passage Expeditions
Feeling adventurous? Hurtigruten Expeditions is one of the few companies to offer attempts to cross the infamously isolated – and challenging – Northwest Passage sea route, spanning almost 1700 nautical miles from Canada's Baffin Island in the east to Alaska's Beaufort Sea in the west. The Northwest Passage: In the Wake of Great Explorers (Itinerary 1) is a 19-day cruise of pure adrenaline rush. A Reykjavík embarkation allows guests to explore the fjords and settlements of Southern Greenland before an attempt is made to cross the Davis Strait and navigate the islands that dot these extreme polar waters.
Hurtigruten's Antarctica Expeditions
Welcome to the coldest, driest, the most remote continent on Earth, a land of sweeping icescapes teeming with penguins, seals and whales. A cruise with Hurtigruten Expeditions isn't only about seeing the White Continent, but joining their Expeditions Team for kayaking, camping, snowshoeing, and, if you dare, polar plunging trips. A highlight? Take the 18-day Antarctica Circle Expedition cruise as it attempts to sail below the Antarctic Circle to reach ultra-secluded Marguerite Bay, potentially visiting the planet's most remote research stations.
Upgrading Hurtigruten's coastal ships
A fleet-wide upgrade is one thing, but Hurtigruten Norway has partnered with leading Norwegian research organisation SINTEF to create zero-emission ships for the Norwegian coast, with the first vessel – a Hurtigruten Norwegian Coastal Express ship – preparing to set sail by 2030.
"With this project, Hurtigruten Norway and SINTEF can show the world that green and sustainable passenger ships can be achieved in the near future," SINTEF president Alexandra Bech Gjørv explained in the initial announcement. "Cutting emissions in the maritime sector is by no means an easy feat, and we need ambitious companies like Hurtigruten Norway to take initiatives like this."
With its 34 ports, the Norwegian Coastal Express route from Bergen to Kirkenes is the perfect starting point for the development of zero-emission passenger ships. Not only are there opportunities to use future infrastructure for green energy, but several ports are already in talks to expand shore power connectivity, allowing Hurtigruten's ships to simply 'power up' when they come in to port.
Happily for our environment, in the coming years, ships that are not emissions-free will be prohibited from entering the UNESCO World Heritage-listed Norwegian fjords.
For further information on Hurtigruten, visit hurtigruten.com.au
LEAVE YOUR COMMENT