Hot footing across a frozen Swiss glacier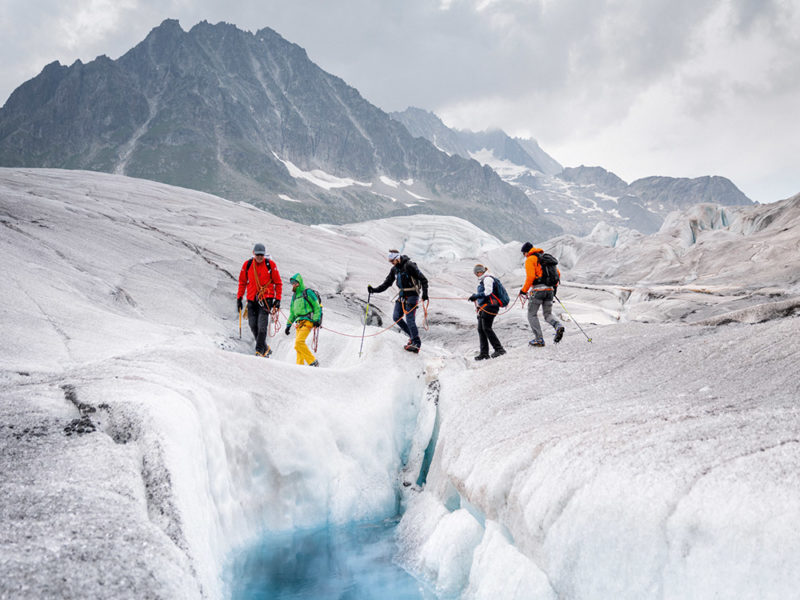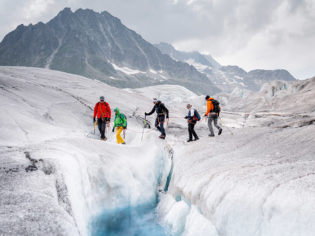 |

THIS ARTICLE WAS CREATED IN PARTNERSHIP WITH Switzerland Tourism

|
A glacier hike in the Swiss Alps makes for one adventurous outing, writes Mark Daffey.
Ever heard of Switzerland's Great Aletsch Glacier? Well, here's an idea: type the name into Google Maps on your browser then switch over to the satellite viewing mode. What comes up will vary according to your imagination. To some, it resembles a six-lane highway. Those parallel moraine lines remind others of tyre tread marks. As for me, I think of a striped slug with a pointed tail and a cauliflower head. Each to his own, I say.
That cauliflower head fans out amid a trio of peaks that never fail to set the hearts of mountaineers racing, so don't be surprised if it does the same to you too. As backdrops go, it doesn't get much better, sitting in the shadows of the Eiger, Jungfrau and Mönch massifs in Valais, Switzerland's loftiest canton.
The glacier's frozen stem contains about 11 billion tonnes of ice and measures 23 kilometres from end to end, making it the longest in the Alps. Amazingly, that's three kilometres shorter than it was 150 years ago, illustrating the devastating effects of global warming. At its thickest point, it's close to a kilometre deep – 200 metres less than it once was.
It forms part of the largest glaciated area in Eurasia, helping to explain its UNESCO World Heritage status. And its melt waters nourish vineyards in the Rhône Valley, the country's largest winegrowing region.
On a personal level, you can look out over it from a mountaintop terrace beside Europe's highest railway station, or you can hover above it in a helicopter. In winter, you can ski on pistes sloping down towards its frayed edges in resorts like Aletsch Arena and Blatten-Belalp. During summer, you can explore it on foot. And believe me, when you set your eyes upon this particular glacier for the first time, you'll want to do exactly that.
Ice magic
Patrick Z'Brun has a rare pedigree for someone who leads guided hiking tours across the Aletsch Glacier. At just 20 years old, he became the region's youngest qualified mountain guide. Then, at 45, he scaled Mount Everest, the highest point on Earth.
Nowadays, the former business manager divides his time between tending to the 80-year-old vines on his Domaines Chevaliers vineyard and escorting hikers on walking tours across the Aletsch Glacier. Ever the practical thinker, he lugs one of his own bottles of wine in his rucksack for celebratory tipples with his guests at the conclusion of each hike. And, as if that's not enough, those with a taste for more can tack on a cellar tour and tasting session at his winery in Salgesch.
Z'Brun is one of a handful of operators offering guided walks on or around the Aletsch Glacier. Tours often include educational elements, highlighting our responsibility towards preserving nature and citing climate change as the main threat to the glacier. Guests may learn about flora and flora, how the glacier was formed and how it has been shaped and sculpted over thousands of years.
The glacier's vastness can initially feel overwhelming and even experienced hands like Z'Brun never cease to marvel at its magnitude. Slowly, smiles inevitably return though as hikers learn to relax and feel energised by immersing themselves in such a foreign landscape.
Highlights on each walk may include exploring deep blue ice caves or standing above bottomless crevices. Some are like miniature canyons. Others pool with crystal-clear melt water.
Listen to the sound of ice crunching beneath your feet or the wind whistling through the valley as your guide skillfully weaves a passage through the glacier's many folds. Streams bubble beneath the surface and waterfalls tumble down the mountainsides. The glacier never rests. And one of the wonders of hiking on it is that you can hear it groan from the strain of its relentless march downhill. You can't fail to be impressed.
Practicalities
During summer, Aletsch Glacier hiking tours depart almost daily from the alpine resorts of Riederalp, Bettmeralp and Fiesch-Eggishorn. All are roughly three hours by train or car from Zürich, Switzerland's primary international gateway.
Tours vary in length from three hours to two days, overnighting in the cosy Konkordia Hut at the foot of Fülbärg or in a mountain resort hotel. Be warned though: hiking routes can be impacted by the amount of snow cover on the ground so you may need a flexible mindset to appreciate it properly.
Some tours skirt around the edge of the glacier or utilise the dark, kilometre-long Tälligrat Tunnel (bring your own torch) to transfer from one valley to the next. Others cross the heavily creased ice, necessitating the use of crampons, harnesses and ropes that are usually included in the price of the tour. No mountaineering experience is required and children as young as six years of age can join some tours. Most stipulate a minimum of four to six participants.
All tours advise hikers to wear sturdy footwear and warm, weatherproof clothing during glacier crossings. Don't have the right gear? No problem – there are plenty of outdoor clothing and equipment stores able to rent whatever you need. Hiking sticks are a good idea to assist balance on those icy surfaces.
Gondola and chairlift tickets must be purchased separately, and tour prices rarely include packed lunches or drinks. Hats and sunglasses are strongly recommended to combat the glare reflecting off the ice and it's wise to apply sunscreen before leaving.
Where to stay
Plenty of accommodation options are available in Rhône Valley towns or villages and in the lofty, mountaintop resorts. Choices range from hotel beds to holiday apartments, private chalets, bed and breakfasts, mountain huts, group hostels or camping.
Looking for further ideas when visiting Switzerland? Try these.
Grand Tour of Switzerland offers
Make your Swiss dreams come true! Click here for Grand Tour of Switzerland offers from Entire Travel.