Zurich's secret bars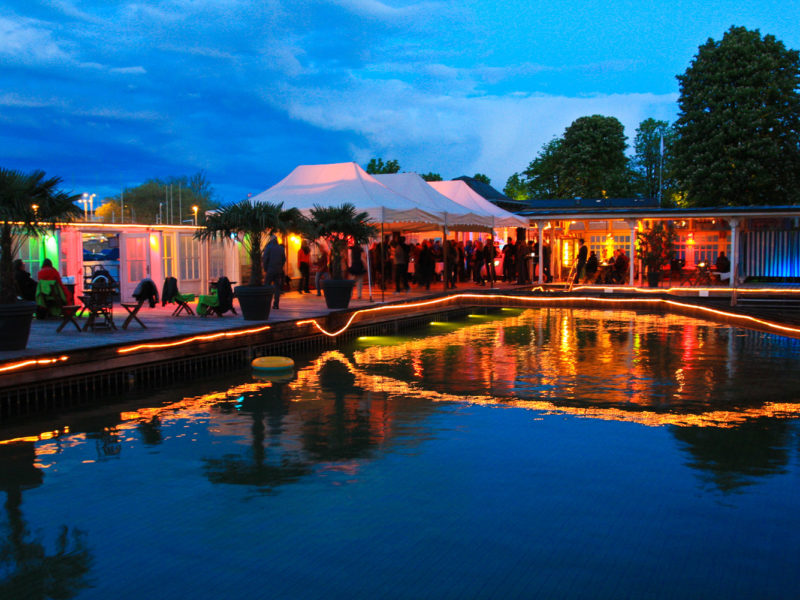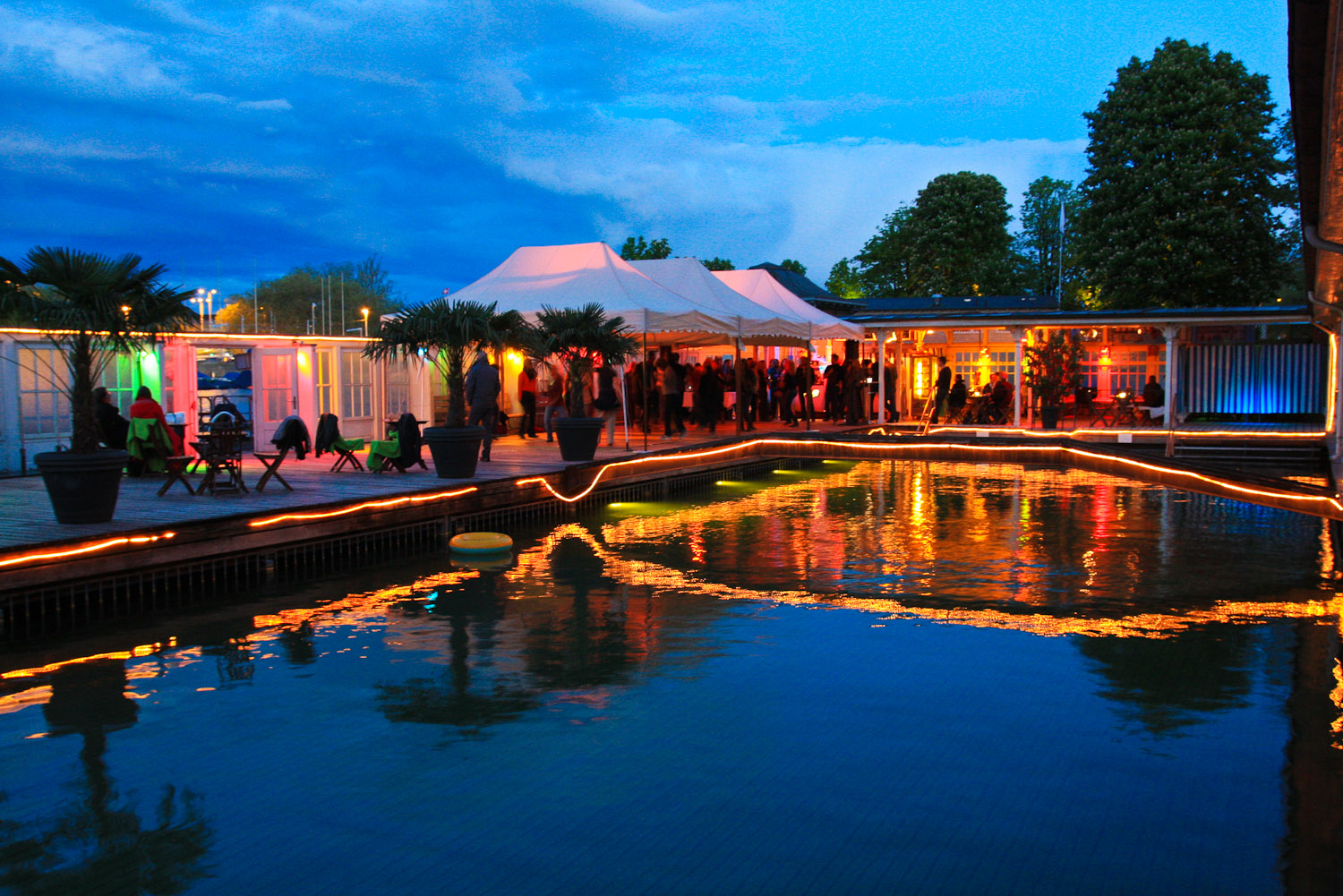 Welcome to the lesser-known side of Zürich, where the term 'dive bar' takes on a whole new meaning, discovers Nikki Wallman.
Let me guess: hear the word Zürich and you immediately picture images of boring, buttoned-up bankers shuffling down perfectly manicured streets; frosty snow-capped peaks; and lots of fondue.
Now, picture this: ice-cool blondes sunning themselves on timber decks over crystal clear waters; fairy lights and historic church spires reflected in calm pool waters as hedonistic partygoers dance the night away.
Water is the real lifeblood of this city, not the money or the watches or the picture-perfect houses.
The Limmat River splits the Old Town in two, leading down to the magnificent expanse of Lake Zürich, lined by jewel-green parks and majestic buildings.
The Schanzengraben canal traces a quiet path of the city's ancient walled fortifications. As a result, Zürich boasts around 40 public swimming facilities (18 of them lake, river and open-air areas), the highest concentration in the world.
This alone is impressive, but particularly awesome is what happens at dusk, as many of these picturesque swimming spots are transformed into buzzing waterside bars, called badi-bars in local parlance. Here, three of the best.
1. Frauenbadi/Barfussbar
Round off an afternoon exploring the Old Town by visiting one of the most prime locations in Zürich: the Frauenbadi. The very cool, Art Nouveau-styled pool – a womens-only bath by day – sits right on the Limmat River, overlooked by the imposing old church towers of Fraumunster and Grossmunster.
On Wednesdays, Thursdays and Sundays between mid-May and mid-September, the Frauenbadi transforms into the Barfussbar (Barefoot Bar) – so named because patrons are requested to kick off their shoes in order to preserve the 125-year-old timber decks. Sunday is dancing night ($18 entry), and 'Cultural Wednesdays' feature theatre sports and concerts.
It's a magical setting: the night-time water reflects twinkling fairy lights; a little bridge crosses the middle of the pool where colourful rubber tubes float; and the Grossmünster spire, lit from below, casts a grand presence over the light-hearted affairs at pool level. There's a slightly older crowd here, but they hit the dancefloor as hard as their bare feet will let them.
Stadthausquai 12, 8001; barfussbar.ch
2. Flussbad/Rimini Bar
The Flussbad – men-only baths during the day and hipster hangout Rimini Bar by summer night – is a hidden gem, nestled quietly below street level on the Schanzengraben canal behind a green door. Inside vines tumble down the remains of Zürich's ancient fortification walls on one side, leading to the emerald-green pool.
Come dusk, trestle tables fill the beer garden, colourful neon lightbulbs are strung up along the edges of the pool, and a flight of stairs leads down to the best seats in the house – a bathers' platform on the water with Moroccan floor cushions and low tables, perfect for lounging.
By night, Rimini attracts a mixed crowd encompassing 30-somethings with babies to students to loved-up couples. The soundtrack is eclectic – a bit of Bowie, some cool country, the new Snow Patrol – and there's a bit of a Melbourne laneway/Camden grunge vibe going on. Rimini also hosts fashion markets on Monday evenings between May and August, as well as special parties throughout the season.
Badweg 10, 8001; rimini.ch
3. Seebad Enge
Nestled on the shores of the enormous Lake Zürich, Seebad Enge has both mixed and women-only swimming pools as well as spa facilities, stand-up paddle boarding, yoga, beauty services and massage.
Besides the range of facilities on offer, people come here for the startling views: bikini-clad bodies in the foreground, the glittering lake beyond, and snow-covered alps on the horizon. The vibe is all Ray Bans, tans and beautiful people, lounging around the raised open-air bar and deck area in printed sarongs, bikini tops and denim cut-offs.
A disco ball hangs above, glinting and hinting at what's to come as Seebad Enge turns into a bustling live music venue hosting a variety of acoustic music acts on summer evenings.
The swimming season runs from May to September before giving way to the winter 'sauna season', and there are various other events on during the year at Seebad Enge, such as 'Moules & Frites' in September/October.
Mythenquai 9, 8002; tonttu.ch
DETAILS
How to get there
SWISS offers daily connections and fares from all major Australian cities to Zürich from around $1750.
When to go
June to August is the best time for waterside fun. May and September could be dicey and certain bars or pools may not be open.
Where to stay
• Affordable: Hotel du Theatre is a boutique design hotel near the Old Town that also once housed a small theatre. Doubles from $254 per night. Seilergraben 69, Centralplatz
• Comfortable: Helvetia is another boutique hotel with two apartments as well as 14 rooms and stylish restaurant and bar. Double rooms from $310 per night. Stauffacherquai 1
• High-end: If you've got cash to splash, try Baur au Lac. At the lake end of Bahnhofstrasse, it makes a luxurious jumping off point to explore the waters of Zürich. Talstrasse 1
The best thing about Zürich
Its capacity to reward visitors who are willing to dig a little below surface level.
The worst thing about Zürich
The prices. Zürich was recently ranked the second most expensive city in the world for tourists. But with the AUD behind us it's not as unaffordable as we once thought.
Hot Tip
Check out the weather and water temperature of any lido, bath or pool at myswitzerland.com or download the Swiss Swimming Weather iPhone app from iTunes.
LEAVE YOUR COMMENT