The most scenic peaks and valleys in Switzerland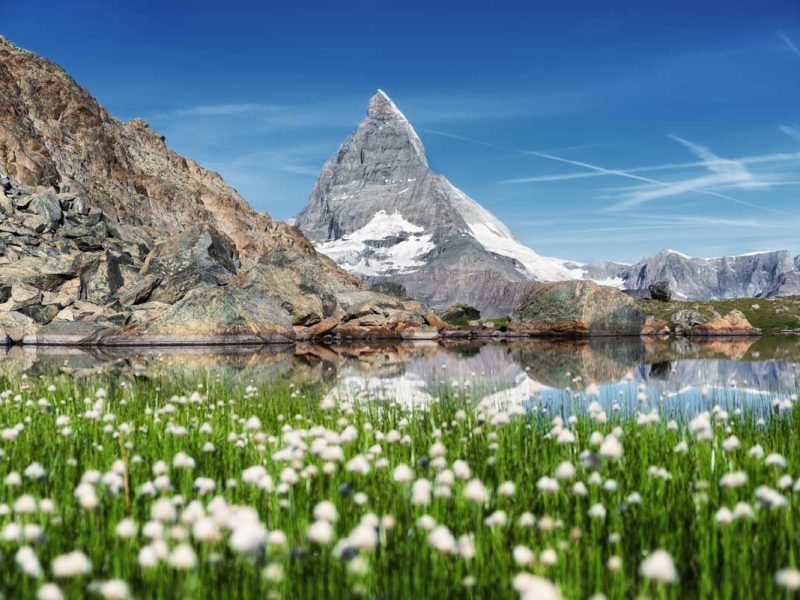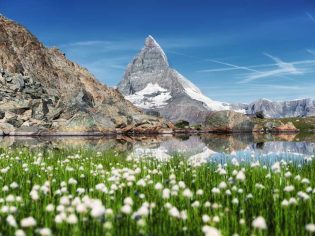 Explore some of Europe's most scenic peaks and valleys fuelled by nothing but hydropower and a healthy diet of plant-based food as Switzerland seeks to be one of the most sustainable travel destinations in the world.
Traversing Switzerland's greener pastures
The sheep lean in for their close-ups. Their spiralled horns twist free of curly mops of hair, which in turn flop down over big, imploring eyes. We've travelled by cogwheel train up to the Gornergrat from Zermatt with the express intention of 'meeting' them as they graze contentedly in their natural habitat more than 3000 metres above sea level.
This quirky seasonal tourist attraction is made possible thanks to some nifty GPS-equipped collars and the Valais blacknose – an ancient breed that originated right here in the Swiss Alps – are being more than obliging; it seems they love a selfie as much as any self-respecting quokka.
Top things to do
Tuck into a plate of specialty lamb
Half an hour and countless photos later, we've all fallen for them. The love affair doesn't end there for my travel companions. We dine that evening in rustic surrounds at a traditional tavern, Restaurant Schäferstube, run by Tradition Julen – a local family business long led by principles of sustainability, animal welfare and mountain culture, and the breeders of these ovine beauties.
Any pangs of guilt they feel tucking into a plate of speciality lamb soon abate as it reportedly melts in the mouth, high in Omega 3 fatty acids and distinct in taste due to the animals' high alpine summering and grazing on the best wild herbs.
In terms of minimising food miles and eating meat ethically, it doesn't get better than this. But as a lifelong vegetarian, and with those sweet faces forever saved on my camera roll, I am happy with my vegetable tortellini.
As a non-meat eater in Switzerland, I am well-catered for. In fact, I've never eaten so well in Europe – a traditionally tricky exercise for veggos. But things are changing, not least here. From my first night in Zürich, I am spoilt for choice.
Stop by a vegan restaurant at the heart of Zurich
I don't even make it to Hiltl, the world's oldest vegetarian restaurant, but learn about it with interest: first opened in 1898 as the Vegetarian Home and Abstinence Cafe, it was taken over by Ambrosius Hiltl and has been serving meat-free cuisine from all over the world ever since; today 80 per cent of its customers aren't even vegetarian at all.
Instead, on this blue-sky evening under a peal of church bells, I settle into an outdoor spot at a restaurant, Kantorei, in a pretty courtyard in the medieval old town. My lemon and ricotta ravioli reflects the season. The next night, high up on a hillside above Zürich at the Dolder Grand's Saltz restaurant, I eat summer herb salad and eggplant piccata paired with local Swiss riesling.
Plant-based food is having a moment: I don't so much as sniff a fondue or raclette in the week that follows. And even the most ardent carnivores among our international group of travellers get onboard. Upon learning that going veggie one day per week can make a real difference to an individual's carbon footprint, the Brazilian in our party resolves to give it a try when he gets back home.
Experience 'Swisstainable' travel
Switzerland's vegan renaissance is the tip of the iceberg (lettuce) when it comes to the huge strides being made to make the country one of the most sustainable travel destinations in the world.
A place synonymous with the great outdoors, from its crystalline lakes to its spectacular snow-capped mountains, Switzerland is both inherently sustainable and vulnerable to climate change; its inhabitants have long recognised the value of these natural assets, seeking to protect and preserve them while harnessing their power to produce clean energy.
The country's sustainability strategy, 'Swisstainable', starts on the plate and travels through the entire tourism industry, from the hotel rooms we sleep in to the trains we travel on, motivating service providers to lead the charge and travellers to slow down, stay longer and experience more.
It also acts as a labelling system or a stamp of quality: spotting the logo means the business you've stumbled upon has solid environmental and social sustainability practices.
Stay in The Dolder Grand
The Dolder Grand is one of Switzerland's most luxurious hotels, where former guests include Albert Einstein, Winston Churchill and the Rolling Stones. It's also one of its most sustainable, with far-reaching strategies that look at everything from food waste to the social sustainability of its operations.
With EarthCheck certification, The Dolder Grand has a geothermal system that has reduced energy consumption by 50 per cent – the rest of the hotel's energy needs come from clean and green Swiss hydroelectric – and recycles discarded soap that then gets redirected to those in need.
But travelling responsibly in Switzerland doesn't depend on the scale of your budget. We check out of the hotel in the morning and leave our bags at the lobby. Then we head back down the cogwheel train we came up on and make our way to Zürich's Hauptbahnhof.
The bags will follow, not by VIP chauffeur service but thanks to the national Swiss railway's convenient express door-to-door luggage service. We flex our Swiss Travel Pass – which grants unlimited travel by train, bus and boat – and head out of town. On time, of course.
Getting around by rail travel
Switzerland's impeccable transport network is the underlying secret to its conscious credentials. With one of the most closely-knit rail networks in the world, mostly powered by hydroelectricity, you can reach just about any remote town or village by public transport; greenhouse gas emissions per passenger kilometre for rail transport is up to five times less than that of car transport.
A few hours of rolling scenery go by in a flash. We climb into the Alps as the tracks get steeper, the valleys give way below us and the mountain streams coursing with an almost opaque milky water rush hurriedly in the other direction.
We arrive in the alpine village of Zermatt, a storied ski resort and inherently sustainable destination, nestled as it is under the watch of one of Switzerland's most powerful symbols of nature, the Matterhorn.
Reached only by train, taxi or helicopter if you're feeling swish, there are no cars in Zermatt; in true Swiss style, visitors walk (or catch the smattering of dinky electric buses or taxis available).
Making the most of Matterhorn's scenic views
We head to the local youth hostel, its view of the Matterhorn one of the best you'll get anywhere, especially in the crisp early morning when the moon is still suspended above it like a satellite. With its network of about 50 hostels in Switzerland and Lichtenstein, Swiss Youth Hostels is a non-profit organisation that has been operating since 1924.
Its mission to promote quality-conscious, socially responsible and environmentally compatible tourism is seen in the food it serves at mealtimes through to the solar-heated showers. But scratch images of having to share a dorm room with strangers. Swiss Youth Hostels caters not only to backpackers but families and other travellers in search of affordable but high-quality accommodation.
In my double room with a private bathroom, with my small window cracked open to let in the mountain air, I have the best night's sleep of my trip. And all the better for getting up early to ascend the Klein Matterhorn.
We ride the gondola up to the Matterhorn Glacier Paradise, the highest mountain railway station in Europe, gliding our way past the ever-present crag of the Matterhorn.
Where to see snow-capped mountains and glaciers
As the largest cable car company in Switzerland, Zermatt Bergbahnen takes its position seriously and has been at the vanguard of making Zermatt as sustainable a ski resort as possible. It has invested heavily: into environmental safeguarding like renaturation and remediation of damaged sites left by the unchecked expansion of tourist infrastructure some decades ago, and into leading-edge technology for its gondolas such as the gearless Leitner DirectDrive system, which doesn't require motor oil to run.
The cable car delivers us to the top, where we breathe in 360-degree views of peaks and glaciers. Here, you can also see the impacts of the climate emergency up close. With glaciers melting, the Alps are especially vulnerable, which makes responsible travel– in the hands of people who care passionately about the mountains – even more essential.
Walser mountain houses and barns
That strange-hued water I'd seen, neither blue, grey or white but perhaps all shades at once, was glacier melt and it's flowing more than it should be due to the unusually hot weather already seen this year in spring.
We descend on the gondola to Trockener Steg and hike the 6.5-kilometre glacier trail that winds its way around the foot of the Matterhorn through a spectacular lunar landscape of ice, stone and water. Then, hopping off the gondola again at the hamlet of Furi, I amble the last hour-long stretch back down the mountain through woods and meadows to Zermatt.
As the late afternoon sun lengthens the shadows, I pass authentic old wooden Walser mountain houses and barns. The perfect complement to my otherworldly glacier hike, this short but sweet hike is the Switzerland of my imagination.
Cervo Mountain Resort
Cervo Mountain Resort, where we stay that night, is Switzerland with a lot of imagination. A member of Design Hotels, this creative spot perched high above town is a contemporary take on alpine style with a well-cultivated bohemian vibe.
With a rootedness in the destination, it operates in close exchange with nature and embraces the traditions and culture of the Alps while mixing it up with international influences; its 54 rooms and suites and seven lodges are equipped with warm colours, natural materials and vintage finds and, after a long day's skiing or hiking, there's nowhere else you'd want to be than soaking your muscles at the Mountain Ashram Spa.
Following a customary apéro – drinks and nibbles, Swiss style – we eat that night in the eclectic restaurant Bazaar, its pan-Middle Eastern dishes delicious and mostly vegetarian. We leave town the next morning, luggage travelling separately again, and board one of Switzerland's most famous scenic trains, the Glacier Express.
Grand Canyon of Switzerland
This magnificent train journey covers 300 kilometres across the Swiss Alps, and charted its first course between the resort towns of Zermatt and St. Moritz in 1930 after these once isolated mountain villages were adopted by high society.
Today, we travel in similar style and along with an elegant lunch, the luxury is found as much in the over-height panoramic windows that allow us to gulp in the unique landscapes we're travelling through as we roll away from Zermatt: from bucolic village scenes up to the Oberalp Pass and through the Rhine Gorge, the so-called Grand Canyon of Switzerland, where the river has carved itself deep into the white rocks.
The train is powered by hydroelectricity drawn from the waters we see streaming all around us.
What makes Switzerland a sustainable travel destination?
We veer off before we get to the famously dramatic Landwasser Viaduct, heading not for St. Moritz today but for Davos instead. This alpine city in the canton of Graubünden is well-known for hosting the World Economic Forum (WEF), which it does so at Switzerland's first climate-neutral congress centre.
We visit the Davos Congress Centre and marvel at its eco-friendly, elegant design that integrates with nature through the use of materials such as alpine wood and the spectacular honeycomb ceiling that spans the plenary hall.
As we explore the unique space, which covers 12,000 square metres, we learn how Davos has a long and prestigious tradition of hosting conferences with origins that date back to 1853, when the region – and the health-promoting climate of its mountain air – gained favour as a climatic spa destination with therapeutic effects.
A holistic approach to sustainable travel
I get a sense of this travelling by bus to the romantic side valley of Sertig, where the melodic jangle of traditional cowbells echo off the mountainsides as we hike to a thundering waterfall. Building on this and in a bid to preserve this pristine but fragile natural environment, Davos has a plan to become Switzerland's first climate-neutral holiday resort by 2030.
Businesses are joining up to fund the myclimate Climate Fund Davos, which supports climate projects in the town and means that by booking direct through, for example, local hotel websites travellers can opt to make their stay carbon-neutral by making a contribution, which will then be matched by the myclimate Climate Fund Davos.
The chefs at Hotel Grischa's Pulsa Restaurant have prepared us another special plant-based menu, with the exception of pepperoni, I note. I prepare to avoid this politely before realising it's simply a small mistranslation. We're in a Romansh-speaking district, Switzerland's fourth language, which shares similarities with Italian, and in Italian the word peperoni means bell peppers. My streak continues.
A traveller's checklist
Getting there
Qatar Airways flies to Zürich via Doha from Sydney, Melbourne, Brisbane, Perth and Adelaide.
Eating there
The Dolder Grand's culinary offerings range from an à la carte menu by chef Julian Mai at chic and modern Saltz, designed by artist Rolf Sachs, to fine dining by Heiko Nieder at two-Michelin-starred Restaurant.
Gather round Manud's convivial long table in the centre of Zermatt for dishes thoughtfully prepared with local and seasonal ingredients and sample local drops from the Valais Canton, the largest wine region in Switzerland.
Among Hotel Grischa's suite of considered restaurants in Davos is new hotspot Jody's, serving tasty tapas from apéro to dinner time. Or dine in refined Belle Époque ambience at Kongress Hotel Davos's Extrablatt Restaurant.
Staying there
The Dolder Grand is a Zürich landmark that blends historic opulence with modern design in an exquisite leafy setting and boasts first-class sustainable credentials.
With its network of over 50 properties in some of Switzerland's most beautiful locations, Swiss Youth Hostels has provided an affordable and environmentally aware choice of accommodation for the best part of a century.
Design-savvy travellers won't want to miss the opportunity to check into Zermatt's uber-cool and conscious Cervo Mountain Resort.
With its passionate staff, central location and responsible ethos across all areas of operation, Hotel Grischa is the place to stay in the alpine city of Davos.
Playing there
The Swiss Travel Pass grants unlimited travel by train, bus and boat (including on the Glacier Express), use of public transport in more than 90 towns and cities, free admission to more than 500 museums and more. Prices start from $362 for a three-day pass.
See myswitzerland.com for more on travelling through Switzerland sustainably.
LEAVE YOUR COMMENT