The world's first vegetarian restaurant – it's in Switzerland of course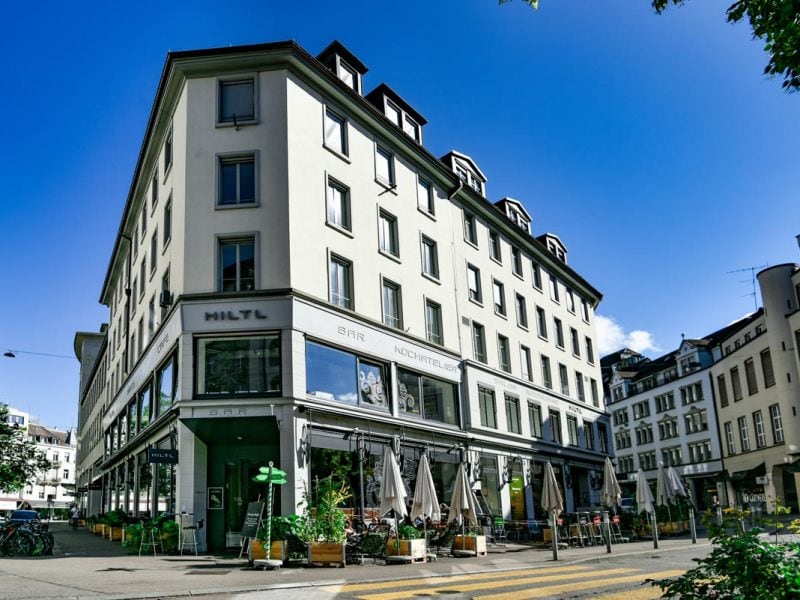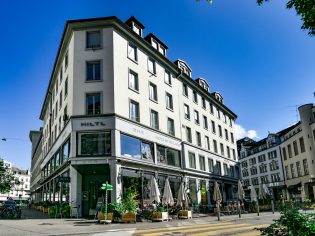 |

This Article was created in partnership with Switzerland Tourism

|
Renowned for leading the world in sustainability, are we at all surprised that the world's first vegetarian restaurant was born in Switzerland? Probably not. But you will be surprised at how old it is and how many customers are actually vegetarian.
Humble beginnings (and an uninviting name)
In 1898 a restaurant called Vegetarian Home and Abstinence Cafe opened on Sihlstrasse in Zurich. Its name wasn't particularly appealing and, as vegetarians were thought of as cranks at the time, it did no great business. The few customers who visited often scurried in the back door, embarrassed to be seen visiting the establishment.
Welcome to Hiltl
Fast forward 124 years and we can only marvel at the foresight. The Abstinence Cafe, renamed Hiltl, is now into its fourth generation of family ownership. It's as innovative as ever, and one of Zurich's hippest restaurants. Guinness World Records recognises Hiltl as the oldest continuously open vegetarian restaurant in the world, and how times change: 80 per cent of their customers aren't vegetarian at all.
The Hiltl story began in 1901, when an ailing Ambrosius Hiltl was told by his doctor that he should renounce meat. He began frequenting the peculiar Abstinence Cafe, became its manager and – feeling in much better health – took it over in 1904.
It was good timing, since locals were becoming more open to vegetarianism, especially under the influence of Dr Max Bircher-Benner, the famous muesli pioneer. The restaurant flourished and always looked to the future: in 1931, for example, Hiltl installed the city's first all-electric kitchen.
Hiltl introduce Switzerland to the spice market
In the 1950s, after Margrith Hiltl travelled as Switzerland's official delegate to the World Vegetarian Congress in Delhi, the restaurant introduced the then-exotic spices and flavours of Indian cuisine. Hiltl today is still noted for its Indian influences: you can delve into tikka masala with soy yoghurt and broccoli, or a palak paneer flavoured with ginger and date chutney.
These days, fourth-generation Rolf Hiltl brings another new outlook, thanks to his time in restaurants in San Francisco, Acapulco and Paris. The aim is to show that healthy vegetarian dining can not only be enjoyable but even indulgent.
Expansion into fast vegetarian food
These days Hiltl employs 300 staff and has opened another restaurant on Langstrasse, as well as fast-food outlet Tibits in Zurich, Winterthur, Bern, Basel and Lucerne. It's also committed to social responsibility and sustainability: Hiltl uses organic and regional ingredients, reusable takeaway bowls, biodegradable cups and biogas electricity, and focuses on minimising food waste.
Modern day indulgence
No abstinence is necessary at flagship Haus Hiltl on Sihlstrasse these days, and there's certainly no skulking through the back door. Office workers pack in at lunchtimes, and on weekends DJs spin mood music. Sit at the bar and have a spritzed prosecco with elderflower and yuzu, accompanied by jalapeño poppers, which offer a spicy hit when you crunch into the battered cheese bites. Try a pulled BBQ burger with pickled cucumber at the vegetarian butchery, or plunder the patisserie for a classic mille-feuille or tiramisu.
You can dine in two venues: buffet or à la carte. The buffet is legendary and features over 100 hot and cold dishes, from mushroom stroganoff to Thai red curry, with detailed labelling for those looking for vegan or allergy-free options. Restaurant dishes include the likes of cordon bleu made with organic smoked tofu, eggplant tartare, and traditional local dishes such as Züri Geschnetzeltes, typically made with thinly sliced veal in a creamy mushroom sauce, but here redesigned using organic seitan.
The Hiltl Academy completes the vegetarian foodie journey; classes cover things like the Vegan Family Brunch where kids and parents learn to make the ultimate vegan mid morning feast or an entire lesson on cooking with medicinal herbs.
Zurich now has more than 30 vegetarian restaurants
It isn't only Hiltl that has changed since it first opened in 1898, as things have moved on in Switzerland too. Almost five per cent of the Swiss are vegetarians – the number increases every year – and, per capita, the Swiss eat more organic produce than any other nationality. Zurich alone has some 30 vegetarian or vegan restaurants.
The demand for organic, vegetarian meals is also growing, and more restaurants now have a weekly vegetarian day. A study from the Swiss Federal Institute of Technology found that if everyone in Switzerland went vegetarian just one day a week it would save the equivalent of car emissions from a 3.7-billion-kilometre drive.
What sounded like abstinence in 1898 is now beginning to sound like good sense – with great flavours.
Five indigenous Swiss plants you may eat when in Switzerland
The Alps are home to many medicinal and culinary plants. Here are five often found on Swiss menus.
1. Hyssop
An aromatic condiment said to be a relaxant, hyssop appears in meat dishes, sauces, and flavours Swiss absinthe.
2. Linden blossoms
These tannin-rich yellow flowers are dried to make springtime herbal tea. Linden syrup goes well in the prosecco-and-gin Hugo cocktail.
3. Zwetschgen acidic prune plums
Similar to damsons, these are used on top of delicious tarts at the end of summer.
4. Alpine sea buckthorn
These vitamin-rich, lemon-flavoured berries are made into juices and syrups, and are increasingly used as an upmarket restaurant ingredient.
5. Wild alpine garlic
A springtime herb, often called ramson or Bärlauch, this is used in cream soup and raw in salads.
Over 150 restaurants and cafes in Switzerland celebrate World Vegetarian Day on 1 October by offering creative vegetarian menus that focus on tasty, healthy and climate-conscious local vegetables. Learn and discover more sustainable ways to travel in Switzerland.