9 iconic dishes that don't originate where you think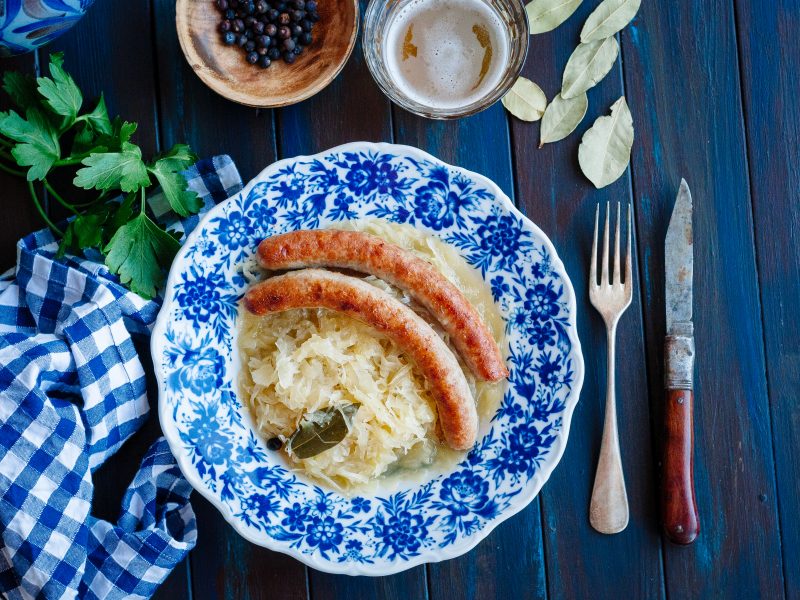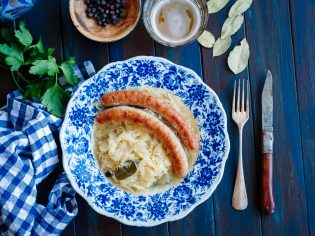 From Vindaloo to Sauerkraut, Hawaiian pizza to French fries, these iconic dishes don't originate where you may think.
In a world where we travel from place to place and move from country to country, dishes are bound to be shared around the world. Here are nine dishes that originate from places you wouldn't have thought.
1. Hawaiian pizza
It's the age-old debate that seems to have society divided – does pineapple belong on pizza? Whatever your opinion, the family-favourite Hawaiian pizza topped with ham and pineapple doesn't actually come from where you think it does.
Even though pizza itself came from Naples in Italy's south, Italians take their pizza very seriously, and you would be hard-pressed to find any pizzeria in the country with pineapple on the premises. And despite the name, it did not come from the US island state of Hawaii either.
Surprisingly, Hawaiian pizza was invented in Canada in 1962 by Greek immigrant, Sam Panopoulos!
2. Croissants
When travelling to France, your trip isn't complete without indulging in at least one authentic croissant. But, the buttery, flaky baked good isn't actually French! Croissants are inspired by the Austrian kipferl, a traditional yeast bread roll made with lots of butter that is rolled and formed into a crescent before baking.
The French have put their own spin on it by using yeast-leavened laminated dough (similar to puff pastry) which gives it the light, layered texture croissants are famous for!
3. Vindaloo
Vindaloo is a traditional Indian curry made from meat (usually pork) marinated in vinegar and garlic. Considered a staple in Goa in India's southwest, an earlier variant of the dish was introduced to Goa by the Portuguese in the early 15th Century.
That's right, Vindaloo is based on the Portuguese dish, 'carne de vinha d'alhos', which translates to meat marinated with garlic and wine. And funnily enough, the name Vindaloo is simply a mispronunciation of vinha d'alhos.
In Goa, the dish is called vindalho, closer to its Portuguese counterpart, and is usually made with pork. Over time it was adapted to local tastes, with different meat choices, the addition of Indian spices and chilli which were also introduced by the Portuguese in the 16th century.
4. Sauerkraut
One of the most popular sides in Germany is the fermented cabbage dish Sauerkraut, which literally translates to sour cabbage. And while it has been a staple in German cuisine for around 400 years, it was actually the Chinese who first fermented cabbage in rice wine over 2000 years ago!
While building the Great Wall of China they needed to feed thousands of workers in a remote area, and with the lack of refrigeration 2000 years ago, they found that you can preserve cabbage with no refrigeration or canning by fermenting it. It was a nutritious dish that kept the workers healthy and strong.
5. Fajitas
A staple at Mexican restaurants all around the world, fajitas don't really originate from Mexico. They're actually a Tex-Mex creation from Houston, Texas! The dish is made from meat in strips with onions and capsicum, usually served on a flour or corn tortilla. It's often accompanied by lettuce, sour cream, guacamole, salsa, pico de gallo, shredded cheese, refried beans, and diced tomatoes.
6. Tempura
Along with sushi, tempura is one of the most popular Japanese dishes. Or is it? Tempura is another dish that was actually invented by the Portuguese! Usually vegetables or seafood, tempura is the process of coating the food in a batter and fried in sesame oil. This method of frying was introduced by the Portuguese in the 1600s for Lent, when Christians are forbidden to eat meat.
In fact, the name tempura comes from the Latin, 'ad tempora cuaresme', which means 'in the time of Lent'. The Japanese mistook this as the dish's name and called it tempura.
7. Chicken parmi/parma
In Australia, we love a chicken parmi (or parma depending on where you are in Australia), but the pub favourite didn't originate here. A parmi is based on the Italian dish 'parmigiana di melanzane', which is fried eggplant in a tomato sauce, on top of a breaded veal schnitzel. It's almost always served with pasta, but in Australia, it's served with chips and salad.
8. French fries
You might think it's safe to assume that French Fries come from France, but the deep-fried potato dish was actually invented in Belgium. Although there is some debate over this, Belgium claims that in 1680 the river in Namur froze over and they had to get creative about what to fry instead of fish – so they used potatoes!
Whether it was the French or the Belgians, I'm certainly thankful the French Fry was invented.
9. Cheesecake
Cheesecake is one of the most popular desserts around the world, and a classic New York Cheesecake is the most well-known. But it was in fact the Greeks who first made the classic dessert 4000 years ago. Fresh cheese, flour and honey were combined and then cooked to make the Greek version.
In the 1900s, traditional curd cheese was phased out and replaced with cream cheese, creating a creamier, richer, and tastier treat. Thus, the New York cheesecake was born! One of the most famous cheesecake options, the signature and smooth taste comes from the extra egg yolks in the creamy cheesecake mix.
LEAVE YOUR COMMENT