9 of the most unique Christmas escapes around the world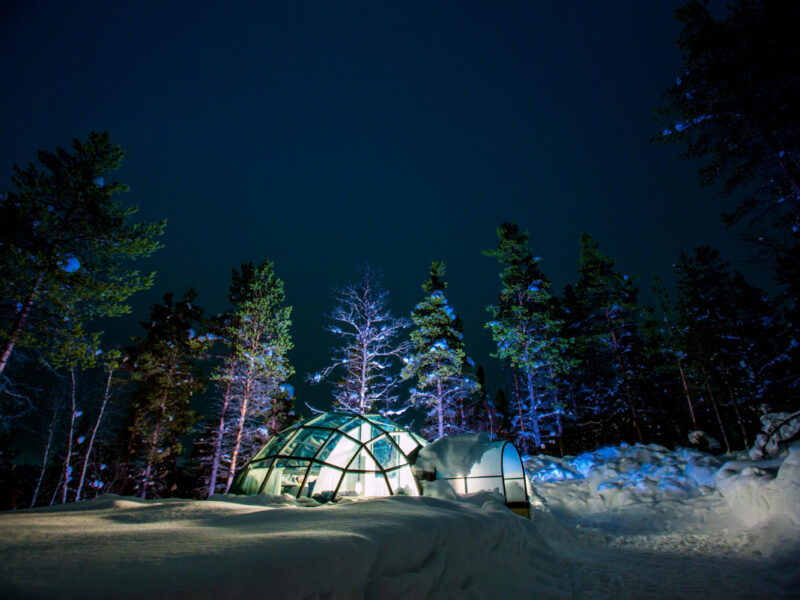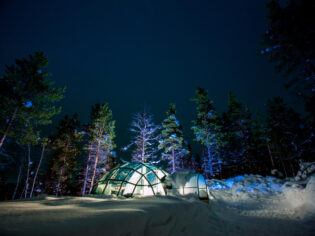 Sure, Christmas at home is great and all, but you can't deny there's a teeny part of you that dreams of a festive holiday overseas.
We've got your inspo right here. Think of it as a (really) early gift for next year.
Australian Christmas celebrations are renowned for being so laid back, they're practically upside down. Where Northern Hemisphere folk light candles, we light mozzie-repellent coils. Where they sing carols in the snow, and we don silly paper hats in the sunshine. Where they drink eggnog and mulled wine, we crack tinnies and sip rosé. Needless to say, an Australian Christmas is a beautiful thing.
But ever since experiencing a White Christmas in London and Berlin many years back, my curiosity's been piqued, and with so many wonderful ways to celebrate, I can't help but imagine where future festive seasons could be spent. If you're thinking of packing your bags next year, these nine places deliver big on Christmas magic.
1. Kakslauttanen Arctic Resort, Finland
You may have spotted them on social media: rows of glowing, golden glass domes, snuggled into the snow and surrounded by icing sugar-tipped trees. These outrageously Instagrammable igloos are part of Finland's Kakslauttanen Arctic Resort.
Nearby, nestled into the forest, lies 'Santa's home' – a charming red wooden chalet where you can deliver your wish list to the big guy himself. At Christmas the magic is dialled up a notch, with traditional Finnish seasonal feasts and themed activities; guests can also partake in anything from husky or reindeer safaris to sleigh rides, skiing and aurora hunting during the winter months.
2. Sanctuary Retreats, Africa
Feel like you're surrounded by a pack of wild animals as you feed and throw presents to your family members? Head to Africa and see the real thing instead. Sanctuary Retreats boasts some fantastic options.
Sanctuary Stanley's Camp
How about sharing Christmas lunch with a couple of elephants at Sanctuary Stanley's Camp in Botswana?
Sanctuary Baines' Camp
For something 'wildly' romantic, try Sanctuary Baines' Camp, with swoon-worthy touches like an outdoor 'star bath' on your deck, and the option to wheel your four-poster bed out under the night sky; plus candle-lit dinners and private walks with semi-habituated elephants.
Sanctuary Sussi and Chuma
For a twist on the traditional festivities, you could join the staff at Sanctuary Sussi and Chuma Lodge near Victoria Falls and their families to sing carols by candlelight on Christmas Eve.
3. Paris, France
In Paris, young guests can skate around the Hotel Plaza Athenee's ice rink in La Cour Jardin, the stunning walled courtyard in the centre of the iconic hotel.
Each Sunday from 3 December, The Peninsula Paris' will be hosting festive Christmas brunches as well as daily afternoon teas. You can also book yourself in for a romantic staycation at the five-star Hôtel de Crillon, with breakfast for two and a festive tea-time at their Jardin d'Hiver restaurant included.
Indulge in an ever-so-sweet start over at Four Seasons Hotel George V, where the resident pastry chef has created a festive afternoon tea. The dessert fest includes a miniature Yule Log (a Bûche de Noël), a Baba cake with mulled wine, chocolate tarts and more, paired with Champagne at the hotel's Michelin-starred L'Orangerie restaurant.
4. London, England
In London, guests at The Dorchester can attend an in-house charity concert with composer and classical pianist Chloe Flower, which comes with a three-course set menu, with proceeds going to The Noah's Ark Children's Charity.
A Christmas day menu is available from the three Michelin-starred Alain Ducasse at The Dorchester restaurant, with a six-course feast.
5. New York City, USA
New York has to be one of the most festive places in the world at Christmas. The Peninsula New York offers gingerbread house decorating classes, in-room candy cane scavenger hunt, in-room Christmas tree, festive high tea, various Christmas feasts and holiday carolling.
If you are all about recreating Home Alone II for the family (or, let's be honest, your inner child), The Plaza New York has gone all out with a 'Fun in New York Experience'.
The experience includes a four-hour private limousine ride around town to check out the filming locations of the nineties film and ends with you in bed with a 16-scoop ice-cream sundae – delivered directly to you. Sophisticated types can also opt for booking a suite with a real Christmas tree, or a festive afternoon tea.
6. Kamalaya, Thailand
Pack up all your stresses and bad habits and head for Kamalaya in Thailand, the eternally in-demand luxury wellness retreat on the southern coast of Koh Samui. Here, healing traditions and practices from East and West are combined with a nurturing approach and delicious cuisine.
Christmas here is the perfect time to reflect on the year past and kick off the next one on the right (perfectly yoga-balanced) foot, whether you're looking to increase fitness, detox, sleep better or de-stress.
7. The luxury/culture Christmas with Aman Resorts
Aman is the master of painstakingly handcrafted hospitality in some of the world's most beautiful locations (I'm still dreaming of a stay at Amangalla, Sri Lanka).
On Christmas Eve at Indonesia's Amanwana, you can decorate the jungle wishing tree with wishes for loved ones, adopt an individual whale shark in collaboration with Yayasan Konservasi Indonesia, have a Christmas dinner of charcoal-cooked satay skewers and have a sunset cocktail and canapes at the beach.
At Amanjena, Morocco, take a moment to slow down with a festive calendar of events themed around reflecting on the year that's passed. Endeavour to make your own candles in the Amanjena library, or perhaps replicate the art of Moroccan calligraphy.
At Aman Venice, an opulent 16th-century palazzo on the Grand Canal, guests can partake in a traditional midnight mass at the Frari or Basilica di San Marco, followed by a welcoming hot chocolate and panettone back home.
8. Velassaru, Maldives
Forget reindeer and sleighs. Spend this Christmas celebrating on a dreamy atoll in the Maldives, home to the Velassaru Resort, and you'll see Santa Claus gunning a speedboat towards you and the family, before sitting down to a Christmas Day feast. In the lead-up to the big day, activities include marine biology presentations and cruises.
9. Hurawalhi Island Resort, Maldives
Over at Hurawalhi Island Resort, guests on the private island can book in at its famous 5.8 Underwater Restaurant, for incredible views within the world's largest undersea all-glass restaurant in the world. They can also dive with manta rays, take part in an annual ocean Christmas treasure hunt with snorkels, and sip cocktails on the beach on Christmas Eve.