A 24-hour guide to Geneva in summer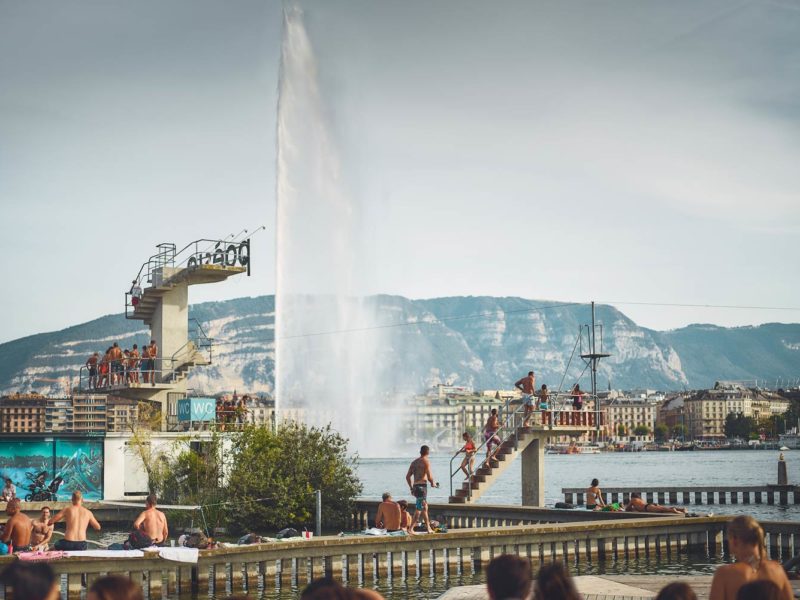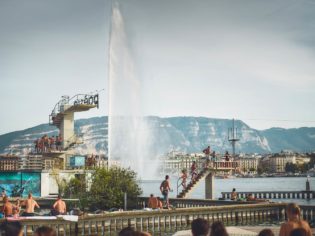 The joy in Geneva is palpable in summer and you won't want to waste a moment of it indoors.
It's clear to see that Lake Geneva is the lifeblood of Switzerland's small French-speaking city. From the moment you catch your first glimpse of the expansive Lac Léman (as it's known in French) dotted with elegant swans and surrounded by the Alps and the Jura mountains, you get the sense that everything radiates out from it.
From the 140-metre-high Jet d'Eau (Water Jet) that's turned on every morning by caretakers, to the locals soaking up the first taste of summer on the rock jetty that stretches out into the lake's crystal clear waters, you can't escape its magnetic pull.
As the headquarters of Europe's United Nations and the Red Cross there are plenty of cultural activities available in Geneva that will tempt you indoors, but if you only have 24 hours to spare then experiencing Switzerland's natural beauty needs to take precedence.
Start your day with a tai chi class overlooking Lake Geneva
One of the more relaxing ways to meet the first rush of water from the Jet d'Eau is with a tai chi class at the Baths of Paquis.
Follow along with Marianne as she guides you through the meditative moves before locals and tourists flock to the baths for a swim. Order breakfast at the baths' restaurant (we'd recommend the bircher muesli, homemade bread with jam and a cup of steaming hot coffee) and take a moment to soak up the view.
Details: Tai Chi sessions run for an hour throughout June to September from 9.15am and October to May from 10am.
Cost: $3
Tour Geneva's Old Town
Walk across the Mont Blanc Bridge, check the time on the flower clock at English Garden, climb Saint Peter's Cathedral for expansive views of the city, stand before the towering Reformation Wall and wander over to Bastions Park.
The Old Town's attractions can be easily admired on a self-guided walking tour but if you really want to fully appreciate the rich history hidden on every street corner you can book a two-hour walking tour with a guide for around $15 per person.
Details: Read more about available tours here.
Indulge in a gourmet lunch cruise onboard a Belle Époque steamboat
Board the Savoie for lunch; it's one of eight heritage steamboats in the Belle Époque Fleet that cruise along Lake Geneva. Not only will you enjoy a delicious three-course lunch in elegant surrounds but you'll get the best view of the Jet d'Eau from the deck. Take advantage of being out on the water and lounge on the deckchairs in the sun for as long as possible in between courses.
Details: Coming in at just under $100, it isn't cheap but it's an experience you won't forget.
Spend the afternoon cycling through Geneva's countryside
It's easy to fall into the trap of thinking it's too hard to venture outside the well-worn city paths but Geneva's countryside is a stone's throw away. One of the more popular ways to explore it is on an e-bike tour through Geneva's largest wine-producing regions, Satigny.
Departing from Meyrin Village, you'll cycle down lush green, winding country paths, travel off-road through the vineyards of Mandement in the shadow of the snow-capped Alps before ending your tour at Domaine des Pendus for a wine tasting and charcuterie board.
Spend the night at Hotel N'vY
There is a plethora of hotel options in Geneva to choose from but if you're after a more unique four-star experience with views of Lake Geneva, it doesn't get much more modern and art-centric than Hotel N'vY. You are greeted with sculptures in the foyer, large graffiti artworks adorn the walls and each room comes with coloured lighting that can be adjusted to suit your mood.
The menu at the hotel's Trilby Restaurant changes seasonally but a standout on the set summer menu is the sea-bass tartare with mango, avocado and yusu. It's the perfect summer appetiser, best enjoyed with a glass of white wine. Stop by N'vY Bar Lounge to sample one of its signature cocktails before bed.
Address: Rue de Richemont 18, 1201 Geneva
Getting there:
You can fly to Geneva from Sydney, Brisbane and Melbourne on Swissair with a stopover in Hong Kong or Singapore, followed by a domestic flight from Zurich to Geneva. Travel time is around 26 hours.
Getting around:
Free public transport is included when you book a hotel stay in Geneva. You'll receive a Geneva Transport Card at check-in and this will give you complimentary rides on city buses and trams.
If you're planning a longer stay in Switzerland we'd recommend purchasing a three, four, eight or 15-day Swiss Travel Pass. The pass will give you unlimited travel on trains, buses and boats on consecutive days.
LEAVE YOUR COMMENT