Review: The Unbookish B2 Boutique Hotel, Zurich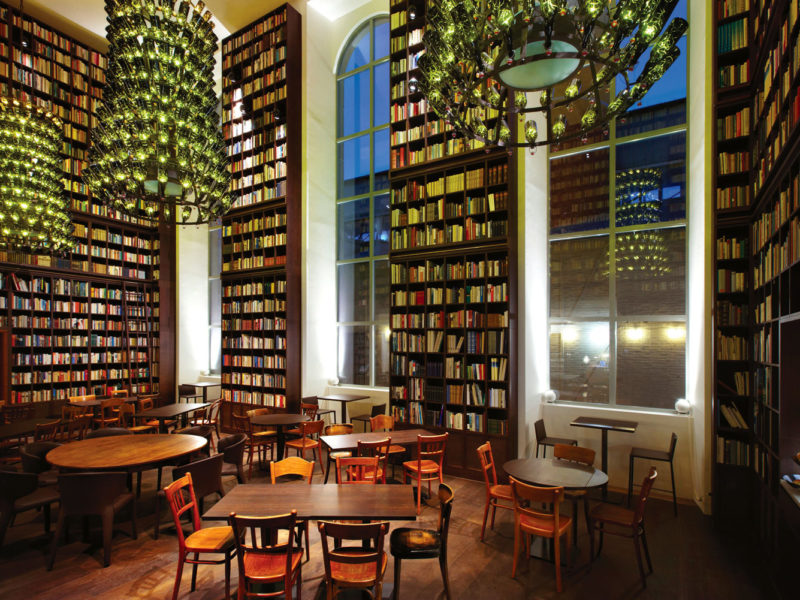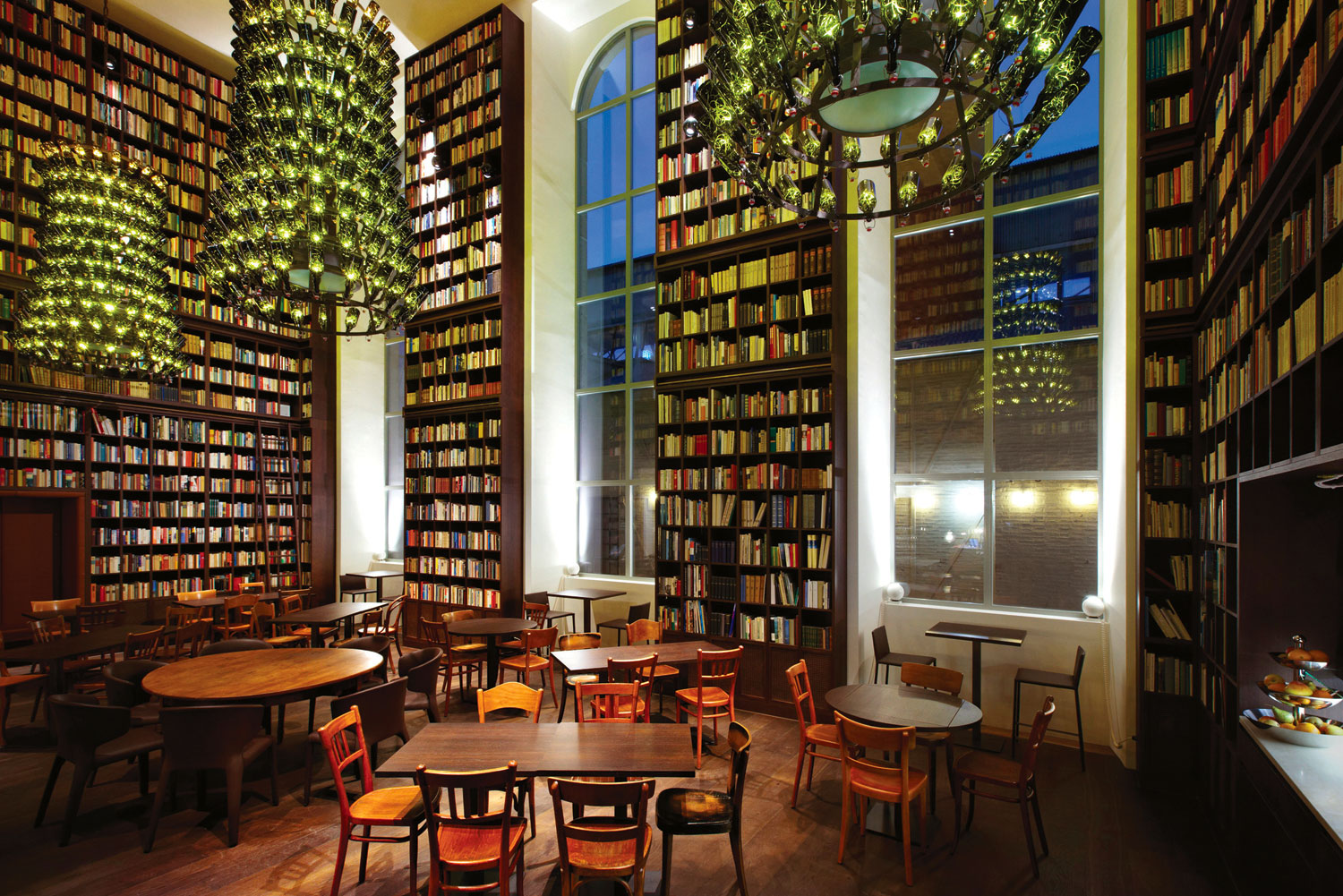 This Zurich hotel blends modern, unique design with its heritage as a former brewery to create a smooth result with great taste (and a few added extras). By Nikki Wallman
As far as first impressions go, this is a high-stakes situation.
Flinging myself through the revolving doors of Zurich's B2 Boutique Hotel + Spa after a sleepless long-haul flight, I realise with a dull thud of dread that I've forgotten to request an early check-in. It's 9am.
Holy mother of jetlag, have mercy.
My dehydrated eyes drink in the surroundings of this former brewery as I shuffle hopefully towards reception. Soothing tones of deep brown, grey and cream swathe the large lobby, populated by plush chairs, 'tables' made of stacked books, and softly glowing lamps.
The open-plan space leads to a showstopping library/dining room at the rear, where over 33,000 books line the soaring walls and huge, rather beautiful 'chandeliers' made of twinkling glass bottles encapsulate the 'classic with a modern twist' vibe.
Spying a small wine bar, I suppress a squeak of desire (I'm on Australian time, ok?). It all looks so supremely welcoming, yet I have a sinking feeling I'm about to be politely (and rightfully) asked to return in six wretched hours for 3pm check-in.
Five minutes later I'm in my room, thanks to the wonderful, genuinely warm young receptionist who miraculously conjured it up after some hushed to-and-fro with housekeeping. First impression: excellent.
Opened in March 2012, the B2 is part of 'Hotels with a Bookmark', a group of boutique hotels which, according to its website: "like a good book… leave a lasting impression".
Perched atop a hill just outside the city centre, the 60-room abode occupies part of the sprawling, cobblestoned former site of Hurlimann's Brewery (once Switzerland's largest), along with Google's European engineering HQ, other offices and shops.
The hotel is also home to the Thermalbad & Spa Zurich, which operates independently but grants hotel guests reduced admission (around $30 for entry to the spectacular rooftop pool, accessed via the top floor of the hotel; plus the huge vaulted underground thermal baths and Roman spa area underneath). I mentally schedule a sumptuous soak as soon as I've unpacked.
My light and airy Hurlimann Executive Room is a decent size by European standards (and Zurich room prices).
Hints of history (an artsy photograph of the old brewery above the bed; Hurlimann's beer in the – free! – minibar) have been thoughtfully retained in a décor I'd call 'modern cosiness'.
Dark pendant lamps drop from the ceiling above the white, pillowy bed; a stack of books above the bedhead continues the library theme; and the mobile workstation located at bed-height proves invaluable as I rise from a deep, silent sleep (thankyou, double windows and automated blinds) to meet a Sydney deadline over a Nespresso from my in-room machine the next morning.
The 'open' bathroom (toilet excepted) is treated as part of the overall room, rather than a separate entity.
It's a lovely space, suggestive of a sleek Swiss sauna: warm blonde wood; tiny, dark mosaic tiles; botanical vanity products… and a liberal approach to nudity, with a glass shower looking directly onto the bedroom area (there's a curtain for prudish types).
A few small gripes: there's nowhere convenient to place shower amenities, no shower cap, and the conditioner will not budge from its bottle.
Another minor glitch occurs when I try ordering room service, as instructed, via the TV one night. It doesn't work. I call reception and a hard-copy menu arrives within minutes. While mildly annoying, none of these things are deal-breakers.
Nor is the glacial service I encounter on Sunday evening when I settle into the library/dining area for a late supper.
My plate of regional cheeses and cured meats is sublime, with a truffle-stuffed brie and salty slivers of dried ham hitting that 'long day, late night' craving like a sophisticated, deconstructed cheeseburger. But the lone waitress seems inexplicably overwhelmed by just four or five tables, steadfastly dodging my pleading gaze for what seems like an eternity before finally delivering the goods.
It's the only blip on the service radar, which is otherwise relaxed yet efficient. Breakfast is also top-notch and focuses on local produce, with regional cheeses, cured meats and pickled herring; sinfully good quince and black cherry jams; dense breads; hazelnut yoghurt and fresh fruit.
For a perfect post-breakfast paddle, head straight up to the amazing rooftop pool (it's quietest at 9am, just as it opens).
I quickly decide it's one of my top five 'most blissful hotel moments ever' as I hang my robe at the top of the stairs and submerge myself silently into the warm water of the very cool timber-lined pool tunnel, which leads outside into the Swiss sunshine.
My jetlag ebbs away as I lazily gaze out over the gently bubbling horizon at the stunning panorama of church spires, flower-studded trees and snow-dusted mountains.
Now that's a lasting impression.
The Details
B2 Boutique Hotel + Spa Brandschenkestrasse 152, CH-8002 Zurich, Switzerland; +41 445 676 767 – b2boutiquehotels.com
The IT Verdict
Nikki Wallman, who visited anonymously and paid her own way, says: "It's the added extras that really make the B2 Boutique Hotel + Spa so special – a winning combination of Swiss spa style, beautiful local produce and modern comforts. If you're searching for that 'little bit more', you'll enjoy this cool hotel with a warm, welcoming atmosphere and added perks."
NB: Bias-free: All IT reviews are conducted anonymously, and our writers pay their own way – so we experience exactly what you would
Notes
Nikki paid about $350 for a Hurlimann Executive Room, including breakfast. The hotel also offers smaller Boutique Rooms, a Junior Suite and several larger Hurlimann Suites.
LEAVE YOUR COMMENT