Top places to chase the sun in Asia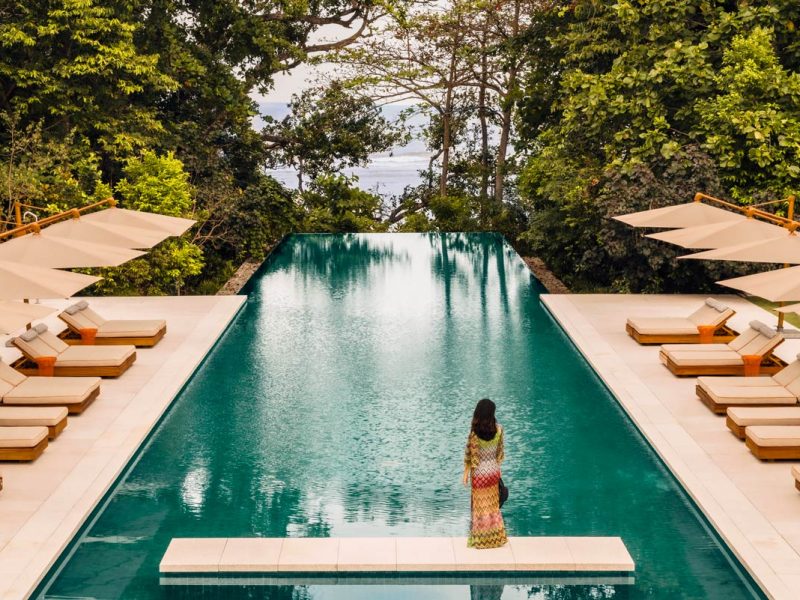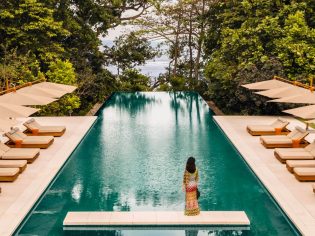 A hit-list of sunny places to escape to in Asia.
We're starting off our 100 places to chase the sun list with Asia, the largest continent both by size and population. And while 20 out of 100 is already a sizeable chunk of the bunch, there's so much to see and do east of the globe that we've cheated here and there by naming several places under one area. And who could blame us? Asia is home to a multitude of cultures and some of the oldest civilizations known to man; narrowing the list down to just 20 (or so) places seemed a herculean task. But we've done it, and we've done it well. These are our top spots for getting the best out of your pan-Asian travels.
Read about all 100 places to chase the sun around the globe here.
1. Canna Bali resort, Nusa Dua, Indonesia
Set on the silky shores of Nusa Dua, brand-new Canna Bali presents a stylish day-to-night playground for sand-, sea- and sun-seekers of all persuasions. Built over three levels to top sustainable architecture and design standards, visitors can indulge in everything from oceanside picnics and bonfires at Canna Sand, a lazy day spent poolside at Canna Deck, family fun (furry friends welcome) at Canna Shade, romantic dining at the showstopping Cliff, and clubbing at Cave.
2. Seasalt restaurant, Alila Seminyak, Indonesia
Waiter, there's a shell in my drink. And I am intrigued. I am basking in the Balinese sun at Alila Seminyak's Seasalt restaurant and a cocktail is in order. As usual. While I would normally scan the menu for the first mention of the word 'martini', the zero-waste cocktail list demands my attention. Leftover juices, rinds, seeds – even oyster shells – are salvaged, reconstituted, and repurposed to help bring the innovative drinks list to life. Take the La Mer, a vodka-based cocktail that uses house-made oyster-shell-infused vermouth. The idea was concocted after the beverage manager spotted the mountain of shells ready for the bin following the restaurant's popular Sunday brunch. Cheers! To a more sustainable way to enjoy summer.
By Kate Symons
3. The province of Palawan, Philippines
The islands of Palawan are known for their limestone landscapes and turquoise seas. But if you want to get a few more hits on Instagram, then be sure to shoot a reel as you slip into the smooth warm waters of Kayangan Lake on the island of Coron. If the Philippines is the so-called 'Pearl of the Orient Seas', the province of Palawan must surely contribute to its sheen and lustre. The lake on the third-largest island in the Calamian Islands—said to be one of the cleanest bodies of water in the Philippines—is surrounded by an impenetrable curtain of green, with the occasional pop of colour from a fish, or a flower.
4. One&Only Desaru Coast resort, Malaysia
You'll find One&Only Desaru Coast stretched across 51 hectares of powder-white sand between the singing jungle and the South China Sea on Malaysia's southeast coast. The clean lines of its design and rootedness in its location are the signature of the late Kerry Hill; this is the last resort the Australian architect worked on before he died in 2018. Days are spent in a state of tropical repose between jungle, sand, sea and your suite's own private plunge pool.
5. The Datai Langkawi resort, Malaysia
Shrouded in dense, green tropical rainforests on the Malaysian island of Langkawi, The Datai has long been the last word in luxury in this part of Southeast Asia. It would be easy for the resort to rest on its peerless reputation and sybaritic delights, but it is always striving to add to the guest experience. Enter The Dapur ('kitchen' in Malaysian), its chic new cooking school overseen by the resort's resident Malay, Indian and Thai chefs and utilising ingredients from its lushly fecund permaculture garden to conjure flavoursome dishes like rendang ayam utara and tom yam goong.
6. Ky Co Beach and Quy Nhon, Vietnam
It's unclear who nicknamed Ky Co Beach the 'Maldives of Vietnam', but it was probably a local because few foreign tourists know this part of Vietnam's central coast yet. The hidden Maldivian-hued cove emits a Balearic Island vibe, with floppy-hatted (mostly) Vietnamese daytrippers from the nearby city of Quy Nhon drawn towards its water sports, big-beat energy and host of Instagram props strategically placed along the wooden jetty—including a stringless grand piano. While in-thing Ky Co is both a landscape and spectacle worth witnessing, you really should crane your neck back towards Quy Nhon (pronounced kwee nyawn) and beyond.
The expansive coastline north and south of the laid-back city is rich in beautiful beachscapes, more likely dotted with incoming fishermen than peppered by tour groups. The low-rise city itself (one flight from either Hanoi or Ho Chi Minh) has seven kilometres of beachfront, featuring only a couple of hawker-free beach bars. Local restaurants make a mean bánh xèo tôm nhay ('jumping shrimp' pancake) and 'Coffee Street' stretches on for a caffeinated kilometre. Luxury resorts such as Anantara have recently arrived (jump aboard the opulent new Vietage train carriage from Anantara Hoi An to get to Anantara Quy Nhon Villas in style), recognising Quy Nhon's potential way before international airlines did (don't worry, they will). Add this to your long list of Vietnam must-dos post-haste.
By Steve Madgwick
7. ATOLL restaurant, Phuket, Thailand
Pop the Champagne! There's a brand-new floating restaurant in Phuket that feels worlds away from some of the more raucous bars and eateries dotted around the mountainous island in southern Thailand, located in the Andaman Sea.
ATOLL is a buoyant outpost of Angsana Laguna Phuket and only accessible by boat. It offers great views of the lagoon and rampaging green all around and is a suitably playful place to enjoy pan-Asian dishes such as black pepper chicken with sticky rice, or salt and pepper squid with Sriracha mayo alongside the signature Spicy and Sour cocktail, which muddles tom yum ingredients together with Havana Club rum.
8. Japan's southern islands
Japan is a nation of islands. The main body of the country that most of us recognise on the map is made up of four: Hokkaido, Honshu, Shikoku and Kyushu. Yet it still comes as a surprise to many to discover that the islands Japan lay claim to actually number more than 6800, and vary in size from uninhabited specks to subtropical paradises with distinctive personalities and traditions. While the allures of Tokyo and Kyoto are strong, planning an island-hopping holiday taking in just some of this staggering number promises a uniquely Japanese experience (and some serious 'Oh, you haven't been to [insert name here] yet?' bragging rights). Here are a few of the southern islands to prioritise:
Okinawa Island
The largest of the Ryūkyū Islands, which were formerly an independent kingdom, and the heart of Okinawa Prefecture, this tropical paradise boasts stunning beaches and fascinating traditions that are unique to the archipelago. The culture is a melting pot, influenced by its Ryūkyū history, modern Japanese practices and the continued presence of American forces, which contributed the quirky taco rice to the vernacular.
Ishigaki Island
Easily reached from Okinawa island, the city of Ishigaki is the southernmost in the country. Part of the Yaeyama Island group, Ishigaki Island possesses a delightfully laid-back feel and boasts some of the most pristine beaches in the country. It's all about getting in the water here, including diving with manta rays in the startlingly turquoise waters of Kabira Bay.
Taketomi Island
A ferry ride from Ishigaki Island delivers you to the totally delightful Taketomi Island, an idyllic tropical paradise where very few concessions are made to modern life. Here, traditional island houses huddle behind coral stone walls (building styles and materials are regulated to ensure the integrity of the island), and hours can be spent cycling (there are very few cars) between wide beaches and wandering the sandy streets past bougainvillea humming with bees.
Iriomote Island
The largest of the Yaeyama Islands and the second largest island in Okinawa Prefecture, Iriomote is remote and rustic, offering up pristine nature that is part of the combined Iriomote-Ishigaki National Park and which received a UNESCO World Heritage listing in 2021. Intrepid travellers are rewarded with mangroves to kayak through, lush jungles to explore and mountains to trek, and, from February until late April, the magical sight of fireflies flitting through the growing dusk.
Also try to squeeze in: Izena Island for its beaches and vibrant harvest festival; Zamami Island, part of the Kerama Islands, for whale watching; Ie Island or Flower Island as it is known due to the abundance of tropical flowers that bloom here, including pretty hibiscus and lilies.
9. Japan's summer festivals
Japan's exquisite and storied history has produced myriad traditional festivals (matsuri) that are celebrated with as much reverence and enthusiasm as at their inceptions; some of which were more than 1000 years ago. While each season has its own celebrations, the summer festivals are some of the most exuberant and colourful. Put the following fetes on your list:
Gion Matsuri
Kyoto's Gion Matsuri originated in the 9thcentury and has gone on to become one of the country's most recognised celebrations. World Intangible Cultural Heritage-designated, the festivities radiate throughout the city's historic Gion district from the lovely Yasaka Shrine, with colourful floats (yatai) paraded through the streets.
Tenjin Matsuri
Tenjin Matsuri, also held in July, dates back some 1000 years and involves up to 3000 performers in traditional dress carrying portable shrines (mikoshi) in honour of deity Sugawara Michizane from Tenmangu Shrine through the streets of Osaka and via a procession of 100 boats along the Okawa River. The spectacle is crowned with fireworks.
Sumidagawa Fireworks Festival
Considered the oldest fireworks festival in the world, the Sumidagawa Fireworks Festival lights up the night sky over Tokyo's Sumida Park on the last Saturday in July with a stunning display of colour. Dress the part in a yakata (a cotton kimono) and enjoy the food, drink and party atmosphere.
Aomori Nebata Matsuri
Having started in the 8th century, the Aomori Nebata Matsuri, held in the northern Tohoku region every August, involves giant illuminated floats parading through the streets and being launched out to sea on the last day.
Awa Odon Matsuri
Awa Odon Matsuri sees huge crowds turn out on the streets of Tokushima to either watch or participate in this traditional folk dance. Thousands of performers, many wearing distinctive pointed straw hats and beautifully patterned kimonos, dance their way through the city streets during the August event.
Kanda Festival
Having been celebrated for 1300 years, Tokyo's Kanda Festival is one of the capital's most popular events. Held in mid-May every second year, the Kanda-jinja shrine is the epicentre of the action, with parades and processions emanating from it into numerous city districts.
10. Taiwan's summertime spots
Summer in Taiwan can get hot and steamy, but your efforts to keep cool won't go to waste as you explore this island of 23.5 million people. Pick one (or all!) of these essential spots for sunny sojourns:
Islands
An island surrounded by islands, cool breezes and amazing sights can be found on Xiaoliuqiu, a coral island where you can see green sea turtles up close; Penghu, an archipelago of 90 islands and islets with stunning marine ecology; Turtle Island, brilliant for whale watching; and Lanyu Island, also known as Orchid Island for the tropical blooms that grow wild here.
Beaches
Some of the best beaches in Taiwan can be found in Kenting National Park including Baishawan, known as White Sand Beach for obvious reasons, and Nanwan Beach, famed for its swimming, surfing and some seriously stylish resorts.
Cold water springs
Soaking in Taiwan's cold water springs at Su'ao Cold Spring Park – in Yilan County (rich in calcium bicarbonate) and Beipu Cold Spring in Hsinchu County (with carbonic acid and sulphur) – is the perfect way to beat the heat and feel the benefits.
While you're journeying, make sure not to miss out on Taiwan's signature version of shaved ice. Called tshuah-ping, the dessert is a frigid sweet treat of powder-soft ice flakes (often made from milk ice) piled high like a mountain, drenched in syrup and engulfed with juicy chunks of mango, of which there are over 20 different varieties grown in the country.
11. Kosmos resort, Ulleungdo, South Korea
Located on the remote South Korean island of Ulleungdo in the Sea of Japan, Kosmos stands out on the landscape, but at the same time, is completely integrated with it.
Standing sentinel on a cliff overlooking the water, the resort's startling white, undulating design is styled to emulate nearby Songgotsan Mountain, which guests can glimpse through large skylights and windows. The relaxed island pace is reflected in the pared-back style of a stay here, where the focus is on healing and the transfer of energy from nature.
12. South Korea's cherry blossom cities
While Japan is renowned for its cherry-blossom season, it doesn't have a monopoly on the delicate blooms. Korea also has some serious cherry-blossom credentials, with the country painted in dreamy shades of pink and white when the delicate flowers, with their sweet heart-shaped petals, explode with the coming of spring. In addition to avenues of blossoms in Seoul, stunning shows of colour can be found in the historic city of Gyeongju; in Changwon, host of the country's largest cherry blossom festival, with more than 300,000 trees coming into bloom each year; on Jeju Island, which boasts native king cherry trees with their bigger and pinker flowers; at Hwagae, in the foothills of Jiri Mountain; engulfing the temple gardens in Gangjin, and in the coastal city of Busan.
13. The Singapore Grand Prix
You never forget your first trip to the Formula 1 Singapore Grand Prix. Perfect sunny weather, the city pumping with race fever, F1 superstars and cars threading the barriers under lights, and big-name musical acts on stage to close out every night. It's as massive as it sounds.
This year's 13th edition of the race, which will be held from 30 September to 2 October, is shaping up to be one of the biggest yet, as the first run after a forced two-year hiatus due to the pandemic. But, it's not just the fans that have missed the sport's original night race, with Singapore also a favourite of the drivers.
"Singapore is always a nice place to go to," says reigning F1 World Champion Max Verstappen. "Of course, we haven't been there in a while. But, we are definitely looking forward to that."
Standing trackside, you can't fail to be impressed with the skill, speed and bravery of the drivers. Each car passes by like a bullet, almost kissing the barriers—they're so close.
"Singapore is maybe the toughest track for us drivers physically," says Ferrari driver Charles Leclerc, who is fighting Verstappen for the title in 2022. "Just because of the heat and the humidity. It's always a special place to go because it's a night race. I really enjoy driving at night, and somehow it feels a lot quicker than it does during the day."
Leclerc isn't underselling the challenge posed by Singapore's enveloping heat and humidity, with temperatures in the car's cockpit reaching up to 60 degrees Celsius at racing speeds. That means the drivers can lose up to three kilograms over the almost two-hour race.
But, it's not just the heat that makes the challenge Everest-like. "There are so many corners and not many straights," says Haas F1 Team driver Kevin Magnussen. "So you are really working the whole time. You're not going straight, so you're not able to relax anywhere. And then because it's a relatively low-speed track, that almost always takes us up to the two-hour limit, which is obviously very tough."
For the F1 fans visiting during the Grand Prix, there are loads to see and do around the island state, including some epic concerts, with headliners this year including Marshmello, Black Eyed Peas, Suede and Aussie export The Kid LAROI, as well as interactive displays, themed bars and authentic local and international food options.
Singapore's famed food scene is another drawcard, including for the drivers. "The chilli crab is quite a local dish," says Australia's Daniel Ricciardo. "When my friends come to Singapore [for the race] they have that and wash it down with a few local beers."
The Singapore race is the first after the end of the European season, when the F1 World Championship battle, and the race for driver supremacy, really heats up. Much like the tropical Singapore nights.
By Stewart Bell
14. Tropical resorts in the Maldives, Sri Lanka
Crank up Google and plug 'best place to holiday in the world' into the search engine and you'll find the Maldives is up there. The archipelago nation is made up of about 1200 small coral islands necklaced around the north-central Indian Ocean, and we've handpicked a few special spots that'll maximize a Maldives holiday.
JOALI
JOALI has two sister resorts in the Raa Atoll. JOALI Maldives, which is all about immersing yourself in art; and JOALI BEING, which is all about wellness.
Centara Grand Island Resort & Spa
Sea, sand, sunshine, stars, surf. Spoiler alert: it's all there—you just need to know how to weave it all into one day. Centara Grand Island Resort is THE place for a summer escape. Choose between the family-friendly beach abodes or the colonial-style overwater villas, which stand in the ocean like skinny-legged egrets.
Aitken Spence Hotels
The Instagram algorithm has been serving you images of the Maldives for years. And, now you've finally made it, you can tick a lot of boxes off with a stay at one of the slick Aitken Spence Hotels, located on the islands of Vadoo, Meedhupparu, Rannalhi and Hudhuranfushi. The leading global brand marries luxury with indulgence and adventure. Get amongst it.
Gili Lankanfushi Maldives
From above, Gili Lankanfushi Maldives looks like it's surrounded by a treasure trove of rare jewels. Sapphires, tourmaline, turquoise and blue diamonds. Explore the blue-and-green hues as part of a three-day beginner's surf program or go with a guide to some of the best surf breaks in the Maldives. Not a surfer? Lean into the sunset cocktail parties, daily sunrise yoga sessions and the marvellous Meera Spa.
15. LUX* Chongzuo resort, Guangxi, China
You'll find LUX* Chongzuo in Guangxi: an autonomous region in southern China that borders Vietnam and is known for its spectacular landscapes. A modernist's dream in tropical surrounds, this boutique resort might be unlike anywhere you've been before. Come summer, its rooftop bar is the place to be – for yoga at sunrise, a cocktail at sundown and to take in, at any hour, the glory of the karst rock formations that define the landscape and the tranquil pace of life by the river below.
16. Wildflower Hall resort, Shimla, Himachal Pradesh, India
The Himalayan town of Shimla was declared the summer capital of British India in 1863 thanks to its temperate climate and refreshing mountain air. Today, the capital of Himachal Pradesh is still regarded as the queen of hill stations—high-altitude towns used to beat India's blistering heat in summer.
People come to trek and mountain bike, but also to check into one of the most spectacular hotels around. Drive east through forested hills to a higher altitude still of 25,000 metres and you'll reach Wildflower Hall: once the site of Lord Kitchener's residence when he was commander-in-chief of the British Army and chosen for its scenic splendour, now a five-star Oberoi resort. With its opulent architecture, it presents as a fairy-tale castle flanked by tall cedar forests, and its interiors are just as lavish. But it's the outdoor infinity whirlpool overlooking the mountains where you'll want to be. Especially at sunset, when the sun bruises the sky and sinks below the Himalayan horizon.
17. Aramness Gir safari lodge, Gujarat, India
From game drives at dawn to picnics in the forest at day's end, you'll be chasing the sun at Aramness Gir, a new Indian safari experience situated on the fringe of Sasan Gir National Park in the country's westernmost state of Gujarat.
This village-style lodge is entrenched in local culture and blends authenticity with luxury. There are 18 kothis (courtyard homes) all up, each with its own small pool with designs inspired by Indian stepwells and a series of jali screens, hand-carved from sandstone, that cast dappled light over the space. Take jungle walks in the teak forest where chital deer and blue bulls roam and eat delicious Gujarati food locally sourced and grown on site. But the ultimate highlight here?
The privileged opportunity to see the last surviving Asiatic lion population in the world (the park was established in 1965 to protect them) and their co-existence with the Maldhari tribal herdsmen of the Gir.
18. Train rides across Sri Lanka
The journey from Colombo to Hikkaduwa in Sri Lanka unfolds in a parade of images. Sit on the right-hand side of the blue locomotive as it rattles along for the hour-and-a-half trip and you will see the Indian Ocean frill out from the coast like a wide skirt.
Third class is the place to be, jammed in with locals who want to talk cricket and sing with the buskers who board at beachside towns and serenade you until the next stop. Vendors also roam the carriages, raising their voices in an effort to sell everything from fresh corn to roti and masala vadai. The tracks slice past tea plantations and verdant jungle and come so close to some villages that you will see snapshots of everyday life: the daily flap of drying sheets, the whisk-whisk of brooms, a saree-clad woman carrying a bag of sticks on her head.
Recalling this journey on a train in the dusty sunshine makes me think so fondly of Sri Lankans and the friendly strangers who waved and waved and waved us away when the train spat us out and clattered away from Hikkaduwa.
By Carla Grossetti
19. COMO Hotels, Punakha, Bhutan
A traditional butter lamp ceremony that represents the eradication of darkness and ignorance with wisdom and light marks the beginning of COMO Hotels and Resorts' Jewels of Bhutan experience. This seven-night journey celebrates the Himalayan kingdom's reopening to tourism for the first time since 2020 on 23 September.
Based at luxury lodges COMO Uma Paro and COMO Uma Punakha, highlights include a hike to the near-mythical Paro Taktsang 'Tiger's Nest' Monastery, engaging with young monks at 17th-century educational institution Chorten Ningpo, and exploring parts of the historic Trans-Bhutan Trail, which – reopening to travellers this year for the first time in six decades– courses 400 kilometres through the heart of this spiritual land.
20. 5 local dishes to try in Cappadocia, Turkey
Take away the hot air balloons, fairy chimney tours and Instagram shoots; every traveller who visits Cappadocia (yes, this part of Turkey is considered Asia) is going to need to eat at some point. The challenge? To steer away from the döners and meatballs and try something unique to the region. Keep your eyes peeled for:
Testi kebap
Listed on English menus as 'pottery kebab', cubed lamb or beef mixed with tomatoes, garlic, chilli and peppers is sealed with dough and cooked on a fire for two to three hours.
Mantı
Turkish ravioli (smaller than the Italian version) filled with minced meat and served with a healthy dollop of garlic yoghurt, melted butter, chilli and mint. Note: this dish is quite labour-intensive, so do expect a decent wait time for your lunch.
Yaprak sarması
Occasionally referred to as 'dolma', yaprak sarması are stuffed vine leaves that can take two forms: the cold, vegetarian version served with a healthy lick of olive oil, or the hot, meat and rice version, again served with yoghurt. If the menu says zeytinyağlı, you're looking at the former version.
Kuru kaymak
This tasty dish is similar to clotted cream, except it's dried flat like a thin piece of bread. It's made from many litres of fresh local milk and served with honey and can often be found on breakfast tables.
Kabak tatlisi
A much-loved local dessert, pumpkin pieces are cooked (usually baked) in a sugary syrup and then served hot with a heavy sprinkling of crushed pistachios.
by Dilvin Yasa
LEAVE YOUR COMMENT