Top places to chase the sun in the Middle East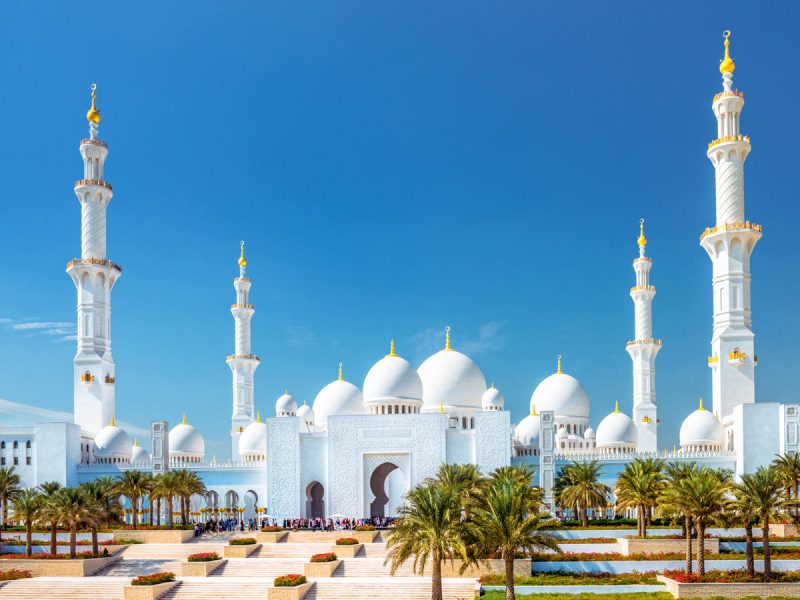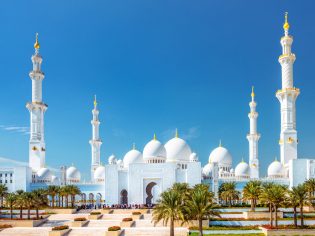 A sun-soaked list of places to escape to in the Middle East.
More than just a land of beautiful deserts and endless spice bazaars, the Middle East is a huge territory of 14 different countries which are oft overlooked despite being home to some of the most stunningly unique sights in the world: Islamic architecture, Norwegian-style fjords and enough ancient heritage sites to please even your most stern-looking history professor. While we've had to keep the list short (three out of our 100 places to chase the sun list), we're confident that our sun-soaked round-up will give you the very best this desert paradise has to offer.
Read about all 100 places to chase the sun around the globe here.
21. The pleasure domes of Abu Dhabi
When temperatures in Abu Dhabi soar to summer highs in the 40s and beyond, retreating into the bodies of two of its most stunning buildings offers relief and fascination. The stunning Sheikh Zayed Grand Mosque is a shimmering architectural confection of domes and minarets, shimmering white marble and intricately patterned tiles, where the cool, hushed interiors are a salve for the skin and the soul.
Then there is the low and sleek Louvre Abu Dhabi, where shafts of sunlight cast mesmerising patterns as they find their way through the intricate latticed domed ceiling designed by French architect Jean Nouvel, offers up hours of respite from the heat as you stroll its 23 permanent galleries and browse its collections of priceless art and artefacts.
22. The Al Hajar Mountains, Oman
Seasons can sometimes be a relative thing in countries where geographical location dictates the timbre of the climate. Like on the Arabian Peninsula, where the shift from winter to spring is less of a contrast than in most places. But the onset of summer here is the exception: it gets next-level hot.
When the mercury starts to climb in somewhere like Oman, a gently welcoming country of just over 5 million people that boasts a colourful ancient waterfront capital in Muscat and large swathes of sparse, sun-scorched Empty Quarter desert (the world's largest sand desert stretches across the United Arab Emirates, Yemen, Saudi Arabia and Oman)—finding relief becomes a priority.
Luckily, the soaring Al Hajar Mountains present a temperate oasis to escape to. Climbing the winding mountain road up, up, up, switching this way and that in a constant series of Zs, is a stunning proposition in its own right, but when you finally reach the heady heights where resorts like the understatedly chic Alila Jabal Akhdar and Arabesque vision of Anantara Al Jabal Akhdar reside within an otherworldly lunar landscape, the cooling mountain air is intoxicating.
Time here can be spent lolling poolside looking out to dramatically plunging mountain views, taking early morning walks through tiny villages where curious local children and the occasional sweet-face mountain goat shyly watch your progress or wondering at the inky-black darkness of the night skies as cool breezes caress your neck.
23. Caravan by Habitas, AlUla, Saudi Arabia
Caravan by Habitas might have been inspired by Burning Man, but this new travel experience in an ancient Arabian outpost promises to be quite unlike anything else. Veer off the beaten track, sense of adventure in tow, to AlUla (yes, spelled with a capital U) in north-west Saudi Arabia.
This storied region was once at the crossroads of an ancient spice and incense route, and home to the civilisation that built Petra; you'll find the Nabataeans' second city, Hegra, right here. And with its 22 luxury Airstreams, experience-led sustainable hospitality brand, Habitas offers a distinctly modern take on the caravan concept of old.
Each Airstream serves up sweeping views of the surrounding canyons and comes equipped with an en suite bathroom, air-conditioning, sound system and outdoor deck for embracing the dry desert heat. When you leave your own little oasis, the site's communal spaces provide an eclectic festival atmosphere: its Bedouin-inspired Gathering Tent, decorated with colourful antiques and heritage crafts; an outdoor cinema that sees movies projected onto the rocks; and three funky food trucks including a pink holographic ice-cream truck.
And, when you really want to get among the otherworldly landscapes you've come here for, take your pick from an immersive adventure program that includes canyon crossing, desert trekking, Arabian horse treks, desert survival skills and stargazing.
LEAVE YOUR COMMENT