The best of Jordan's cities: Amman, Petra, Jerash & As-Salt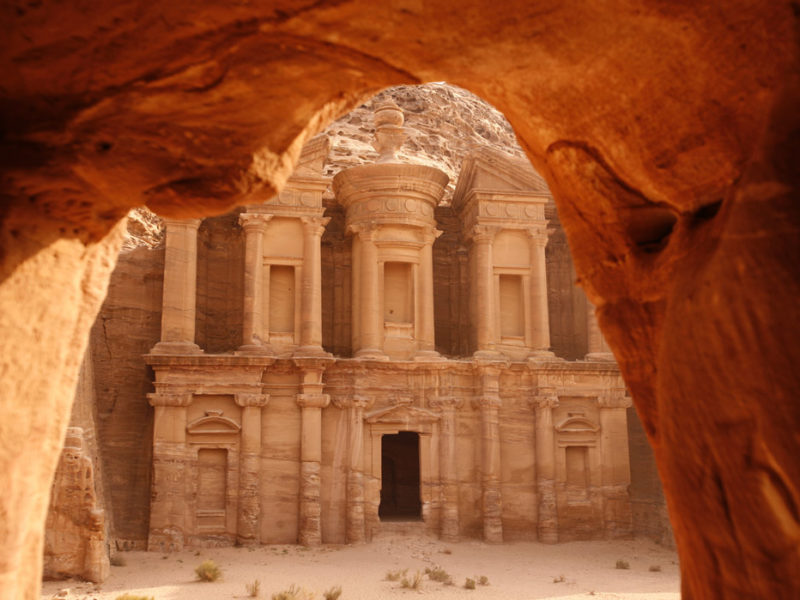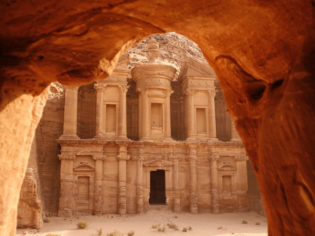 While Petra is undoubtedly mesmerising, there's more to Jordan than this ancient lost city: from Roman ruins to Ottoman architecture and from Bedouin traditions to contemporary culture.
Four days ago, driver Mohammed had collected me and my partner from Amman airport. As if to preempt any concerns about where exactly in the world we'd chosen to spend a two-week holiday, he introduces Jordan in the context of its neighbours – Syria to the north, Iraq to the east, Saudi Arabia to the south, and Israel and Palestine to the west – and assures us of its safety in spite of surrounding turmoil.
A brief history of Jordan
With an absolute monarchy and a representative government, Jordan is led by the popular and relatively progressive King Abdullah II, who instigated changes and reforms in response to Arab Spring protests in 2011 that have helped maintain stability.
Its history of accepting refugees, coupled with its renowned culture of hospitality, translates to a very warm welcome for visitors – tourism is one of the country's most important industries and people on the street literally say 'Welcome to Jordan' everywhere we go.
This spirit of welcoming travellers was forged long before the borders of modern-day Jordan were sketched out by French and British representatives as part of the post-First World War division of the Middle East, and as far back as antiquity when camel caravans plied trade routes through the region.
Chief among the routes was the legendary King's Highway that connected Mesopotamia with Africa and finds mention in the Old Testament.
It survives as a byway today, winding north to south through Jordan's taupe-coloured countryside and biblical landscapes and taking in key historic sites: from Crusader castles to the town of Madaba with its Byzantine mosaic map (the oldest known map of the Holy Land) and Mt Nebo, from where Moses is said to have set eyes on the Promised Land.
Exploring the ancient lost city of Petra
The King's Highway also connects to Petra. The so-called Rose City was carved out of blush-coloured sandstone by the Nabateans (desert nomads who first made their fortune as traders) in the third century BC, and grew to be a cosmopolitan capital where the silks of China mingled with the spices of India, the incense of Arabia and Red Sea pearls.
Today Petra is designated a UNESCO World Heritage site, as well as one of the New 7 Wonders of the World alongside the Great Wall of China, Machu Picchu, the Taj Mahal and Rome's Colosseum.
Naturally, anticipation runs high. Walking the kilometre-long Siq, a narrow gorge flanked by 80-metre-high cliffs, we follow in the trails of the caravans – a camel inscription points the way – and the reams of explorers, travellers and tourists who have had to see this ancient lost city for themselves since it was rediscovered by the Western world in 1812.
The Treasury
My first glimpse of the Treasury, famously framed by a slim gap in the Siq, feels cut straight from a movie.
With its elaborate Corinthian capitals, friezes and figures gouged into the cliff face, it was – after all –immortalised in Indiana Jones and the Last Crusade.
I can almost hear the whoosh of bucket lists being ticked as I enter the plaza at the foot of the Treasury; it's a bustling spot where Bedouins spruik rides on camels in ragtag saddles and guides know all the best tricks for souvenir pictures.
It's only when we move away from the colourful chaos that Petra's real secret reveals itself: its sheer size and comprehensiveness beyond its most photographed emblem.
Rock-cut tombs, temples and altars
The site covers over 60 square kilometres across canyons and over mountains and warrants a full day's exploring, at least.
We poke our noses into rock-cut tombs, temples and altars, stroll along a colonnaded street and pass a Roman-style theatre carved into a mountainside that would have seated 4000 spectators when it was built 2000 years ago.
The Monastery
The 850-step climb to the Monastery is worth every exhale and dodge of a ride-sharing donkey; this Nabatean tomb hidden high in the hills has the most striking rock-hewn Hellenistic facade and views out over the Wadi Araba desert.
Why did Petra go into decline?
Our guide knows his stuff but can't tell us why exactly Petra went into decline and was ultimately abandoned and lost to all but the Bedouins for five centuries.
Multiple factors likely contributed, he says, including its importance in international trade waning after Rome took possession in AD 106, an earthquake that's said to have destroyed half the city and the emergence of sea trade routes.
Exploring Amman
Lost or otherwise, Petra is not the only fascinating city in Jordan – as its capital Amman asserts.
Jabal al-Weibdeh
Hilly and affluent Jabal al-Weibdeh might be one of the oldest neighbourhoods in the city but it's where we find its contemporary culture: home to cafes like Rumi where young urbanites ruminate over their laptops and teas from across the continent, and where art galleries like Darat al Funun present dynamic work from local artists.
I take my time walking through its sequence of elegant homes that were built for prominent Jordanian families in the 1920s.
Now they house photography, abstract painting and sculpture and I'm blown away by the calibre. The sloping grounds overlook the bustling souks of downtown and harbour some old ruins that look like a sculptural continuation of the space.
Amman's historical sites
To look at Amman's skyline from here, with its uniform shell-coloured buildings suggesting they sprung up like mushrooms overnight, you'd think it was a relatively modern city and not – potentially – one of the oldest on the planet; archaeological evidence indicates ancient Rabbath-Ammon saw human settlement as early as the 13th century BC.
It was later rebuilt by the Greeks and named Philadelphia to form part of the Decapolis, a league of 10 important Greco-Roman cities in the Middle East.
We explore this history by visiting the city's Roman Theatre and its Citadel, said to have been occupied since the Bronze Age and today home to relics from all periods since. I realise that the ruins at Darat al Funun are the remains of a sixth-century Byzantine church, thought to have been built over a Roman temple.
Exploring Jerash
Forty-eight kilometres north, Jerash also formed part of the Decapolis and survives, nymphaeum and all, as the best example of a Roman city in the whole Middle East.
At an ancient crossroads, old stones stretch off towards Amman in the south, Iraq in the east, Jerusalem in the west and Damascus – another bead on the Decapolis abacus – just 170 kilometres north.
I try to imagine the city as the dynamic meeting point between East and West it once was, and think about the shifting sands and arbitrary nature of borders and life.
Exploring As-Salt
It's all about harmony in the town of As-Salt, too, whose name doesn't have anything to do with seasoning but comes from its old Byzantine name Saltus – Latin for wooded valley. I don't see many trees here today but hills sprouting elegant yellow stone houses instead.
Salt was a key trading hub in the time of the Ottoman Empire, which ruled the region for over four centuries prior to the First World War.
The town's architecture – with its arched windows, stained glass and ironwork – has been retained since its heyday at the turn of the 20th century.
Salt's legacy of being an international merchant town and melting pot of cultures has helped create an atmosphere of tolerance and coexistence, and a point of particular pride for the city is how harmoniously its multifaith population lives together.
Muslims, we're told by our spirited guide, pray in churches and likewise Christians in mosques, and Christians observe fasting during Ramadan out of respect for their neighbours.
Hamman Street
This neighbourliness filters down Hamman Street, a lively bazaar strip with all the atmosphere of an old Middle Eastern town of my imagination where timeworn shops sell fabrics and spices next door to perfumeries, greengrocers and bakeries.
Mr Afifi's family has been making qatayef pancakes filled with sweet cheese and nuts from a hole in the wall for more than 100 years. He proffers a bagful from a fresh batch for us to sample and in typical Jordanian style, tries to refuse any money.
Salt to become Jordan's 6th World Heritage site
Twenty-three houses in Salt are now nominated to become inscribed on the UNESCO World Heritage list and the town has a passionate development team – which includes women who have been trained as Jordan's first local female guides – trailblazing ways visitors can engage with its living heritage.
If the bid is successful, Salt will become the country's sixth World Heritage site alongside Petra, archeological site Um Arassas, Jesus's baptism site Bethany Beyond the Jordan, desert castle Qusseir Amrah and Wadi Rum – the desert wilderness of Lawrence of Arabia legend.
Exploring Wadi Rum
There's nothing, I soon discover, like flying through Wadi Rum's majestic Martian landscape of sand dunes, valleys and canyons in the open back of a dusty 4WD. I've developed a taste for white-knuckle rides. We stop to scramble up dunes or to study some of the 20,000 inscriptions etched onto the canyon walls.
Our guide Ali tells us the Bedouins call them 'ancient graffiti'; they're said to show the development of early alphabets and, not only that, the evolution of human thought.
After a couple of hours' hooning, we alight at a secluded spot. Ali starts a campfire and unpacks a frying pan to cook up a lunch of stewed tomatoes, hot peppers and onion. He tells us it's called galayet bandora, or "tomatoes on fire", which sounds like an apt interpretation of a dish cooked on flames in the red sands of Wadi Rum.
"Do you hummus?" he asks, mindful of my having some dietary requirement or other, to which the only answer is an emphatic yes. Here in Jordan I hummus for breakfast, lunch and dinner. He dishes it all up with arbood and, of course, sweet Bedouin tea and we devour it there on the sands of the desert floor.
And even though I'll wash off the sand snorkelling the Red Sea the next day, and in the salty Dead Sea at the lowest point on Earth the day after that, I think some of it got under my skin.
Know before you go
Getting there
Etihad flies to Jordan's capital city Amman via Abu Dhabi from Brisbane, Sydney and Melbourne.
Where to stay
Based in Amman's cultural hub of Jabal al-Weibdeh, La Locanda Boutique Hotel has 14 rooms each designed in tribute to a different Arabic musician, including influential Lebanese singer Fairuz.
There are plenty of desert camps to choose from in Wadi Rum. Sun City Camp offers the choice of spending the night in either a traditional Bedouin-style tent or a Martian Dome that will see you stargazing from bed.
is hidden like an oasis in the rugged mountains above the Dead Sea (yet still below sea level). With its artfully designed, wooden-accented interiors, mineral-rich hot springs and spa offering, it's an ideal place to take it slow for a couple of days.
Where to eat in Jordan
Beit Khayrat Souf is a cafe, cooking school and jam-making project in Jerash that opened in 2016 as a way to empower women in the community with livelihood opportunities in a country that ranks 16th in the world for women's unemployment.
Beit Sitti back in Amman is a cooking and dining experience that was opened in 2010 by sisters Maria, Dina and Tania in their grandmother's house to keep her legacy alive (Beit Sitti means 'grandma's house') and to provide employment opportunities for female Iraqi and Syrian refugees, as well as local women, to help empower them in other aspects of their lives.
Tours to book
Amman-based tour operator Experience Jordan Adventures specialises in adventure and experiential tours and offers both group and private options.
Our customised private tour included transportation in a private vehicle, accommodation, meals, entry to and local guides at tourist sites and cultural activities such as Beit Sitti.
We chose the driver-only option as opposed to a guided option; our English-speaking driver Mohammed was professional, friendly and knowledgeable.
Experience Jordan Adventures also partners with the Jordan Trail (a walking trail crossing the length of Jordan from Um Qais in the north to Aqaba and the Red Sea in the south) to provide trekking adventures, and also organises tours from Jerusalem including border crossings.
Currency
Jordan's currency is the Jordanian Dinar (JD), known as the jay-dee and made up of 1000 fils.
Visa requirements
Australian passport holders require a visa to enter Jordan. Tours with Experience Jordan Adventures include visa provision and a meet and greet at Amman airport; otherwise tourists can obtain a single-entry visa valid for one month on arrival at the airport or at the Sheikh Hussein/North Border crossing.
LEAVE YOUR COMMENT