Dubai's most daring family attractions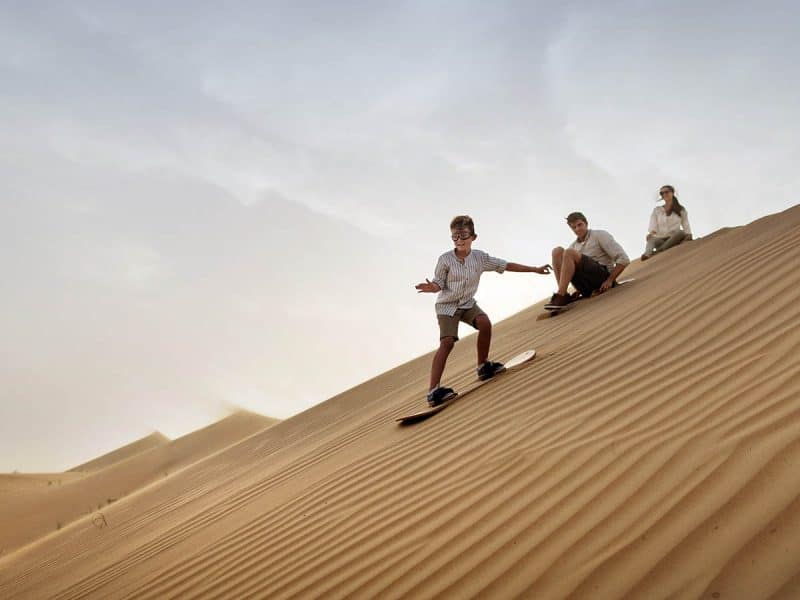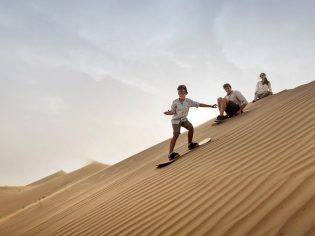 No matter your age or level of fearlessness, there is an attraction to suit in Dubai.
I've never been scared of heights but sitting at the top of one of the steepest waterslides in not only Dubai but the world has me wishing I wasn't so stubborn. You see, I can't back out now. I'll regret it if I do. So, I take the plunge – literally and figuratively. And it is just one example of when I put my brave face on to tackle some of the impossibly fun – albeit a little scary – activities in this record-setting desert city.
Aquaventure Waterpark
When I told my husband I was staying at Atlantis, The Palm he asked me to go on the infamous Leap of Faith waterslide. For him, he said. And so it was that I found myself scaling a mock pyramid to the top of a 98-foot-high (29 metre) waterslide.
My travel companions could barely look at the slide, let alone ride it, so I sat at the top by myself, took a deep breath and pushed myself toward a ledge that dropped out of sight. I plummeted almost vertical at a speed of 60km/h for three seconds before I raced into a clear tube that shot through a pool of sharks and rays.
In a matter of moments, I was spat out into another pool, thankfully without the sharks and rays. What a rush. Adrenalin was pumping as I climbed out of the water, ticked that off my bucket list and went in search of the rapids.
Aquaventure is home to plenty of record-breaking slides, including the Odyssey of Terror, the world's tallest waterslide that also features a freefall. But one waterslide was enough for me. The rapids and cliff jumps were much more my poison, and that's the great thing about this waterpark – there are a tonne of features for all ages.
If you have young children, there is a special kids' area with a tornado slide, climbing courses, splash buckets and even lifeguards. Then, afterwards, you can all take a well-deserved break on a one-kilometre private beach.
Scuba diving the Atlantis aquarium
It's likely you've seen countless photos of the impressive The Lost Chambers Aquarium at Atlantis, The Palm. It's 11 million litres and 10 metres deep, and is a highlight of a stay at the behemoth resort.
Most visitors are happy taking a selfie in front of it; others book a yoga class with the fishy backdrop; but the brave take it a giant step further and descend into the water with an oxygen tank strapped to their backs. I'm talking about scuba diving in one of the world's most amazing aquariums.
The dive experience rivals the best reefs in Australia because of the concentration of marine life; living here are 65,000 creatures, including sharks and rays. If you're aged 10 years or older, you can sign up for a dive, and you don't need to be certified.
For kids from age six, as well as visitors who aren't ready for scuba, you can snorkel. There are also Aquatrek experiences where you wear specialised underwater helmets that are like a cross between scuba and snorkelling.
Deep Dive Dubai
If you love diving and have already ticked off the Atlantis, The Palm aquarium, there's a new pool that will blow your mind. Deep Dive Dubai opened July 2021 and has a 60-metre-deep pool (the deepest in the world). It attracts some of the world's best freedivers keen to explore an underwater "city", even if it is made up. If you don't already dive, there are freedive and scuba courses for anyone aged 10 and older.
Dubai desert 4WDing
Even if you beach 4WD in Australia, nothing can prepare you for the vastness of the dunes surrounding Dubai. They are mammoth and mesmerising, and certainly worth exploring in the back of a 4WD.
You have a choice of companies to book through, including Desert Safari Dubai. Sign up for a morning tour and get ready to hold onto the seat in front as you veer down rust-coloured dunes at a mindboggling pace. Trust your driver and lean into the turns and drops. After dune bashing, you'll have the option to go quad-biking, sandboarding and camel riding.
Dubai theme parks
Big on fun, it's no surprise the city is also home to the Hollywood-inspired theme park Motiongate Dubai. Here, you can get your heart racing (yet again) on rollercoasters, including the world's first coaster based on the John Wick films. You can also go on a backlot tour to learn how movies are made, catch live entertainment and you may even run into a smurf or Kung Fu Panda.
You'll find Motiongate in the Dubai Parks & Resorts complex, which is also home to Legoland Dubai. The toddler- and tween-friendly LEGO park features rides and rollercoasters, as well as opportunities to build your own creations. If you have time, it's also worth checking out Legoland Water Park and letting your little "master builder" craft his/her own boat and see how it fares in water.
If you have a huge LEGO fan in the family, consider booking a night at LEGOLAND Hotel. It's the only one of its kind in the Middle East and rooms are colourful and fun. There's also a themed restaurant, swimming pool, and plenty of activities, such as workshops and treasure hunts.
LEAVE YOUR COMMENT