The Maharajas' Express: a luxury train journey through India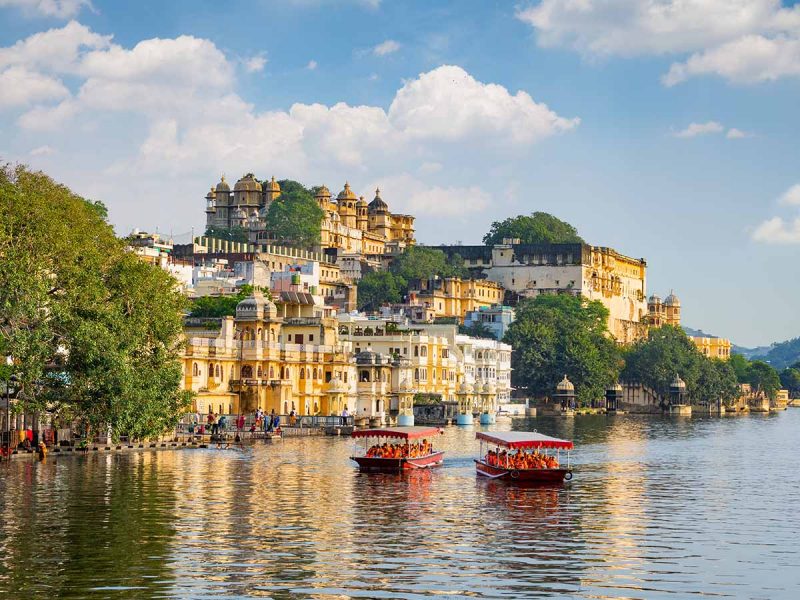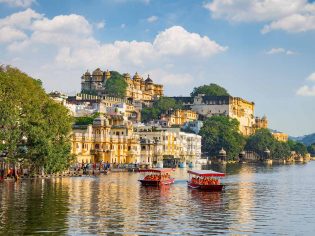 Booking a berth on a luxury train journey through the colour and bustle of India guarantees splendour and luxury discovers Tricia Welsh, with a stunning added bonus in the tail.
About the only thing that is not guaranteed on a leisurely week-long Indian Splendour journey on India's most luxurious train, the Maharajas' Express, is an elusive tiger sighting.
At our welcome briefing on arrival, our tour director even warns all 58 passengers the same. "On the Maharajas' Express, 99 per cent of things we guarantee – except sighting tiger. Everything has to be in harmony."
The tick list they do 'guarantee' on this luxury train is impressive, starting on day one with the majestic Taj Mahal in Agra to discovering the gems of Rajasthan with visits to exquisite palaces, magnificent forts, colourful bazaars, remote villages and more as it snakes through Jaipur, Bikaner, Jodhpur and Udaipur, and on to Mumbai. The passage is undertaken in great style, reflecting the way maharajas might have journeyed in the heady days of the Raj.
Departing Dehli
After our red-carpet departure from Delhi, we come to expect the daily royal welcome from traditional musicians and dancers, with our liveried staff lining up to wish us well before leaving for excursions and to welcome us 'home' again on our return. Judging by the myriad puzzled looks, we must be the cause of great wonderment to local villagers.
The Taj Mahal
Our first excursion to the Taj Mahal is highly anticipated. Built in the mid-1600s by a heartbroken Shah Jahan in memory of his beloved wife, Mumtaz, who died after giving birth to the couple's 14th child, it is considered the world's greatest monument to eternal love. Counted among the New Seven Wonders of the World, it is the epitome of Mughal architecture with its bulbous domes, Persian garden and water channels, and receives some 8 million visitors a year.
Agra Fort
Nearby, Agra Fort is one of the finest Mughal forts in India. Built of red sandstone and white marble over half a century before the Taj Mahal, it might have started life as an impregnable fort, but was later transformed into a magnificent palace with courtyard upon courtyard of intricately carved and decorated pavilions and pools. Only a quarter of the complex is currently open to the public, but it is hoped the entire UNESCO World Heritage Site will be open for viewing by 2025.
The Pink City of Jaipur
In the Pink City of Jaipur, we enjoy a jeep ride to the hill-top honey-coloured Amber Fort and later dine under the stars in the beautiful gardens of magnificent Rambagh Palace hotel, once the hunting lodge of the Maharaja of Jaipur.
Junagarh Fort
Our route then veers north-west through camel country to Bikaner, where, after marvelling at the superb interiors of Junagarh Fort, we take a plush camel-cart ride into the sand dunes for a barbecue with sunset cocktails and gypsy folk dancers.
Jodhpur
In Jodhpur, we pay a visit to a remote Bishnoi village in the western Thar Desert. This little-known eco-friendly Hindu sect do not kill animals or cut down trees, hence they do not cremate their dead like other Hindus. We sit under acacia trees on hand-woven charpais (day beds) and are offered a traditional welcome drink of ground home-grown poppy seeds with water. Poured into the palm of our hands to sip, it symbolises health and prosperity. Opium is freely grown here and is an essential part of community life.
Mehrangarh Fort
From Jodhpur's imposing Mehrangarh Fort, the view over the historic Blue City with its myriad box-like houses is spectacular. In the distance, we can see Umaid Bhawan Palace, owned by the son of the last Maharaja of Jodhpur and one of the largest private residences on the planet; today part of it is owned by Taj Hotels, making it one of the most luxurious places to stay in the world.
Udaipur
The next stop is the impossibly romantic Udaipur, situated around Pichola Lake and studded with fairy-tale palaces, the City Palace being the largest and most extravagant. There are wonderful views from its many turrets and balconies looking out to the lake, with the Taj Lake Palace hotel (built by Maharana Jagat Singh from 1743–1746 for use as his own personal pleasure palace) like an elaborate wedding cake in the middle. In the Crystal Gallery, we view an extraordinary crystal collection ordered by Maharana Sajjan Singh, and lunch in the fabulous Satkar Hall in grand style under massive crystal chandeliers.
Onboard the Maharajas' Express
It's easy to understand why the Maharajas' Express has won the 'World's Leading Luxury Train' award at the World Travel Awards for seven consecutive years. Debuted in 2010 to rival the handful of other luxury trains that crisscross India, it is indeed the most modern and reputedly serves the finest food. Its 23 carriages comprise 43 compartments including 20 deluxe cabins, 18 junior suites, four suites and one presidential suite that occupies an entire carriage and is the largest presidential suite on wheels in the world.
The design details
Designed by the head interior designer for the equally prestigious Taj Hotels group, and inspired by the elaborate salons built in the 1920s for the maharajas and the gracious old-fashioned English clubs of the Raj, the luxurious Maharajas' Express wants for nothing, gliding through the vast countryside like a splendid, shiny serpent.
The suite
Our spacious junior suite has twin beds, a small sitting area and roomy bathroom with separate glassed-in shower recess and full vanity unit. A dedicated round-the-clock valet magically appears to open doors, make up compartments, deliver early morning cups of tea and generally ensure we are all on time for excursions.
The food on the Maharajas' Express
Food on the Maharajas' Express is exceptional, with a good choice of traditional Indian dishes and international fare overseen by ebullient executive chef John Stone. Everything is made daily from scratch, with a pastry chef onboard to produce a fabulous selection of traditional and Indian breads as well as sweet treats. Table d'hôte menus might include popular curries, typical thali dishes with several small plates such as smoked salmon or lobster thermidor, followed by jalebi, kulfi or strawberry panna cotta. The masala dosa at breakfast is outstanding.
An unexpected tiger spotting
And while not 'guaranteed', we do indeed encounter a tiger while visiting Ranthambore National Park, where the number of tigers that roam free here, protected from humans who previously hunted them to near extinction, has increased from 18 in 2006 to 74 in 2020 (according to the Rajasthan Forest Department). Maybe these majestic, hulking animals know that the Maharajas' Express is not in the habit of denying its passengers anything.
A traveller's checklist
Journeying there
The seven-day/six-night Indian Splendour journey aboard the Maharajas' Express departs from Delhi. The 2022/23 season begins in October with monthly departures (two in October).
Getting there
Airlines including Qatar Airways, Qantas and Etihad offer flights to Delhi from Sydney and Melbourne.
Staying there
Start as you mean to go on with a stay at The Leela Palace New Delhi, a modern palace that is less than two kilometres away from Safdarjung Railway Station, where passengers embark on the Indian Splendour journey.
Talking there
Namaste – Hello
Vidai – Goodbye
Kripaya – Please
Dhanyavaad – Thank you
Ap se milkar kushi hui – Nice to meet you
Aap-kaa naam kyaa hai – What is your name?
Phir milenge – See you later!