The complete guide to Jaipur, India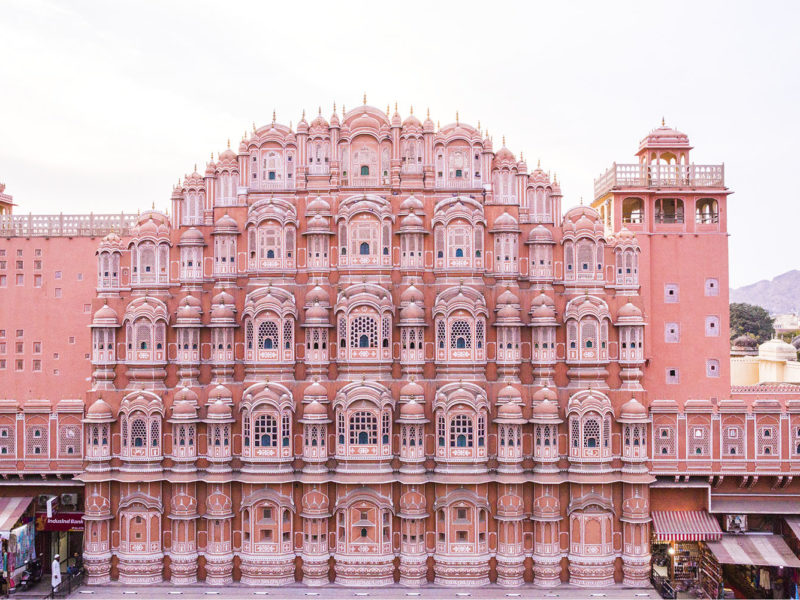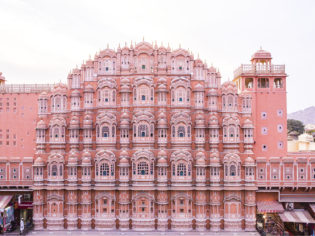 With Rajasthan known as the Land of the Kings, it is fitting that its capital city is the jewel in the crown of the country – grand palaces, glamorous hotels, blush-pink architecture and all.
There are few places on Earth that exist somewhere between reality and reverie – Jaipur is one of those places. The Rajasthan capital is India in its purest form.
Getting there
Air India flies direct from Sydney and Melbourne to Delhi; Jaipur is a five-hour drive from the capital, so be sure to arrange an experienced driver through a reputable travel agency or hotel. Alternatively, catch a connecting flight to Jaipur International Airport.
Staying there
The SUJÁN Rajmahal Palace wouldn't be out of place in a Wes Anderson film with its pastel colour palette, Art Deco furniture, whimsical wallpaper and eye-catching symmetry. This historic hotel is one of Rajasthan's most treasured palaces, and in recent years the royal family has commissioned an extravagant restoration.
Samode Haveli
This rambling, centuries-old mansion was once home to the aristocratic rulers of Samode. Today, the haveli is decorated with plush fabrics, Kashmiri-style rugs, hand-painted frescoes and historic artefacts. It's perfect for independent travellers looking for an authentic experience.
Eating there
It's Rajasthani-meets-Sicilian style in this gorgeous apricot-hued salon hidden away in the heart of Jaipur. The Mediterranean- and Middle Eastern-inspired menu is refreshing after a few weeks in India. Treat yourself to a slice of the almond and rosewater cake.
1135 AD
For a royal feast of Rajasthani flavours, this theatrical restaurant in the swoon-worthy setting of Amber Fort is an absolute must.
Pandit Kulfi
Pop into this neighbourhood shop for Indian ice-cream made from milk, crushed almonds and cashews, sugar and cinnamon. Heavenly on a hot day.
Drinking there
The verandah of this former hunting lodge and royal residence is the perfect place to sip G&Ts on a balmy evening. The five-star hotel is every bit as magical as one might expect. tajhotels.com
Bar Palladio
Frequented by jet-setting Jaipurites and well-heeled ex-pats, this hip bar owned by Swiss-Italian Barbara Miolini is tucked away in the grounds of the Narain Niwas Palace Hotel. Stop by for an aperitivo.
Shopping there
Formerly court jewellers to the Mughals, for generations the Kasliwal family have been at the forefront of India's illustrious gemstone industry. Nowadays their family-run store is a treasure-trove for tourists.
This chic concept store stocks a collection of Indian fashion produced by some of the country's finest designers. Peruse the racks of silk tunics, patterned dresses and a rainbow of soft linen shirts.
The design duo behind Anantaya Decor collaborate with skilled Rajasthani artisans resulting in Jaipur's most discerning home decor store.
What to do
Book a ticket to watch a Bollywood film at one of India's most celebrated cinemas, the 1970s-era Raj Mandir Theatre. It makes for an exciting night out and whilst you might not understand Hindi, the simple plots, over-the-top-action and dancing make it fun to follow along.
Appreciate ancient astronomy
Jantar Mantar is a UNESCO World Heritage-listed astronomical observation site built by Jai Singh in the early 1700s. Hire a guide to explain the instruments used by astrologers to observe celestial positions with the naked eye. Don't miss the world's largest sundial made entirely out of stone.
Wonder at the Palace of the Winds
The 18th-century Hawa Mahal (Palace of the Winds), with its intricate, lace-like facade carved from pink sandstone, was designed to allow the ladies of the royal court to discreetly observe the street scenes below. The five-storey structure has 953 honeycomb-shaped windows, encouraging a gentle breeze to flow through the palace. The striking edifice is best viewed from the rooftop cafes across the street.
Be a spectator of the 'sport of kings'
Whilst the rest of India goes crazy for cricket, in Jaipur they have a passion for polo and the city is one of the premier polo-playing destinations in the world. During polo season from October to February, guests at SUJÁN Rajmahal Palace are invited to view matches from an exclusive box at the grounds.
Take a leopard safari
The sizeable forest reserve of Jhalana Leopard Reserve feels a world away from Jaipur. The protected safari park shelters a population of Indian leopards, with safaris run daily from Samode Haveli.
Try your hand at traditional textiles
The Anokhi Museum of Hand Printing, dedicated to the art of block printing, is located in a handsomely restored haveli in the shadow of Amber Fort. For an in-depth look into this age-old tradition check out the daily block printing and block carving exhibitions, you can even print your own scarf or t-shirt.
LEAVE YOUR COMMENT