The bucket list trips to start planning now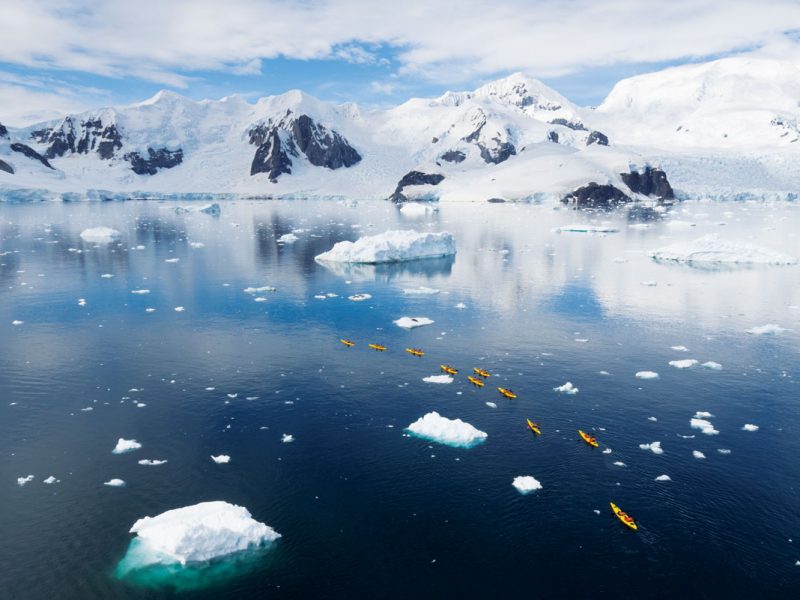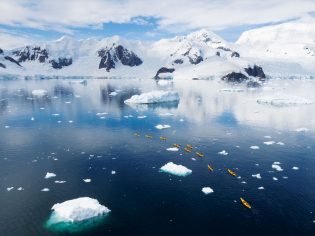 Our desire to return travel is stronger than ever. Here's some inspiration for your next big bucket-list trip.
Dreaming about travel is one of life's greatest pleasures. And now that Australians can actually travel overseas again, it's time to start planning where we will return to and how we will indulge our wanderlust. From exploring the ancient city of Petra, in Jordan, to heading off on safari in Africa, and enjoying a joy ride over Maui, here are some tours to book and experiences that await.
Go skiing in a top-ranked resort

You will feel an immediate rush of adrenalin as you point your skis or snowboard down a powder-white slope at Aspen Snowmass in Colorado or the Arlberg region in Austria for the first time. Snow bunnies can also book an exclusive private journey to Niseko with Inside Japan or carve off on a solo trip to Whistler Blackcomb, a dream destination for skiing and snowboarding.
Explore the ancient city of Petra

The rose-gold-hued façade of the Treasury building in Petra is one of the most instantly recognisable travel images in the world. And a pilgrimage to Petra is an uplifting undertaking. Conscious travellers can learn about Bedouin culture and explore the ancient city carved into the cliffs on tour with Intrepid Travel, which has been carbon-neutral since 2010.
See the Northern or Southern Lights

You will be uplifted by colour and beauty when you clock eyes on the Northern Lights in Canada or Aurora Australis in Tasmania. These vivid light shows, which pulse waves of blue, purple, yellow, green and violet colour across the sky will leave you feeling awestruck by nature's palette, which is what travel is all about.
Cruise to Antarctica

Seeing building-sized opalescent icebergs, glaciers calving into the water and shattering like glass and parades of honking penguins are just a few of the highlights you'll experience on a deeply immersive expedition to Antarctica with trusted operators such as Hurtigruten, Quark Expeditions, Chimu Adventures, Ponant and Seabourn.
Go on a safari in Africa
Seeing Africa's big five ­­– elephants, lions, leopards, buffalo, rhinoceros – is a once-in-a-lifetime experience. Witness the great wildebeest migration, stay in a luxury Out of Africa-style camp on tour with companies such as Trafalgar and Bench Africa, which include experiences that have a positive impact on African people, places and wildlife.
Swim with manta rays and whale sharks in the Maldives
The Maldives is on a lot of radars as a dream destination. Stay at a resort with all the bells and whistles, such as One & Only Resort's Reethi Rah or Vakkaru Maldives, or in a Liveaboard motor yacht. Plan your trip to coincide with the migratory patterns of whale sharks and manta rays, which gather at Baa Atoll, Hanifaru Bay, between May and December.
Take a helicopter ride over Maui
The most scenic way to see Maui's Jurassic wilderness is by air. Fly in an ECO-star chopper with Maverick Helicopters above the crumpled folds of the West Maui Mountains, Haleakala Crater, Hana rainforest and the 17 cascading waterfalls known as the Wall of Tears. The tour also takes in the world's tallest sea cliffs and famous surf break at Pe'ahi, known as Jaws.
Get off the beaten track in Egypt

Plan an adventure holiday to Egypt with a company such as G Adventures, which specialises in small-group tours. Apart from being transfixed by the size of the Pyramids, you will see another side the country – one of the so-called cradles of civilisation – when you are led away from the bustle by friendly local guides.
Go slow onboard the world's most famous train

Rail travel has become even more romantic with the reimagining of the Venice Simplon-Orient-Express to include ultra-luxurious 'Grand Suites'. Get onboard the luxury train in London and enjoy the grandeur of this transformative transcontinental form of train travel all the way to Venice.
Observe wildlife in the Galápagos

Witness the great natural wonders of the Galápagos Islands by visiting its national park, where you may see the archipelago's most iconic creature at the Giant Tortoise Reserve, snorkel with hammerhead sharks off León Dormido and wander amid ancient lava flows on Volcan Alcedo. Craft a custom itinerary with Chimu Adventures.
Visit Cambodia's Angkor Wat

Angkor Wat in Krong Siem Reap, Cambodia, is believed to be the world's largest place of worship, unrivalled in its size and grandeur. An Around Cambodia excursion with Wendy Wu Tours is a great way to explore these iconic sites, while also delving into Cambodian culture and cuisine.
LEAVE YOUR COMMENT