Top tips for skiing with kids for the first time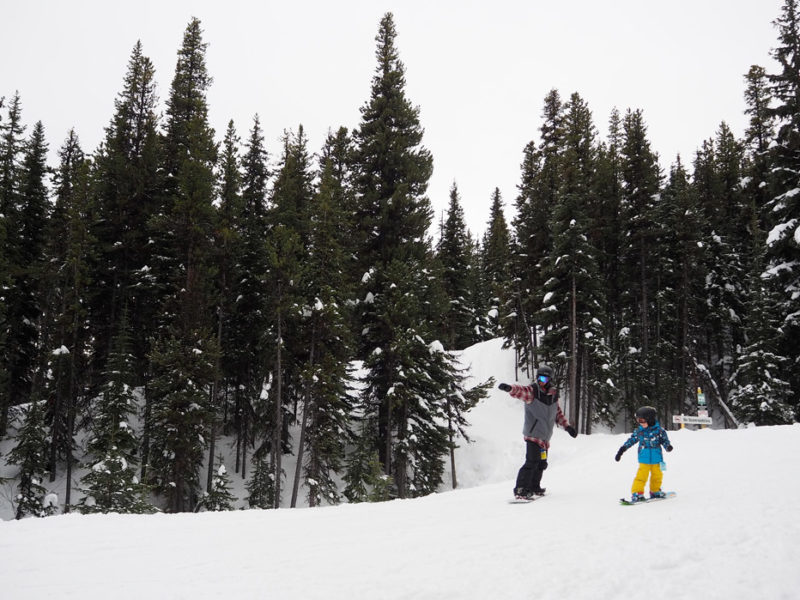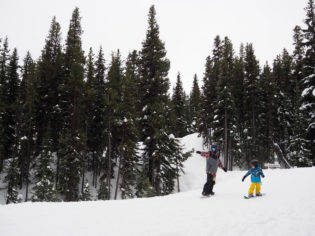 Chairlift snacks and private lessons are two ways to ensure skiing with kids is fun, says Jennifer Ennion.
Adjust your attitude
One of the biggest hurdles to enjoying a ski trip with children is the parents' attitude. Let's be frank: a snow holiday with kids is not about you. It's about passing on your love of the snow to your very best friends in the hope they'll get hooked too. Forget about double diamonds and hucking off cliffs, and adjust your attitude so you can take pleasure in watching your child learn how to snowplough (doing a "pizza") and parallel ski (a.k.a. French fries). The sooner you accept the slower pace, the easier it will be to give up your hill time for the long-term goal of having a skiing family.
Layers and outerwear
You'll also need to get the practical stuff right and I'm talking clothing. How hot your child naturally is will obviously determine how many layers you dress them in but keep in mind that their approach to wild and woolly weather also plays a part (are they a little fragile when the wind whips?). If your daughter is more an indoors gal, then consider adding an extra singlet to her ensemble or a thicker neck warmer to help her deal with the cold.
Ultimately, even for mum and dad, layers are key as weather changes rapidly in the mountains and a blue-bird day can end up a wet, howling one. Thermals are a must and thin fleece jackets and pants are warm and snuggly. Avoid thick woollen tops as they may be too hot and if they get wet they'll stay wet. Wool socks, however, are fab for keeping toes warm. Wear one pair, never two, as they will rub. Cotton is also a no-no as it stays wet, while synthetic polypropylene is an affordable option and commonplace.
For outerwear, look for sealed seams in jackets so water can't get in if it is sleeting or raining, and swing tags that say "waterproof" not "water resistant". Children's mitts with zips all the way to the fingertips are the easiest style to get on little hands, and the best ones come with wrist straps so they're not easily dropped off chairlifts. Children should also wear helmets and, as beanies are unlikely to fit underneath, opt for a thin balaclava.
Label everything
Without a doubt, there will come a time when your child loses at least one item of ski gear. Most likely it will be a glove but it could also be goggles, a helmet or even a balaclava taken off at lunchtime. As with day care, the best way to ensure your child returns from the slopes with all of their belongings (saving you expensive replacements) is to label everything. If there are no tags to write a name on, go out of your way to stitch or stick his or her initials somewhere before you leave on your trip.
Moisturise
Chapped lips equal teary toddlers, so give them their own (natural) lip balm that can live in their pants pocket. Teach them to apply it after every snack and meal break, and then again at bedtime and in the morning. They will like having their own, especially if it smells or looks good, and it will help teach them responsibility. Sun cream and face moisturiser are also must-haves, especially in sunny spring conditions in Australia. Apply them all at your hotel, as you don't want to be worrying about it in the resort parking lot.
Enrol your child into lessons
It's great to be a hands-on parent, especially in challenging snow environments, but it's also good to call on the professionals to help teach your child to ski or snowboard. Not only are they patient and used to managing emotions and little personalities dealing with the cold (often for the first time), but they also have fun ways of explaining fundamental skills. Plus, if your kid likes to play up when Mum's around, time with a ski instructor will teach them to listen and respect other adults – and give you a well-earned break.
It's also important to consider your child's personality and learning style, and whether they would suit a group or private lesson. A private will cost more but they'll get one-on-one time and potentially learn at a faster rate. However, if your child learns from watching others and craves companions, then a group lesson is ideal. Not only will they watch other kids fall and inevitably fail (which will reassure them it's OK to do so), they will also make friends and have a group to play with during meal stops. If you're looking at lessons every day for a week, the group is a nice way to go as they will become familiar with and therefore confident around their new ski buddies.
Consider toilet training
Depending on the age of your child, you may need to take extra precautions when it comes to toilet training. Even if your they are great at going to the loo at home, they may forget to go or be too shy or distracted to ask when they're having fun on the slopes or in a lesson with other children. If they are in a lesson, chat to the instructor about what stage they're at with toilet training, remind your child to ask to go, and, if age appropriate, dress them in pull-up training pants for the day just to be on the safe side.
Give them down time as well as energy snacks
You may be able to ski from first lifts to last, but your child will likely tap out halfway during the day. Even if he or she is older and can ride with you all day, remember to factor in downtime for them. It's important to allow them an afternoon of relaxing or a night dining in instead of being dragged out to a restaurant and kept up past their bedtime just because you fancy a few après schnapps. This is especially important if you expect them to go skiing the next day, or if you have a big travel day ahead.
When you are on the hill, pack plenty of snacks to keep them from burning out. Muesli bars and bliss balls are great options as they provide a quick energy boost and fit easily in ski jacket pockets. If you're skiing with them, a hot chocolate break works as a great incentive to stay out longer and it will warm you all up too.
LEAVE YOUR COMMENT