The best street art and graffiti in Hong Kong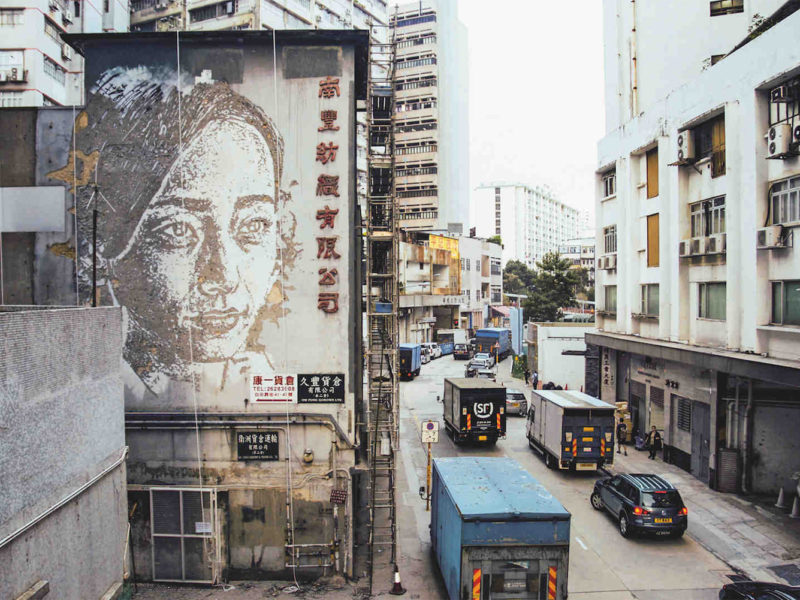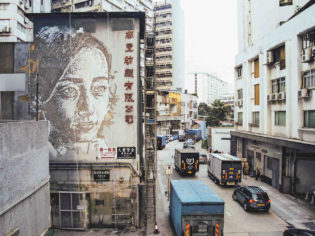 It's no secret that Hong Kong's street art scene is starting to take off.
The city is home to some of the most exciting and innovating street art and graffiti installations the world over – if you know where to find them of course…
Graham Street
It is early in the morning and I'm standing on the corner of Graham Street in the Central neighbourhood of Hong Kong Island looking at one of the most Instagrammed sights in the city.
It's a street artwork by artist Alex Croft, commissioned by the celebrated Hong Kong design brand Goods of Desire (G.O.D), whose Hollywood Road store it adorns the side of, depicting the now demolished Kowloon Walled City.
Where to find: Opposite The Globe, 45-53 Graham St, Central.
The history
The depiction of the hotchpotch house fronts of the former unsanctioned housing development is not the biggest, the brightest or the most detailed of the street art daubed across walls and buildings in this part of the city, but something about it has captured the collective imagination of locals and visitors alike.
Or so I am told, because at this time of the morning I am the only one looking at it as I stand with my tour guide Alexandra Unrein of Hong Kong Street Art Tours. A former Lufthansa flight attendant, the Berlin-born ex-pat has married her passion for Hong Kong with her love of art, and is a wealth of knowledge about the thriving street art scene here.
As we start to walk she tells me the story of how the whole street art movement was jump-started with the staging of the first HKwalls event in 2014 in the Sheung Wan area of the island.
Founded by Stan Wu and Jason Dembski as a reaction to the lack of representation and respect for street and graffiti artists during the gallery-focused, ticketed events of HK Art Week (now Hong Kong Arts Month), HKwalls was established with the aim of transforming nondescript city walls throughout the city into vibrant original art, with visiting artists from around the world invited to create large-scale works in public spaces that would be accessible for everyone.
The democratisation of art proved a winner with locals and visitors alike, and this year's festival, the sixth, will be the held in the frenetic Wan Chai area from 23 to 31 March.
Shing Wong Street
As Alexandra leads me along Hollywood Road she stops routinely to point out works from the 2018 festival: a pair of floating carp on Shing Wong Street by Danish artist Christian Storm, whose distinctive signature covers a metal roller door next to his finished piece: a hazy, rainy night scene of taxis and neon down a narrow side street by British artist and muralist Dan Kitchener, aka Dank.
Where to view: Shing Wong Street at the junction with 82 Hollywood Road.
Elsa Jean De Dieu
There's the work of Elsa Jean De Dieu, a French muralist who studied fine arts and interior design before becoming a street artist, a vocation that seemed inevitable when you find out her grandparents were street artists as well.
Where to view: 11D, Man Lok Building, 89-93 Bonham Strand, Sheung Wan, Hong Kong
Szabotage
Alexandra points out a bright orange and blue koi by British artist and interior designer Szabotage; the fish forms a theme of his work, with most irreverently flipping the bird with one of their fins.
New York-based artist Jerkface paints abstract interpretations of beloved cartoon figures influenced by a childhood spent watching Saturday morning cartoons.
Cinta Vidal
On the side of a building (complete with a window) we come across a dreamscape of twisted, interlocking architecture floating in space by Catalonian artist Cinta Vidal. Instead of using spray paint she painted it by hand in the traditional mode of a muralist.
Where to view: 52-56 Staunton Street, UG/F, Central, Hong Kong
The London Police
We find a work by The London Police, two guys from Essex named Bob and Chaz, framed by recyclable rubbish from a neighbouring restaurant waiting to be collected.
The group of comical smiling people they call LADS make the slightly dishevelled street scene almost endearing.
Zoie Lam
One of my favourite works is a bright abstract of primary and day-glo colours painted on a wall behind a narrow inner-city garden bed. It is by Zoie Lam, a fashion designer turned artist whose signature inclusion on all her works is a cast of blobby figures who inhabit the planet she creates called Zlism.
Vhils
One of the last pieces we come across is truly impressive: an entire two-storey house that has been chipped away at to create destruction graffiti. The artist responsible for this almost 3D effect, Lisbon native Vhils, has etched out faces on the concrete shell of the building.
Viewed from a distance the effect has a slightly sepia, nostalgic feel; up close you can see the hand-drawn sketch lines that mapped out the work, hinting at the intensity of labour it took to realise his vision.
Where to find: Pak Tin Par Street (Tsuen Wan District), Hong Kong
–
While many of the street artworks have become tourist attractions in their own right, to be searched out and appreciated for their artistic merit, to the locals they are just part of the fabric of life in the vivid, constantly changing cityscape, passed by on the way to somewhere else they need to be.
Reverence can't be paid to each and every creation on a daily basis when you've got other things to do.
LEAVE YOUR COMMENT