What does it take to be a UNESCO World Heritage site?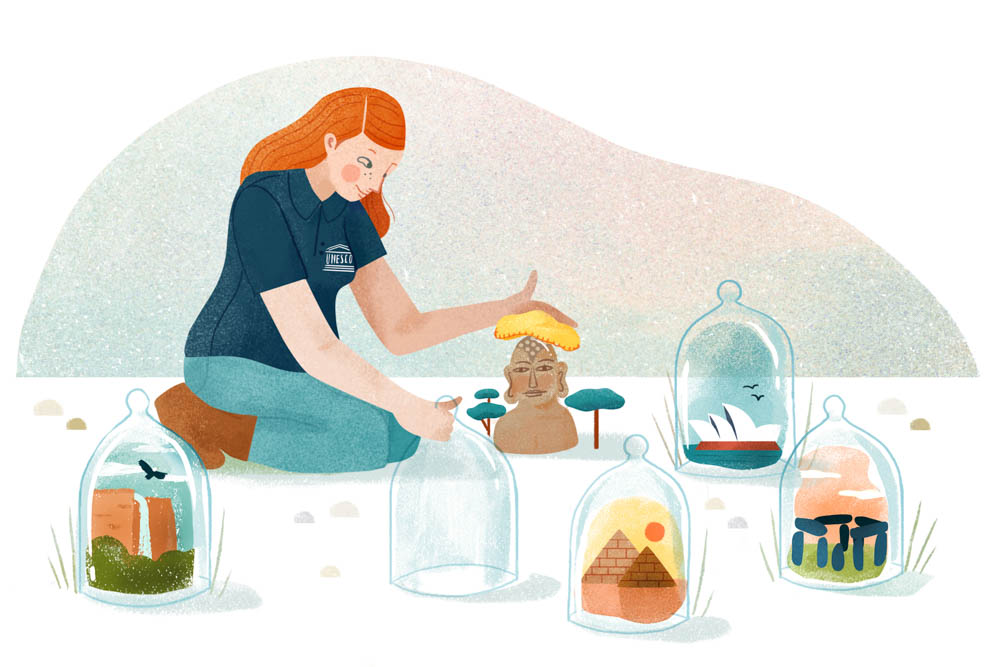 You've always wondered, haven't you?

We often write about incredible places around the world that are protected on UNESCO's World Heritage List, but what does this actually mean? Megan Arkinstall finds out.
How did UNESCO start?
UNESCO (United Nations Educational, Scientific and Cultural Organization) was created in 1945 after two world wars had devastated the globe. Its mission was no easy task: to build networks between nations to encourage solidarity and peace.
The World Heritage List, however, was not established for another 27 years.
In 1959 a decision was made to build the Aswan High Dam in Egypt, which was set to flood the valley containing the ancient Abu Simbel temples. Built by Ramesses II during his reign (1279–1213 BC), these impressive temples were carved out of a sandstone cliff on the west bank of the Nile.
The thought of losing the temples caused such global concern that an appeal was made to the governments of Egypt and Sudan.
UNESCO also launched an international safeguarding campaign that cost around US$80 million, half of which was donated by some 50 countries, and prompted significant archaeological research into the sites.
Ultimately the temples were saved. They were dismantled, moved to higher ground and reassembled in the exact same orientation, with a man-made mountain erected to give the impression they were cut into a cliff-face as before.
From this successful campaign, an idea to create an international movement to protect our world heritage emerged. And finally, in 1972, the Convention concerning the Protection of World Cultural and Natural Heritage was adopted by UNESCO.
What makes a site list-worthy?
A World Heritage Site needs to reflect the wealth and diversity of the Earth's cultural and natural heritage, as well as possessing 'outstanding universal value'.
Sites can be nominated by countries that have signed the World Heritage Convention (of which there are currently 185), which pledges to protect natural and cultural heritage. A site is then independently evaluated based on a list of criteria (the site must meet at least one).
How many sites are on the list?
The first list of World Heritage Sites was released in 1978 and comprised eight cultural and four natural locations including the Galápagos Islands; Ecuador (the first to be listed); the Historic Centre of Kraków, Poland; the Rock-Hewn Churches, Ethiopia; and Yellowstone National Park, USA.
Since then, more than 1000 have been recognised including 19 in Australia, Kakadu National Park, the Sydney Opera House and Uluru among them. The current list totals 1052.
Get going to the Galapagos… 7 things you need to know before visiting the Galapagos
What happens once a site is listed?
Site managers and local authorities continuously work towards monitoring and preserving the site, preparing regular reports for the World Heritage Committee.
Sites that are affected by conflict and war, natural disasters, pollution, poaching, uncontrolled urbanisation and tourism development may be placed on the World Heritage in Danger list, which allocates immediate assistance from the World Heritage Fund.
There are currently 55 sites on the danger list including the Tropical Rainforest Heritage of Sumatra, which was added in 2011 to help overcome threats of poaching, illegal logging, agricultural encroachment and plans to build roads through it.
Liverpool Maritime Mercantile City in the UK was also considered in danger in 2012 due to a proposed redevelopment of the historic docklands north of the city centre. And all five of Libya's World Heritage Sites were placed on the list mid-2016 due to continuing conflict in the region.
If a site loses the characteristics that determined its inscription on the World Heritage List altogether it may be deleted.
In 2007, Oman's Arabian Oryx Sanctuary was deleted after its protected area was reduced by a staggering 90 per cent, which increased poaching and habitat degradation and saw a rapid decline in the numbers of Arabian oryx from 450 to just 65.
The second and only other site to be deleted was Germany's Dresden Elbe Valley in 2009, after a four-lane bridge was built in the heart of its cultural landscape.
Has UNESCO saved any sites in danger?
There have been many success stories. For example, Nepal's proposed Rapti River Diversion Project was abandoned in the '90s after the World Heritage Committee warned it would threaten the nearby Royal Chitwan National Park's greater one-horned rhino.
And after the Old City of Dubrovnik in Croatia was seriously damaged by artillery fire in 1991 during the Balkans War, it was provided with financial aid to help restore historic façades, roofs and palaces. Seven years later it was removed from the danger list.
Australia's Great Barrier Reef came under fire in 2014 when the World Heritage Committee expressed concerns relating to coastal development and considered placing it on the danger list. As part of the assessment, it asked Australia to submit a report on its actions to protect the reef.
The government committed to $180 million annually in funding, a ban on the disposal of capital dredge material, restrictions on port development and an improvement of water quality by 80 per cent.
The World Heritage Committee welcomed these actions and recommended against the reef's inscription on the danger list.
It's all part of the ongoing challenge to protect our heritage – 'our legacy from the past, what we live with today and what we can pass onto future generations'. No easy task, but one UNESCO is determined to tackle.
UNESCO and tourism
The World Heritage List brings a welcome awareness to a particular site as well as spurring curiosity in travellers. This can have a positive impact on a local community, reducing poverty by creating jobs and helping to preserve traditions and customs.
However, many World Heritage sites lack resources to manage tourism and so the World Heritage Centre plays an active role in helping to implement sustainable tourism measures.
These include training local populations to participate in tourism; helping to promote local products; attempting to use tourism funds to supplement conservation and protection costs; and building an understanding of the need to protect world heritage.
Travellers can help by spreading the word of the irreplaceable value of a World Heritage Site and being responsible travellers when visiting.
World Heritage Sites that we think you have to see once in your lifetime:
LEAVE YOUR COMMENT