Discover the magic: your ultimate guide to Disneyland California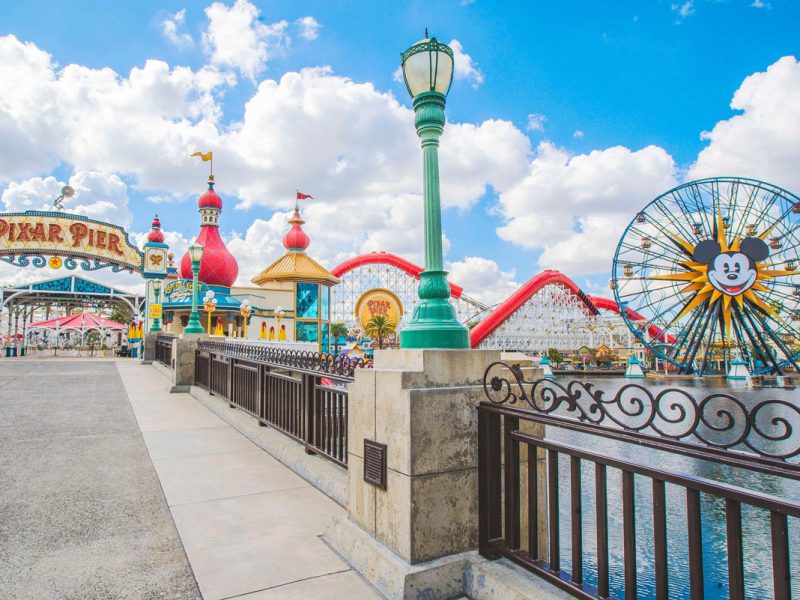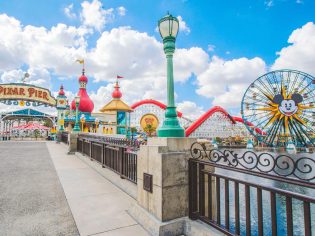 Everything you need to know about visiting the Happiest Place on Earth.
Disneyland is one of those places you dream of visiting your whole life. And for Australians, planning a trip there is a big deal, so we've put together the ultimate guide to Disneyland Resort in California to make holidaying there a breeze.
Disneyland Resort in Anaheim is roughly 30 minutes from Los Angeles and is home to two iconic theme parks: Disneyland Park and Disney California Adventure Park, the Downtown Disney shopping district, and three Disney hotels.
Disneyland Park
Disneyland Park is the OG park that opened in 1955 and is the only one designed and completed by Walt Disney.
There are nine themed areas throughout the 40-hectare park – Fantasyland, Tomorrowland, Frontierland, Adventureland, Critter Country, Main Street U.S.A, New Orleans Square, Star Wars: Galaxy's Edge and the newly-reopened Mickey's Toontown.
Disney California Adventure Park
Disney California Adventure Park opened in 2001, on Disneyland Park's original parking lot. It has eight themed lands – Cars Land, Avengers Campus, Pixar Pier, Hollywood Land, Paradise Gardens Park, Pacific Wharf, Buena Vista Street and Grizzly Peak.
When to go
With LA's 284 sunny days per year, Disneyland is amazing to visit all year round. But there are better times to visit than others.
Winter is generally a quieter time to visit as the Christmas school holidays in the US only go for 1-2 weeks around Christmas and New Year. Perfect for us in Australia with our breezy six-week break.
A Cali winter is pretty mild too. I went to Disneyland in late January, and it was hitting 20°C in the daytime – the perfect temperature to be going on rides and walking around between the parks. The nights were chilly, falling to around 8°C, but it was the perfect excuse to buy a cute Disney jumper to take home with me.
Most of the summer, Halloween and Christmas time are the busiest times to go.
When to arrive
To get the most out of your day, plan to arrive an hour prior to the official park opening.
If you're staying at a Disneyland Hotel (Disney's Grand Californian Hotel & Spa, Disneyland Hotel or Disney's Paradise Pier Hotel), you can enter the park 30 minutes prior to the official park opening using your hotel room key.
What tickets to get
You'll need both a valid park ticket and a park reservation before you arrive at Disneyland. Disneyland Resort multi-day tickets are the best choice as the parks are big and you simply can't see all the magic in one day.
I'd recommend three days and choosing the Park Hopper tickets at an extra US$60 ($90), so you can go between the two parks at your leisure. Once you've purchased your ticket from an authorised Disneyland ticket reseller like Klook, make sure you reserve your day as soon as possible on the Disney Reservation site.
Skip the queues with Genie+
Disney Genie+ is an optional upgrade that allows you access to the Lightning Lanes (essentially a fast lane). Disney Genie+ includes a US$25 ($37.80) fee – more on busier days – per guest per day at Disneyland.
I cannot recommend Genie+ highly enough. Being able to book a ride beforehand and skip the line… game changer. You do feel slightly guilty walking past everyone who is waiting, but it saves so much time. And you'll be able to go on more rides in less time, so even better if you're short on days.
With Genie+, you are allowed to use it once per attraction per day, so plan your day well to get the best use out of it. You can also download your PhotoPass and ride photos at no extra cost with Genie+.
Hot tip: As soon as you have everyone scanned into the ride through Genie+, select your next Genie+ attraction at this point. No need to wait until after the attraction, the app just needs to know you checked in.
Go hands-free with MagicBand+
When you arrive at Disneyland California, if you'd like a way to go hands-free in the parks, you can purchase a MagicBand+. Not an essential item, it'll set you back US$34.99 ($53) but it allows you to easily enter the parks and check in at Lightning Lane entrances without having to use your phone.
I found that the wi-fi would sometimes disconnect as I was getting on rides, so the MagicBand+ saved me and allowed me to scan in.
Attractions you need to go on
There are so many rides across both parks it can be hard to know where to start.
In Disneyland Park, you'll see Splash Mountain, the brand new (and super cute) Mickey and Minnie's Runaway Railway, the iconic Haunted Mansion, Space Mountain, Big Thunder Mountain Railroad and my all-time favourite Star Wars: Rise of the Resistance.
Over in Disney California Adventure Park, you'll find yourself turning upside down on the Incredicoaster, flying all over the place in the Pixar Pal-A-Round Ferris wheel's swinging gondolas, embracing your inner Spiderman on WEB SLINGERS and zooming through the desert landscape of Cars Land on Radiator Springs Racers.
For more amazing attractions, see our guide to Disneyland's must-see attractions.
Hot tip: You can't use Genie+ on the Radiator Springs Racers ride, so if you're okay with riding solo, use the Single Rider line. I did this twice and was on in 10-15 minutes each time when the standby line was saying a 135-minute wait.
What to eat
The food at Disneyland is as much an attraction as the rides. Whether you want to grab something on the go to the next ride, have a sit-down meal at a restaurant, or dine with one of the characters, there is something for every budget.
Disney California Adventure has the best quesa birria tacos and margaritas to eat out in the Cali sun at Cocina Cucamonga Mexican Grill. It also has the Lamplight Lounge with panoramic waterfront views, cocktails and gastropub-style food.
In Disneyland Park, watch the Pirates of the Caribbean boats float past as you dine at the Louisiana-inspired Blue Bayou Restaurant. You also need to try the Mickey-shaped Beignets from Mint Julep Bar – yum.
For a character breakfast moment, head to Disneyland Hotel (you don't need to be staying there) for breakfast at Goofy's Kitchen. With a whole buffet full of goodies, you'll be able to snap some pics with Goofy and his friends!
How to save money
There's no hiding that a trip to Disneyland California will not be cheap, but there are a few ways to make it more affordable.
1. Pack snacks
You can bring food into the parks, so even though the dining options are amazing, keep the purchases to a minimum to save precious $$.
2. Set a souvenir and treat budget
It can be tempting to buy all the Mickey Mouse ears, ice creams, pretzels and clothing your heart desires, but it adds up. Set yourself a budget and stick to it to avoid unnecessary costs.
3. Bring a water bottle
You're going to get thirsty and buying a bottle of water each time just isn't smart (nor eco-friendly). Look up "drinking fountains and bottle-filling stations" in the Disneyland app to see where you can refill your bottle.
4. Purchase Genie+
I know this is a purchase, but not only will you save so much time (and time is money), but you'll also get free PhotoPass photos taken by Disney photographers with characters, at iconic spots around the parks, and the on-ride photos. Without Genie+, the cost per image is US$14.99 ($22.70), so if you want multiple photos, Genie+ will save you money.
5. Stay off-site
While the Disneyland Resort hotels are amazing and super convenient, they're not always an affordable option. Stay in nearby Anaheim for a more budget-friendly stay.
6. Buy multi-day tickets
Disneyland single-day tickets vary in cost per day based on expected crowds. You can save the most money by buying multi-day tickets, which are not affected by peak pricing, especially if you want to visit on the weekend or near a holiday.
LEAVE YOUR COMMENT