The neurological reason Fiji makes you happy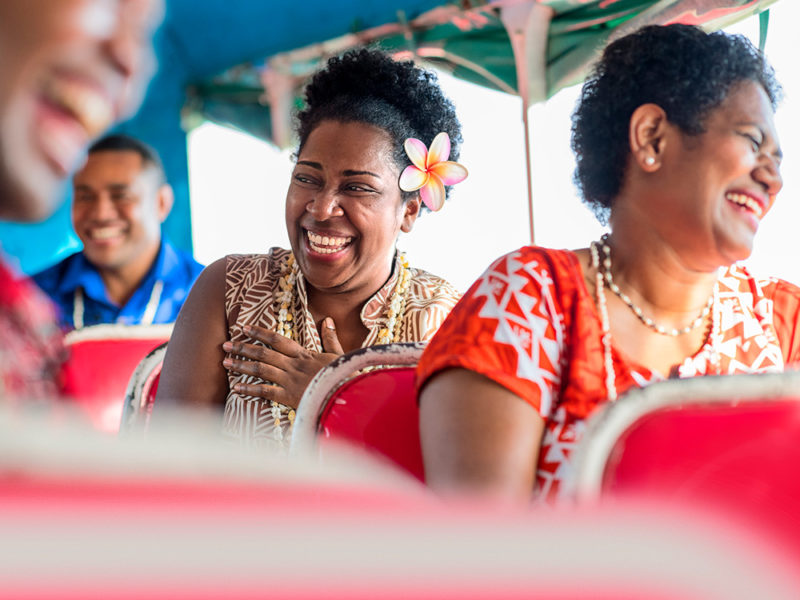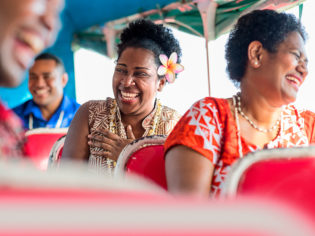 It's not just sun, sea and sand that makes Fiji the happiest place on the planet – but it definitely helps. We investigate the neurological reason behind its famous big smiles and find out how we can bottle that Bula Spirit before we can get back there ourselves.
As you sit in your everyday environs that have become all too familiar for the better part of 2020, close your eyes and imagine, what would make you happy right now?
Chances are it looks something like this: bare feet sunk into warm golden sand, an impossibly azure ocean fringing a peaceful shoreline, sunshine on your face and a cool breeze carrying the sweet scents of your tropical paradise surrounds.
As humans, we're hardwired to gravitate towards the sun and the sea – as if our bodies know instinctively how water releases spirit-lifting ions and how exposure to sunlight increases serotonin production in our brains. But for anyone who has ever followed that instinct by hopping on the short flight to Fiji might suspect, that's only half the story.
Happiness in Fiji is well documented and it's a tangible feeling that hits you from the moment you land and lingers long after you've returned home.
The pristine beaches and year-round sunshine enjoyed by this nation of 333 tropical islands spread out through the heart of the South Pacific clearly play a part, but there's a neurological reason why Fiji makes you happy that transcends its picture-postcard credentials. But more on the science later.
The Bula Spirit
Sun, sea and sand combined with a naturally healthy cuisine (based around fresh produce and seafood from Fiji's rich, volcanic soil and abundant seas) all contribute to a sense of wellbeing.
Add to the mix the national drink kava – more widely drunk in Fiji than beer – that has been used ceremonially for hundreds of years to promote a state of relaxation, and you'll start to see why 92 per cent of Fijians questioned for a recent Gallup International Happiness, Hope and Economic Optimism survey answered 'happy' or 'very happy' when asked how they feel.
The report showed Fiji was the happiest country in the world even as happiness was in decline elsewhere.
Beyond lifestyle, this happy anomaly boils down to a culture that differs in many ways from our own and can be expressed, in essence, as the Bula Spirit.
A jubilantly bellowed 'Bula!' is something you hear everywhere you go in Fiji and it's impossible not to smile back when you do.
But more than simply a greeting, Bula is a wish for happiness, good health and the energy of life – and it underpins everything here. Fijians are deliberate about nurturing and sharing their happiness and this generous Bula Spirit is reflected annually in their Bulanaires List – a cheeky subversion of the billionaires list and nod to the fact that money doesn't buy happiness that seeks to redefine what it means to be rich.
"Bulanaires are people who embody the values for happiness, whether that is sharing, giving back, appreciating life or simply connecting more with family and friends," explains Professor Lea Waters, president of the International Positive Psychology Association, founding director of the Centre for Positive Psychology at the University of Melbourne and herself an honorary Bulanaire.
"The Bulanaires List includes people from across the world who we celebrate for the way they live a values-based life, for sharing their happiness, for showing resilience, and for helping others to find happiness," she says.
It takes a village
At the heart of Fijians' values-based life is community. "We are social creatures at heart and relationships are the most important contributor to happiness," says Professor Waters.
"Among the global epidemic of loneliness, Fiji stands out as a country that prioritises connection. Feeling part of a close family and community is at the heart of Fijian culture and the traditional village lifestyle is alive and well in Fiji. Fijians remain connected with one another and their extended families in a way that many developed countries have lost."
It's this sense of community and connection teamed with a trademark resilience that has helped the country weather the Covid-19 pandemic well.
While Fiji has successfully managed the outbreak, tourism is one of its most important economic drivers (making up 40 per cent of its GDP) and the international travel restrictions that have arisen as a result of the pandemic have caused considerable disruptions across the country.
And yet, the Bula Spirit remains strong.
This has been best embodied by a Facebook group called Barter for Better Fiji, which was launched during the pandemic with the aim of nurturing a community of kindness through bartering. Tapping into a traditional custom of giving and exchange called kerekere, the group provides a way for Fijians who are currently short on cash to get hold of items they need.
Almost 15 per cent of the country is now using the platform and it has sparked the most inspiring acts of kindness: from the single mother who requested tamarind in order to start up a small baking business receiving a new stove, gas cylinder and groceries, to the former resort worker who offered her school textbooks in exchange for baby essentials; she received the baby essentials but the textbooks were refused.
The neuroscience behind it
So what does this have to do with neuroscience, exactly?
It all comes down to the fact that our happiness relies on a finely tuned cocktail of neuropeptides and neurotransmitters – or chemical messengers – in our brains. Dopamine, serotonin, oxytocin and endorphins all help regulate many bodily functions including sleep, memory and metabolism, but they're perhaps most well known as being 'happy hormones' due to the roles they play in regulating mood and emotion.
Dopamine release tells the brain when to expect something rewarding, modulates how rewarding it will be and motivates us to take action toward those goals, desires and needs, giving a surge of reinforcing pleasure when we achieve them.
Dopamine can be chased in all sorts of ways including big wins at work, eating sugary food, sex, shopping or, a more recent phenomenon: using our mobile phones.
Social media platforms are known to take advantage of how our brains work by creating a dopamine-driven feedback loop that has us constantly checking for notifications – leveraging the same neural circuitry used by slot machines and cocaine. And after the high comes the inevitable dopamine hangover; procrastination, self-doubt and lack of enthusiasm are linked to low levels of dopamine.
Sound familiar? In Australia and much of the Western world we're all a bit hooked on dopamine hits.
Too much dopamine can also inhibit absorption of serotonin, leading to feelings of loneliness, low energy, irritability and depression.
The right level of serotonin, on the other hand, acts as a mood regulator that keeps feelings stable and prevents any major fluctuations in happiness. Exposure to sunlight, being in nature and feeling of value all help trigger serotonin release in the brain and the result is the Holy Grail-like feeling of contentment.
Of the two remaining components of this cocktail, endorphins are released through exercise and laughter, among other things, and the 'love chemical' oxytocin is fostered through social interactions and bonding, physical intimacy including hugging and holding hands, and even simply smiling.
So while we are governed by dopamine hits and the highs and lows that come with them, Fijians are generally more happy and content in their everyday life thanks to a natural abundance of serotonin and oxytocin released in the brains: community living and strong family values combined with the country's natural assets are the reason it continually tops world happiness polls.
And, thanks to a phenomenon in neuroscience called emotional contagion – where people can feel and mimic the emotions of others – it won't be long before you're feeling it too.
"Energy is felt by those around us," says Professor Waters, "so being a person who smiles and possesses a happy and positive disposition can be a real gift to someone else." Happiness in Fiji is infectious – in the best possible way.
What can we learn from Fiji?
Absorbing the happiness of Fijians, living a laid-back lifestyle if only for a week or two and connecting to loved ones: with oxytocin, serotonin and endorphin levels well and truly topped up, there's a reason travellers leave Fiji feeling relaxed and happier. Experiencing some Bula Spirit for ourselves first-hand is no doubt just the tonic we all need right now.
But before we can book our post-lockdown, mood-boosting trip to Fiji, perhaps we should slow down, put our phones down and take some tips from the Fijian way of life to keep our spirits high in the meantime.
Below are seven guiding principles for happiness that have been developed by Professor Waters based on two decades of science from the field of Positive Psychology.
All seven principles are alive and well in Fiji and can be adapted to your life at home too.
1. Giving back
Did you know that when you care for others, are kind to others and give to others it boosts your immune system and lifts up your mental health?
Whether this is within the local community, the environment, animal welfare or healthcare, the inward feeling is a deeply felt selfless happiness when people are giving and open to sharing, despite what they may or may not have. Fijians will give, even when they don't have much to give.
2. Family and community
We are social creatures at heart and relationships are the most important contributor to happiness. Amongst the global epidemic of loneliness, Fiji stands out as a country that prioritises connection. Feeling part of a close family and community is at the heart of Fijian culture and the traditional village lifestyle is alive and well in Fiji.
Fijians remain connected with one another and their extended families in a way that many developed countries have lost.
3. Fun and adventure
When we try new things in life and allow ourselves moments of fun, it expands our horizons and offers a new way to see ourselves and the word.
Staying active is a guaranteed pathway to enjoying daily life and keeping your mind and body connected.
This doesn't have to be strenuous: it can be as simple as learning a new skill with friends like dancing, singing, sudoku, or fishing – something that is intrinsic in Fijian daily life.
4. Humour and positive emotions
Fijians are always laughing and joking, they are quick to smile and share light-hearted moments with friends and strangers alike and they maintain a positive outlook, with emotions such as joy and contentment, even during traumatic events in life.
When you laugh it pumps oxygen into your lungs, it triggers your nervous system to relax and it changes your brain chemistry. More than that, laughter connects people together; it's contagious.
It's never hard to get a Fijian to laugh, they have resilience and don't sweat the small stuff; humour is a key currency for creating happiness in Fiji and Fijians have a light-hearted way of using humour to lift your spirits.
5. Appreciation for the simple things in life
Research has shown that savouring life's small pleasures builds up your happiness over time.
You can savour many small moments in your day and, if you can get out of the city for a bit, nature gives you abundant things to savour.
When we appreciate the simple things in life it orientates us towards the positives. Fijians have abundant things to appreciate. They do not compare themselves to others and the rest of the world, choosing to enjoy what they have, rather than yearn for what they don't have. Learning to appreciate life's pleasures increases enjoyment in life and our overall wellbeing.
6. Living in the moment
Learning to be more mindful does wonders for your wellbeing. In fact, being mindful changes your brain chemistry for the better.
It can be for something as simple as taking in the pleasures of the walk to work, savouring the aroma of coffee, enjoying a meal with family or appreciating our relationships. Not worrying about tomorrow and relishing the positives of life are a universal Fijian philosophy.
Fijian people are happy and make others feel good because of this infectious ever-present attitude. Following the Fijian philosophy, being present and aware of what we enjoy each day, can help us get in tune with our feelings and stop us dwelling on the past or worrying about the future.
7. Disconnecting from the world to ensure meaning and purpose
Science shows us that taking a break – whether it's for five minutes or five days – recharges your brain, relaxes your nervous system and reconnects you to what's meaningful in your life.
When we step away from 'task mode' our brain is activated in different ways and we give it time to unclutter itself so that our view on life becomes clearer and simpler.
Much of Fijian happiness is because they disconnect from the rest of the world, worrying less about bigger negative issues, thus reducing stress and allowing them to enjoy being in the moment and give their life meaning.
LEAVE YOUR COMMENT