11 amazing Fiji resorts Aussies need to know about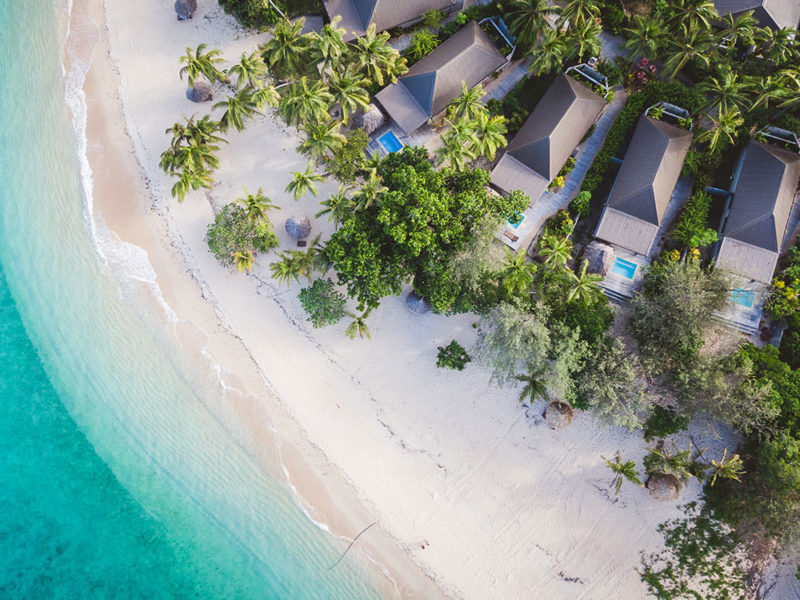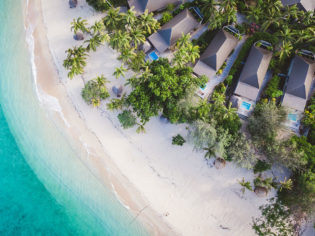 Replete with sun, sand and beachfront bures, a raft of seriously stunning and under-the-radar Fijian stays to mentally check into today.
Traditional Fijian architecture merged with contemporary comforts in tropical garden settings fragrant with frangipani. Tick.
Beckoning pools, beachfront aspects and sunset cocktails. Tick.
Some of the warmest hospitality you'll find anywhere in the world. Double tick.
A little removed from the regular Aussie tourist trail, these boutique and luxury resorts offer the quintessential Fiji holiday and plenty more besides – whether they're embracing a farm-to-table philosophy and other impressive sustainability initiatives, offering the kind of blissful post-lockdown seclusion we're all craving or delivering a paradise island experience with a price tag that won't leave you destitute (or all of the above). Add these properties to your wish list today.
A funky hidden gem with a world-class surf school on Fiji's ever-popular Coral Coast.
Set on an eight-hectare coconut plantation and fringed by a secluded white-sand beach, the Fiji Beach House is a small family-run resort that caters to both backpackers and boutique holidaymakers, fostering an authentic and laid-back community feel that is woven into local Fijian life.
And although it manages to capture the feel of a remote tropical island experience, it's hiding in plain sight on Viti Levu's popular Coral Coast (beloved of Aussies with well-known resorts such as Fiji Marriott Resort Momi Bay and the Warwick).
As well as bunk-bed dormitories, its accommodation options run the gamut between funky open-planned timber lofts (Hibiscus Rooms) and private bungalows complete with the Fiji requisite of an outdoor bathroom (Garden Huts). Meals with a focus on fresh and local are served up alongside cocktails the colour of the peach melba sunsets here.
The resort is home to one of the region's premier surf schools and you can swim, snorkel, dive, kayak, paddleboard and surf from the shores of the Beach House's sheltered lagoon.
And when you're not out on water, sample Fiji's first craft beer at the on-site microbrewery and check out The Projects Collective, a cafe, bar and store selling the wares of more than 70 ethical Fijian artisans. Or exercise your own craft muscles by weaving a coconut hat, stretch out in the daily free yoga class or simply nap in a hammock.
The resort can also tee you up with some of the region's best adventures: from the white-water rafting trips offered by Rivers Fiji to Sigatoka River Safari's jet-boat excursion to a remote village.
Getting there: the Fiji Beach House is a 90-minute drive south-east of Nadi.
Cost: $, fijibeachouse.com
A boutique stay with world-class diving on Viti Levu's remote Suncoast.
Course along Viti Levu's remote Suncoast – so called because it receives more sunshine per year than any other part of Fiji's main island – to a headland at its most northerly tip.
Here you'll find family-owned Volivoli Beach Resort burrowed in among rainforest, waterfalls, mangroves and sugarcane fields and at the doorstep of some of the best diving to be had in Fiji.
This boutique four-star resort has 33 rooms all with ocean views, airy interiors and finished in local hardwoods. Options include luxe two-bedroom family villas that put a modern spin on traditional Fijian architecture, plus a suite of stylish bures and affordable rooms designed for dive groups in mind.
Much of your time here will be spent in the water, under the water or on the beach – volivoli means sand in the local dialect.
Go on a diving adventure with in-house dive shop Ra Divers, snorkel the house reef in search of seahorses and frog fish, kayak through the mangroves, play beach volleyball or take a champagne cruise at sunset.
Volivoli also offers plenty in the way of cultural tours via its resident guide Soni, a kaumatua (village elder), from the nearby town of Rakiraki, and culinary adventures that tie into its food philosophy.
With their focus on 'hyper locality', just about everything you'll eat at its two restaurants is sourced from a farmer down the road and made from scratch – the team even make their own cheeses here and grow rosemary, sage and lemongrass on site.
Getting there: Volivoli Beach Resort is a 2.5 hour drive north-east of Nadi.
Cost: $$, volivoli.com
A luxury Mamanucas retreat that takes sustainability to a whole new level.
While you're probably familiar with Six Senses – the luxury global resort collection that has been committed to sustainable practices and local sensitivity since its beginnings in 1995 – you might be happily surprised to know the extent to which its Fiji iteration wholeheartedly embraces the brand's ethos.
Located on Malolo, the largest island in the Mamanuca group, and opened in 2018, Six Senses Fiji delivers the quintessential tropical island holiday experience – and a whole lot more besides.
Flanked by sparkling waters and champagne-coloured beaches, it has 24 capacious villas that each come complete with their own private plunge pools and outdoor soaking tubs, plus a suite of two- to five-bedroom residences.
The resort's commitment to sustainability is woven throughout your stay here: it not only makes its own high-quality drinking water and is 100 per cent solar powered using one of the largest off-grid solar installations in the southern hemisphere, but grows its own organic produce, has free-range hens living it up in 'Cluckingham Palace' to lay fresh eggs, and has beehives producing honey and honeycomb (which you may find folded into your delicious, homemade ice-cream).
And, with all manner of activities to choose from, guests can opt to get involved and do good too, including helping out with under the sea conservation.
The holistic approach extends further still: Six Senses Fiji makes its own probiotics, tonics and kombuchas (good for gut health), and alongside its heavenly spa treatments (a signature of the Six Senses brand), offers guests the chance to embark on personalised wellness programs.
Getting there: Six Senses Fiji is 35 minutes by speedboat or 10 minutes by helicopter from Port Denarau (30-minute drive south-west of Nadi).
Cost: $$$, sixsenses.com
A warm, welcoming and oh-so-romantic hidden jewel in the Mamanuca Islands.
Also occupying a sweet spot on heavenly Malolo Island, 100 per cent Fijian-operated Tropica Island Resort is a bit of a hidden gem that, thanks to its super-friendly staff, provides one of the warmest welcomes in these parts – as well as one of the most romantic stays.
This adults-only boutique resort is set on a sheltered bay and has 24 rooms that blend traditional features of Fijian architecture – cathedral ceilings, thatched roofs and all – with modern accents and colour pops to dynamic effect.
Check into a Beachfront Bure – with or without your own private plunge pool – or maybe splurge on the latest addition to the property: the Honeymoon Pool Bure has its own infinity-edge pool that gives way to a turquoise ocean view framed by palm trees.
Make your way down to Tropica's new spa and avail yourself of a treatment – perhaps the traditional flowing Fijian bobo massage – that uses eco-friendly oils and lotions house-made from the coconuts and botanicals grown on the island.
And while you can dine at the main poolside restaurant (cuisine here is focused on local specialties like kokoda – Fiji's answer to ceviche – made with regionally sourced, seasonal ingredients) or sip cocktails at the sunset bar, it comes with the territory that private dining will be on the cards: from dinner for two at the end of a pier to secluded beach picnics.
And how about a romantic day spent as a castaway? Tropica Island Resort's signature activity is a visit to the famous island, Monuriki, where the Tom Hanks movie Cast Away was filmed.
You'll be set up with a picnic for two with a bottle of bubbles, and ample time to soak up the magic of this uninhabited tropical paradise.
Getting there: Tropica Island Resort is 45 minutes by catamaran or 10 minutes by helicopter or seaplane from Port Denarau (a 30-minute drive south-west of Nadi).
Cost: $$, tropicaisland.com
A show-stopping and sustainable private island in the Blue Lagoon.
For the ultimate in post-lockdown seclusion, look no further than wild and beautiful Turtle Island. Located within the Yasawa Islands on the Blue Lagoon, this six-star (yes, six) island home accommodates just 14 couples at a time (two more than there are private beaches).
Turtle Island has been a trailblazer in eco-tourism ever since it was opened for tourism by Richard Evanson 40 years ago (the American entrepreneur first arrived on the undeveloped island in October 1972); today its solar-powered villas sit sensitively on the landscape among 200 hectares of forest and everything you'll experience here is authentically rooted in the Fijian way of life.
You can even, for example, pay a visit to the joinery artisans where your villa's furnishings are hand-crafted using recycled materials including driftwood.
Produce is grown locally on the island or freshly caught from the sea and efforts to make the island as sustainable as possible are always being sought.
The downtime afforded by Covid-19 has allowed it to install a coop and introduce more than 100 fresh-egg-laying chickens, build more beehives (now housing up to 10,000 bees), lavish extra time on the kitchen gardens and start producing cooking oil from island-grown coconuts.
Among its comprehensive rollcall of planet-friendly initiatives, Turtle Island also runs a conservation program for endangered sea turtles and has planted more than half a million trees on the island.
Days here are spent immersed in this world but also in pursuit of sheer hedonistic pleasure, perhaps epitomised best by a sunrise horseback ride along the beach for a Champagne breakfast at the water's edge.
Fun fact: In the 1970s, Turtle Island was the filming location for The Blue Lagoon starring Brooke Shields. The experience of hosting the cast and crew during this time inspired Evanson to open the island up to guests.
Getting there: Turtle Island is 30 minutes by seaplane north-west of Nadi.
Cost: $$$, turtlefiji.com
Affordable luxury and low-impact tourism in the Yasawa Islands.
For more affordable luxury in the Yasawas, check into Navutu Stars Resort. The only boutique resort on the secluded island of Yaqeta, it's an adults-only affair that offers 10 bures dotted along the curve of three pristine white-sand beaches.
Ensconced by tropical gardens blooming with hibiscus flowers, the bures were built by local craftsmen in sacred nokonoko timbers and combine traditional Fijian style – eight-metre-high cathedral ceilings and all – with light and white Mediterranean-inspired interiors that nod to the owners' Italian heritage.
Like Turtle Island, Navutu Stars Resort has sustainability at its heart and is dedicated to low-impact tourism.
Among its initiatives are minimising plastic and offering water refilling stations, a 'plantation-to-plate' philosophy at its restaurant, coral conservation projects and community outreach programs that benefit the local village in terms of everything from employment to higher education support and sponsorship.
Get a taste of this community mindedness and low-impact approach by visiting Yaqeta village, where most of the resort's staff live, to tour its community hall, church and shell market; take part in a traditional kava ceremony or two; and go on a Plantation Walk just outside the resort to see where much of the resort's fresh produce is grown – including juicy papayas, plump bananas and root crops like taro and sweet potato.
The Yasawa Islands themselves are a wonderland to explore and Navutu Stars flawlessly facilitates: discover Yaqeta by kayak, or join daily boat trips to visit coral reefs, the Blue Lagoon and mystical limestone caves.
Getting there: Navutu Stars Resort is a 30-minute flight by seaplane from Nadi or a four-hour ferry ride (Yasawa Flyer) from Port Denarau.
Cost: $$, navuturesorts.com
A stylish family-friendly option in the Yasawa Islands.
For a warm and welcoming family-friendly option in the Yasawa Islands that doesn't scrimp on sophistication, check into Paradise Cove Resort, tucked into a beautiful little inlet on Naukacuvu Island.
The resort is centred around a lovely swimming pool area tucked in behind the beach complete with the appropriately named Sandbar, which is the place to be for sunset cocktails.
Its restaurant, Black Rock, is all about Pacific Island fare and the resort grows much of its own fruit, including pineapple, mango and passionfruit, alongside an array of of herbs and vegetables.
And while there's an adults-only area, The Cove, which has 10 villas secluded within a tropical garden setting, it's also a great place for families.
Check into a spacious family villa and set the kids loose on the Crooked Coconut Kids' Club, which offers little ones everything from cooking lessons to coconut husking and snorkelling.
Meanwhile the Paradise Teen Yurt, complete with Xbox, gives slightly older kids the space to hang out away from parents for a while.
With its own PADI dive shop and 35 different sites to explore in the area including two wrecks, Paradise Cove Resort is also a fantastic place to learn to dive. Spot reef sharks, turtles, eagle rays and the weird and wonderful bump head parrotfish. Between May and October you can swim with giant manta rays, too.
Getting there: Paradise Cove Resort is three hours by ferry (Yasawa Flyer) from Port Denarau or 20 minutes by seaplane north-west of Nadi.
Cost: $$, paradisecoveresortfiji.com
A seductively secluded Vanua Levu stay designed with elopement in mind.
It might be Fiji's second largest island, but Vanua Levu still manages to fly under the tourist trail and rewards travellers with its lush mountainous interior circled by deep bays that make for fantastic kayaking and some of the best dive sites in the South Pacific.
Home to the legendary Jean-Michel Cousteau Resort, it's worth checking out some of its hidden gems, too.
The Remote Resort is located on the spectacular Rainbow Reef and pitches itself at – among other things – the elopement market. It's not hard to see why.
It's an intimate spot with eight free-standing villas sprinkled throughout the terracotta coconut palms of a 25-hectare peninsula; each boast uninterrupted ocean views, plunge pools and the utmost privacy.
And once you've checked in and chilled out you'll want to dive headfirst into the resort's plethora of immersive signature experiences starting with a trip to the soft coral wonderland of the Rainbow Reef, just minutes away, for a world-class snorkelling and diving experience.
Other activities include excursions to hidden waterfalls, manta ray snorkelling and fishing charters, as well as cultural experiences such as a sing song and kava ceremony and cooking demonstrations.
For true seclusion, opt for a Castaway Day that will see you explore, swim and snorkel the many deserted beaches, some with reefs just off shore, of the Rainbow Reef region.

Getting there: The Remote Resort is accessible exclusively by boat from Taveuni or Savusavu (a one- or two-hour flight north-east of Nadi).
Cost: $$$, theremoteresort.com
A wild and luxuriant private island resort with a budget-friendly twist.
A 21-hectare private island just off the south coast of Vanua Levu, Savasi is an ancient wonder of sculptural limestone outcrops and volcanic crevasses flanked by azure waters and secluded beaches.
Up high on a volcanic uplift – offering the ultimate in ocean aspects and capturing sweet sea breezes – you'll find 10 gorgeous villas rendered in rainforest, bamboo and mangrove timber and complemented by private pools and rainforest gardens.
The property offers a diverse range of on- and off-island experiences to keep you busy that includes hiking through the jungle, dining in a cavern by the sea, attending a soulful local church service on a Sunday, dolphin spotting and seeing how Fiji's sought-after black pearls are harvested on a tour of the J. Hunter Pearls farm.
Don't miss the signature experience of a Salt Lake River Kayak, which will see you floating down the Qaloqalo River, past atmospheric mangrove forests, to a remote lake to soak up the pure magic, tranquillity and pin-drop silence of this untouched region.
And for those who wish to experience the raw beauty of the island and the once-in-a-lifetime experiences it offers but can't quite swing for a villa, Savasi has an ingenious solution by way of its 40-metre three-masted schooner, Serenity.
This floating accommodation is permanently moored in the island's marina and offers five staterooms, plus a cinema room and a large sun deck with a jacuzzi and outdoor bar installed on the upper deck.
Getting there: Savasi Island Resort is a one-hour flight north-east of Nadi.
Cost: $$, savasiisland.com
A spectacular far-flung private island resort with Fijian – and Pink Floyd – heritage.
Also vying for the private island crown, Wakaya Club & Spa's point of difference is its far-flung location in the eastern Lomaiviti Archipelago and the chance to see Fiji at its most beautifully raw.
Here among a landscape of dense tropical forests, out-of-this-world beaches and vibrant coral reefs, you'll find 10 oceanfront bures and two private villas that are among the most luxurious you'll find anywhere in the South Pacific. All are rendered in elegant tones of nature with cathedral ceilings and indigenous yaka timber flooring and some even have their own waterfall in their garden.
While you're here, you can indulge in all manner of diving, ocean (snorkelling with giant clams, paddleboarding, kayaking) and land (golf, croquet, yoga, spa treatments) activities. But don't miss the resort's historical lectures and guided hikes that speak to the island's long and twisting story – which includes civil war, failed sugar plantations, being bought and sold by Pink Floyd's David Gilmour, and destruction wrought by tropical cyclone Winston.
Today the reborn island's central philosophy is to protect the natural beauty of the island and embrace the heritage of its original islanders.
This is evident not least in the cuisine served up by the team of up-and-coming Fijian chefs who work alongside head chef Marielle Hajj, blending her Lebanese and Mexican background with Fijian customs, flavours and the freshest ingredients – such as the seafood sustainably fished from Wakaya's protected waters – to create one of the world's most singular dining experiences.
Getting there: Wakaya is a 40-minute air transfer east of Nadi.
Cost: $$$, wakayaresort.com
A small, family-run eco-resort in Fiji's remote wild south.
There's usually one destination on everyone's lips when travelling to the Fiji's wild southern frontier of Kadavu Archipelago – Kokomo Private Island. Don't have a few thousand a night to spare? Then look to Oneta Resort on Ono Island: a small family run eco-resort that offers all of the isolated allure at a snip of the cost.
Selling the dream of quiet solitude and true adventure – the kind of which is increasingly hard to find in the world – Oneta Resort bills itself as 'very remote, a little wild and somewhat hard to get to' – which is exactly the point. Travellers who make the journey by air and by sea to this outer island of the outer islands will be rewarded with the most memorable of experiences.
First, check into a beachfront bure or one of two luxurious villas that sit on a small bluff with their own private beach areas on the site of an old village thought to date back hundreds of years.
Then explore your surrounds. Ono Island's location near the Great Astrolabe Reef – the largest reef in Fiji and the fourth largest in the world – means it's an unrivalled spot for diving, snorkelling, fishing, kayaking and sailing.
You'll also spend your time here hiking through lush rainforest or engaging with local culture – the island's far-flung location ensures interactions of true authenticity.
One of the resort's most unique experiences is a visit to the Yabu Island Bird Rookery – 15 minutes from the rookery – where, glass of wine in hand, you can see thousands of red-footed boobies and brown boobies (seabirds) returning to roost at sunset.
Getting there: Oneta Resort is a one-hour boat transfer from Kadavu Island (a three-hour, 40-minute flight south-east of Nadi).
Cost: $, onetaresort.com
LEAVE YOUR COMMENT