Review: Six Senses Fiji, Malolo Island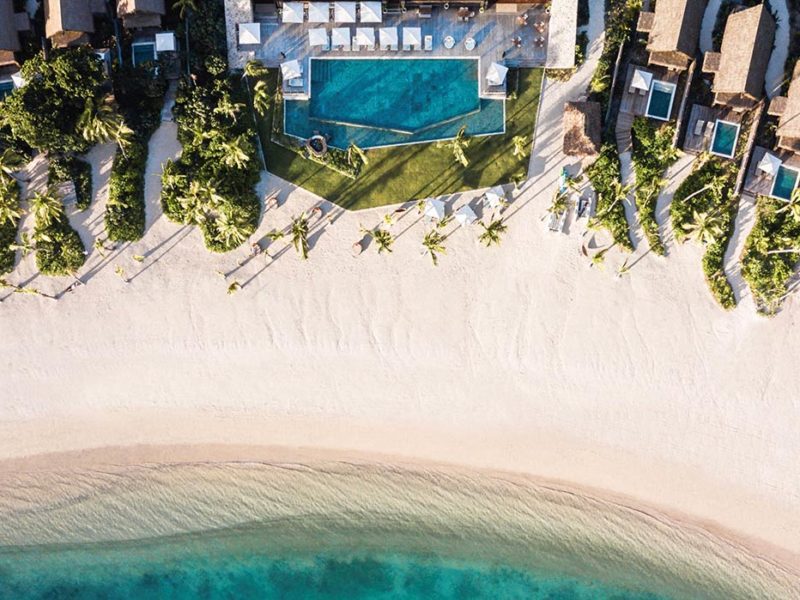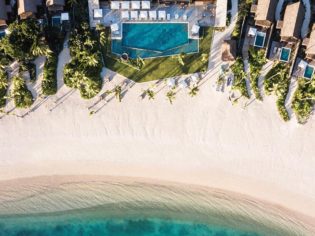 We check out Six Senses Fiji, a luxury Malolo Island resort that's reimagining the island getaway experience with design, sustainability… and bacteria.
Try as I might, I can't avert my eyes from the thick, viscous skin floating at the top of a large glass jar right next to me.
It looks like it could almost have a pulse it is so vital and alive.
It seems incongruous to its surroundings – a sleek delicatessen space with an industrial-chic-meets-island-style vibe – but as I survey the shelves stacked with organic grains, probiotic yoghurt and freshly baked gluten-free bread, I find that it is actually archetypical.
It turns out that the jelly-like skin, known as scoby, is the (good) bacteria-packed essential building block of kombucha, the insanely healthy fermented tea drink that is also readily available here.
While the scoby is archetypical of the delicatessen, the delicatessen is archetypical of its greater surroundings: the luxurious Six Senses Fiji resort, blissfully located on Malolo Island, just a short boat ride from Denarau.
Wellness at Six Sense Fiji
The Bangkok-based resort brand is well known for walking the walk when it comes to the wellness approach it subscribes to, providing its guests with luxuriously restive, eco-responsible environments that promote a healthy, holistic approach to everything from food to activities.
But Six Senses Fiji goes that extra step, and I understand why as soon as I meet Victoria Kruse, the wife of the property's Australian-born general manager Jason.
The vivacious blonde (she wears her short crop in unruly spikes) has a quick wit, a ready laugh and indefatigable energy.
She also has coeliac disease which has resulted in a passion for the pursuit of good health practices; Six Senses Fiji has given her a broad canvas on which to pursue these.
Victoria's influence stretches far and wide: evening cocktails served in the breezy Tovolea Restaurant, Bar and Lounge, an all-day barefoot luxe dining, drinking and lounging hub looking out over the resort pool, are mixed with home-made ginger beers, tonics and bitters infused with everything from chilli to cucumber (sourced from the on-site garden), as well as the aforementioned kombucha.
Victoria is happy to explain the health-giving benefits to anyone who is interested, detailing with an authority resulting from research and experimentation their positive effects on digestion and gut wellbeing.
There are no plastic straws sticking out of cocktails glasses either: metal straws only are used throughout.
The Villas at Six Sense Fiji
I get my first taste (literally) of Six Senses Fiji's positive approach to luxury upon entering my villa, with its soaring thatched ceilings and streamlined aesthetic rendered in a mix of tactile natural materials such as reclaimed wood, seagrass and linen.
There is a sumptuous (organic) king bed, an outdoor shower in the spacious bathroom, and a private plunge pool facing onto the white-sand beach.
And on a shelf above my Nespresso machine, a little glass jar filled with some of the most delicious cookie treats I have had in a long time: gluten free of course, produced in a dedicated gluten-free kitchen.
Activities and the spa at Six Senses Fiji
The next day, after an early morning yoga session, I head to breakfast.
Looking out to the endless blue of sea and sky, I plate up a selection of goodies made from produce that is locally sourced or grown on the island, including eggs from chickens housed in 'Cluckingham Palace' and honey from its own bee hives.
The smiling wait staff, many of whom live in the village on the other side of the island, top up my glass with water produced and bottled on site. I finish with gluten-free bread dense with grains and topped with home-made preserves.
During the course of my stay I busy myself with activities as diverse as eating pizza and watching movies at the outdoor cinema; hiking to watch the sunrise from one of the island's peaks; indulging in spa treatments in the signature Six Senses Spa; assisting with the rehabilitation of the house reef that was devastated by Cyclone Winston in 2016; and just relaxing in the gracious surrounds.
It seems just about every experience to be had in-resort adheres to the ethos of the brand, often in subtle ways that escape the attention of guests: some spa treatments are made from natural ingredients grown on the island; the cinema, like everything else in the resort, is powered by solar energy which is stored in unseen Tesla batteries; the yoga pavilion is constructed from sustainably grown wood; the coral regeneration program is upskilling local employees and reintroducing a precious ecosystem.
All of which makes it a lot easier to relax, knowing that everything you do here, every meal you eat, every kombucha you drink, is having a positive effect on you and your immediate surroundings.
It seems peace of mind is another thing that is archetypical of Six Senses Fiji.
Six Senses Fiji Details
Six Senses Fiji is set on Malolo Island, part of the Mamanuca Group of islands a few miles offshore from Viti Levu, Fiji's largest island.
Transfers are from the international airport at Nadi (NAN).
There are 24 villas in total and plans to build 60 more 2-5 bedroom residences.