11 amazing Fiji experiences Aussies have never heard of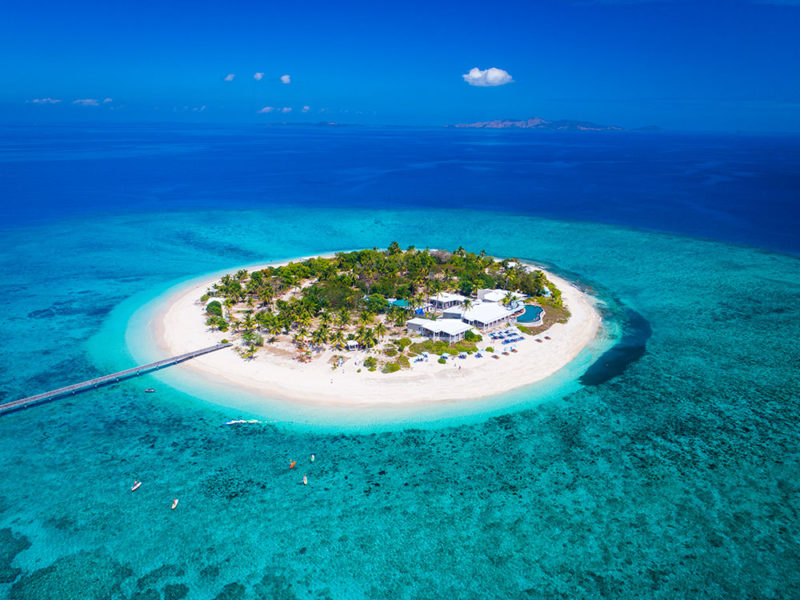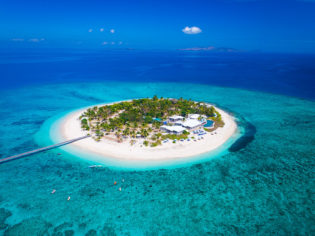 From lunch on an organic spice plantation to hiking in the highlands and visiting a forgotten colonial capital, Australia's favourite holiday destination still packs plenty of surprises.
While most of us can't resist the temptation to flop and drop on Fiji's blissfully isolated shores, there's so much more here to see, do and get under the skin of beyond the headlining allures.
Whether it's your first trip to Fiji or your fiftieth, these unique experiences will leave you with a greater appreciation of this South Pacific island nation and all its dazzling diversity.
Beach club | Glassblowing | Hiking | White-water rafting | Sea-kayaking | UNESCO World Heritage site | Glass-bottom boat cruise | Secret spice plantation | Superfood harvesting | Volunteering | Private island
With their raft of dreamy all-inclusive resorts, Denarau Island and the outlying archipelago of the Mamanuca Islands, just west of Fiji's international airport on main island Viti Levu, provide some of Fiji's most popular and accessible tropical paradise holiday experiences. So if you've been there, done that and bought the T-shirt, how about getting front of line for the opening of the region's newest beach club?
Just a 35-minute boat ride from Port Denarau, family-friendly and sustainably minded Seventh Heaven is a floating pontoon in the aquamarine waters of the Mamanuca Islands. It's spread over two generous decks with infinity beds and sun loungers and comes equipped with a bar, a restaurant serving wood-fired pizzas and an ice-cream parlour. Alternate your day between sipping cocktails and sunbaking, and jumping off the pontoon to swim and snorkel.
Alternatively, seek out the solar-powered Malamala Beach Club. A 25-minute boat ride from Port Denarau, it opened in 2017 as the world's first island beach club – located on its very own swathe of Mamanuca sand. Stretch out to chilled-out tunes under the shade of a swaying palm, rent your own private cabana or make use of the club's snorkelling gear, kayaks and paddleboards.
Getting there: Port Denarau on Denarau Island is a 20-minute drive south-west of Nadi.
Stay: Seventh Heaven and Malamala Beach Club are easily accessed from the resorts of Denarau Island. Check into one of its luxe beachfront options such as Hilton Fiji Beach Resort and Spa, Radisson Blu or Sofitel Fiji Resort and Spa.
Chances are you'll be making a beeline for Fiji's hugely popular Coral Coast, on the southern stretch of Viti Levu, for its postcard-worthy beaches and beckoning five-star resorts (it's home to Aussie favourites such as Fiji Marriott Resort Momi Bay, Warwick Fiji and InterContinental Fiji Golf Resort & Spa).
But when you're not busy doing nothing in a hammock, sipping cocktails by the pool or traversing the Sigatoka Sand Dunes – one of the country's natural highlights – try your hand at something a little different – all the while intrinsically linked to the region.
British ex-pat Alice Hill runs Hot Glass Fiji, the country's first and only glassblowing studio, on Korotogo's tranquil Sunset Strip. In glass, Hill has the perfect medium to translate the inspiration she finds in the colours of her surrounds: from the blues of sea and sky to tropical greenery, colour-pop flowers and vivid sunsets.
Take part in an Experience Glassblowing workshop to learn the basic techniques for yourself: how to blow, shape and colour your own unique creations and finish up with three to take home: clear glass blobs, a coloured paperweight and a blown vase, tumbler or dish. It's the perfect of-its-place souvenir.
Getting there: Hot Glass Fiji in Korotogo is about a 90-minute drive south-east of Nadi.
Stay: There are several great accommodation options in Korotogo including the five-star Outrigger Fiji Beach Resort, plus the Coral Coast classics of Fiji Marriott Resort Momi Bay, Warwick Fiji and InterContinental Fiji Golf Resort & Spa, which are all within an hour's drive.
Irresistible as it may be, it's not all about the coast in Fiji. You might be surprised to learn that Viti Levu covers about 10,000 square kilometres – within which exists an isolated and seldom-visited mountainous interior full of dramatic peaks, lush forests, tumbling rivers, remote villages and unique history waiting to be absorbed.
These highlands make for great hiking territory and Talanoa Treks, the country's only dedicated hiking company, truly takes you off the beaten track. The company's modus operandi is responsible tourism – both culturally and environmentally – and, by working in close partnership with the communities it treks through, it steers well clear of gimmicks. Its guides, accommodation and food are all as local as they come and ensure a genuine cultural experience and insight into rural Fiji.
Tours departing out of heritage-rich capital city Suva range from one-night options to the four-night Full Monty, which includes a visit to the spectacular Nabalesere Waterfall, a climb through lush cloud forest to reach the highest point in Fiji, and a cross-country trek through grasslands punctuated with cooling river swims. The trip concludes with a village tour of Navala – an iconic symbol of Fiji heritage that's home to more than 200 traditionally thatched bures (bungalows).
Getting there: Suva is a three-hour drive or 30-minute flight south-east of Nadi.
Stay: All-inclusive accommodation along the way is in community halls and bures, ending with a stay at riverside Bulou's Eco-Lodge near Navala.
Suva offers plenty of accommodation options to bookend your trip with, including the historic five-star Grand Pacific Hotel for a unique South Pacific stay.
Perhaps white water is more your speed? Then explore the remote highlands of Viti Levu via the Navua River, which runs for 65 kilometres from its source in the region's peaks through rugged mountain country to the south coast, where it merges with the Pacific Ocean. With its Upper Navua River Rafting day trip, Rivers Fiji offers one of the most unique river trips in the world and the chance to experience Fiji at its most wild and wonderful.
The trip departs from Pacific Harbour, Fiji's adventure capital on the eastern end of the Coral Coast, where you'll find other such adrenalin-pumping activities as diving, jetskiing and ziplining through the jungle. After first travelling overland to the put-in point, you'll soon be traversing the fast-flowing river in inflatable rafts. You'll slice your way through deep canyons, launch yourself over rocky cascades, pass by lush rainforest and powerful waterfalls and stop for a riverside deli lunch.
Rivers Fiji also offers sea kayaking tours and an eight-day Highlands to Islands Ultimate Fiji Explorer that combines it all.
Getting there: Pacific Harbour is about two and a half hours south-east of Nadi.
Stay: Three-star Uprising Beach Resort and five-star Nanuku Auberge Resort both enjoy sprawling beachfront locations in Pacific Harbour, while the four-star Pearl Resort is in the heart of the action.
Or, check out adults-only private island resort Royal Davui – a 35-minute speedboat ride across the lagoon from Pacific Harbour.
Alternatively, have your aquatic adventure in the wild, unspoiled southern frontier of Kadavu Island. With its coastline of white-sand beaches dotted with small resorts and traditional villages, Kadavu is the largest island in the Kadavu Group – a volcanic archipelago that's all about outdoor adventure and blissful isolation. Kadavu is bordered to its south by the Great Astrolabe Reef, one of the largest barrier reefs in the world and – with coral in every colour of the rainbow – also one of the healthiest.
Tamarillo Active Travel has guided sea-kayak tours of Kadavu's sparsely populated shores that include plenty of opportunities to snorkel within the coral lagoons of the surrounding reef. Its roster of experiences ranges from day trips all the way up to the seven-day Kadavu Classic. The tours can also include visits to traditional Fijian villages and overnight stays, with meals along the way made from fresh and locally sourced ingredients. Tamarillo's guiding team includes indigenous Kadavu islanders who bring a lifetime of local environmental and cultural knowledge to proceedings.
Stay: Accommodation included on tours are in small, close-to-nature resorts and sometimes village home stays.
Bookend your trip with a peaceful stay in a thatched bure at eco-friendly Matava Resort, with ocean views out over the Great Astrolabe Barrier Reef, or within 20 hectares of private beachfront at Oneta Resort on Ono Island, a one-hour boat transfer from Kadavu.
Also part of the Kadavu Group is exclusive resort Kokomo Private Island.
Getting there: Kadavu is a 50-minute flight south-east of Nadi.
Part of the eastern Lomaiviti archipelago, Ovalau Island harbours a little-known jewel removed from the standard Fiji tourist trail. On its east coast lies the country's former colonial capital, Levuka – a UNESCO World Heritage site and historic port town. With its roots in the 1820s, it provides a trip back in time for visitors today.
With its low line of beachfront buildings set amid coconut and mango trees, it is recognised as a rare example of a late colonial port town. It was influenced in its development by the indigenous community and this led to the emergence of an idiosyncratic architecture and landscape. Historical buildings not to miss include the Sacred Heart Church and Navoka Methodist Church, consecrated in the mid-1800s; the first Masonic Temple in the South Pacific; and Fiji's oldest hotel, The Royal Hotel. Join a Historic Town Walking Tour with a local guide to see it all.
While you're here, take the opportunity to explore local life beyond the town's fringes. Join Epi from Epi's Midland Tour on a trek through the rainforest to the volcanic crater village of Lovoni, where you'll meet the village chief and eat a traditional lunch served by Epi's family. All the while learn about the utterly intriguing and sometimes dark history of Lovoni, Ovalau and Fiji.
Fun fact: Epi's tour follows some of the route featured on Bear Grylls' latest Amazon Prime show World's Toughest Race: Eco-Challenge Fiji.
Getting there: Levuka can be reached by road and sea or by air from Suva (a three-hour drive or 30-minute flight south-east of Nadi) or as a day trip from those staying in the eastern islands.
Stay: The Royal Hotel in Levuka offers a unique and historic stay, or head out of town to Kauwai Guest House, which offers guesthouse accommodation, BYO tent camping in partnership with Epi's Midland Tour, yoga retreats and more.
Private island resorts The Wakaya Club & Spa and Leleuvia Island Resort provide the ultimate in blissful isolation.
See what makes Fiji's pearls so amazingly colourful on a glass-bottom boat cruise
Anyone with even the most passing penchant for pearls will be intrigued to learn more about what makes Fiji's so unique and colourful. Due to the purity of the oceans here, they are resplendent and rare in iridescent earthy shades of gold, champagne, copper and cranberry and ocean shades of green and blue. Head to the scenic bay town of Savusavu on Fiji's second biggest island, Vanua Levu (an easy flight from Viti Levu), to take a cruise with J. Hunter Pearls. Fiji's most famous pearl brand offers fascinating tours of its sustainable farm, located a short glass-bottom boat ride from Savusavu, for an insight into its day-to-day operations and the history of pearling in the country.
During the cruise, which lasts for up to two hours, guests will see pearl oysters at different stages of growth and have the chance to snorkel the farm sites, too (BYO snorkelling gear). If you are travelling between April and May or October and November you might even get the rare chance to witness the skill involved in the seeding and harvesting seasons; the former sees highly experienced Japanese pearl technicians perform the skilled surgical operations on pearl oysters that start the culturing process, the latter sees pearl after pearl being carefully removed from their host oysters. The tour ends back in the showroom in Savusavu where you can purchase a pearly souvenir.
Keen for a preview? Australian jewellery designer Ryan Storer has collaborated with J. Hunter Pearls and the gorgeous collection is available now.
Getting there: Savusavu is a 75-minute flight north-east of Nadi.
Stay: Overlooking Savusavu Bay, Jean-Michel Cousteau Resort features just 25 luxurious bures and is famed for its dedication to ocean awareness and sustainability. Or check into affordable bayside resort Daku Island or boutique resort Savasi Island.
Discover the secret spice plantation on one of the South Pacific's most unspoiled islands
Across the strait from Vanua Levu, the smaller island of Taveuni is a stunning combination of luxuriant forest, soaring mountains and colourful coral reef. Dubbed the Garden Island, with more than a hint of Hawai'i in its landscape, it is home to one of the world's most undisturbed island habitats, mostly in the vast Bouma National Heritage Park.
It's unsurprising the island has such a conscious approach to tourism, which is epitomised by what goes on at Gaiatree Sanctuary. This organic spice plantation provides guests with the unique experience of exploring an edible landscape based on the premise of permaculture. An ideal escape for foodies or anyone interested in the provenance of produce, Gaiatree Sanctuary is set within a lush landscape with pristine ocean views and invites you to explore its perennial food and spice forests alongside natural waterfalls, free-range chickens and beehives.
Taveuni's tropical climate and landscape create the perfect environment for this abundance of produce to thrive, and – whether you take part in a cooking class or simply sit down for lunch –you'll soon learn just how fresh and delicious is it firsthand.
A great example of the 'farm-to-table' experience is its signature Spice of Life small-group tour, which includes a full immersion in the farm followed by lunch prepared with freshly plucked ingredients including superfoods, edible flowers, tropical fruit and spices.
For another rich foodie experience in the region, cocoa farm and chocolate factory KokoMana in Savusavu offers a 'tree-to-bar' experience that will see you wander among the cocoa trees, taste the sweet pulpy fruit from a ripe pod and, of course, sample the finished product.
Getting there: Taveuni is about a 90-minute flight north-east of Nadi.
Stay: Taveuni Island has a range of accommodation options including the five-star Taveuni Palms Resort, with recently refurbished beachfront villas. At the super-luxe end of the scale is Laucala, an exclusive private island resort and one of the triplet of small islands that lie to the east of Taveuni.
You'll find the local edible sea grape, nama – a precious Fijian commodity rich in nutrients – in markets and buffets across the country (as well as in skincare products such as the Fijian-made Nama Fiji). And – move over kale, quinoa and goji berries – as nama also has potential to become the world's next big 'superfood'. This intriguing type of seaweed is native to the Blue Lagoon waters of the Yasawa Islands and harvested by hand.
Embark on a unique day trip to the Yasawa Islands with local wellness tour operator Rosie Living for a fascinating behind-the-scenes (or under-the-water) insight into the harvesting process and a whole lot more.
The Nama Life tour takes off from Nadi Airport on a seaplane and, after some dazzling aerial views, touches down on Naviti Island. Here within the local community of Somosomo, a chiefly village in Taveuni, you'll take part in a traditional kava ceremony before being debriefed on all there is to know about the properties of sea grapes and the process of harvesting them. Then it's out to the ocean to have a go yourself – plucking strands from the seabed – before time for snorkelling and beach hangs followed by a traditional Fijian lunch prepared by the people of the village. Your time on the island is capped off by a heavenly nama massage therapy treatment in a beachside cabana. Bliss.
Getting there: Nama Life tours depart from Nadi.
Stay: There are plenty of options to overnight in Nadi including Ramada Suites by Wyndham Wailoaloa Beach Fiji and Pullman Nadi Bay Resort and Spa Fiji, and on nearby Denarau Island.
Located two hours by sea north-west of Nadi and largely isolated until the early 2000s, the Yasawa Islands are where travellers head for the ultimate paradise island holiday. But if you want to reciprocate the Bula Spirit you'll experience here, consider giving back and saying vinaka (thank you) to the communities that share their home with you by volunteering with Vinaka Fiji Volunteering.
Aimed squarely at helping the people of the remote Yasawa villages, the program is divided into three volunteering options: children, schools and education; creating sustainable communities; and marine research and conservation. Within these key areas of need are roles including teaching young schoolchildren, planting crops, installing water tanks and working in baby clam nurseries.
You can volunteer for any length of time between one and 26 weeks, working five days with the freedom to explore the region at the weekend. (Attractions on this front include attending traditional ceremonies in the villages, diving or snorkelling the coral reefs, climbing volcanic mountains, lazing on the white sandy beaches or cruising to nearby islands.) Vinaka Fiji Volunteering also partners with Awesome Adventures Fiji on packages that combine volunteering and pure holiday time.
Getting there: Transfers from Nadi are included in Vinaka Fiji Volunteering trips.
Stay: Volunteers can opt to stay in a mixed dorm or an ensuite bure at Korovou Eco-Tour Resort.
And finally, perhaps 2020 has left you feeling like you just want to get away from it all. If so, there's a desert island in Fiji with your name on it. As a five-star accommodation sprawled across a stretch of Coral Coast beach near Pacific Harbour, Nanuku Auberge Resort Fiji has many strings to its bow. But none so singular as the chance to camp out on your very own private island.
You'll sail across the fringing reefs of Beqa Lagoon (one of the world's best diving spots) to the pint-sized island of Nanuku – all-century-old palms and pure white shores – where you'll spend the afternoon exploring your very own patch of paradise. You'll then settle in with sundowner cocktails, a barbecue dinner and a beach bonfire before turning in for the night in a safari tent on the sand. You can also sleep under the stars for the ultimate connection to this blissful bubble.
Getting there: Nanuku Auberge Resort Fiji is about two and a half hours south-east of Nadi.
LEAVE YOUR COMMENT