Review: Vomo Island Resort, Fiji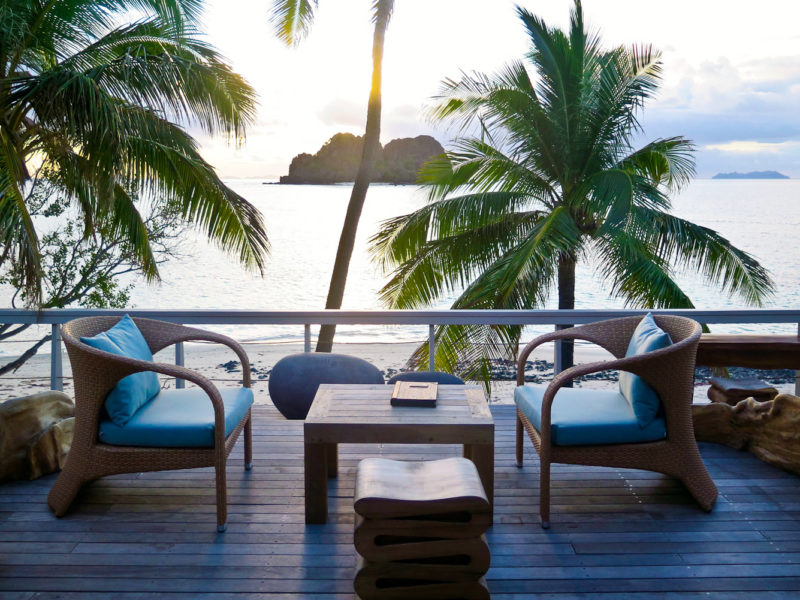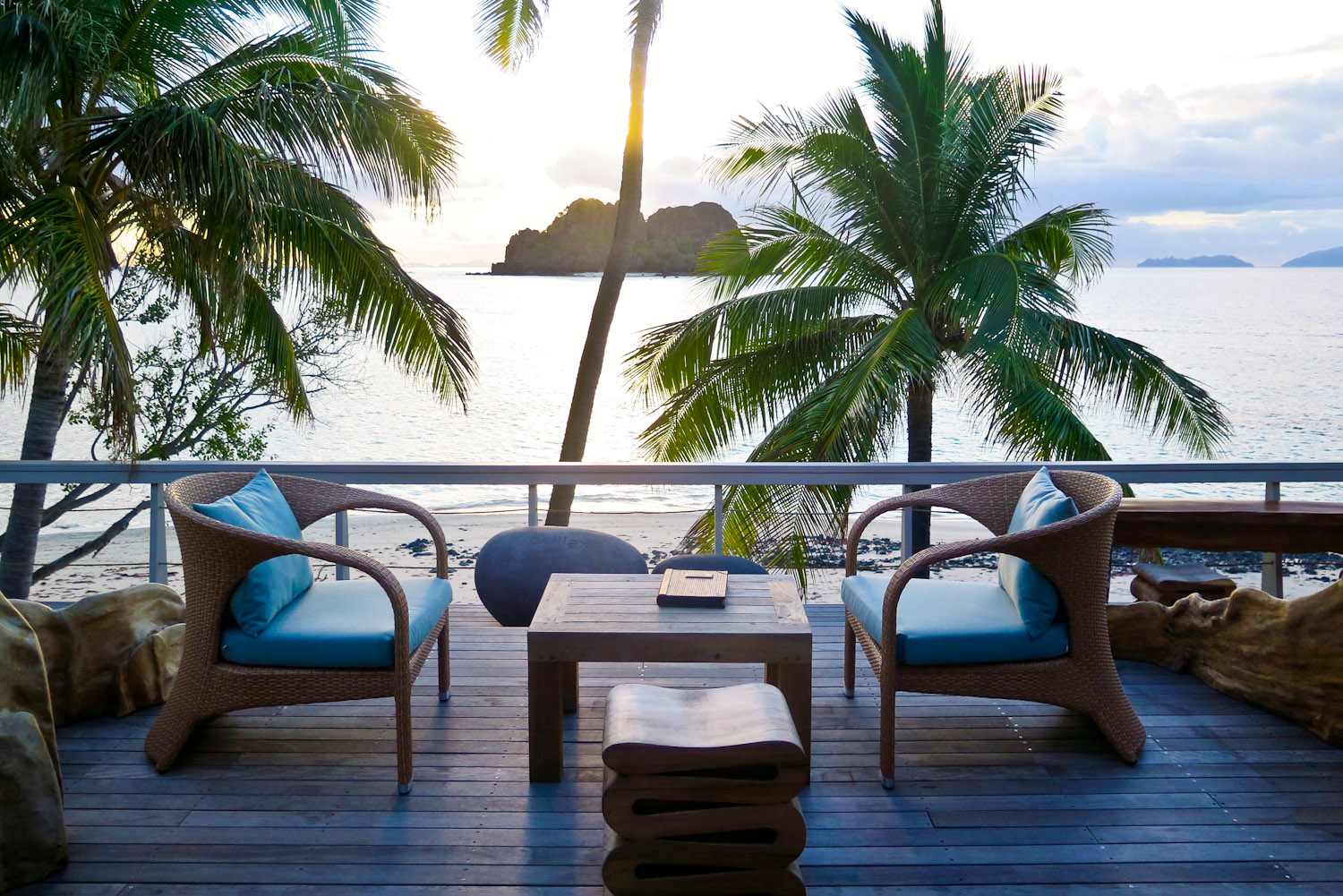 There's fun and sun enough for the whole family on the luxe Fijian island resort of Vomo.

We see them at shore's edge, watching as our six-seater seaplane swoops down from the sky for a watery landing in crystal-clear shallows.
Arrival
Stepping out of the aircraft and onto soft sand, a line-up of smiling faces greets us – within seconds, we are surrounded by a swirl of shell garlands, melodic singing voices and strumming guitars.
"Bula, welcome home," they chorus.
A home away from home, albeit a slower and decidedly superior version, is indeed what a stay at Vomo Island Resort feels like.
Part of Fiji's Mamanuca Islands, Vomo is a private island only a 15-minute flight from Nadi airport.
And with just 28 villas and two residences, the resort will appeal to couples and families seeking a low-key luxury getaway within easy transit from most Australian destinations.
The reception we receive from the staff sets the tone for our visit: warm, friendly and informal.
The room
We are staying in the Royal Villa, a three-bedroom abode of exposed wood, thatched roofs and traditional prints, surrounded by lush tropical foliage and footsteps away from a calm ocean, shimmering like marbled turquoise.
The residence is spacious and all the expected mod-cons, a private pool and ample al fresco areas for relaxing keep our party of five adults and two toddlers happy.
Bedrooms have en suites with L'Occitane toiletries and power showers – the master bedroom also boasts a full-sized bath – and the fridge is replenished every day with complimentary bottles of water and soft drinks.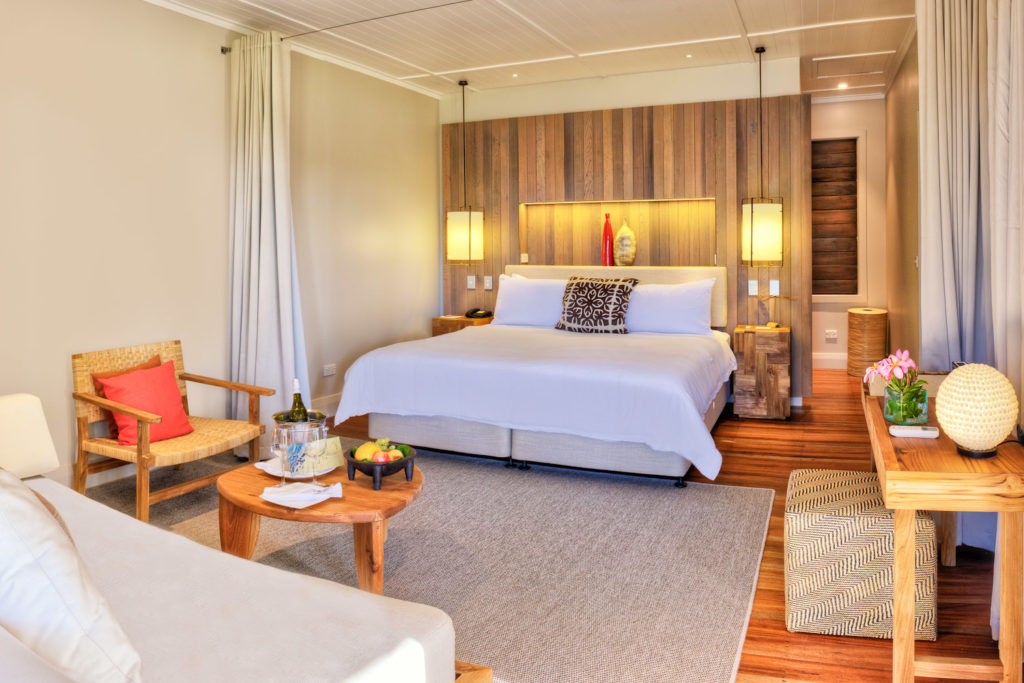 Storage is slightly limited and we find the entertainment system tricky to operate, but free wi-fi means that the digitally reliant among us can stay connected to the outside world (phew).
There's twice-daily housekeeping and a courtesy laundry service eliminates mundane chores, while affable 'baby butlers' and an extensive Kids' Village help with child-minding duties.
Atmosphere
Having reopened in March 2015 after a mega-dollar renovation, the resort feels immaculate (think pared-back aesthetic with local design touches) yet organic and unspoilt.
Paths meander past hibiscus bushes and palms, accompanied by a hypnotic soundtrack of chirping birds and gently lapping waves.
A central hub houses the Reef Restaurant, where most meals are served, and a bar facing the main pool, an inviting rectangle of blue fringed by sunlounges and beach umbrellas.
Villas are discreetly tucked hillside or scattered beachfront, and perched on the western tip of the island is the Rocks Bar with uninterrupted views of sand, sea and sky; sunset drinks are a must-do here.
There's a 'barefoot luxe' ethos evident throughout the resort: starched cloths over tabletops conceal toes wedged in sand underneath, and glasses of champagne are delivered to hammocks swinging from coconut trees.
But Vomo is more than hedonistic. It is committed to conservation through several eco-initiatives. We support its involvement in the 'Pack for a Purpose' community program by bringing stationery supplies for neighbouring villages.
This 'commitment to care' extends to cuisine.
Food and drink
Meals (included in the daily rate) are light, fresh and delicious.
Gluten-free, dairy-free and vegetarian options are on every menu. At breakfast, cold-pressed green juices and organic eggs – squeezed and cooked to order respectively – ensure mornings are off to a wholesome start.
Kids are catered for with separate menus, while the kitchen will happily make up mini meals on request.
Things to do
A myriad of health and wellness activities is on offer at Vomo, with something to suit all three generations of our group: siblings discover underwater treasures together on guided snorkelling excursions; a husband-versus-wife challenge takes place at mini golf; mother and daughter indulge in spa sessions; and moments splashing with our little ones in the ocean make for the happiest memories of the holiday.
On our last night at Vomo, there is a full moon.
Under a lunar glow and an inky sheet of twinkling stars, we feast on Yasawa lobster and grilled fish skewers, before my two-year-old and I get up to dance to the guitar quartet playing pool-side.
As we sway to harmonious tunes, it truly feels like a place of belonging, where we have returned home.
Details
Vomo Island Resort
Vomo Island, Fiji
+679 666 7955
The IT verdict
A private island escape that is exclusive yet accessible and providing 'together time' options to suit everyone from parents to teens, granny to baby.
Vomo is the perfect place for a family holiday, where no one need miss out on anything.
Location = 9/10
Vomo is only a short hop by air from Nadi International Airport, yet it feels a world apart.
Style/character = 9.5/10
Lovely, laid-back island living at its best.
Service = 8.5/10
A little forgetful and slow at times, but always so obliging, cheerful and charming that all is forgiven.
Rooms = 8/10
Simple, stylish furnishings and comfy beds for lazy morning lie-ins.
Food and drink = 8.5/10
Everything, from sashimi to steaks, pasta to paella is executed with flair. Coffee is semi-decent.
Value for money = 8/10
We paid $23,699 for five adults and two toddlers on a 'pay for five nights, stay for seven' offer, which was worth it, as the mostly inclusive resort rate meant we didn't have to worry about many incidentals. Expect to pay premium prices for alcohol.
LEAVE YOUR COMMENT